Jayson McDonald's Underbelly, UNO Fest 2013, is a considerable achievement for this perennial Fringe favourite performer who came to the attention of Victoria Fringe audiences with the sleeper hit Giant Invisible Robot in 2007.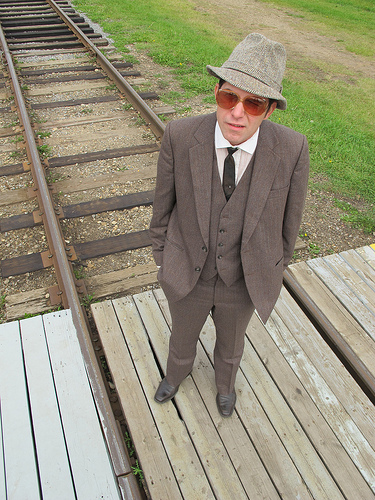 In the intervening years his shows Boat Load, Fall Fair and Gunpowder have played to sold out audiences. His ability to craft and portray an entire cast of characters single-handedly is remarkable; the plasticity of his movements and facial features allows him to move from little girl to father to carny (Fall Fair), from cat to human (Boat Load) and now, in Underbelly, from beat poet Burroughs to Kerouac, Ginsberg and even singer Joan Baez.
Underbelly marks a departure for McDonald. He normally writes all the material for his shows, but Underbelly is the first time he has attempted to capture the essence of another writer, the seminal beat poet William Burroughs, and create a show "in the style of".
Underbelly is an unqualified success with a strong story arc, impressive wordsmithing (all the work is original, except for one phrase), and movements that inhabit the entire stage. One-liners and pithy quotes zing and pop throughout.  Much of the text recounts episodes taken from Burroughs' life, but one piece is pure beat poetry, rapped in counter time to the accompanying music. Sunday night's audience responded accordingly with appreciative finger snapping.
For the Beat Generation, it was a time of unparalleled desperation and dissolution. When McDonald tells of visiting the buffet table at a swanky Hollywood party he's not talking of food, but instead a plethora of pharmaceuticals.  The tone and feel of Underbelly easily captures the perpetual state of altered reality and wooziness that Burroughs lived in, untethered from the mainstream.
Regardless of whether you are familiar with Burroughs life and work or not, Underbelly allows you to enter into a world that defined a generation, and gain an appreciation for this trailblazer and the movement.
Kudos to Jayson McDonald for undertaking the hard work of researching and creating Underbelly.  It's made me eager to explore an author and time I know little about while celebrating the considerable artistic achievement this show represents.
Underbelly, Metro Studio, 1411 Quadra Street
Sunday May 26 8pm*
Monday May 27 8pm
Tickets $20, $69 5 show Pass, $100 5 show Karma pass
Ticket Rocket online, in person or by phone 250 590 6291
Stars and Hearts (London, On)
Written and Performed by Jayson McDonald
Directed by Jeff Culbert
60 minutes, dramatic monologue
Georgia Straight Critic's Pick – Vancouver Fringe 2012
Inspired by the life and works of William S. Burroughs and The Beats (Jack Kerouac and Allen Ginsberg), this spoken-word piece trips across decades of social and literary rebellion. Underbelly is a lightning-paced examination of expression, morality and personal evolution. First given its start at Intrepid Theatre in 2010, McDonald brings his acclaimed show back to Victoria after successful runs in the Winnipeg, Saskatoon, Edmonton and Vancouver Fringe Festivals.
Disclaimer: I was provided a complimentary ticket to see Underbelly for the purpose of writing a review. As always, I retain complete editorial control over all content published on my blog.