Venus in Fur at the Belfry Theatre. A review.
To portray Venus in Fur, currently at the Belfry Theatre November 11-December 14, as a play uniquely about S&M is akin to calling the Pacific Ocean a pond.
Venus in Fur opens with a bang—to the rumblings and claps of a thunderstorm—and the sparks fly continually for the next 100 minutes without let-up.
Vince Gale (Thomas) and Celine Stubel (Vanda Jordan) last appeared together at the Belfry Theatre in God of Carnage, and are perfectly matched for this energetic, no-holds-barred battle of the sexes and wills, where domination and submission switch roles with dizzying alacrity.
It's not only the actors who are put through their paces—the audience is often off-kilter, and needs to play close attention to minute and overt changes in the sexual and power dynamics of this couple, drawn together seemingly by hazard when the brash Vanda comes to audition for a part in Thomas' play, the Venus in Fur of the title, based on Leopold von Sacher-Masoch's famed classic erotic novel, Venus in Furs.
In the blink of an eye Celine Stubel transforms from uncouth, vulgar young actress pleading for a chance to a poised, imperious, cultivated sophisticate—Wanda von Dunayev.  Thomas, the playwright and director, is mesmerized. In that moment—unbeknownst to him—he is doomed. All is lost.  How and why becomes a tantalizing game that is as intellectual as it is sexual.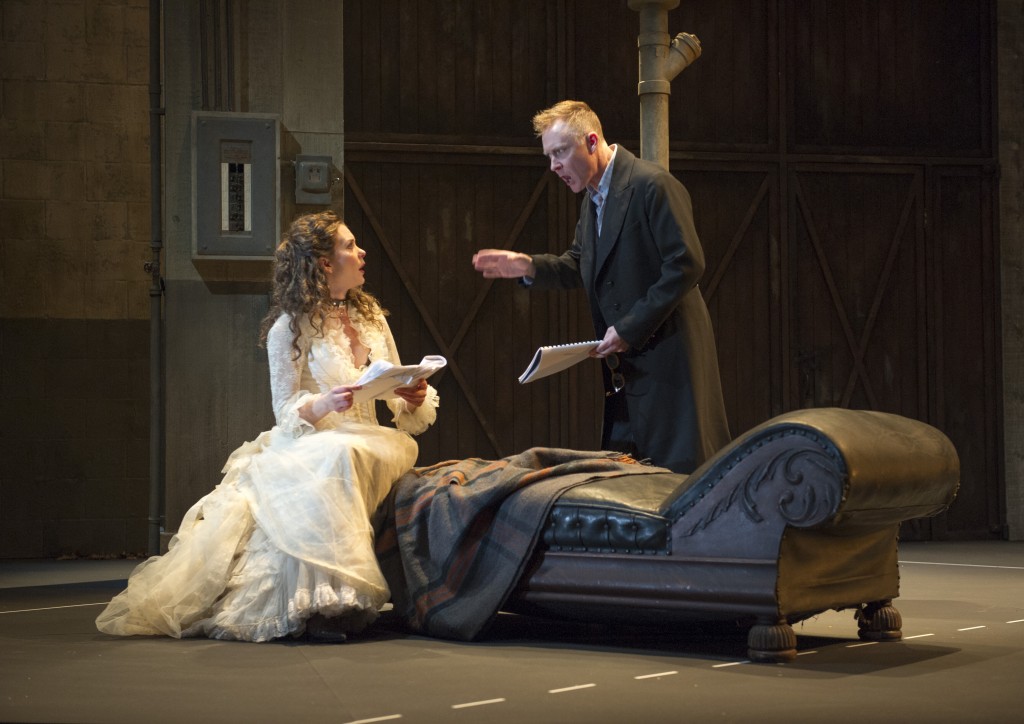 Vince Gale (Thomas) and Celine Stubel (Vanda). Photo: David Cooper
Vanda quickly sets about altering the mood of the space, from vast industrial warehouse (set design—Christina Poddubiuk) with towering and oppressive walls and fluorescent lights (Ereca Hassell), to intimate boudoir with the flick of a few breakers.
Venus in Fur is dynamic, taut and riddled with mysteries. Director Michael Shamata imbues this production with a sweeping and almost symphonic-like tone that parallels the rich score and soundscape created by composer Tobin Stokes. There are great Romantic movements, punctuated and alleviated with staccato bursts of humour and laughter, followed by quiescent interludes and the terrifying crescendo of the finale.
It's never clear (and this is the delight of the play) who is schooling whom. Gale runs the full gamut of emotion as he moves from confident, declaiming his provocative and sexist utterances to his unseen fiancée, to quivering mess as Severin Kushemski, Wanda's lover and slave. In one telling moment (as Thomas) he rallies with spite and unleashes the full fury of his adversary.
At one time, the playing field of sexy was the mind—the suggestive nature of revealing just enough to tempt and titillate. Over the decades, society has come to believe in a different aesthetic. Therein lies the genius of Venus in Fur.  The ever-beautiful Celine Stubel strides around the stage—stripped down to her underwear and in full control of the situation—without once hinting at the tawdry. Miley Cyrus this is not.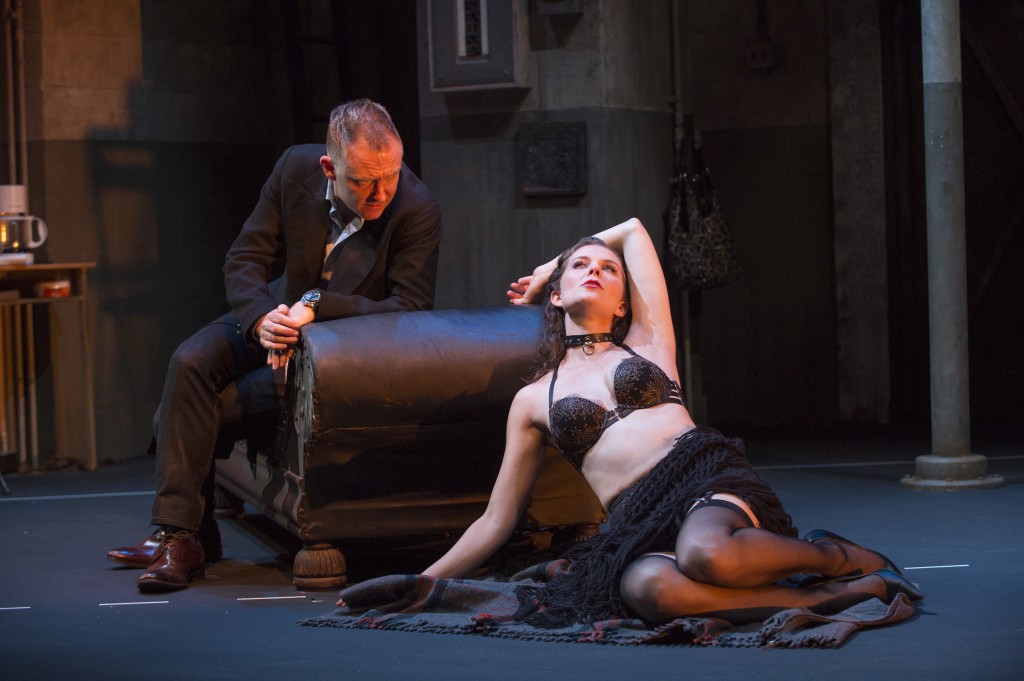 Vince Gale (Thomas) and Celine Stubel (Vanda). Photo: David Cooper
Regular theatre-goers and practitioners will definitely laugh at the many in-references of this play-within-a-play. Venus in Fur is also a revealing commentary about the nature of the director/actor dyad and the role of the performer in society today.
Complex and nuanced, this is a production that will have you gasping with laughter and for air in swift succession.  It defies simplistic categorization and definitely deserves to be seen more than once to appreciate the full array of its themes. Whether you are familiar with gender and class theory, an aficionado of Sacher von Masoch, or appreciate snappy comedy, there will be a thread that appeals to you.
Before Fifty Shades of Grey, there was Leopold von Sacher-Masoch's classic erotic novel, Venus in Furs. In this Tony Award nominated adaptation, the tables are turned as a young actress tangles with a director increasingly intrigued by her. Funny and stimulating, this play weaves sex and power into an exhilarating game of cat and mouse.
Audience Advice – Venus in Fur contains some strong language and mature subject matter.

Venus in Fur, written by David Ives, directed by Michael Shamata
Belfry Theatre, 1291 Gladstone Avenue, Victoria BC
November 11-December 14, 2014
Tickets: starting at $25. Student discounts and rush seating are available
Tuesdays – Saturdays at 8 pm
Wednesday Matinees (November 19 & 26) at 1 pm
Saturday Matinees at 4 pm
Sunday Matinees at 2 pm
Cast and Artists
Vincent Gale Thomas Novachek
Celine Stubel Vanda Jordan
David Ives Playwright
Michael Shamata Director
Christina Poddubiuk Designer
Ereca Hassell Lighting Designer
Tobin Stokes Sound Designer / Composer
Chari Arespacocha Assistant Director
Jennifer Swan Stage Manager
Engaging Audiences
Prior to and throughout the run of Venus in Fur, the Belfry is producing a number of audience engagement events designed to enhance and extend the experience of the play.
B4Play – Saturday, November 8 at 11 am
CBC Radio's Gregor Craigie will host a live talk show featuring director Michael Shamata, actress Celine Stubel and some very special guests from the community. This free event is held at the Belfry Theatre.
AFTERPLAY WEEKS
November 18 – 22 / December 2 – 6
Following selected performances of Venus in Fur, we'll host Afterplay – a facilitated discussion where patrons can share their thoughts with fellow audience members. It's a chance to "debrief" after the show and hear how other audience members experienced the play.
TALKBACK THURSDAY
Thursday, November 20
Following the 8 pm performance of Venus in Fur, join the actors from the show and your fellow audience members for a 20-minute Q & A session.
FREE CHILDCARE PERFORMANCE
Sunday, November 23 at 2 pm
During select Sunday matinee performances, we offer free professional childcare (ages 3 – 10) at the Springridge Early Childhood Centre at 1222 Gladstone Avenue, just a block from the Belfry (free parking is available right across the street in the Victoria High School Parking lot).
We have a limited number of spots available. To book tickets and free childcare, please call our Box Office at 250-385-6815.
Disclaimer: I was graciously provided with complimentary tickets to attend Venus in Fur.