Waiting for Godot at Blue Bridge Repertory Theatre. Interview with director Jacob Richmond. March 3-15, 2015. Victoria BC.
Waiting for Godot has been called the most significant English language play of the 20th century. Written by the great Irish playwright Samuel Beckett in 1949, first in French and then translated by the playwright into English, it had its premiere in 1953 at the Théâtre Babylone in Paris. A "tragi-comedy", it was one of the first absurdist (or Theatre of the Absurd) plays. Becket himself is heralded as the father of the movement.
For their seventh Gold Standard season, Blue Bridge Repertory Theatre is remounting the classic at the Roxy Theatre in Quadra Village, March 5-15, 2015.
Under a tree and under their bowler caps, two clown-like men, Vladimir and Estragon, wait for the arrival of the mysterious Godot and wait….and wait… and wait….and wait.
Previous Victoria productions of Waiting for Godot include one at the Belfry Theatre in the 1983-1984 season.  An entire generation (or more) of local theatre-goers may never have experienced this seminal cultural moment.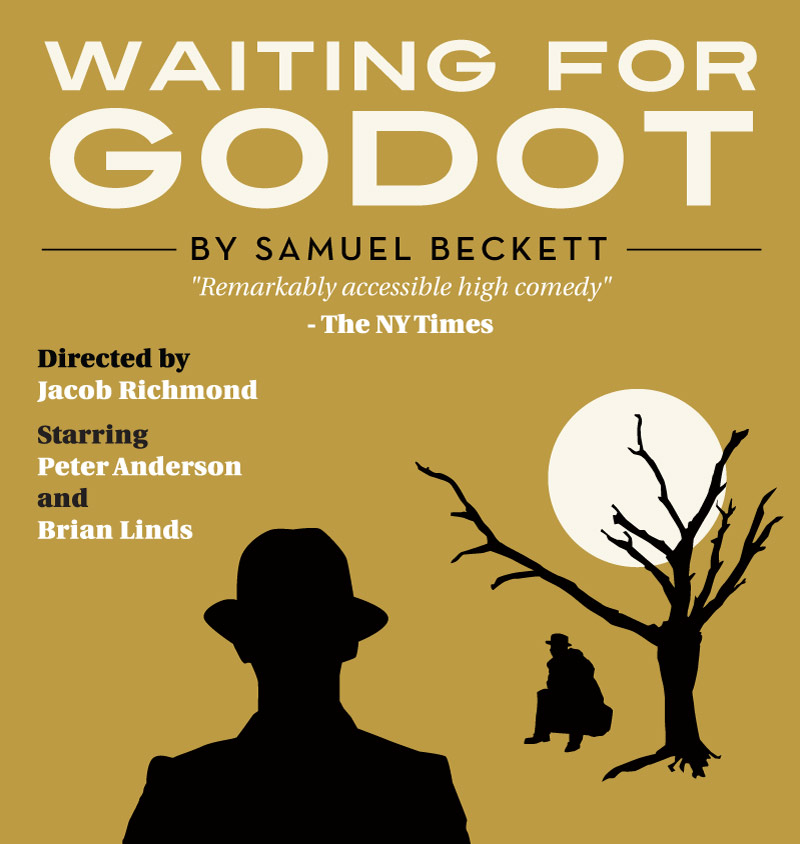 Director Jacob Richmond (well known to Victoria audiences as the award-winning co-founder of Atomic Vaudeville, and for his performances as a core Blue Bridge Repertory Theatre company member) and I had a conversation about the relevance of Waiting for Godot to today's theatre audiences.
When asked "Why should someone come to see this play?"  Richmond replies "It's a mistaken belief that Godot is nihilistic, but really, it's the story of a beautiful friendship in a crumbling world—a world where logic and reason have collapsed.  Perhaps we will never know the big answer (as to the meaning of the play), but there is ample proof, in the end, that humanity is worth it."
For Richmond, Godot is an existential play that points to the importance of being in the present, and illustrates how lives can be wasted waiting for eventual moments.  Vladimir and Estragon learn the importance of their friendship while Pozzo and Lucky are an example of the upper middle class clinging to a diseased relationship that is now irrelevant.  Waiting for Godot was the playwright's response to a "catastrophic insane event" (the Second World War).  He pillories the beliefs of dictators like Hitler and Stalin (represented by Pozzo).
Richmond is working with Beckett's revised version, written and directed 25 years after the first production.  It's shorter, at 2 hours, and in it the playwright has peeled away more details. The audience knows even less than they did previously.  Nouns have been removed, as well as locations.
If there are 5 physical characters represented onstage, Richmond states that the silences are the sixth character, with the audience (and their feelings) being the seventh. "This is not something you can re-create on YouTube—you have to be in the room".
He sees the play as having an eternal quality; it's not a museum piece.  There is great humour in the interactions of the main characters. Vladimir and Lucky are reminiscent of Laurel and Hardy and deliver lines in a quick vaudeville-esque "rat a tat".
And, while a director is "supposed to know" where the story is headed, for Richmond directing Godot has been more of a visceral experience.  "It's not a logical play; you can't break it down. It's more about a rhythm."
Veteran actors Peter Anderson and Brian Linds are Vladimir and Estragon respectively, and they are "very, very good (and funny). Peter has a background in clowning and is one of the creators of the award-winning The Number 14. He's also worked extensively with Morris Panych and was part of the original production of 7 Stories.  Brian played Madame Arcadi (at Blue Bridge) in Blithe Spirit".
Scott Hylands (Night Heat, the X-Files, NYPD Blue, Stargate) plays Pozzo, and Trevor Hinton (the Secret Garden) is Lucky.
The play is all about "an older man's pain. It contains the resonance of people who have lived a life and understand that it is subject to random elements and fate".
"Waiting for Godot is definitely on the bucket list of great works that everyone should see".
Set design is by artist Andy Graffiti, with costumes by James Insell (Ride the Cyclone, The Rocky Horror Show) and lighting by Rebekah Johnson (Gaslight, True West, Lagrimas Crueles, Little Shop of Horrors).
Waiting for Godot, by Samuel Becket, directed by Jacob Richmond
Blue Bridge Theatre at the Roxy (in Quadra Village)
March 5-15, 2015 with previews March 3 and 4
Tickets $28.75-44 via Ticket Rocket in person (#2-1609 Blanshard at Fisgard), by phone (250 590 6291)or online.
Student rush seats available.
Further reading:
Waiting for Godot summary, themes and analysis:  http://www.sparknotes.com/lit/godot/