Waiting  for Godot at Blue Bridge Repertory Theatre March 5-15 2015. A review.
The entire arc of humanity onstage—life, death, love, hatred, indifference to the plight of others, boring mundanity and joy. Waiting for Godot at Blue Bridge Repertory Theatre March 3-15, 2015 is a brilliant microcosm. Laughter and horror co-habitate in exceptional performances by Peter Anderson (Vladimir), Brian Linds (Estragon), Scott Hylands (Pozzo) and Trevor Hinton (Lucky).
Director Jacob Richmond imbues this modern classic with pathos, tragedy and humour in a sparse, elegant and accessible production that illuminates Samuel Beckett's central themes.
Timeless in nature and pre-dating our society's penchant for the post-apocalyptic, modern audiences will recognize the tone of early vaudeville in the interactions of main characters Vladimir (Didi) and Estragon (Gogo) who bring to mind the classic routines of Laurel and Hardy in some of the lighter moments.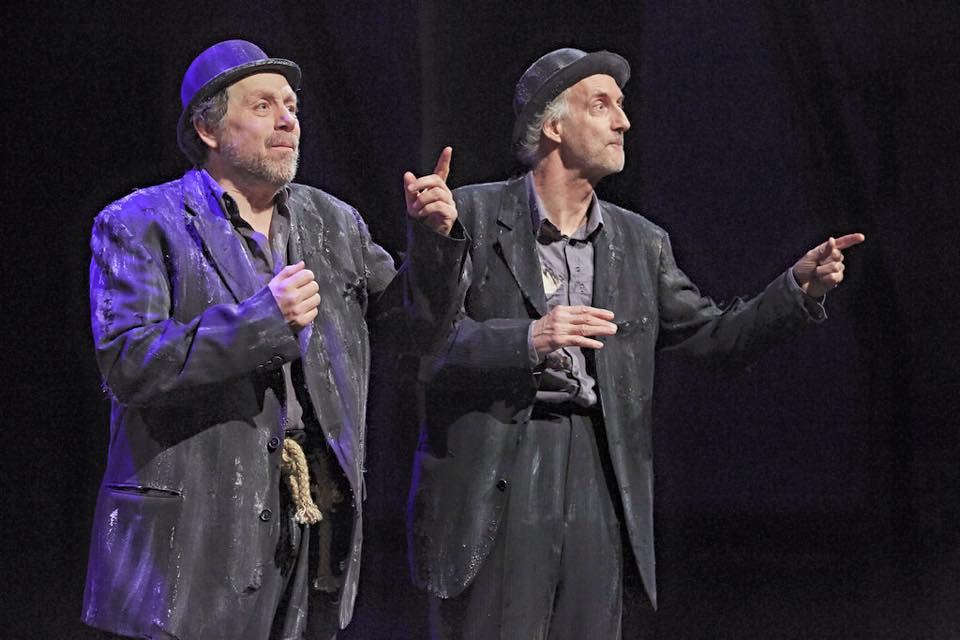 Brian Linds (Estragon) and Peter Anderson (Vladimir). Photo: provided
With stentorian imperiousness, Pozzo (Scott Hylands) bursts on the scene, anchored by a rope to a simulacra, a wreck of a man—Lucky (Trevor Hinton).  There is no more searing portrait of man's inherent, essential human-ness than Hinton's portrayal of Lucky.  Slobbering, incoherent, exhausted, he somehow musters the strength for a fits-and-starts, babbling attempt at a speech, goaded on by Pozzo's cruelty.
Young Kai Merriam is simply delightful as Boy—quiet, deferential, eager to deliver his message, slightly embarrassed to be questioned.
Samuel Beckett's Waiting for Godot was first performed in 1953, and pre-dates (or perhaps founds) Theatre of the Absurd.  Despite being over 60 years old, it is timeless in nature—a brief, highly distilled glimpse into the transitory nature of the human condition.
Two tramps on a road, waiting, going through the same repetitive daily actions, forgetting from one moment to the next what came before and incapable of imagining what might come next.
Herein lies Beckett's genius.  For all the wonderful academic and philosophical musings and extrapolations on the meaning(s) of the text—and they are legion, by minds much more adept at such pursuits than mine—Beckett conveys both the absurdity and the beauty of life in a way that is understandable by a general theatre audience.
Have you ever responded to the question "what's new?" by replying "same old, same old"?  In a nub—that's Waiting for Godot. Estragon and Vladimir might be bored out of their skulls with the pure ennui of waiting, but for now, it's all they know and they aren't prepared to abandon the pursuit just yet.
They wait, and to divert themselves, come up with inspired routines—Anderson tap dancing away at an increasingly frenetic pace, Anderson and Linds juggling hats.
Waiting for Godot opens to the clear notes of classical piano—Beethoven's Moonlight Sonata.  Elsewhere sound designer Alex Wlasenko adds drifting tones and echoes of wind.  Rebekah Johnson's lighting emphasizes pellucid tones of blue—the final image of Estragon and Vladimir silhouetted, hand in hand as the moon rises, is transcendent. Set designer Andy Graffiti remains true to Beckett's notes, with a dusty grey road and one solitary tree to punctuate the landscape and focus attention on the protagonists.  Costume designer James Insell's Vladimir and Estragon are rumpled and dishevelled tramps with a trace of a more prosperous past, while Pozzo shines in imperial glory with attire reminiscent of the British Raj, and Lucky is reduced to skin and little more in a stained and flesh-coloured body suit.
Like a jazz masterpiece, where experienced musicians are able to riff off one simple page of notes for hours in increasingly complex variations, Beckett's Waiting for Godot is open to many interpretations. Richmond's pure take emphasizes the humanity of the piece, leaving the audience with a sustaining spirit of hope for the journey forward.
This modern classic merits close and careful attention to the puzzling and—at times, contradictory—complexities of life as a human, in all its glory and with all its faults.
Waiting for Godot, by Samuel Becket, directed by Jacob Richmond
Blue Bridge Theatre at the Roxy (in Quadra Village)
March 5-15, 2015 with previews March 3 and 4
Tickets $28.75-44 via Ticket Rocket in person (#2-1609 Blanshard at Fisgard), by phone (250 590 6291)or online.
Student rush seats available.
 
Cast:
Vladimir Peter Anderson
Estragon Brian Linds
Pozzo Scott Hylands
Lucky Trevor Hinton
Boy Kai Merriam
Creative Team:
Director Jacob Richmond
Set Designer Andy Graffiti
Costume Designer James Insell
Sound Alex Wlasenko
Lighting Design Rebekah Johnson
Stage Manager Sandra Drag
Assistant Stage Manaager Rebecca Marchand
Disclaimer: I was offered a complimentary ticket to attend Waiting for Godot. As always, I retain complete editorial control over all content published on this site.