First-time playwright, Comox resident JS Hill debuts When I'm 64 with a play reading Monday August 26th at Victoria's Shakespeare by the Sea (Clover Point).
Hill was invited by Robert Light, director of Shakespeare by the Sea.  "This is artists helping artists – our way of giving back to the community," he said.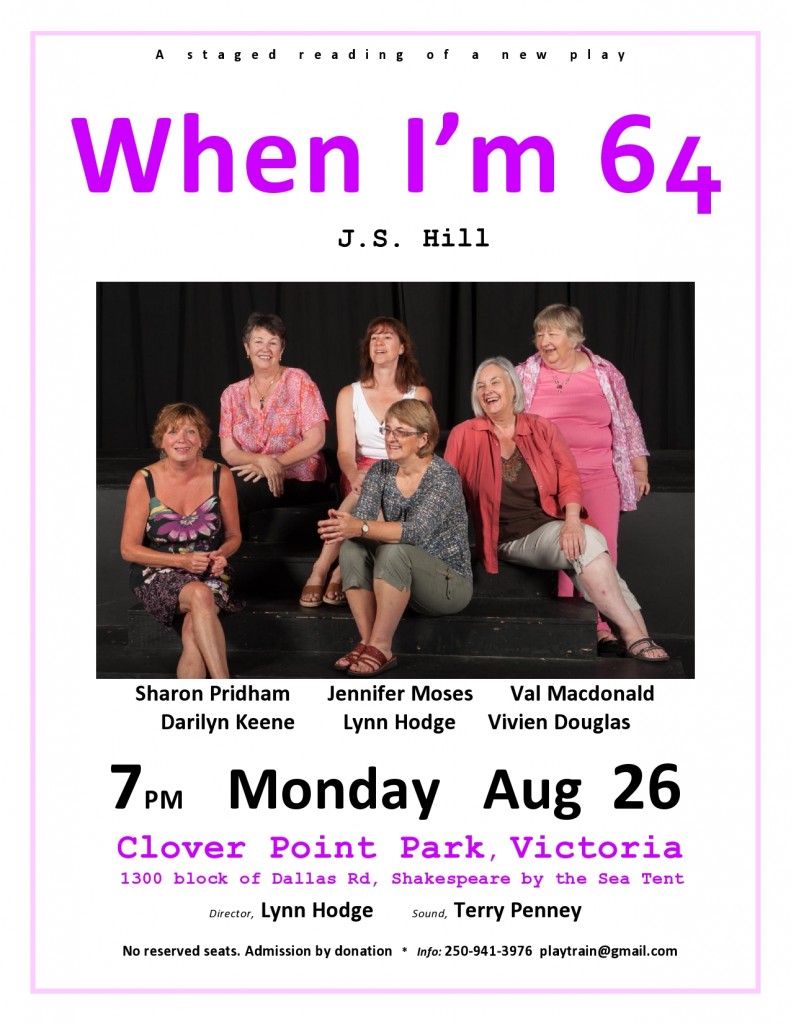 Faced with a lack of roles for women of "a certain age" Hill began writing When I'm 64.
Although based on situations and transitions that many people, men and women, face as they age, the actresses in When I'm 64 are playing fictional roles including: a breast cancer survivor, a woman living on the streets, a daughter clearing out her late father's possessions and a wife awakening to a new sexuality.
"It's that question, as we mature – who we want to be, who we want to live our lives with. There is something particular about 64. More than half of your life is behind you," said Hill.
Comox actresses Lynn Hodge, Sharon Pridham, Darilyn Keene, Jennifer Moses, Val Macdonald, Vivien Douglas, and Sara Zubiak worked with Hill through many drafts of the script, a series of monologues where each character explores her life and the decisions that lie ahead.
For its debut, When I'm 64 is being presented as a reading, with minimal props and a focus on the characters – and that's just the way the playwright wants it.
"Everybody has a unique story," said Hill. "But sometimes our elders' stories go untold or are not listened to. This play honours our story."
When I'm 64 by JS Hill, a play reading
Monday, Aug. 26 at 7:00 p.m.
Shakespeare by the Sea at Clover Point Park in Victoria
by donation
Please note there is limited parking at Clover Point Park.  Theatre-goers are encouraged to walk, car pool or take public transit. Please respect parking restrictions in surrounding neighbourhoods.