Jewel tones pop and cartoon characters come to life in You're a Good Man Charlie Brown at the University of Victoria Phoenix Theatre (March 14-23rd).
Full of high energy from the opening number to the close, this show has heart and cross-generational appeal.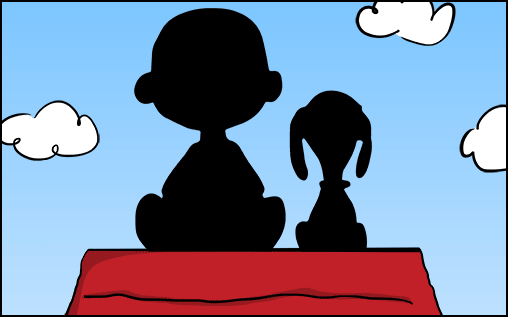 Audiences will easily recognize episodes from the comic strip Peanuts: Charlie Brown longing to meet the little red-headed girl, the kite-eating tree, Snoopy as a World War I fighting ace, Lucy the 5cent psychiatrist and more.
Outfitted in slightly stiff and oversized clothing, with highly shellacked wigs and hairstyles (costumes by Allyson Leet & Shayna Ward) the cast imitates the high-pitched and slightly sing-song style common to children's speech. Their movements are rambunctious and awkward, as befits a group of five to eight year olds.
Set designer Allan Stichbury chose to place the action in a series of outsized frames back-dropped with bright coloured washes of light (lighting design by Simon Farrow) echoing the comic-book theme.  Outsized cut-outs represent the school bus and Lucy's office.  Trees wheel in and out, as does Snoopy's doghouse.  A fire-plug pops, seemingly, out of nowhere. It's all extremely cute, without reverting to cloying.
There's plenty of variety in the songs and each cast member gets a turn at the spotlight. Highlights are many – the audience applauded with great appreciation throughout – of note were Snoopy (Kevin Eade) hoofin' it with style through Suppertime, the zany rabbit chase in Book Report (Véronique Piercy (Patty), Christie Stewart (Sally)and Kevin Eade (Snoopy), Linus' (Francis Melling) heart-felt My Blanket and Me, Beethoven Day (Derek Wallis as Schroeder) and The Kite (Kale Penny as Charlie Brown).
You're a Good Man Charlie Brown was written in 1967 and played on Broadway until 1971; it was revived in 1999.  It's message of childhood friendship and adventure touches a chord in each of us, as we remember simpler times with a hint of nostalgia.
Live music accompaniment is provided by University of Victoria students Adrian Bronson (Piano) and Katelyn Clark (Percussion); their timing, so crucial to a live show, was impeccable as they easily allowed for the interruptions due to audience laughter and applause.
In a brief converation afterwards, director Fran Gebhardt was generous in her praise of fellow collaborative team members Jacques Lemay (co-founder of the CanadianCollege of Performing Arts (CCPA) and well-known choreographer/movement coach) and Jim Hill (current CCPA music director).  Their efforts were absolutely essential to the cast's success, for musical theatre is not a focus of their theatre training.
Gebhardt's exuberant treatment of this iconic and beloved classic is sure to be popular; it's easily accessible to families with younger children (advertised as suitable for ages six and up). Tickets are at a premium – if you'd like to attend, be sure to reserve now to avoid disappointment.
You're A Good Man, Charlie Brown (Revised)
March 14 – 23, 2013 at the University of Victoria Phoenix Theatre (Chief Dan George Theatre)
Based on the Comic Strip "Peanuts" by Charles M. Schulz
Book, Music and Lyrics by Clark Gesner
Additional Dialogue by Michael Mayer
Additional Music and Lyrics by Andrew Lippa
Original Direction for this version by Michael Mayer
Originally Produced in New York by Arthur Whitelaw and Gene Persson
Directed by Fran Gebhard
Music Direction by Jim Hill
Movement Coach Jacques Lemay
Set Design by Allan Stichbury
Costumes Design by Allyson Leet & Shayna Ward
Lighting Design by Simon Farrow
Stage Manager Sandra Drag
Pianist & Assistant Music Director Adrian Bronson
Percussion Katelyn Clark
Cast: (in alphabetical order)
Kevin Eade Snoopy
Francis Melling Linus
Kale Penny Charlie Brown
Véronique Piercy Patty
Tea Siskin Lucy
Christie Stewart Sally
Derek Wallis Schroeder
Produced by special arrangement with, and the music and dialogue material furnished by TAMS-WITMARK MUSIC LIBRARY, INC., 560 Lexington Avenue, New York, NY10022
Box office: 250 721 8000 Open for show: March 5 – 23, 2013
Adult: $22 Senior: $18 Student: $16 Weekend evenings (All seats): $24 Alumni: $16 for Saturday matinee
I was offered complimentary tickets to attend You're A Good Man, Charlie Brown. I was not required to write a review. As always, I retain complete editorial control over all content published on my blog.