A Christmas Carol at the Belfry Theatre, December 1-20, 2015. A review.
Michael Shamata's adaptation of A Christmas Carol by Charles Dickens, currently at the Belfry Theatre December 1-20, 2015, represents theatrical craft of the highest level. Under Shamata's careful and insightful guidance, the large multi-generational cast brings the beloved story to life with thoughtfulness, care and great joy.
A Christmas Carol is definitely Shamata's "baby", first produced in 1990 at Theatre New Brunswick, Fredericton, and then at Soulpepper Theatre in Toronto where it has become a regular family tradition. When Shamata arrived as Artistic Director at the Belfry Theatre in 2007, he promised to bring it to Victoria as well, first mounting it as part of the regular season in 2012 to great success. Audiences can only hope that with the 2015 production, A Christmas Carol will be in regular rotation for years to come.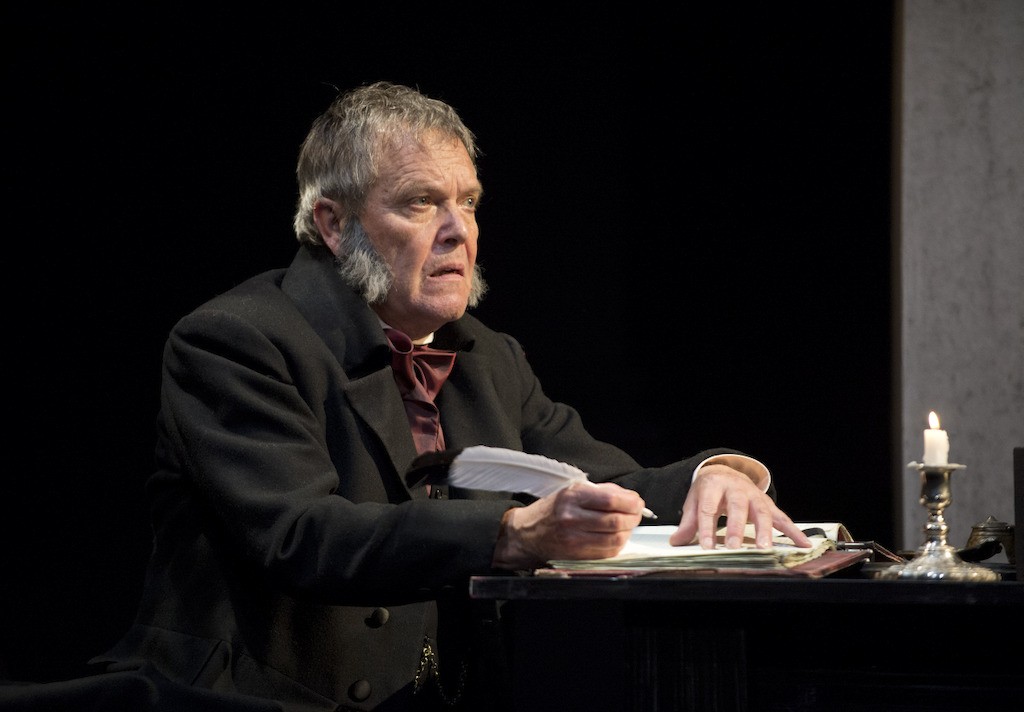 Tom McBeath as Ebenezer Scrooge. Photo: David Cooper
Since 1843 Dickens' classic "Christmas ghost story" has enchanted readers and viewers alike. Most people either study it in high school English, or have seen any number of film versions (my personal preference is the black-and-white version featuring Alistair Sim).
The stakes are high for any stage production, given the emotional resonance of the piece, and its personal associations for every audience member—even the youngest may have seen the latest animation or cartoon.
Mr Shamata is a thoughtful and intelligent director who has mined the story for gems of truth and placed them in a simple and beautiful setting, undergirded with impeccable acting and uplifting moments of fancy.
Design—set, costumes, light and sound—is of the highest order, creating a rich and lush textural whole.
John Ferguson's massive central doorframe suggests a portal into worlds, past, present and to come, while doors situated stage right and left see a constant flow of characters in scenes ranging from London streets to Fezziwig's shop. The use of a rolling ladder allows Scrooge (Tom McBeath) to whiz far above the streets of the city, and provides a more practical use as workmen hang Christmas wreaths in advance of a party. A similar rolling table becomes Scrooge's desk as easily as the dinner table at the Cratchit's.
Composer Geordie Haley builds a soundscape featuring classical music with an overlay of effects mimicking the tick-tocking of time, the crash of thunder, and a ghostly and eerie dread-inducing drone. In happier moments, rambunctious jigs feature in party scenes.
Lighting designer Alan Brodie captures the moodiness of the tale, at times bathing Scrooge in rays of dim light during particularly portentous moments, while enhancing the love felt round the Cratchit's table with a subtle and warm glow. Lightning flashes are terrifying as they crackle and streak across the stage.
Nancy Bryant's costumes are magnificent—with flounces, flourishes, cuffs, muffs, collars and cravats to aid the transition of the actors, who all, save McBeath, play multiple roles. Many scenes require an exit through one door prior to re-appearing at another as another person, in completely different garb. The backstage crew are not to be over-looked when it comes to co-ordinating the vast amount of costumes changes necessary during the production, and congratulations are in order for their deft handling and co-ordination.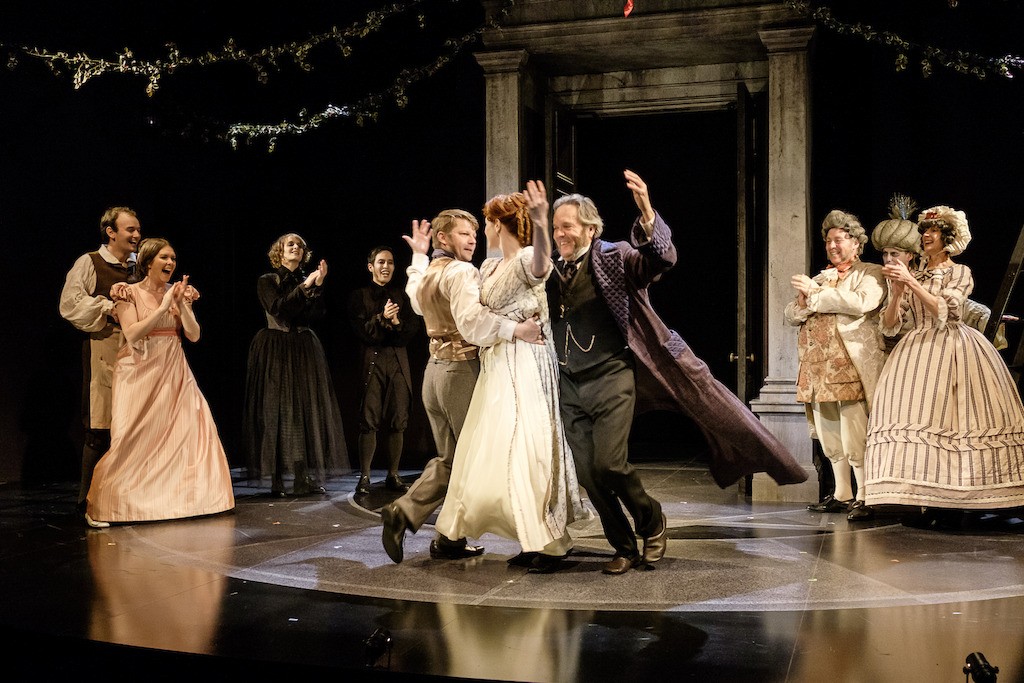 Anton Lipovetsky, Celine Stubel, Jessica Hickman, John Han, Geoffrey Ewert, Amanda Lisman, Tom McBeath,
Brian Linds, Gerry Mackay and Jan Wood. Photo: Don Craig
Tom McBeath breathes humanity and complexity into his portrayal of Scrooge—gradually transforming from tight-fisted miser to compassionate, and even mischievous. Moments with Tiny Tim (Kyle Atlas Stahl) on his lap remind us all of happy times spent with cherished grandparents.
While there is definitely a certain amount of gravitas in this re-telling, there is also levity, humour and mirth. Gerry McKay plays The Ghost of Christmas Past and Present with a definite twinkle in his eye, prodding and provoking Scrooge through his actions. Mr. Fezziwig (Brian Linds) is bonhomie personified in his care and consideration for his workmen, and evident love for his good-natured wife (Jan Wood) who he teases unceasingly. The Spirits (Jessica Hickman and John Han) caper, cavort and strike child-like poses. Hickman's choreography greatly enlivens the party scene at the Fezziwig's where the true nature of Christmas contrasts with Scrooge's adult "bah-humbug" attitude.
Dickens provided many fine glimpses into the psychological make-up of his central character, and director Shamata underlines them carefully. The scene where, as a child, Scrooge (Kyle Atlas Stahl) is left behind at school, later to be rescued by his sister Fan (Abby Baker) reveals much of the man-to-be. Similarly, as the desire to accumulate wealth overtakes him, a young adult Scrooge (Geoffrey Ewert) is disappointed in love when Belle (Amanda Lisman) breaks their engagement.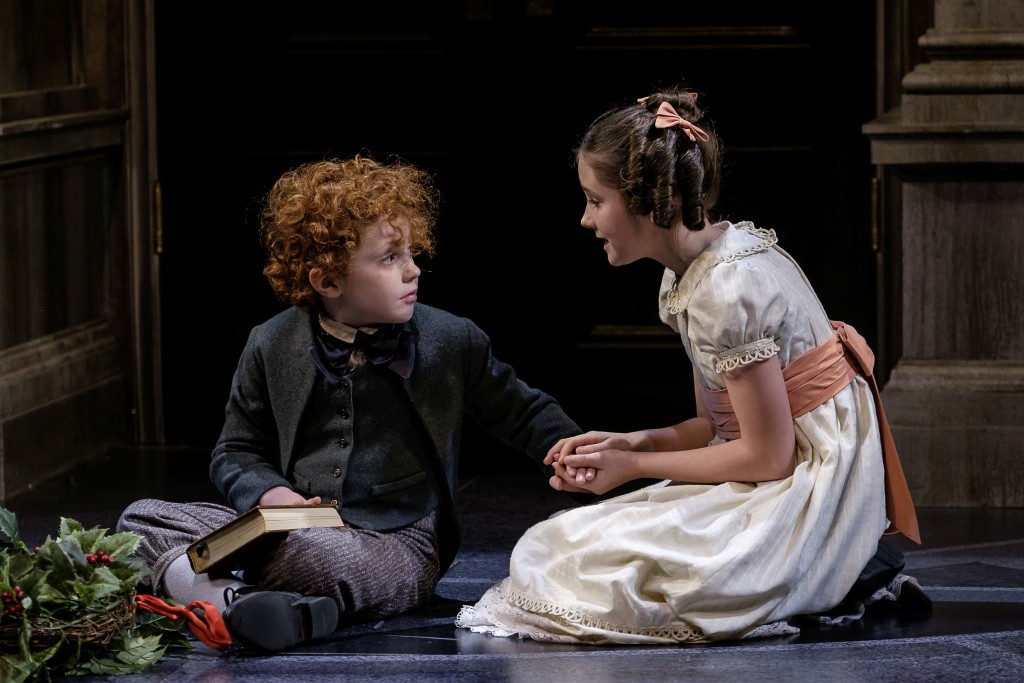 Kyle Atlas Stahl (young Scrooge) and Abby Baker (Fan). Photo: Don Craig
The youngest cast members—Stahl, Baker, Ajay Parkih-Friese (Peter), Lauren Alberico (Martha)—are simply delightful to watch, as they slip in and out of characters with ease.
The ensemble, comprising award-winning actors, many of whom are familiar to Belfry audiences, imbue their characters—some seen for mere brief moments—with deep emotionally and distinct traits ranging from Fezziwig's (Brian Linds) joy, to Cratchit's (Anton Lipovetsky) grief, Belle's (Amanda Lisman) moral rectitude to the charwoman's (Jan Wood) avariciousness, Mr Fred's (Geoffrey Ewert) persistent concern to Mrs. Cratchit's (Celine Stubel) abiding love.
The Belfry Theatre production of A Christmas Carol provides audiences, old and new, with a wonderful opportunity to allow the message of the true meaning of Christmas to sink deep into hearts again. Dickens' cautionary tale has lost none of its import over the past century and a half—there may not be poor houses in 2015, but there is still a need for charity and concern for our fellow man.
Disclaimer: I was graciously provided with complimentary tickets to A Christmas Carol.