Speed the Plow by David Mamet at the Belfry Theatre September 15-October 11, 2015. A review.
Like light shifting and playing across the garden, its mercurial quick-silver nature un-capturable, so too the power dynamics in David Mamet's Speed the Plow, currently opening the 40th season at the Belfry Theatre (September 15-October 11, 2015). Changes are as subtle as a word, a heightened tone, a brief touch, or as forceful as a barrage of swear-word-laden invective.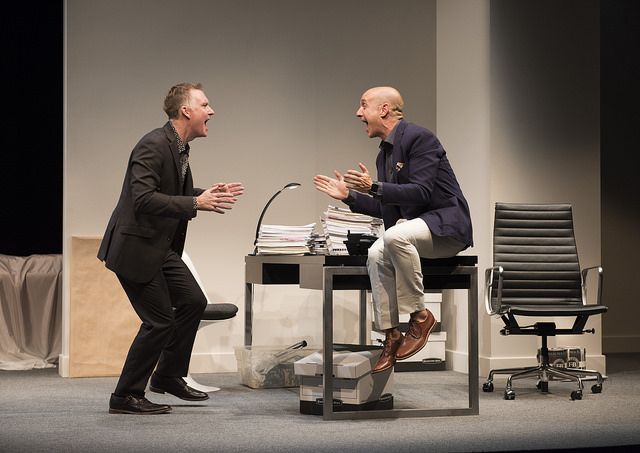 Vincent Gale (Charlie Fox) and Brian Markinson (Bobby Gould). Photo: David Cooper
Mamet's signature writing style–known for capturing the rapid-fire, staccato nature of male braggadocio, full of uncompleted sentences and characters who talk at and on top of one another—demands accomplished actors capable of creating a cohesive ensemble and doing battle with the work.
Vince Gale is a firecracker as Charlie Fox, ferocious kinetic energy focused on one sole objective, the seemingly impossible dream that has materialized for a chance of a lifetime payout. Bound by loyalty to his long-time friend, newly appointed movie studio producer Bobby Gould (Brian Markinson), he gloats, begs and pleads as he pitches his story.
Markinson's Gould is smooth, suave and in control—secure of his place in the pecking order as he offers to school his temporary secretary—Celine Stubel as a magnificently inscrutable Karen—in the ways of the business.
Opening to the big city riffs of composer Tobin Stokes syncopated and jazzy soundtrack, and fleshed out with Shawn Kerwin's sophisticated and sleek designs (complete with revolving set), Speed the Plow delights as it pillories, prods and provokes. Who doesn't want to have the insider track, or be the proverbial "fly on the wall" for some high-stakes gambling?
It's when the action shifts to Gould's home from the office that events truly take on epic proportions and Stubel begins to shine with her earnest nature and heart-felt pleas. Her transition from non-threatening and complacent office staff to full-blown defender of art and all that is holy is sublime, and her laser-like insights into Gould's psyche—profound.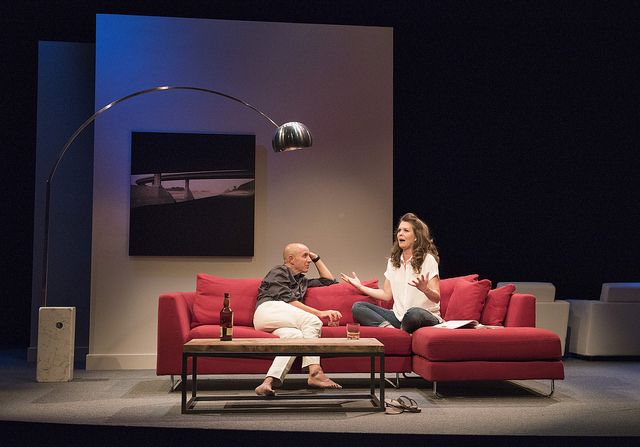 Brian Markinson (Bobby Gould) and Celine Stubel (Karen). Photo: David Cooper
As always in Mamet, it's the twists and turns that keep the audience on its toes. Director Michael Shamata creates provocative dramatic tension as this crackerjack cast navigates the shoals with dexterity to prove that power resides in unusual places and truth is complex and hard to nail down.
Between art and commerce, which will prevail? Speed the Plow provides explosive, wicked fun while exploring the question.
Further reading:
Mamet on Speed the Plow http://www.nytimes.com/2008/09/07/theater/07mame.html?_r=0
Hollywood producer Bobby Gould has just been handed a sure-fire hit – a blockbuster – that could catapult him and his old friend Charlie Fox into the big money. Or, he could make the "important" art house flick that his oh-so-attractive office temp is urging him to do. A savagely funny exposé of Hollywood and the male psyche.
Speed the Plow by David Mamet, directed by Michael Shamata
Belfry Theatre, 1291 Gladstone Avenue
September 15-October 11, 2015
Tickets from $23-$48 (plus GST) at 250 385 6815 or tickets.belfry.bc.ca.
Rush Tickets and Ticket Discounts may also be available
Please note: Tuesday-Thursday curtain is 7:30pm
Cast
Vincent Gale as Charlie Fox
Brian Markinson as Bobby Gould
Celine Stubel as Karen
Creative Team
David Mamet Playwright
Michael Shamata Director
Shawn Kerwin Set & Costume Designer
Michael Whitfield Lighting Designer
Tobin Stokes Sound Designer
Jennifer Swan Stage Manager
Sadie Fox Apprentice Stage Manager
Alix Reynolds Assistant Director (UVic)
Disclaimer: I was provided with complimentary tickets to attend the opening of Speed the Plow.