A Christmas Story at the Chemainus Theatre Festival November 18-December 31, 2016. A review.

It's the season—time to dust off favourite recipes, find the familiar tunes and grab a DVD of a holiday classic.  In our family, it has always been A Christmas Story, based on stories by Jean Shepherd.  The movie came out in 1983 just before my oldest son was born—at first we watched it on TV, then made sure to rent it from the local video store before finally purchasing.  To say we know every line would be an understatement.
Shepherd's gift for the ever-so-slightly caustic comment and exaggerated sense of story, as well as his unique view of the world as seen through the eyes of nine-year-old Ralphie Parker (Brin Slydell), has endeared him to generations of movie-goers.
Now, theatre audiences can chuckle along with the Chemainus Theatre Festival's production of A Christmas Story. Many of the essential elements will be familiar, although fervent fans will remark on omissions and additions—it's guaranteed to keep people on their toes as they compare notes.
Carolyn Rapanos' set is a delightful miniature of the Parker home—complete with Ralphie's upstairs bedroom, kitchen with a window to the backyard and father's chair taking pride of place in the living room. You can almost smell Mom's "meatloaf and red cabbage" as the family sits down to dinner. Clever cartoon-like snowbanks serve as doors to action that takes place outside.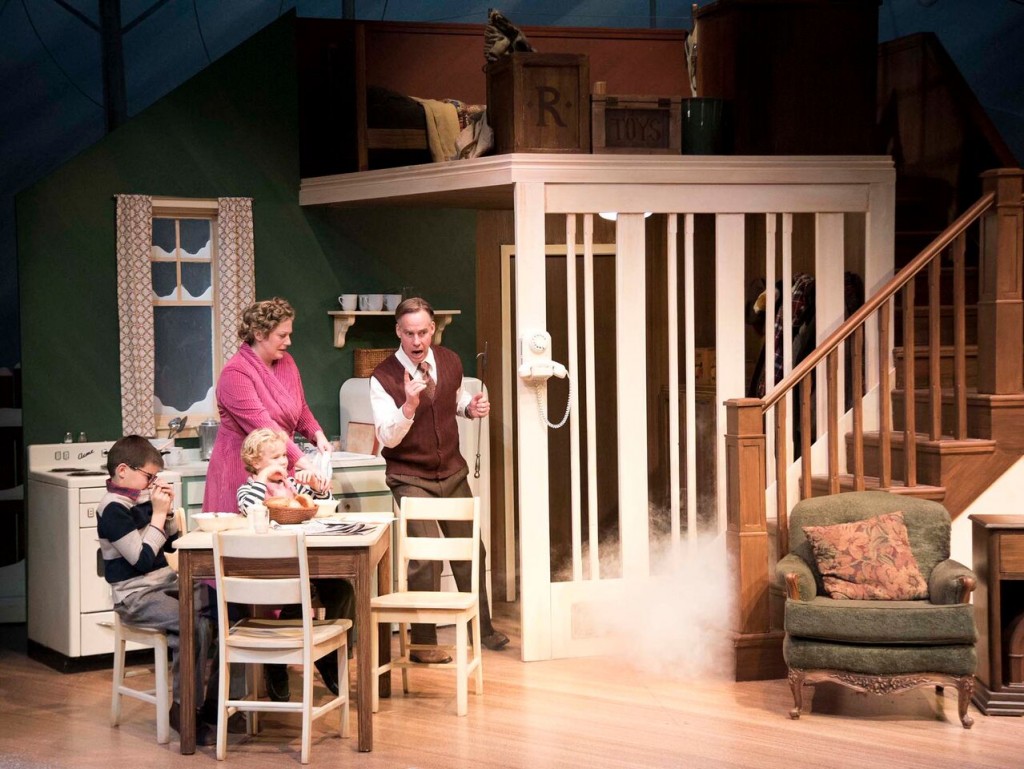 Brin Slydell as Ralphie, Sarah Carlé as Mother, Joshua Williams as Randy and Stephen Sparks as The Old Man.
Photo Cim MacDonald
Costumes by Laurin Kelsey are filled with  nostalgic elements—long mufflers to wind round round, voluminous snow suits, flaps on winter hats, patterned sweaters, form-fitting dresses.
Brian Linds' sound designer underlines the dastardly actions of the villainous Scut Farkas (Ben Williams snarls and snarks with the best of them), the wily attempts of the Bumpkis hounds at infiltrating the house in pursuit of The Old Man (Stephen Sparks), and conveys the overall sense of wonderment, magic and anticipation present during the season.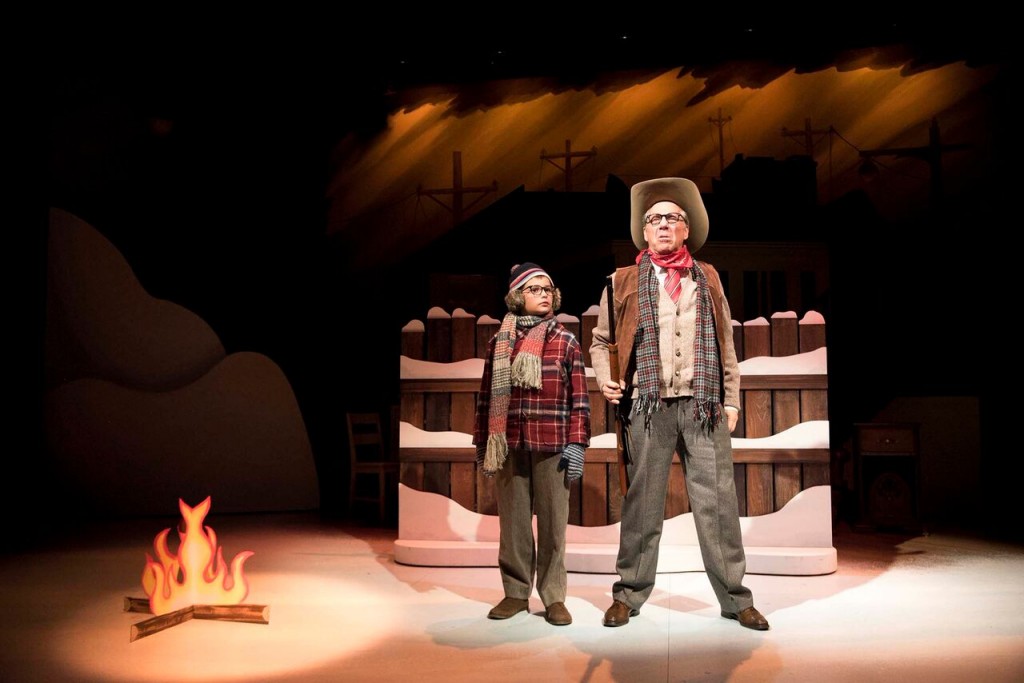 Ralphie (Brin Slydell) and Ralph (Brian Linds). Photo: Cim MacDonald
Director Ian Farthing exhibits exceptional balance in working with a combined cast of adults and children (some very young indeed). Although the story is clearly told from a child's point of view and sometimes makes use of caricatures (Miss Shields—Melissa Young–in her flight of fancy as the Wicked Witch), there is definitely a sense of realism in the acting.  Narrator Brian Linds as the older Ralph grounds the story with fond and sharp explanations of his memories.  As the teacher Young displays spunk despite her stern ways.  Mother and The Old Man step outside their roles as adults to dance a spontaneous and hilarious pas-de-deux in adoration of the famous lamp (a big hit with the audience).
The young cast are funny (Joshua Williams as Randy in particular with his whining), perceptive (Brin Slydell has wonderful insights into his character and does not attempt to replicate Peter Billingsley's iconic portrayal), wise beyond their years (Isabel McGregor as Helen Weathers is "that" kid—the one who knows everything and isn't afraid to let you know), adoring (Olivia Robinson as Esther Jane Alberry epitomizes cute in her crush on Ralphie) and rambunctious sidekicks (Schwartz Zebastin Borjeau and Flick Simon Minkow).  Together the young ensemble has a great sense of timing and pace.  Carlé and Sparks have a wonderful stage relationship that underlines the humour while accentuating the loving bonds they share.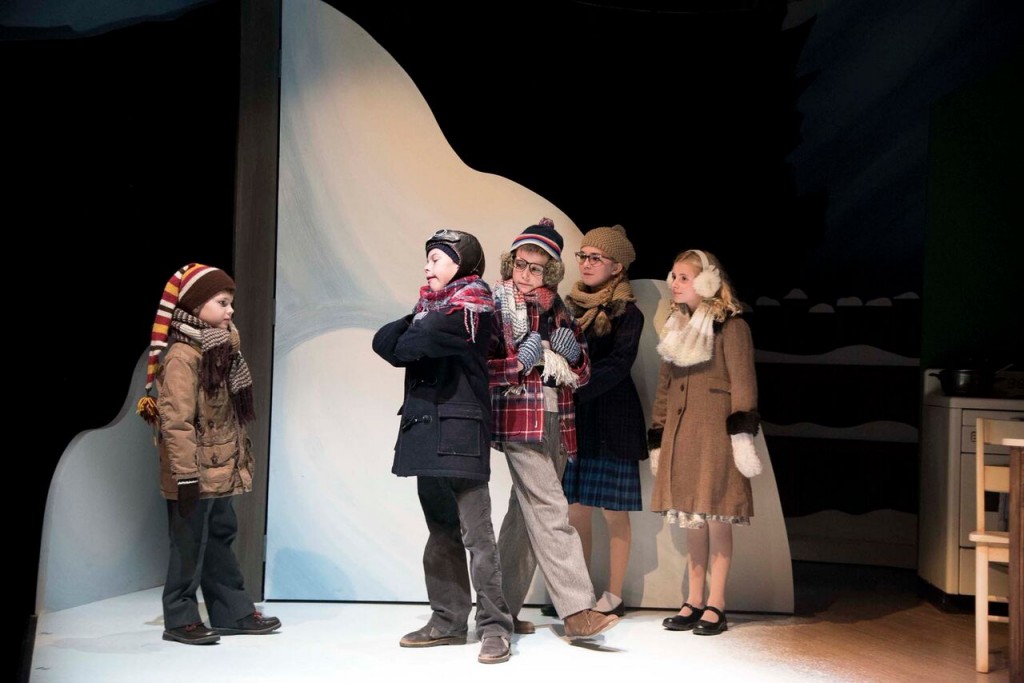 Zebastin Borjeau as Schwartz, Simon Minkow as Flick, Brin Slydell as Ralphie, Isabel McGregor as Helen Weathers and Olivia Robinson as Esther Jane Alberry. Photo: Cim MacDonald.
The Chemainus Theatre Festival production of A Christmas Story contains all the elements of the original with a few surprises guaranteed to please fans and draw newcomers into the fold.  The show has proven to be very popular and more dates may be added to the schedule.
The weekend was a special treat that included the evening dinner buffet in the Playbill Restaurant as well as an overnight stay at the impeccable Best Western Chemainus Inn (more to come in a separate blog post)—this option is highly recommended particularly if travelling over the Malahat.
It's a familiar yuletide tale: the all-consuming wish for one special gift. For 9-year-old Ralphie, that coveted present is an Official Red Ryder carbine-action BB gun. Follow the bespectacled tyke's quest in this tale of decoder pins, furnace explosions, leg lamps, and more festive adventures. Share this charming, wistful remembrance of simpler times with loved-ones! Based on the popular holiday film.

Based on the motion picture A Christmas Story, 1983 Turner Entertainment Co. distributed by Warner Bros. Written by Jean Shepherd,Leigh Brown and Bob Clark; and on the book In God We Trust, All Others Pay Cash by Jean Shepherd.
A Christmas Story by Jean Shepherd, adapted by Philip Grecian
Directed by Ian Farthing
Chemainus Theatre Festival
November 18 – December 31, 2016
Tickets $25-65.  The Chemainus Theatre Festival practices dynamic pricing.
Creative Team
Director Ian Farthing
Set Designer Carolyn Rapanos
Costume Designer Laurin Kelsey
Lighting Designer Ben Burrow
Sound Designer Brian Linds
Stage Manager Liz King
Assistant Stage Manager Claire Friedrich
Cast
Mother Sarah Carlé
Ralph Brian Linds
The Old Man Stephen Sparks
Miss Shields Melissa Young
Schwartz Zebastin Borjeau
Helen Weathers Isabel McGregor
Flick Simon Minkow
Esther Jane Alberry Olivia Robinson
Ralphie Parker Brin Slydell
Scut Farkas Ben Williams
Randy Joshua Williams
Disclaimer: We were guests of the Chemainus Theatre Festival and the Playbill Restaurant for A Christmas Story.