Grace & Glorie at the Chemainus Theatre Festival October 16-November 7, 2015. A review.
Believer or non, at some point, life's big questions come creeping in with the biggest being "why?" when confronted with inevitable difficulties—death, illness, tragedy. Grace & Glorie is a well-written, slow-paced exploration of these questions as city collides with country, education with illiteracy, and youth with age.
Grace (Valerie Pearson), a 90-year-old inhabitant of Virginia's Blue Ridge Mountains, is a fiery redneck, determined to end life on her own terms, high on the mountain at the end of the road, surrounded by all that is familiar. City-bred, Harvard-educated hospice volunteer Gloria (Erin Ormond) is equally determined to provide assistance. Over the space of several days (two hours onstage), these two woman explore their differences and find, to their great surprise, a common ground based in the deepest of shared experience.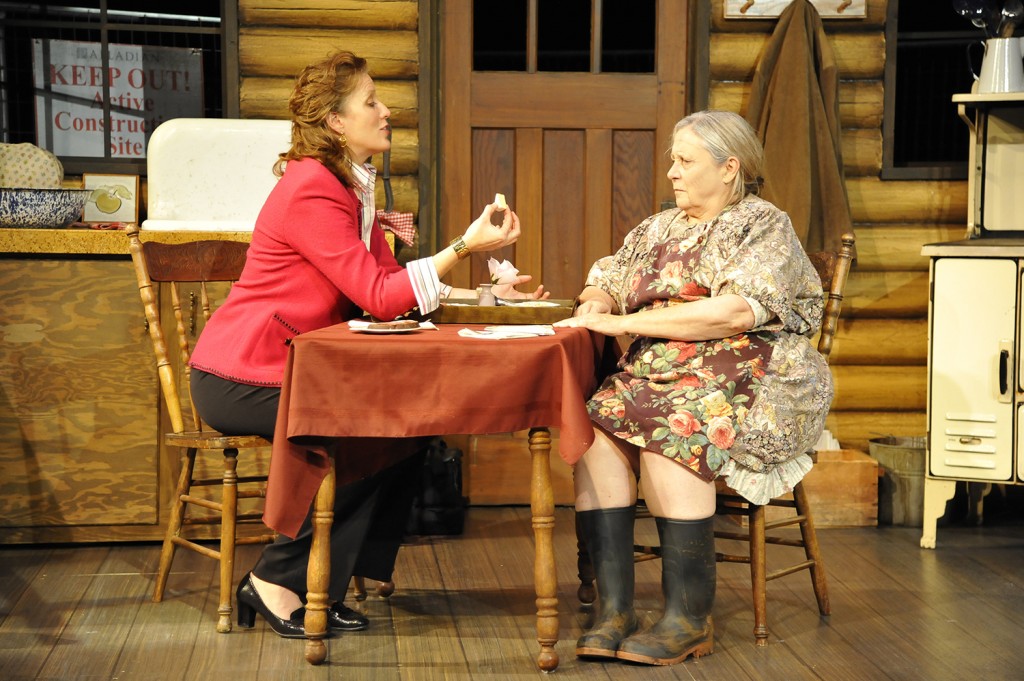 Erin Ormond (Gloria) and Valerie Pearson (Grace). Photo: Cim MacDonald
Ziegler's script and narrative arc follow what appears at first to be a straight-forward trajectory; there are plenty of moments of laughter and comedy in the collision of the two worlds. Gloria struggles to accomplish the simplest of tasks in this humble cottage bereft of running water and electric stove, and shudders at the spectre of mice in the cupboards, while Grace turns up her nose at fancy deli fare like prosciutto and brie. Slowly, however, the slick veneer of one, and the hardened exterior of the other begin to crack. Heart-breaking revelations surface and life-lines are tossed across the gulf between them.
Grace & Glorie demands finesse to avoid the pitfalls of schmaltz and sentimentality; experience wins out in this production. Pamela Halstead's inspired direction, coupled with the skillful interpretations of Ormond (a Chemainus Theatre Festival regular) and Pearson (in her Festival début) provide theatre-goers with a show that digs deep for nuanced truths. Pearson, decades younger than her character, captures the pained movements of age and illness, while maintaining the dignity of this wise-cracking, no-nonsense original, who reveals her secrets reluctantly. Ormond's clipped New York diction and rapid movements hide a conflicted and guilt-ridden individual. Trust builds slowly between the two.
Craig Alfredson's cozy authentic cottage interior complete with household items from years gone-by is settled close to the front of the stage, and draws the audience into the action while creating the illusion of sitting at the kitchen table as bystander. A functioning toaster fills the auditorium with delectable aromas during a scene when Gloria makes breakfast for Grace.
Costumes (Crystal Hanson) beautifully highlight the differences between the two women—frumpy dresses and house coats for Grace and sophisticated suits and sweater sets—complete with exquisite jewellery and shoes—for Gloria.
In a script complete with bulldozers attacking the mountain, and chain saws its trees, sound designer Paul Tedeschini employs a vast array of cues to bring the country to life—chickens clucking on the porch, gospel music on the radio, the snap of a mouse-trap—and excels when the construction crew begins to blast. Together with light flashes (lighting design-Nicole Lamb) it's reminiscent of great war-time battles as explosion after explosion rattles the cabin.
Grace and Gloria come to terms with one another, and with life, as they while away the hours, cut off from outside distraction. In a situation not far removed from many an individual's life, when all is stripped away, and the end is near, great surprises await.
Grace & Glorie delivers adept comedy and verity, and entertains while prompting introspection. At the end of the day, like Grace, everyone wants to know their life mattered. Thanks to the Chemainus Theatre Festival for reminding us of this truth.
Grace & Glorie is sure to resonate with theatre-goers familiar with the reality of life's lessons, and with everyone who has been blessed to have a "Grace" in their life.
Grace & Glorie by Tom Ziegler, directed by Pamela Halstead
The Chemainus Theatre Festival
October 16-November 7, 2015
Tickets $25-$65 (Chemainus Theatre Festival practices dynamic ticket pricing)
Production team:
Set design Craig Alfredson
Costume Design Crystal Hanson
Lighting Design Nicole Lamb
Sound Design Paul Tedeschini
Stage Manager Lisa Russell
Cast:
Gloria Erin Ormond
Grace Valerie Pearson
Disclaimer: We attended Grace & Glorie as guests of the Chemainus Theatre Festival.