Hilda's Yard by Norm Foster at the Chemainus Theatre Festival October 7-November 5, 2016. A review.
Hilda's Yard, currently playing at the Chemainus Theatre Festival until November 5, 2016, is a light-hearted reminder of the importance of family when life becomes difficult.
Norm Foster is considered to be one of Canada's most prolific playwrights, popular with theatres—community, school, university and professional—from coast to coast. Since his first play Sinners was mounted by Theatre New Brunswick in 1983, he has had more than fifty plays produced professionally. (source: Wikipedia)
Written in 2012, Hilda's Yard, is set, however, in 1956.  Sam (Brian Linds) and Hilda Fluck (Karen Johnson-Diamond) are now empty-nesters, beginning to enjoy their time alone after children Gary (Giovanni Mocibob) and Janey (Ella Simon) have departed.  Then, in circumstances that would not be misplaced in 2016, Gary loses his job, Janey leaves her husband, and both boomerang back to nonplussed mom and dad.
Hilda is a sharp-tongued yet compassionate woman, and even though her role is largely confined to keeping the household humming along, she possesses a fine native intelligence and is nobody's dupe–much to the chagrin of her very spoiled adult children. Johnson-Diamond possesses a real gift for delivering the punch line to the many jokes Foster sets up throughout the script—in fact, the audience was laughing from the first few lines.
Brian Linds' character Sam is written in a more nuanced manner; as the stalwart and steady provider he is recalcitrant and reluctant at first to open up emotionally, but when he does, the heartache and disappointment are readily apparent.  As a couple Johnson-Diamond and Linds have a warm and convincing relationship with wonderful moments of teasing and affection.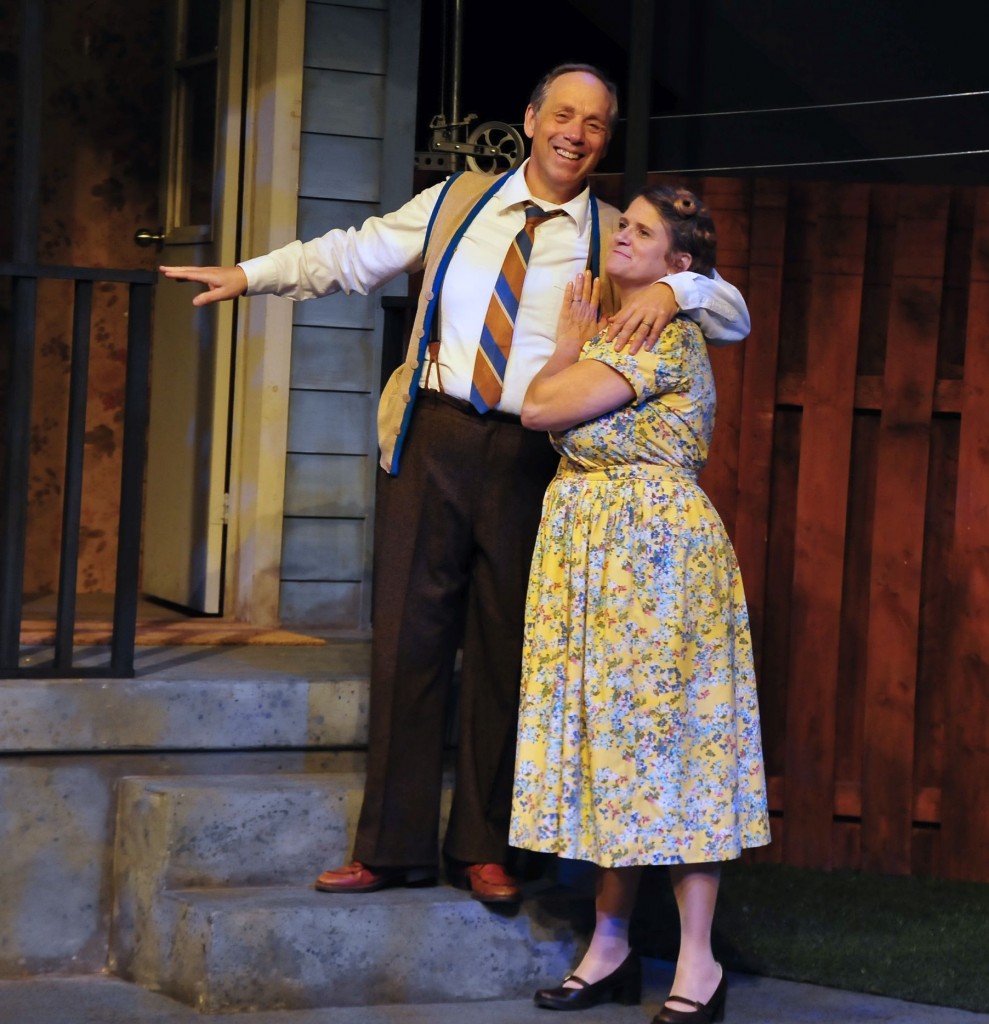 Brian Linds and Karen Johnson-Diamond. Photo: Cim MacDonald
It's a wonder they hadn't kicked their ungrateful progeny out the door rather than wait for them to depart—Mocibob and Simon play sibling rivalry to the maximum with pouting, whining and foot stomping, defining "failure to launch" long before it was a readily employed term.  Foster approaches weighty and uncomfortable topics of post-traumatic stress disorder (Gary still hasn't recovered from his stint during World War II) and spousal abuse with a careful touch.
Two additional characters round out the ensemble; Gary is running from his bookie (Brad Austin as Beverly Woytowich) while hoping to secure the girl of his dreams (Emma Slipp as Bobbi Jakes).  Slipp is the coolest of cats, playing Bobbi to the hilt before diverting into solemn pronouncements about love and family while Austin conveys sophistication and concern well beyond the confines of his dubious lifestyle.  The contrasts and contradictions inherent in the characters lead to many fine comedic moments.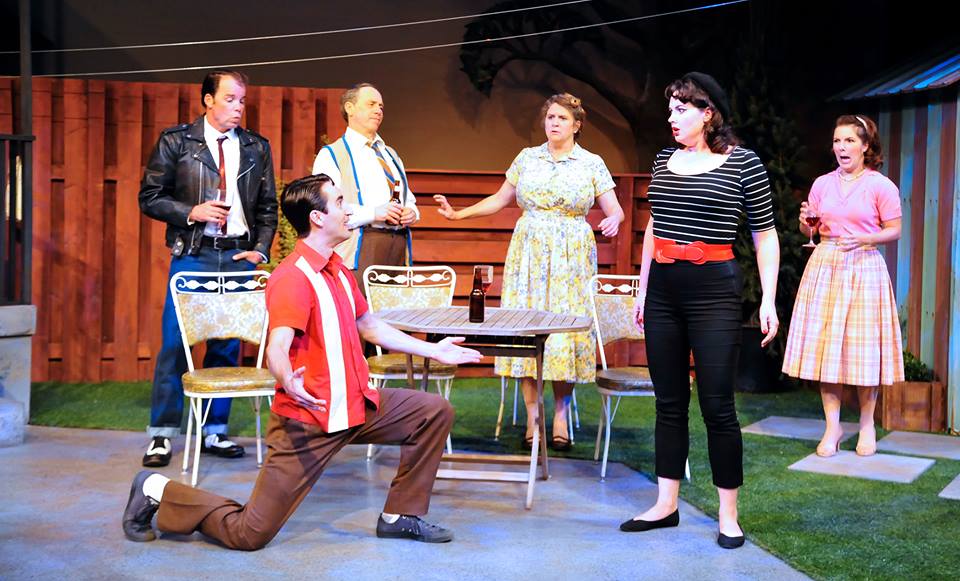 Brad Austin, Giovanni Mocibob, Brian Linds, Karen Johnson-Diamond, Emma Slipp, Ella Simon. Photo: Cim MacDonald

Ivan Brozic's homey and realistic set, complete with back porch, tidy yard and clothesline, faithfully replicates the humble architecture specific to the working class of the era.  Large trees add a graceful vertical element and allow for the interplay of light and shadow as the day progresses (lighting design—Lyle Franklin).  Costumes by Sarah Plater-Findlay accentuate the differences between the older and younger generations, and between more conventional youngsters and off-beat young people.
Director Mark DuMez, who also directed Hilda's Yard for Drayton Entertainment (with some of the same cast), has a careful grasp of the playwright's signature style and deftly navigates from quick laughs to uneasy realizations and back again.
In the end, despite the challenges of the day, everyone can rest easy knowing there is resolution—ties of love, family and friendship can indeed conquer the most difficult situation.
Hildas's Yard by Norm Foster, directed by Mark DuMez
Chemainus Theatre Festival
October 7-November 5, 2016
Tickets: $28-62. Online or by calling the Box Office 1-800-565-7738
Chemainus Theatre Festival practices dynamic pricing.
Creative Team:

Director Mark DuMez
Set Designer Ivan Brozic
Costume Designer Sarah Plater-Findlay
Lighting Designer Lyle Franklin
Stage Manager David Baughan
Apprentice Stage Manager Koh McRadu
Cast:
Beverly Woytowich Brad Austin
Hilda Fluck Karen Johnson-Diamond
Sam Fluck Brian Linds
Gary Fluck Giovanni Mocibob
Janey Fluck Ella Simon
Bobbi Jakes Emma Slipp
Disclaimer: We attended Hilda's Yard as guests of the Chemainus Theatre Festival and the Playbill Restaurant.