Jeeves Intervenes at the Chemainus Theatre Festival September 11-October 3, 2015. A review.
One hundred years ago this September, Bertie Wooster and the inimitable Jeeves were first introduced to a soon-to-be-adoring public. Through thirty five short stories and ten full-length novels the escapades of an entitled wastrel and his sagacious "gentleman's gentleman" have delighted generations of readers. Their creator, P.G. Wodehouse, is considered by some to be the greatest English language writer of the 20th century. His catchy slang and gentle put-downs hint at a constant state of bemusement with the world.
Bernard Cuffling is Jeeves personified—ramrod straight, eyebrow raised, perpetually out in front of his befuddled charge Bertie Wooster (Warren Bain), and not beneath a spirited caper around the premises while dusting. A particularly entertaining interlude to "Thus Spake Zarathustra" by Strauss (more commonly known in pop culture as the Sunrise Sequence in 2001 A Space Odyssey) suggests the omniscience of this peerless servant perfectly suited to smoothing out situations.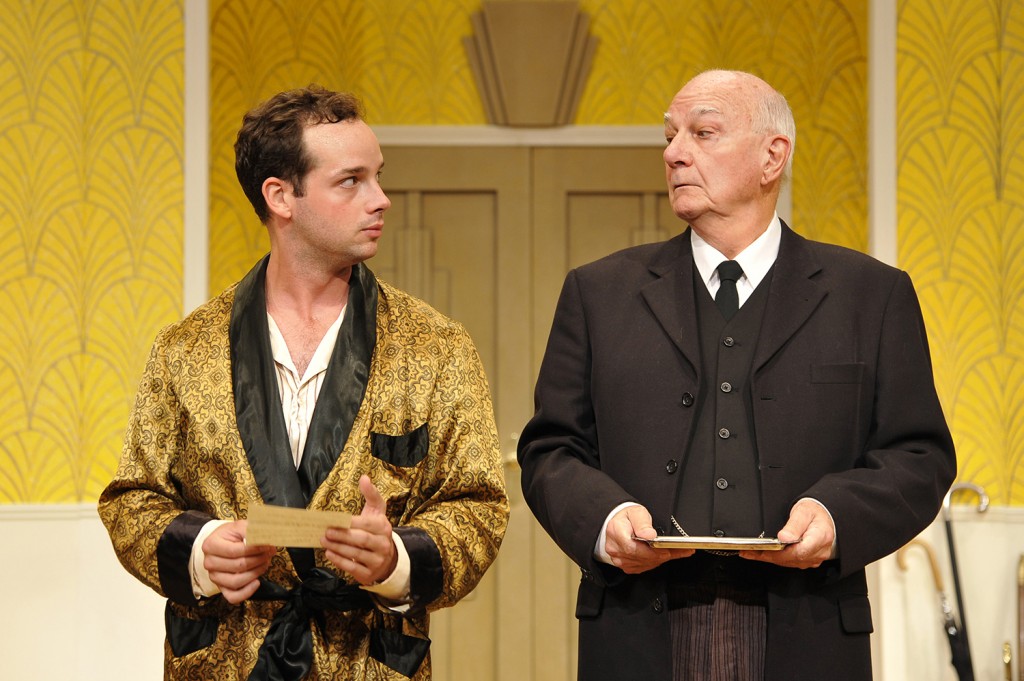 Warren Bain (Bertie) and Bernard Cuffling (Jeeves). Photo: Cim MacDonald
From opening sequence to final bow, the cast of Jeeves Intervenes, in Ian Farthing's directorial debut, slings zingers and bon-mots with élan.
Expert comedic actors Barbara Pollard as battle-axe Aunt Agatha—"a woman who wears barbed wire next to her skin" and Brian Linds as the hilarious skin-flint (and Scots) Uncle Rupert join Cuffling with his carefully timed pauses charged with meaning, while younger talent—Seth Little with his marvelously changeable physiognomy is positively besotted as Wooster's school chum Eustace and Olivia Hutt flirts and teases as the flighty yet flinty Gertrude—are foils to Bains' loveable scamp.
Bertie has time, money and youth—a combination guaranteed to produce shenanigans and plenty of trouble. Aided and abetted by Eustace it follows as day the night that mishaps and misunderstandings are bound to occur. How can the two fend off impending marriage and relocation to the antipodes?
Farthing emphasizes physicality and tone in the banter to produce an ideal mixture of fun and frivolity.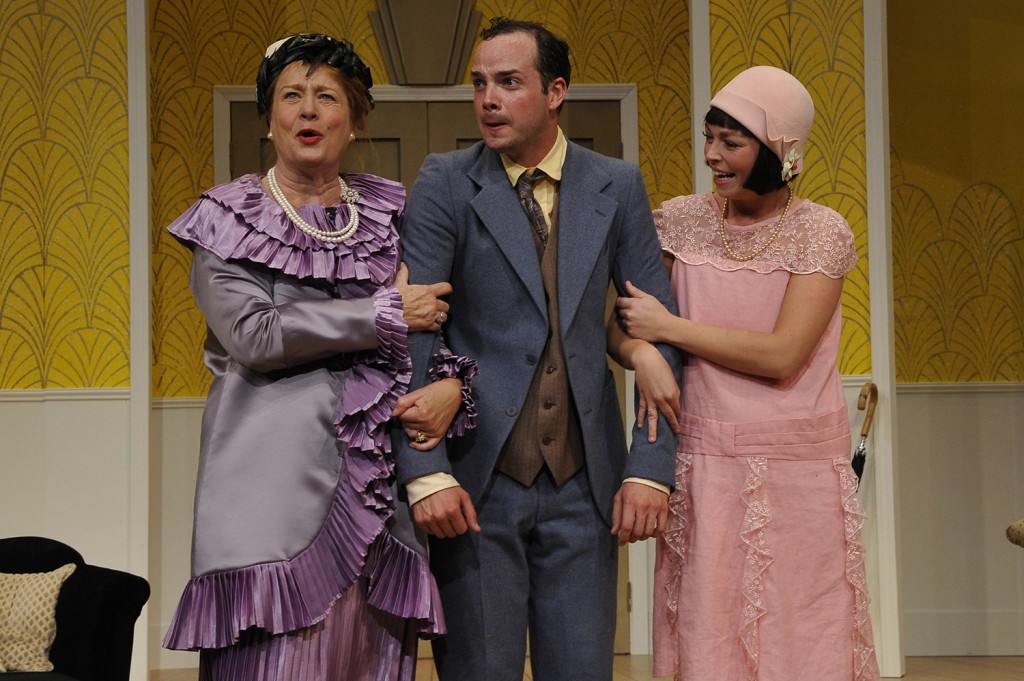 Barbara Pollard (Aunt Agatha), Warren Bain (Bertie) and Olivia Hutt (Gertrude). Photo: Cim MacDonald
Laurin Kelsey's set design invokes the grand style of upper crust Mayfair with high ceilings, Art Déco pediments and richly patterned wallpaper. Hidden entrances and exits ensure there is much to-ing and fro-ing to add to the confusion (hints of classic vaudeville abound in this production).
Costumes by Näomi Lazarus further emphasize the absurd—Aunt Agatha's elaborate ruffles and millinery confections; Rupert's hideous plaid plus-fours—and the elegant—Gertrude is ravishing in luscious tones of pink and orange while Bertie, Eustace and Jeeves are dashing in formal tailcoats.
Frozen in time Wodehouse's stories capture a flippant and off-handed attitude to life that greatly belies the reality of the post Edwardian era. The audience is invited into this fantasy world to share a moment, secure in the knowledge that characters who take themselves far too seriously will be undone and youthful indiscretion—excused.
Jeeves Intervenes charms with brilliant patter and quick-footed mischief as quibbles and quarrels give way to laughter and love.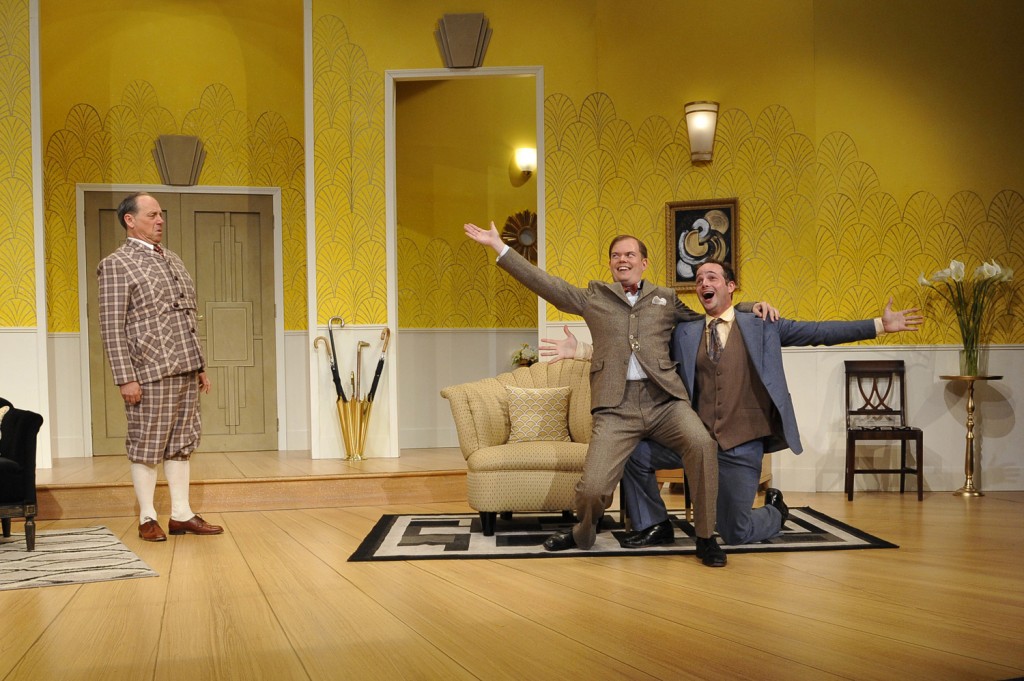 Brian Linds (Uncle Rupert), Seth Little (Eustace) and Warren Bain (Bertie). Photo: Cim MacDonald
Jeeves Intervenes from the stories of PG Wodehouse, adapted by Margaret Raether
Directed by Ian Farthing
Chemainus Theatre Festival
September 11-October 3, 2015
Tickets: $28-$71 depending on show availability and demand.
Chemainus Theatre practices dynamic ticket pricing.
Box Office at 1-800-565-7738
Cast:
Warren Bain as Bertie Wooster
Bernard Cuffling as Jeeves
Brian Linds as Sir Rupert
Barbara Pollard as Aunt Agatha
Olivia Hutt as Gertrude
Seth Little as Eustace.
Crew:
Set designer, Laurin Kelsey
Costume Designer, Näomi Lazarus
Lighting Designer, Darren Boquist
Stage Manager, David Baughan
Apprentice Stage Manager, Linzi Voth.
Disclaimer: I attended Jeeves Intervenes as a guest of the Chemainus Theatre Festival. As always, I retain complete editorial control of all content published on this website.