Ten Theatre Festivals for 2016 in Victoria BC
Victoria is a city of theatre with over 50 companies (both large and small, new and established, traditional and emerging) regularly producing work.  This is the year the Belfry Theatre celebrates its 40th season, Paper Street Theatre celebrates its fifth and the Victoria Fringe Festival turns 30!  As I began to catalogue the many events audiences  can look forward to in 2016, I came to the realization that, in our already vibrant festival culture, the city of Victoria can lay claim to TEN theatre festivals.  (Please note–since theatre companies often operate on a fall to spring schedule, not all dates are confirmed for upcoming events).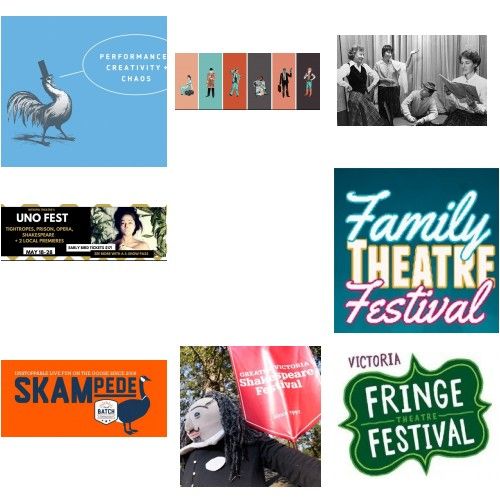 Belfry Theatre's SPARK Festival March 15-26 2016
Featuring over 50 performances and events, including a free all-ages dance party (Hootenanny), the ever popular mini-plays and an interactive play reading.

Paper Street Theatre Improv Festival April 12-16, 2016

To celebrate five great years of improv Paper Street Theatre is hosting an Improv Festival.


Over five days the cast of the award-winning Paper Street Theatre will re-mount all of their most beloved styles including Jane Austen, Sci-Fi Thriller, Western and Quentin Tarantino. They'll be joined by the Kinkonauts from Calgary and Seattle's Unexpected Productions. Plus, late night mash-ups, a family matinee, workshops and more!


Intrepid Theatre's Uno Fest May 18-29, 2016.

Intrepid Theatre's Uno Fest, North America's longest running festival of solo performance is a hotbed of experimental theatre and contemporary performance, featuring acclaimed artists, new voices, and local premieres. Intrepid Theatre has presented more than 300 solo shows at Uno, and is proud to bring some of the country's – and the world's – most innovative solo talents to Victoria every May.

The line-up for Uno includes local, Canadian and international talent. This year Circus Incognitus takes the stage at the McPherson, and Pacific Opera Victoria collaborates to stage La Voix Humaine.  Impulse Theatre stages the premiere of their Ana, and popular Fringe artists James Gangl and Tara Travis return with new works.
Langham Court Theatre presents the annual Readers' Theatre Festival
Saturday May 14th, 2016. Details to be announced!
A festival of play readings. As of March, one play is confirmed–Joyce Kline's Bowser, a tragicomic one-woman one act.
Kaleidoscope Theatre's Family Theatre Festival, June 8-12 at the Metro Studio

Details to be announced soon. This festival debuted in 2013.
OUTStages Intrepid Theatre's new queer theatre festival! June 21-26, 2016

A week of outrageous stories, surprises, parties and performances from and for the queer community and beyond.

From Mad Kings to Tomboy anthems, from a queer comedy on 8 wheels to an opera singing Drag Queen, this festival has its finger on the pulse of the queer theatre scene and is proud to bring some of the most exciting, daring and thought-provoking performances to Victoria June 21-25.
SKAMpede on the Galloping Goose July 8-10 2016

Theatre SKAM's annual summer project SKAMpede (formerly known as Bike Ride) is an outdoor live performance festival event that is suitable for the whole family. You'll take in a series of short shows presented along a 4km stretch of the Galloping Goose Trail. Audiences travel from show to show by bicycle, rollerblade, electric mobility scooter, skateboard or on foot.  Please note–new this year, the HUB has moved from Cecelia Ravine Park to Harbour Road.
The 26th annual Greater Victoria Shakespeare Festival, July 7-31, 2016

Featuring The Winter's Tale directed by Barbara Pogemiller and Twelfth Night directed by Janet Munsil.
30th annual Victoria Fringe Festival August 26-September 5, 2016. Preview August 25th.
A Vancouver Island festival tradition for thirty years, Victoria Fringe Theatre Festival takes over downtown Victoria BC each summer for a 12-day celebration of live performance from around the world, featuring an eclectic mixture of spoken word, drama, musicals, dance, comedy, magic, theatre for young audiences and more. This year, we celebrate our 30th Anniversary – join us for this milestone!

Victoria's Fringe is one of the oldest on the Canadian Fringe Festival circuit, and is a founding member of the Canadian Association of Fringe Festivals (CAFF) ®.
TD Festival of New Works at CCPA (December 2016)
 Every year the second year students of the Canadian College of Performing Arts present excerpts from original works of choral directing, playwriting, choreography and direction. Dates to be confirmed in September.
Two festivals are not on the roster this year but will return in 2017
ACTivate Theatre Festival at Langham Court Theatre (held in April).
ACTivate, a festival for inspiring theatre – is a one-act, adjudicated play festival being held April 4-5, 2014 at Langham Court Theatre. The festival brings together local theatre companies to nurture their artistic development, further the education of emerging performers, and showcase the talent that exists in Victoria's volunteer theatre community!
Pacific Northwest Regional Puppetry Festival and Puppets for Peace (September)