A Summer of Theatre 2018 in Victoria BC.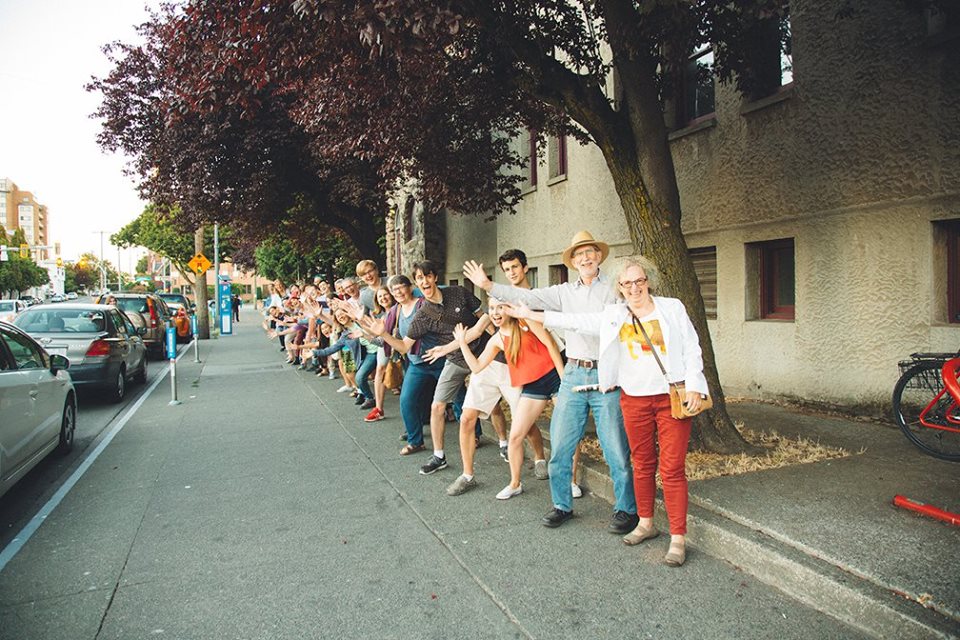 Victoria Fringe Festival line-up at the Metro Studio Theatre. Photo: Derek Ford.

Summer is a time of festivals and outdoor events, perfect for unwinding and experiencing theatre in venues outside of the "norm"–although there are still plenty of indoor shows too.  Here's the line-up as of May 29th.
June

All My Sons by Arthur Miller
Blue Bridge Repertory Theatre
May 29-June 10
Arthur Miller's masterpiece about the ties that bind and one American family's dark involvement in the 2nd World War.
Atomic Vaudeville cabaret 78
Laissez Miséable
May 31, June 1/2
Victoria Event Centre, 1415 Broad Street
When rampant development finally goes too far, and nobody will listen to reason. The time for protest has passed, it's time for revolution. Dig into the labour movements, the union movements, and the movements of the rhythm of the people in this Cabaret filled with mystery, puppetry, crisis, dance and laughter.
Time's Arrow by Paper Street Theatre Company and Seattle Experimental Theater
June 1/2
Intrepid Theatre Club
The spaces around us are rich with history and ripe with future possibilities. Spaces are defined by wonderful, terrible, forgettable, sublime individual and collective experiences, yet we exist in them for only one moment at a time. Time's Arrow invites you to take a walk through the spaces of the past and future using stories from the audience to explore the layers of life piled in a single location. Every performance will be completely improvised and unique, based on that evening's stories from the audience.
A Chorus of Disapproval, a Comedy by Alan Ayckbourn, directed by Wendy Merk
Langham Court Theatre
June 6-23
A diffident widower attempts to escape loneliness by joining the local amateur light operatic society. By accident, rather than by design – in fact, by not saying no to anything, be it a request to obtain confidential information from his company or an offer of illicit sex – he advances from a small part to the lead. Parallels are skilfully drawn between The Beggar's Opera and the day-to-day activities of the society which is performing it.
SUITABLE FOR ALL AGES
"A serious comic masterpiece: brilliantly constructed, ruthlessly observant, hilarious and hard as nails" Sunday Times
"A magnificent comedy: symmetrically shaped, psychologically acute and painfully, heartbreakingly funny" Michael Billington, The Guardian
"Humour, pathos and unnerving insight into human idiosyncrasy."
Francis King, Sunday Telegraph
A Beautiful View directed by Heather Jarvie
hapax theatre
June 7/8/9
Paul Phillips Hall 1923 Fernwood Rd
A Beautiful View explores a relationship, a friendship that defies categorization. Specifically, a relationship between two women, (Victoria actresses Ingrid Moore and Rachel Myers), that spans over a decade of their lives, and that moves through many phases; fun, confusion, love, misunderstanding, betrayal, and fear.
Musical Theatre Revue
Starry Starry Skies Productions
June 9
Metro Studio Theatre

Starry Starry Skies is one of Victoria's newest musical theatre companies.
A night of Musical Theatre Showcases and a silent auction, featuring performances from some of the city's top theatrical talent and songs from Gigi, Godspell, Oklahoma, Pajama Game, and Pippin.
A fundraiser to raise money for Starry Starry Skies Productions future musicals.
A bit about the musicals we will be featuring:
Gigi will become Starry Starry Skies first production to be produced in 2019. Gigi, a critically acclaimed musical turned into a nine time academy award winning film in 1958. Based on the novella Gigi by Colette where Gigi, a free-spirited teenaged girl is living in Paris at the turn of the 20th century. She encounters the bon vivant bachelor Gaston Lachaille, whom she captivates as she is transformed into a charmingly poised young lady.
Family Theatre Festival
Kaleidoscope Theatre for Young People
June 9/10 Belfry Theatre
https://tickets.belfry.bc.ca/TheatreManager/1/online?event=0

When the Sun Crosses the Line by Kaleidoscope Theatre

Twelve-year-old June is working on a school project. Her research materials are strewn around her bedroom; it looks like a hurricane has blown through! She has chosen two subjects: the Beothuk People of Newfoundland, and The Great Auk, a flightless sea bird. What they have in common is that they no longer exist. June takes us on a journey linking our past to the present as she asks questions about Indigenous People, species extinction, and what does reconciliation really mean? She forms a fun-loving, imaginary friendship with a Beothuk woman called Demasduit, interviews a Viking and survives an ocean voyage in a storm! June asks questions about our history and the impact we have had on First Nations People.

Off the Shelf by Story Theatre

Some stories stick with you for a long time, some stories go by so fast, some are good for bedtime and some stories Jump Off the Shelf! Story Theatre brings you an exciting collection of our favourite stories, live and Off the Shelf. A troll guards his bridge, a circus comes to town and who keeps stealing the lion cubs food; these stories and more come to the stage with the show Off the Shelf. Story Theatre offers an antidote to technology with… live theatre – handcrafted with care.

Raccoonaissance by Star Star Theatre

Fusing clown and puppetry, Raccoonaissance tells the story of a girl who, raised by raccoons, now lives her life as one. Sometimes silly, oftentimes perilous, Raccoonaissance is a solo physical theatre piece for all ages. As the girl uncovers more about her own mystery, the show navigates themes of identity, self-realization, and shines a light on the masks we wear.

A cheeky film noir adventure set in the back alleys of an urban centre, Raccoonaissance invites us to consider present day class issues and societal attitudes towards the trash that we create… and leave behind.

Squirrel Stole My Underpants by Bonnie Duncan

A lonely, awkward girl is sent out to the backyard to hang up the laundry and keep herself busy. The moment Sylvie's back is turned, a mischievous squirrel appears, steals her favorite piece of clothing and runs off. When the girl gives chase, she finds herself lost in strange lands. As the story unfolds, an entire world emerges from her laundry basket and Sylvie learns that she is a strong girl with magic within herself.

There will be a 10-minute Q&A after the performance.
June 16 Belmont Secondary School https://www.canadahelps.org/en/charities/kaleidoscopetheatre/events/the-sixth-annual-family-theatre-festival/
11:00 AM: Kaleidoscope will be presenting "When the Sun Crosses the Line."

12:00 PM: A free performance by Victoria's famous duo, Cam & Daisy!

1:00 PM: Story Theatre will present their classic collection of short pieces, "Off the Shelf."

2:30 PM: Experience the wonder of magic with Paul Kilshaw.

The Deviants Spring Concert, presented by Delusional Productions and Lifetime Networks
June 15/16
Roxy Theatre in Quadra Village
The DeviANTs is the name of a musical group from Victoria.  All songs are written by adults with developmental abilities and this group was part of "The Great Big Show" at the McPherson Playhouse last February.
OUTStages
Intrepid Theatre
June 19-24
OUTstages, a decidedly queer theatre festival, returns for the 4th year, June 19-24, kicking off the Pride season in Victoria. This 6 day festival is packed with theatre, music, drag, storytelling, an old-time tent revival and brand new scripts. This year's programming takes a look at the power of community, dives into queer history, and examines identity; plus a Youth Showcase & a Pop-up Event from the Transgender Archives at UVic.
Youth Showcase
June 19
Intrepid Theatre Club

New scripts, monologues, spoken word, readings, and more. Local queer youth share their new work in this cabaret showcase. This event is by-donation at the door, no advance tickets required. A community OUTreach event, facilitated with playwright Kai Taddei. Hosted by Rose Cotton & Kai Taddei.

After the showcase, stick around to mingle with the performers at a pizza party in the lobby, hosted by the CRUSH Collective.

Lunar Boys play reading
June 20
Intrepid Theatre Club

LUNAR BOYS explores the intersections of sexuality and gender in this quirky, heartwarming coming-of-age story. Two queer teenage boys  – one Transgender, one cisgender – meet on an online forum for their favourite animated fandom. Between debating fan theories and navigating the perils of high school, the two boys must confront their own biases both online and off. Love, Simon meets Sailor Moon in this upbeat, episodic rom-com from award-winning local creators Kai Taddei & Jack Hayes.

My Funny Valentine
June 21
Metro Studio Theatre

Hailed as "exceptionally beautiful" (Vancouver Courier), this Jessie-nominated work was written in response to the tragic 2008 murder of Lawrence King, a 15-year-old shot by his male classmate after asking him to be his valentine. In a series of profoundly moving monologues, Vancouver actor Conor Wylie will take audiences through the minds of those caught in the aftermath of an unspeakable hate crime. My Funny Valentine cracks open the greater humanity of a town trying to heal.

Hot off a hugely successful run at Toronto's Buddies in Bad Times Theatre and in Vancouver, the play is the recipient of the Sydney Risk Prize and was also nominated for Ireland's Oscar Wilde Award for 'Best Writing'.

Animal Medicine by eddi wilson
June 21 and 23
Intrepid Theatre Club

What do you get when you cross a Two-Spirit Métis agnostic, a career in veterinary medicine, and a pathological preoccupation with parasites?

Welcome to Animal Medicine General Practice! We're sorry you're here but happy you made it. The patient will be you now.

Part biology lesson, part pet therapy session; 'Animal Medicine' explores the experience of a self-diagnosed human. Eddi Wilson uses music, monologue and movement to dissect what they have learned from a life spent staring in the microscope.

Animal Medicine has been developed through UNO Fest & Intrepid Theatre's YOU Show.


Songs of Resilience by the Queer Songbook Orchestra
June 22
Metro Studio Theatre

Casting a contemporary queer eye on a century's worth of popular song, the Queer Songbook Orchestra explore the LGBTQ backstories and personal narratives that richly populate music of the past several generations. Building a living archive of songs by queer songwriters and performers, the ensemble is drawing attention to the stories and contributions of artists who worked and lived in the shadows of intolerance.

Songs of Resilience has toured the country, playing the PuSh International Performing Arts Festival, the High Performance Rodeo, the National Arts Centre, and Buddies in Bad Times.

Pearle Harbour's Chautauqua
June 23/24
Metro Studio Theatre

The Audience Choice Award Winner at SummerWorks, Pearle Harbour's Chautauqua is an immersive extravaganza: part drag, part tragicomedy, part old-time tent revival. The world may be falling apart, but Pearle will show you there's more that unites us than divides us.

Be honest: how are you doing, really? Are you behind on your emails? Are you worried? Afraid? Lost?

You are not alone. And connection is the cure for what ails ya. Come gather together, under the milky folds of Pearle's beautiful tent, and be sheltered from the inharmony of our troubled times. Catch your breath, speak your truth, and feel the people power! You betcha!

Tails of Hamelin
Mountain Dream Productions
June 22-23
Mary Winspear Centre
North American premiere of a brand new show from London's West End, based on the Pied Piper of Hamelin.  A terrific musical comedy with toe-tapping songs and guaranteed to bring both smiles and tears to your face. Performed by students of the Mountain Dreams Musical Theatre School, aged 6-19, as well as 2 adult cast.
JULY
The Drawer Boy
Blue Bridge Repertory Theatre
July 3-July 15
With this pivotal comedy in Canadian Theatre History, playwright Michael Healey contemplates the search for a definitive Canadian identity in the countryside of southern Ontario.
Greater Victoria Shakespeare Festival
July 5-28
Camosun College Lansdowne Campus, 3000 Lansdowne Road
Half-price tickets on sale starting May 26th (until sold-out)

PERICLES directed by Christopher Weddell
Tuesday, Thursday, and Saturday Nights at 7:30pm
Shakespeare's Pericles, Prince of Tyre launches onto the high seas of the Mediterranean, full of music, magic, and pirates. Both fugitive and castaway, Pericles' fate depends on an ultimate test of faith: before he can reclaim his family, his kingdom, and even the favor of a Goddess, he must endure the death of those he holds most dear.
PLEASE NOTE: This production contains mature themes and sexual content. Audience discretion is advised.
The Tempest directed by Chelsea Hamberlin
Wednesday & Friday @ 7:30pm and Saturday @ 1:30pm
Special performances of The Tempest at Saxe Point Park in Esquimalt, August 2nd-4
After twelve years of exile on a remote island, Prospera, a powerful sorceress and once Duchess of Milan, brings her enemies – including schemers, bumbling clowns, old friends and new love — to the isle with a mighty storm. What revenge will she take? The Tempest, Shakespeare's last play, is a stirring fairy tale about vengeance, the power of love, and the quest for forgiveness.
This production is suitable for the whole family!
SKAMPEDE
Theatre SKAM
July 13-15
Habour Road and the Galloping Goose
line-up announced June 1st
Theatre SKAM's annual summer festival SKAMpede (formerly known as Bike Ride) is an outdoor live performance festival event that is suitable for the whole family. You'll take in a series of short shows presented along the Galloping Goose Trail with our Hub at 360 Harbour Road. Audiences travel from show to show by bicycle, rollerblade, electric mobility scooter, skateboard or on foot.
Hedwig and the Angry Inch, presented by Atomic Vaudeville
July 20, 21, 27, 28, 29 at the Upstairs Cabaret 730pm
Tickets through Ticket Rocket (not online yet)
Hedwig Robinson is not content to let her rock star ex-boyfriend Tommy Gnosis have all the success. She shares the stories of her life – ranging from escaping communist Eastern Germany, to her botched sex-change that gave birth to the Angry Inch, to just who really wrote all those Tommy Gnosis songs that have been so popular. At times touching, this is a Bowie-esque glam-rock extravaganza of a musical comedy that audiences are sure to remember.
Concord Floral, written by Jordan Tannahill, directed by Kathleen Greenfield
Theatre SKAM
July 31-August 26
location to be announced
Concord Floral is a million square foot abandoned greenhouse and a hangout for neighbourhood kids. But something has happened there. Something nobody wants to talk about. Concord Floral re-imagines Giovanni Boccaccio's medieval allegory The Decameron in a contemporary Canadian suburb, in which ten teens must flee a plague they have brought upon themselves. The play was written by Governor General Award-winning playwright Jordan Tannahill and originally created by Erin Brubacher, Cara Spooner and Jordan Tannahill with a cast of teenagers in Toronto.
This show will scare and delight Victoria audiences. Theatre SKAM will set the play outdoors in a site specific structure that uses the natural environment as a setting.
Winner of the 2015 Dora Mavor Moore Award for Outstanding New Play
Winner of the 2015 Carol Bolt Award
Finalist for the 2016 Governor General's Literary Award for Drama
Sweeney Todd: The Demon Barber of Fleet Street
Blue Bridge Repertory Theatre
July 31-August 12
Inspired by the recent London and NYC productions of this classic piece of musical theatre, this production will see the transformation of the Roxy Theatre into a Victorian Pie shop. Come eat, drink and take in the musical wonders of this truly extraordinary theatrical event.
Mom's 3: Nest ½ Empty
Belfry Theatre
July 24-August 12
From the world-renowned creators behind the Mom's the Word series comes a new chapter.
Their kids are grown, their marriages have "evolved," and their bodies are backfiring. Life doesn't get any prettier, but it never strays far from the ludicrous, the ribald and the poignant as the moms continue to mine their personal history for every embarrassing detail.
Victoria Fringe Festival presented by Intrepid Theatre
August 22-September 2
A Vancouver Island festival tradition for thirty-two years, Victoria Fringe Theatre Festival takes over downtown Victoria BC each summer for a 12-day celebration of live performance from around the world, featuring an eclectic mixture of spoken word, drama, musicals, dance, comedy, magic, theatre for young audiences and more.
Fringe™ and Fringe Festival™ are registered trademarks of the Canadian Association of Fringe Festivals (CAFF). The Victoria Fringe is part of the World Fringe Network.