Ana by Impulse Theatre at Uno Fest 2016. A review.
Emerging artist—these words are fraught with meaning and interpretation.  How long does one emerge?  When can a company consider itself to be established?
With ana, currently at Intrepid Theatre's Uno Fest May 26-28, 2016, Impulse Theatre confirms, once again, their place in the region's burgeoning arts scene, and as "part of the current great cultural shift" (my comments following Wolf in the Mirror 2014).
Established in 2011 by Andrew Barrett and members of his cohort at the University of Victoria, the company has produced or developed over a dozen works—largely movement-based.  Drawing from the well of collective myth and story, unafraid to tackle substantive subjects, these young risk-takers confront audience expectations with bold images and ideas.
ana was inspired by freaky-folk duo CocoRosie's eulogy for a young Saudi girl, Lama Al-Ghamdi, who died following her father's vicious sexual assault.
In Arabic "ana" translates as "I am".  Following Barrett's injunction—"bring what you want, take what you need"—the piece is open to as many interpretations as there are audience members.
In the small black box studio of Intrepid Theatre, a white plastic drop cloth covers the stage and a white scrim—the back wall. Garments and hats (also in white plastic) hang interspersed throughout.  A few musical instruments—a child's xylophone, and a tambourine—are on the floor.  A stool carries a pot.
Owl hoots, animal sounds, whale vocalizations fill the aural space.  In the dim light, all is disembodied.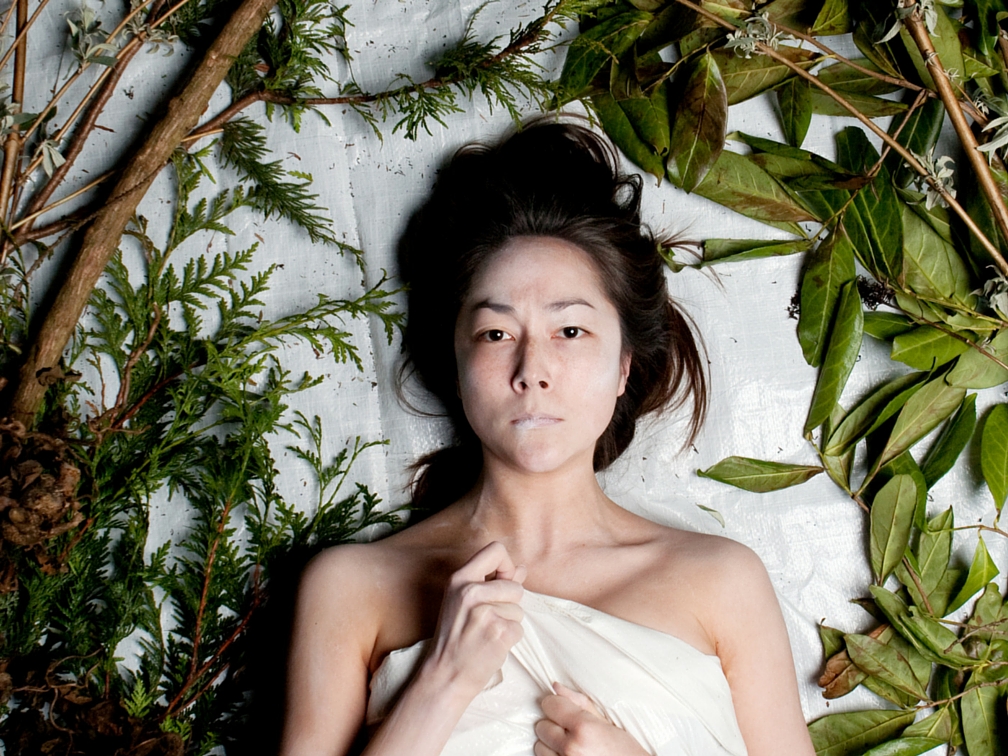 ana moves into voiced narrative—a departure from previous creations.  Thunder rolls and child, woman, crone question—"who is the mysterious person, writhing under the sheet?"  Archetypes and icons of the feminine—mischievous sprite, harried mother, wronged woman, coquette, crone—are examined. Actor/dancer Emily Piggford manipulates plastic and body as fluid sculpture, adding a layer of textural significance to motion and sound.  From playful child-like moments "are you having fun?" through the rapid movements of the perfect hostess, eager to please "how do you want me?" to implied violence—"who's going to throw the first stone?"—ana guides us visually through the reality of the body as political.  Regardless of efforts to crush her spirit, she rises, again and again, as ocean waves crash and recede.  As crone, there is an element of trickster—the sly one—to her demeanour.  Every moment of ana is a carefully considered surprise—at times shocking, at others—provoking laughter or reflection.  As Piggford steps into the stands and hands out stones, the audience is made complicit.
Not to be silenced, she demands "when all your forest and your time have been cut down, what are you going to do about it?", and opines "there is room to grow, so—GROW!"  Despite being bruised, beaten and broken, ana possesses an eternal, hopeful and indomitable life force.
Impulse Theatre tackles complex and weighty notions with grace and delicate strength, never once yielding to trite or easy choices in their delightful deep exploration.
"Although my bones you may have shattered, it doesn't matter, it's not my soul" CocoRosie "Ana Lama".
ana is a multifaceted being who has reached a breaking point and has brought an audience together in a final call for action. The piece explores the prosecution of the feminine and uses elements of abstracted movement, text, clown, and song to express ana's many faces. Developed through a creation residency at Intrepid Theatre's Winterlab and the Uno Works programs – this is the premiere of this new local work.
ana by Impulse Theatre, a collaborative creation
Intrepid Theatre Club, #2-1609 Blanshard (at Fisgard)
Thursday May 26, 6:30pm/Friday May 27 8:30pm/Saturday May 28 7pm
Tickets $18
Unless otherwise noted, tickets available at Ticket Rocket, 1609 Blanshard Street (at Fisgard) or by phone 250.590.6291, Monday to Friday 10am to 5pm
Directed by Andrew Barrett
Featuring Emily Piggford
Design by Hailey Fulford and Andrew Barrett
Music by Aulden MacQueen-Denz and Emily Piggford
Dramaturgy from Halley Fulford
Disclaimer: I was offered a complimentary ticket to attend ana.