In the Blue of the Evening at Uno Fest 2016. A review.
The blue hour (that dusky time twixt day and night) has long been associated with romance and longing.  It's a favourite time for photographers when landscapes take on an aura of mystery—a period the French call "entre chien et loup", between dog and wolf, since it's hard to distinguish the two in this shadowy light.
In dementia, the blue hour leads to sundowning, a symptom in which confusion and agitation worsen.
Meet Mona Whittaker (Amelia Van Brunt), unruly mélange of clown and buffoon, in the twilight of her life.  Surrounded by gimcracks, photos and a surprising number of timers, she snoozes–loud snores and wheezes inflating her generous bosom.  An insistent drip echoes.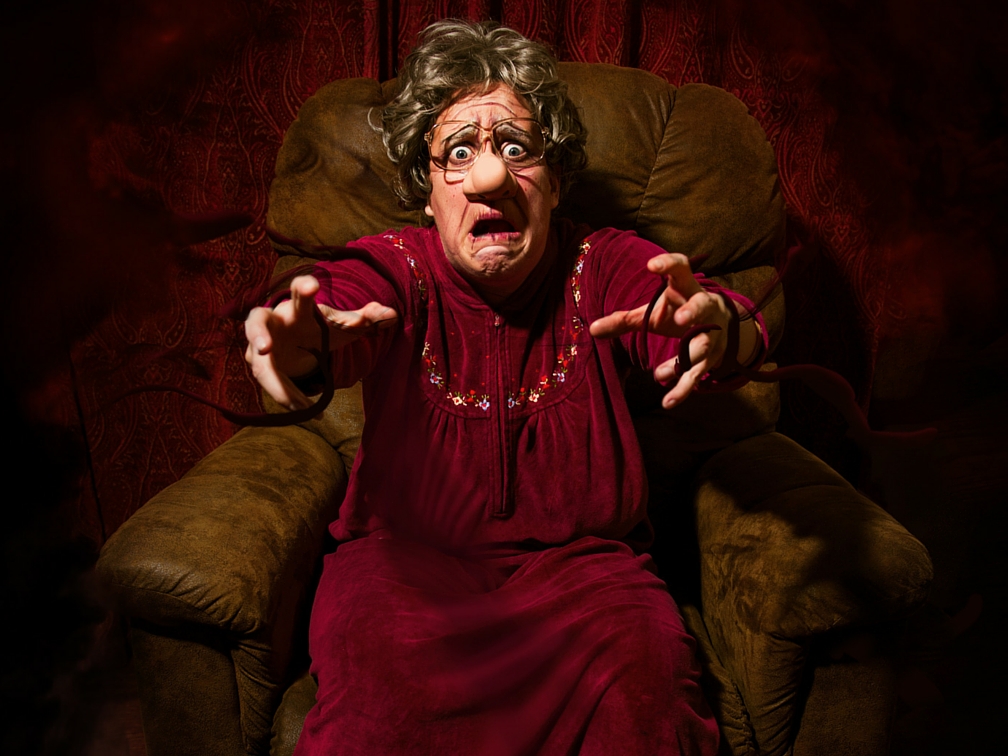 Suddenly, she's awake, talking up a storm, and welcoming us into her world. Shushing the drips into submission, interrupted by timers that remind her it's time to take pills, feed the fish and answer her daily trivia—"what's your name, your birthday", Mona embarks on a series of reminiscences, creaking out of her chair with acrobatic flourish.
Definitely not your grandma's version of little old lady, Mona vacillates between sharp-as-a-tack zingers and put-downs, raunchy one-liners and embarrassment when she loses the story line.
Van Brunt, a graduate of Dell'Arte International School of Physical Theatre, finds the humour in generous physicality—running as fast as she can in cartoon-like fashion, going nowhere, or struggling to accomplish the simplest task—and inappropriate behaviour.  The plot takes on surreal proportions as time loosens its hold.  Mona lives equally in the present and the past.  Upon reading the news of her own demise, she embarks on an epic journey, clashing with the forces of nature as she refuses to go gently into the night.
Much like visits with aging family and friends, for the audience, rewards lie in a willingness to step out of an everyday world and into Mona's fantasies.  Revel in simple pleasures, like a good cup of tea; laugh out loud at the incongruity of an aging body where pendulous breasts swing side to side; delight in an armchair transformed into storm-tossed boat; share in the wonder of snow, falling softly from the sky.
When years bedevil and the body fails, when family is nowhere to be found, what else is there to do but laugh at the situation?  Amelia Van Brunt proves the revelatory nature of comedy as she ferociously attacks one of the last bastions of prim and proper—old age.
In the Blue of Evening, created and performed by Amelia van Brunt, co-directed by Ross Travis.
Bad, Bad Bunny
Thursday May 19, 8pm/Friday May 20, 7:30pm/Sunday May 22, 7pm
Intrepid Theatre Club #2-1609 Blanshard (corner of Fisgard and Blanshard)
Tickets $20
Thursday May 19th is Pay What You Can
Unless otherwise noted, tickets available at Ticket Rocket, 1609 Blanshard Street (at Fisgard) or by phone 250.590.6291, Monday to Friday 10am to 5pm
Disclaimer: I was provided a complimentary ticket to attend In the Blue of Evening.