Jeff Leard is originally from Victoria and an alumnus of  UVic, with a ferocious gift for kinetic movement and humour that he honed working for Story Theatre on the school circuit—can there be any more demanding audience than kids?  This year he returns with Angels and Aliens, created and performed with Sydney Hayduk.
Jeff answered questions about his time on the Fringe and this production.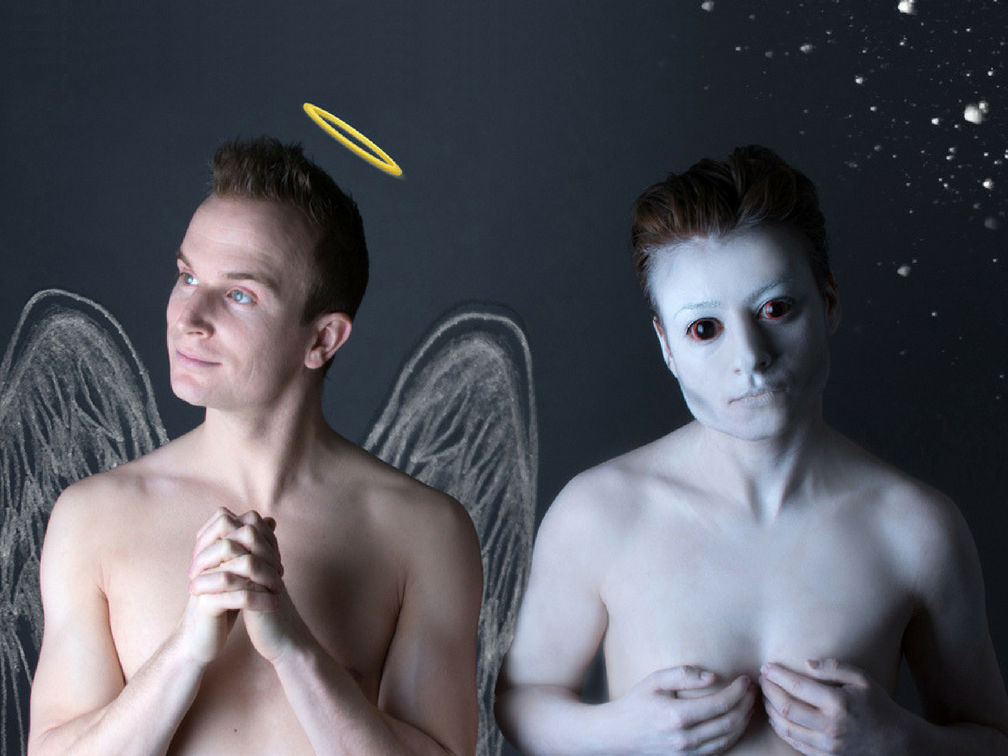 How long have you been producing work on the Fringe? 
I started producing my own work on the Fringe Circuit in 2010 at Victoria Fringe with my production of Gametes & Gonads.  Sydney Hayduk started producing in 2013 at the Winnipeg Fringe with her sell out production of Bizarro Obscure. We began producing together in 2016 with this production of Angels & Aliens.
Last time at Victoria Fringe?
In 2016. I performed my popular production of The Jupiter Rebellion: A Zach Zultana Adventure, and Sydney was stage managing for Gemma Wilcox's Magical Mystery Detour.
My other hit solo shows performed at the Victoria Fringe have been Sperm Wars, The Show Must Go On, and Gametes & Gonads.
While Sydney has been in Victoria Fringe before working as a stage manager, this will be her first time producing a show here.
Have we taken the show anywhere else?
Angels & Aliens has been performed in the 2016 Ottawa and Toronto Fringe Festivals, the 2017 Winnipeg Fringe Festival, and this year will be in both Victoria & Vancouver Fringe.
Awards and Accolades:
Jeff Leard:
Outstanding Performance – Toronto Fringe
Critic's Pick – Ottawa Fringe
Critic's Pick – Calgary Fringe
Pick of the Fringe – Calgary Fringe
Producer's Pick – London Fringe
Best Solo Show – Victoria Fringe
Sydney Hayduk:
Harry Rintoul Playwriting Award – Winnipeg Fringe
Patron's Pick – Winnipeg Fringe
Can you speak to the creation process of this work?

Late one London Fringe evening Sydney and I found ourselves wandering around town discussing various theories about how the world got to be the way it is.  I thought it was perhaps a bad game of telephone between God and mortals with the Angel Gabriel stuck in the middle. Sydney thought it was a team of well-meaning aliens who couldn't help but screw things up every time they tried to advance human technology.  Or perhaps it was all created as a way for two roommates to avoid talking to each other during an awkward breakfast after a night of awkward sex.  "We should write a show!", we declared as so many have in the past.  But this time was different.  Because I won the CAFF lottery that year, and so we decided to move in together, talk a lot about how poorly it would go if we were to have sex (which we never did) and write a show from the comfort of our shared kitchen table.
Who will our show appeal to?
Anyone who has wondered whether God is real, and if he is, just what the hell does he think he's doing anyways.  Anyone who has ever wondered if Aliens have visited the Earth and affected our history in unknown sneaky ways.  Or anyone who enjoys watching awkward sexual tension played out onstage.
What would you say to entice an audience member?
We will reveal the secrets of the Universe in just 60 short minutes.  And if that doesn't do it for you we also have sex jokes, church jokes, and a whole bucket load of physical comedy to tickle your fancy.
What do we hope to inspire in the audience?
A sense of togetherness with our fellow humans and connection to our planet.  All the while enjoying some silly laughs and good hearted fun.
Jeff Leard and Sydney Hayduk team up to answer the big questions: Are we alone in the universe? Are we living in a computer simulation? What do two irresponsible roommates eat for breakfast the morning after awkward sex? In short. No. Yes. And eggs. From the creators of Sperm Wars (????? – Edmonton Journal) and Bizarro Obscure (????? – CBC) peachyk.ca
Angels and Aliens by Jeff Leard and Sydney Hayduk (Vancouver BC)
Active Salad/Peachy Keen Productions
Venue 5 Langham Court Theatre (805 Langham Court)
Tickets $11/$9 seniors and students Ticket Rocket online or in person
Duration: 60 minutes
Rating: PG 14+: Coarse language, adult themes
Genre: Comedy
Showtimes:
Aug 28 Tuesday 06:30 pm
Aug 30 Thursday 07:00 pm
Aug 31 Friday 05:00 pm
Sep 01 Saturday 01:45 pm
Sep 02 Sunday 06:30 pm
NOTE: All ticket holders 13 + must have a Fringe Button to use their ticket. A $1 surcharge applies per ticket (this fee directly supports the Victoria Fringe). Advance sales cut off 3 hours prior to show time. At door tickets go on sale at venue 1 hour prior to show time, cash only (half of all tickets are reserved for at door sales). Fringe Buttons can be purchased in advance at Fringe HQ, Ticket Rocket and at every venue. No latecomers, exchanges or refunds.