Cory Thibert and Linnea Gwiazda hit the jackpot when they won the coveted 2018 Canadian Association of Fringe Festival (CAFF) lottery—allowing them entry to a minimum of five Fringe festivals on the CAFF circuit.  Victoria audiences will remember Cory from Happiness TM performed with Tony Adams at the 2016 Victoria Fringe.  Now he is back with AWKWARD HUG a personal coming-of-age story with a difference. Gwiazda directs this frank and tender account of growing up and falling in love in Ottawa, the son of parents with disabilities, making screamo music in his basement with his best bud, Adams.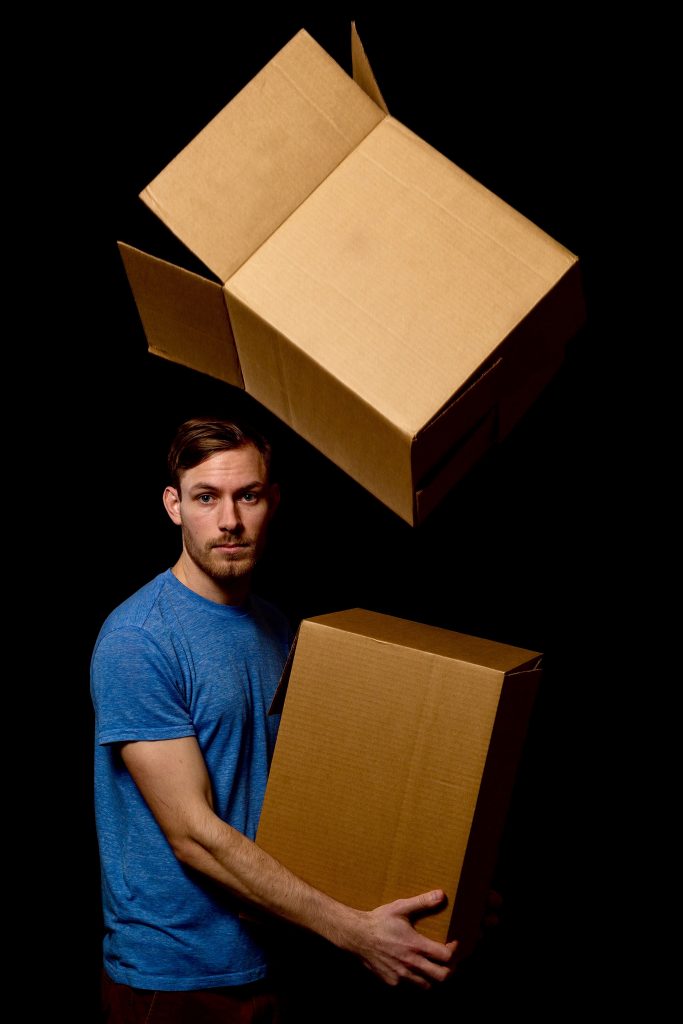 How long have you been producing work on the Fringe circuit?  As an artist/company?Cory:
Linnea and I both started doing the Fringe in 2011. My first Fringe show was Sounds from the Turtle Shell at the Ottawa Fringe Festival with May Can Theatre and Linnea's first show was RECIPROK at the Montreal Fringe Festival. We have been doing Fringe festivals across the country and in the U.S. ever since, now having done 50 Fringe festivals combined. Linnea and I met at Edmonton Fringe in 2014 while she was touring Coming and Going with For Body And Light and I was touring Wolves > Boys and directing/filming the documentary On The Fringe. Linnea and I were fringe crushes, then fell in love, and have since worked on many of each others projects. AWKWARD HUG is the first full length show we have created together as collaborators…and now fiancés!
Is this your first visit to Victoria?
Linnea:
I am from Victoria! I grew up here and my parents Adrienne and Jarek still live here in James Bay. My mom works at the central branch of the public library where she is well-known for her storytimes. When we visit, she is always being stopped on the street by kids who see her as a bit of a celebrity. My dad is well-known in cafes around town, just for being him. So yes, Victoria is home for me, and my parents are way cooler than I am. Fun fact: Cory and I also got engaged in Victoria and will be getting married in the city as well!
Cory:
Also, we actually premiered AWKWARD HUG in Victoria! In February, we did a double bill with May Can Theatre's Tusk Turns One! which was presented as a part of Intrepid Theatre's YOU Show series.
Have you been (or will you be) taking the show to other Fringes?
Cory:
Victoria Fringe will be our 7th stop on our 8-city 2018 summer Fringe tour! We left Vancouver in mid-May and are bringing the show to London, Montreal, Toronto, Winnipeg, Saskatoon and Edmonton before arriving in Victoria. After Victoria, we will be heading back home to Vancouver Fringe for our final festival of the summer.
Is your show a new work, or has it been performed elsewhere?
Linnea:
Aside from the 6 Fringe Festivals we are doing with the show prior to Victoria, and AWKWARD HUG's February premiere at Intrepid Theatre, we also did a showing of the work in Vancouver at The Gold Saucer, and in New Westminster as a part of the Way Off Broadway Wednesday series produced by fellow Fringe artist Devon More. Even though we have now presented it a number of times, in many ways, it is still a new work. We are constantly discovering new moments as it travels across the country and is presented in front of different audiences. It's at a really exciting place now, it's kind of like a teenager; still growing.
Significant awards or accolades? (not just on the Fringe circuit)
Cory:
We are so grateful for how well the show has been received so far. As of this interview, we have only done 3 festivals with the show but in those festivals we have been recognized through the following awards and nominations:
WINNER – Spirit of the Fringe – Tilee Awards (London, ON)
NOMINEE – Best English Language Production – Frankie Awards (Montreal, QC)
NOMINEE – Best Visual Identity – Frankie Awards (Montreal, QC)
CRITICS PICK – Now Magazine (Toronto, ON)
Can you speak to the creation process of this work?
Linnea:
Cory has been developing this show for years. He did not want to rush this material into a finished form, and instead wished to allow it to take its time to unfold, reflecting on how best to depict the content of the work. For more than 2 years Cory has been telling short stories at storytelling events across Canada; Yarn (Montreal), (un)told storytelling (Ottawa), The Flame, Smut Slam (Vancouver) and Vancouver Story Slam where he has won first, second and third place which brought him to the Championship finals where he was the runner up. After workshopping stories for over a year, Cory and I began working with dramaturg TJ Dawe, and together the three of us crafted the material into a 60 minute show. The script was reshaped, rewritten and edited while continuing to workshop the material in front of live audiences until the Fringe tour.
Who will your show appeal to?
Cory:
We've been really excited to talk to audiences who have connected to the show in so many different ways. Through those conversations, we truly believe and hope that there are elements to the work that most people can connect to or empathize with. The show may especially appeal to you if you've ever been a caregiver, if you or people close to you have physical or cognitive disabilities, if you have a hard time communicating with your family members, if you grew up in the 90's, if you listen to loud music, if you identify as a wallflower, or if you've fumbled through your first relationship.
What would you say to entice a potential audience member to come?
Linnea:
AWKWARD HUG presents an all-true story that centers upon Cory, as a 19-year-old introvert in a screamo band, who through the context of helping his parents with a big move, uncovers many things that have gone unsaid in his family, most notably the extent of both of their disabilities. AWKWARD HUG is a storytelling comedy/drama. It is equal parts humour and heartache. As I am in the booth for every show calling cues, I can personally attest to the fact that audiences laugh, a lot, and they also cry, and laugh again…
What do you hope to inspire in your audience?

Linnea:
While the specifics of Cory's life may be unique, the story is also highly relatable to folks from many backgrounds, abilities, classes and histories. We created this show with the hope that audiences would leave with a broadened view of the diversity of families, daily preconceptions, the structures that put limits on people, and how even well intentioned actions can undermine autonomy.
Is there anything I've missed asking you, or that you would like to comment on?
Cory:
We have an ASL interpreted performance on Wednesday August 29th at 6:15pm, where I will be joined by interpreter Katt Campbell. Please share with folks who may benefit and we hope to see you at the show!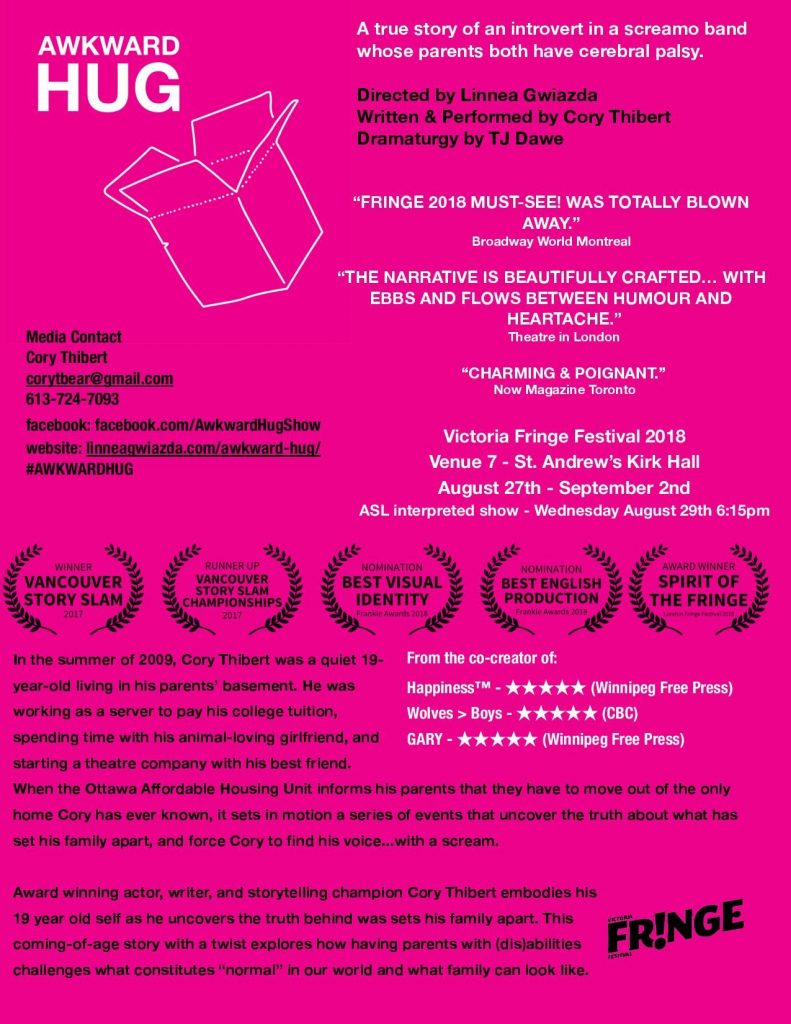 AKWARD HUG
Cory Thibert
Show Run Time: 60
Venue 7, St Andrew's Kirk Hall, 680 Courtney Street
SHOW TIMES+DATES:
Monday Aug 27 – 7pm
Wednesday Aug 29 – 6:15pm  ASL Interpreted Performance
Friday Aug 31 – 9:45pm
Saturday Sep 1 – 4:15pm
Sunday Sep 2 – 5:45pm