Bed and Breakfast at the Belfry Theatre August 8-27, 2017. A review.
Despite large urban centres, Canada is still a nation of small towns and the comedy lexicon rich in examples of the differences between the two. Mark Crawford's Bed and Breakfast (at the Belfry Theatre August 8-27) joins a long and prestigious list of successes, stretching from Stephen Leacock's Sunshine Sketches of a Little Town to Rod Beattie's acclaimed Wingfield series.
Bed and Breakfast adds a modern twist to the "fish out of water" scenario—partners Brett (Crawford), an interior designer, and Drew (Paul Dunn), a hotel concierge, have a happy, if stressful, life in Toronto as they negotiate the purchase of a condo when the sudden death of Brett's Aunt Maggie upends their world.  Catapulted back to the small tourist town where he spent many happy summers, Brett is surprised to learn he's inherited Aunt Maggie's Victorian home.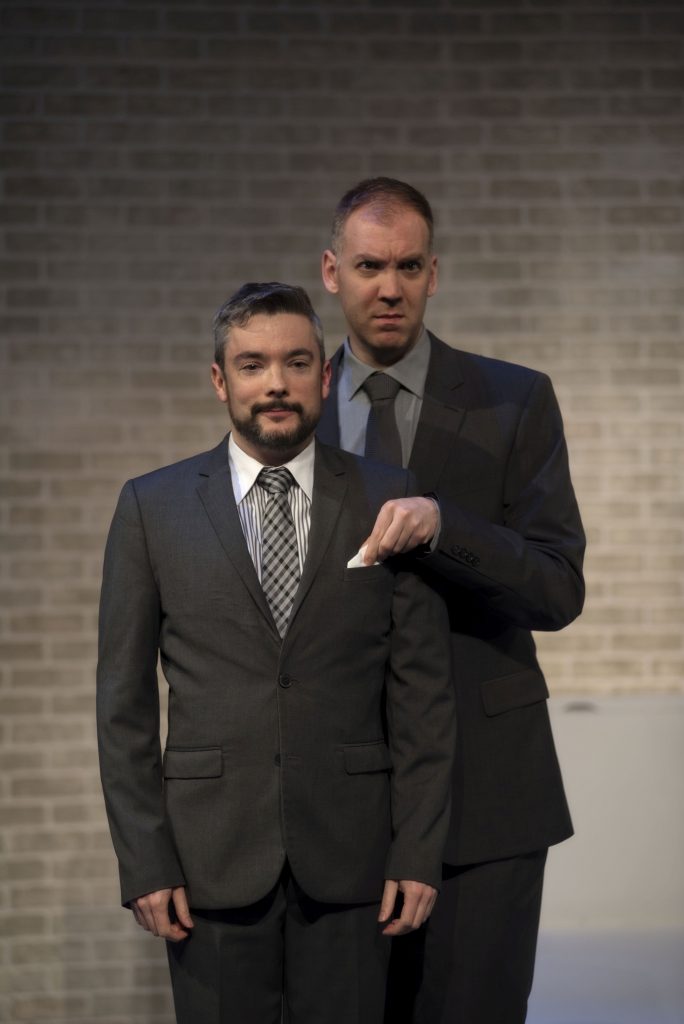 Paul Dunn and Mark Crawford. Photo: Andrée Lantier
What seems to be a good idea—renovating the house into a picturesque B&B to take advantage of the tourist trade—quickly turns into unexpected challenges on every level.  From recalcitrant contractors and limited supplies, to less-than-sympathetic townsfolk, Brett and Drew work hard to integrate into the town's daily life, blissfully unaware, at first, that being gay might present its own problems.
Dana Osborne, set and costume designer, hints at the grandeur of Maggie's Victorian home with stylized gables and turrets, wide baseboards and coved ceilings, while anchoring the remainder of the interior in a modern, sparse esthetic with a colour palette in creams and greys.
Crawford's brilliant writing is peppered with sharp human observations, creating dichotomies—male/female, parent/child, city/town, contractor/homeowner, guest/innkeeper, gay/straight—and exploiting the differences in extremely nuanced and relatable comedy. Between them Crawford and Dunn portray over twenty characters, relying on honed physicality and rapid changes, enhanced by sound (John Gzowski) and lighting (Rebecca Picherack) cues, to move from one to the other.  No contemporary obsession—coffee culture, yoga, home design shows—is safe from skewering.  One fine example is Crawford as Ray, their flamboyant gay real estate agent, and Dunn as Drew, bantering back and forth during a yoga class.  Whether it's Alison the coffee show owner's perpetual "sorry", nephew Cody's surly "dunno", contractor Doug's stocky stance, or neighbour Chris' Irish accent, Crawford and Dunn have the knack of defining a character through subtle idiosyncrasies and ticks.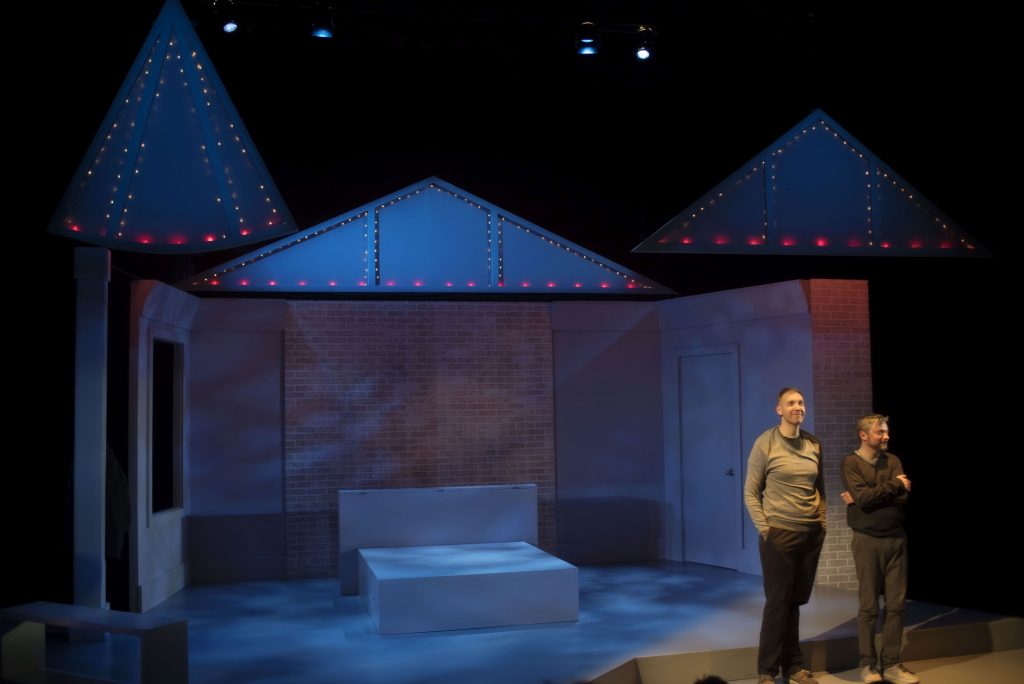 Bed and Breakfast is not content to stay in safe comedic territory, moving into drama that exposes the hidden underbelly of homophobia, the secrets Brett's family has tried hard to suppress for years and the painful separation between Drew and his parents. Director Ashlie Corcoran (who directed the world premiere at the 1000 Islands Playhouse in 2015) has a keen understanding of the careful and essential balance between laugh-out-loud funny and quiet consideration of life-altering revelations.  Bed and Breakfast relies on the delicate interplay of key elements—careful miming of actions (there are few physical props), co-ordinated with clever sound effects and inspired lighting—to produce a modern comedy that resonates with audiences along a broad spectrum of ages.
Brett and Drew have a legion of champions rooting for them. As Bed and Breakfast draws to a close in one final goodnight embrace, the plucky duo having surmounted all obstacles placed in their path, a profound sense of shared contentment reigns.
A sweet summer comedy about finding your community. When Brett inherits his aunt's house, he and his partner move out of Toronto to set up a B&B in a quiet little tourist town. Great idea. It never crossed either of their minds that being a same-sex couple would raise eyebrows and generate friction. This comedy about "being out" in a small town is a tour-de-force for two actors: they play the central couple plus all the characters they encounter, from contractors to relatives to the woman who runs the coffee shop.
Bed and Breakfast by Mark Crawford
Belfry Theatre, 1291 Gladstone Avenue, Victoria BC
August 8-27, 2017
Tickets: $25-$55.65 online, by phone 250-385-6815 or in person at the Box Office
Starring:
Mark Crawford
Paul Dunn
Director Ashlie Cororan
Set and Costume Designer Dana Osborne
Lighting Designer Rebecca Picherack
Sound Designer and Composer John Gzowski
Stage Manager Michael Barrs
Apprentice Stage Manager Becca Jorgensen
Rush Tickets
For our weekday evening performances we offer a limited number of last minute rush tickets at a discount. Rush tickets are:
available at the Box Office starting 35 minutes prior to the start of each evening performance (6:55pm Tuesday, Wednesday and Thursday; 7:25pm on Friday),
in person only,
subject to availability, and 40% off our regular Zone 2 (Yellow Section) ticket prices.
Disclaimer: I received a complimentary ticket to attend Bed and Breakfast.