Red Hot Cole at Blue Bridge Repertory Theatre August 2017. A review.
Ah, summertime—the season of film blockbusters, beach books and romantic musicals.
Veteran director (and UVic Phoenix alumnus) Darcy Evans in his Blue Bridge début, mines the extensive repertoire of legendary composer and lyricist Cole Porter in this light, frothy–and original—confection.
Evans re-imagines the venue as the Roxy Lounge (Brian Ball's set includes luxurious chandeliers, graceful arches and a retro back bar with vintage glassware), and invites theatre-goers onstage for an immersive theatre experience, providing actors Sara-Jeanne Hosie, Kholby Wardell, Jennifer Gillis and Jacob Woike with roles as themselves—cabaret performers who regularly break the fourth wall to engage with the audience.
Loosely framing a solid two hours of songs (over 30 in total) as a love story—with unrequited love, stormy relationships and a happy ending—provides just enough of a plot device to add depth to interpretations and transitions.
Cole Porter's songs speak of urbane and witty sophistication, with  melodies and lyrics that seem to float effervescently and effortlessly—songs meant for the warm summer air and sophisticated cabarets.  They demand excellent musicianship and extreme attention to detail—something this ensemble possesses in great measure. Musical director Brad L'Écuyer (keyboard) has a long history of collaboration with veteran musicians Ranier Roth (reeds) and Jonathan Eng (percussion) that allows for playing so natural as to appear improvised, while remaining firmly orchestrated.  The score is replete with embellishments and flourishes that richly underscore the songs' emotions and make it easy to imagine being in a worldly New York jazz club. Paul Tedischini on sound ensures a mix that brings clarity to every precise syllable and note.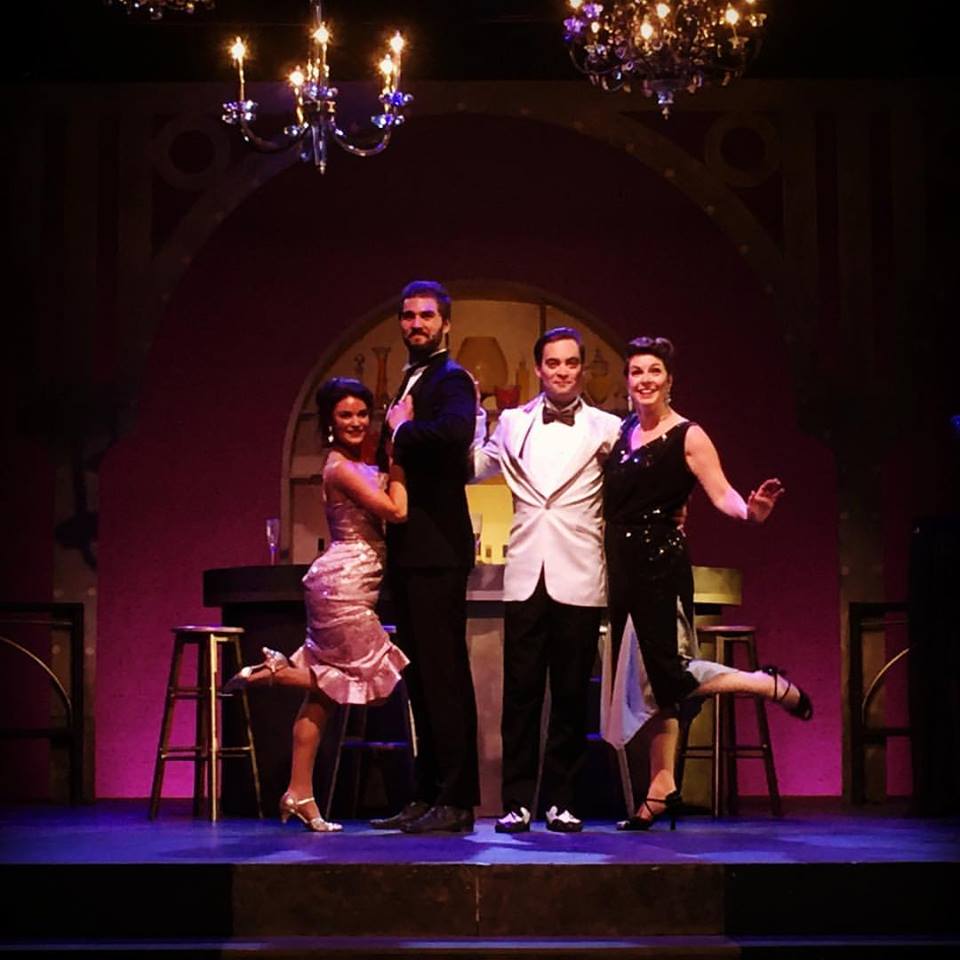 Jennifer Gillis, Jacob Woike, Kholby Wardell, Sara-Jeanne Hosie
Refined elegance is costume designer Graham McMonagle's hallmark—gowns drape beautifully and are accentuated with bejewelled necklines;  the men's garments denote rank and class with white trousers and dark blazers, suspenders and tuxedoes.  Colours pop in unexpected places, like Wardell's socks in Be A Clown while glittering evening dresses in the final numbers are firmly planted in that bygone era.
Eryn Griffith paints with light, further deepening an already rich visual canvas—images remain fixed long after a song is completed.
Hosie and Wardell (last onstage together at Blue Bridge in Little Shop of Horrors—2012) haven't seen one another since the high school prom when Kholby left Sara-Jeanne on the steps of the Oak Bay Beach Hotel. Wary of his long-undeclared love (I Get a Kick Out of You) she remains unconvinced (Let's Do It).  Their relationship is further complicated when new singer Jennifer (Gillis) arrives, late, in an explosion of clothes, with doctor-boyfriend Jacob (Woike) in tow.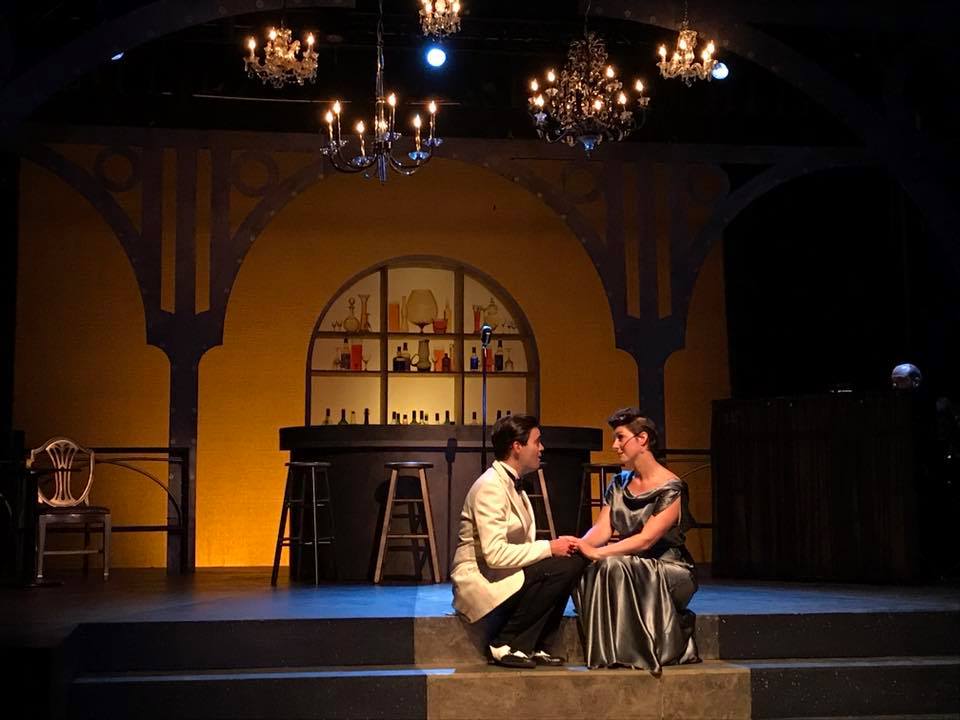 Kholby Wardell and Sara-Jeanne Hosie
Gillis brings bold exuberance to I'm Throwing a Ball Tonight and Blow, Gabriel Blow—contrasting with Hosie's smooth, controlled stylings on Anything Goes—featuring wonderful tap dancing—and It's De-Lovely.
When a fourth singer fails to show up at curtain, Woike must stand-in—because he can speak French—on C'est Magnifique, his initial awkward moves giving way to confidence by song's end. The quartet moves into pop territory (reminiscent of the Manhattan Transfer) on I Love Paris with beautiful four-part harmony and wonderful Charleston dance sequences (Evans is also the choreographer).
Not all is sophistication as the quirky Tale of the Oyster (Wardell) proves while in act two Be a Clown brings out sheer silliness—bicycles, red noses and an audience volunteer enlisted as part of the number (expert singing by opening night's participant had everyone convinced she was a plant, but I am assured it was not the case)—and I Hate Men has Gillis and Hosie drunkenly spilling the beans about their beaux in an hilarious effect that had the audience chuckling. Of course, in the current heat wave, a snappy Too Darn Hot (Wardell, Woike) had everyone nodding along in rhythmic agreement. Gillis dances on the bar in wild abandon in You Do Something to Me.
Hosie's interpretation of In the Still of the Night is breath-taking, her slow tones in marvellous counterpoint to the music's faster tempo; Wardell oozes aching longing on I've Got You Under My Skin; as a duet So in Love melded their voices perfectly.
Ensemble numbers You're the Top and Anything Goes truly display the company's command of the genre and brought the audience to its feet in appreciation.
Red, Hot Cole! is a note-perfect and worthy tribute to the master—cast, creative and crew bring Blue Bridge's ninth season to a very fine ending indeed.
Red Hot Cole! – A Cole Porter Revue conceived by Darcy Evans
Blue Bridge Repertory Theatre at the Roxy, 2657 Quadra Street
Tickets $ 25 – $ 52 online at bluebridgetheatre.ca or in person between 12 and 4 pm Tuesday to Saturday at the Roxy Box Office or by calling 250-382-3370.

Creative Team

Darcy Evans Director
Brad L'Écuyer Musical Director
Graham McMonagle Costume Designer
Brian Ball Set Designer
Eryn Griffith Lighting Designer
Paul Tedischini Sound
Rebecca Marchand Stage Manager
Leah Hiscock Assistant Stage Manager
Cast
Sara-Jeanne Hosie
Kholby Wardell
Jennifer Gillis
Jacob Woike
Disclaimer: I received complimentary tickets to attend Red, Hot Cole!