Beginning/Middle/End by ReCued Productions promises a "choose your own adventure for theatre-lovers". Writer and creator Brian Quackenbush answered questions about the show which appears at the Victoria Fringe Festival 2018.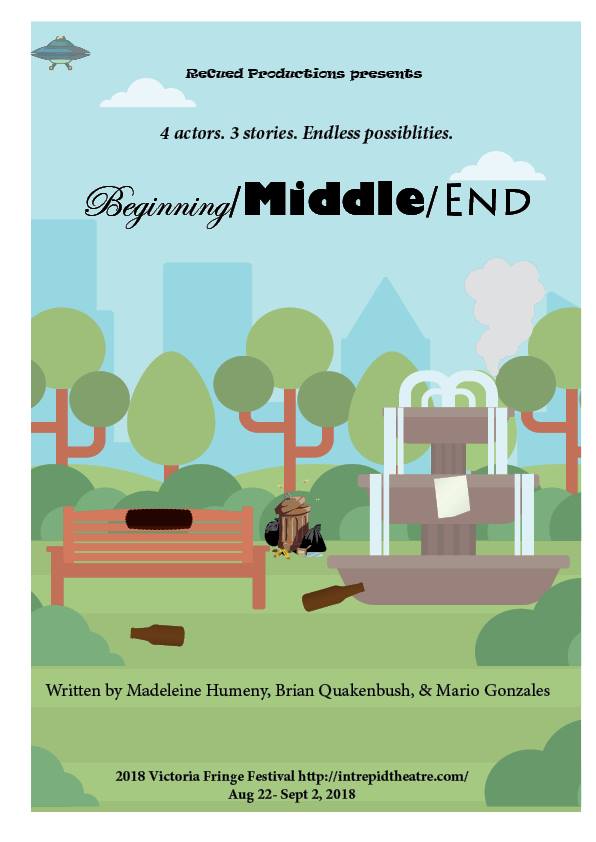 How long have you been producing work on the Fringe circuit? As an artist/company?
Brian:  This is my 2nd Fringe show, 1st with this company.
Is this your first time at the Victoria Fringe?
Yes this is the 1st Victoria Fringe for ReCued Productions.
Have you been (or will you be) taking the show to other Fringes?
Not this year, but maybe with more planning next year.
Is your show a new work, or has it been performed elsewhere?
This will be the premiere run of "Beginning/Middle/End"
Significant awards or accolades? (not just on the Fringe circuit)
Not for the show or company.
Can you speak to the creation process of this work?
The idea for this piece was conceived a few years ago by Brian Quakenbush and Mario Gonzales. Last year while watching a Paper Street Theatre show Brian figured out how and felt inspired to piece it all together. Brian, Mario and Madeleine Humeny started writing in March of 2018 and we've stopped writing just this past weekend (July 21). The rehearsals will be a lot of exploration in ironing out the transitions and getting the pieces to fit together.
Who will your show appeal to?
I think writers and actors will enjoy the challenge that comes along with what it is that we're doing and if you're a general theater goer, you'll love the jokes and the stories we've created- even jumbled up they work nicely.
What would you say to entice a potential audience member to come?
Chances are no 2 shows will be alike. And there's all sorts of ingredients that overlap from play to play that add to the fun of the show. See if you can find them all?!
What do you hope to inspire in your audience?
Create, create, create. Watch others create and be inspired. Find inspiration in the perspiration involved in the work. In theatre- anything is possible!
Do you remember the 'choose your own adventure' books as a kid? The pure joy of knowing that anything could happen, and a character's fate was left to chance? Well, we have the show for you.

Beginning/Middle/End is a show like no other. Let our emcees guide you as the journey of four characters is left to fate. The characters must navigate three separate storylines, each broken up into a beginning, middle, and end. Chance will decide which beginning will set the scene, which middle will introduce the conflict, and which end will tidy things up. Chances are each show will tell three unique stories.

How does the story end? Can the actors pull it off? Is there really a working fountain on stage? Find out at Beginning/Middle/End at the Victoria Fringe Festival.
Beginning/Middle/End, written by Madeleine Humeny, Brian Quackenbush and Mario Gonzales
ReCued Productions
Roxy Theatre (2657 Quadra Street)
Tickets: $9/$11
Showtimes:
Friday Aug 24 – 6:45pm
Saturday Aug 25 – 6:30pm
Wednesday Aug 29 – 8:30pm
Thursday Aug 30 – 5:30pm
Saturday Sep 1 – 6pm
Sunday Sep 2 – 6:15pm