Blue Elephant Theatre is a relatively new theatre company in Victoria BC, but, as you'll read below, playwright/director Anna MacAlpine has surrounded herself with a team of recent grads and current students of the UVic Phoenix Theatre. This all-female cast and crew presents "the story of the most interesting person from history you've probably never heard of"—Julie d'Aubigny.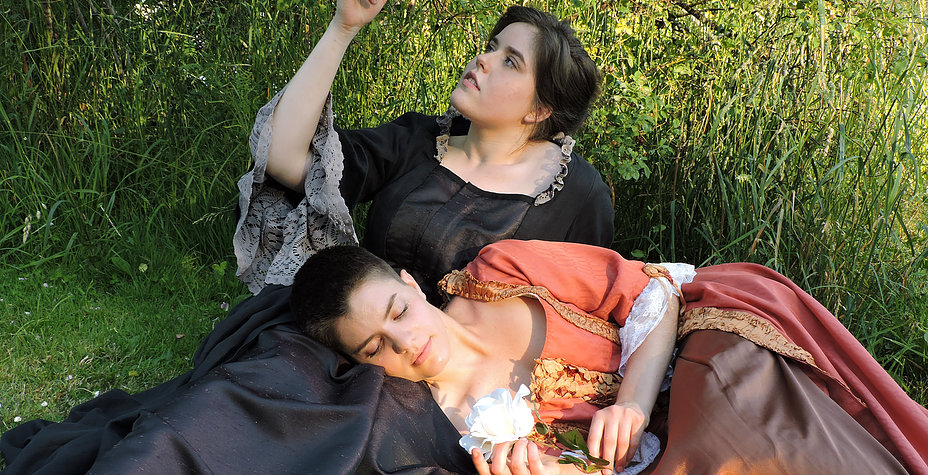 Julie McGuire as Julie d'Aubigny and Hanna Seinen as Mathilde. Photo by: Josiah George
How long have you been producing work on the Fringe circuit?  As an artist/company?
I've done two Fringe shows previously, both original plays by me. The first was The After Year in 2014 at the London Fringe Festival (produced under Dragonfire Players, a collective I started in St. Catharines, ON) and the second was a Shakespeare spin-off, Polonius and His Children, last year at the Calgary Fringe Festival (with Blue Elephant Theatre).
When did you move to Victoria?
I moved to Victoria in 2016! Fool's Paradise is my first play produced here, and I am very excited to share it with the theatre community here. Victoria has such an outstanding theatre culture and vibe, especially for LGBTQIA theatre. I've lived and worked in Ontario and Alberta, and wherever I went, I kept hearing great praise of the Victoria theatre scene. It's a joy to be here.
Have you been (or will you be) taking the show to other Fringes?
Fool's Paradise is a Victoria Fringe exclusive! This is a fresh, never-before-seen play and the production at Victoria Fringe will be its premiere. That's pretty special, in my eyes.
Significant awards or accolades? (not just on the Fringe circuit)
I hold a BA in Dramatic Arts and Music from Brock University and I completed a MFA in Playwriting at the University of Calgary in 2016. One of my early plays, The After Year, was selected for Suitcase in Point's In the Soil Arts Festival in 2014. The one act I wrote during my Masters, Polonius and His Children, was selected to be produced by Sage Theatre for their Ignite! Festival in 2015. In 2016, I had the opportunity to work overseas on the UK premiere of Judith Thompson's Watching Glory Die as an assistant dramaturg with Palindrome Productions.
Can you speak to the creation process of this work?
I was in my grad program at U of C when a professor I worked for, Barry Yzereef (who is an expert in opera history), introduced me to Julie d'Aubigny. He said, "If you're interested in historical women, you should write a play about her." I looked her up and her story stuck with me. Not just because her life was teeming with dramatic moments, but because she was explicitly known to have had relationships with women (she was in a relationship with the Marquise de Florensac when she passed away in 1707). Queer women so frequently get passed over in historical fiction, or have the importance of their same-sex relationships erased. I jump at pretty much any opportunity to dig into the wealth of stories there.
Fool's Paradise is inspired by an incident from d'Aubigny's early history. When she was a teenager (or so the story goes), she fell in love with a young novitiate, infiltrated a convent, and then eloped with the young woman by stealing a body from the morgue, putting it in her room and setting the room on fire. As a writer, it makes for a tremendously fun jumping off point. Who is this person? How did she come to make a decision like that? And what about the woman she loved—what was it about that relationship that made d'Aubigny risk everything?
Who will your show appeal to?
Lovers of historical romance and drama
People who enjoy LBTQIA theatre
Lesbian, bisexual and queer-identified women
People who are into swords and opera
People who enjoy new work
People who support theatre created and performed by an all-female cast and crew 
What would you say to entice a potential audience member to come?
This is your chance to hear the story of the most interesting person from history you've probably never heard of.
What do you hope to inspire in your audience?
I hope to sweep them back to a different time and place. Take them on a journey full of adventure, romance, loss and betrayal. To enchant them, to shock them, to tell a compelling story about two women who risk it all for a chance at happiness.
Is there anything I've missed asking you, or that you would like to comment on?
I may be still new to Victoria myself, but my company is not! Fool's Paradise is presented by an all-female cast and crew of extraordinary emerging artists, which includes current students and recent grads of the UVic Phoenix Theatre. Our company includes Julie McGuire (Julie d'Aubigny), Hanna Seinen (Mathilde), Sophie Chapell (Countess/Mother Superior/Ensemble) and Chantelle Potier (Sister Isabelle/Camille/Ensemble), with design by Annie Konstantinova.
Blue Elephant Theatre is proud to present the premiere of FOOL'S PARADISE, a new play by local Victoria playwright, Anna MacAlpine.

France, 1686. Mathilde is a young nun whose life radically changes when she meets Julie d'Aubigny, a notorious Parisian opera singer and swordsmaster. Together they plan a daring escape from the convent and elope across France, but it isn't long before Julie's colourful past catches up with them.
Fool's Paradise by Anna McAlpine
Blue Elephant Theatre
Venue 6, Roxy Theatre 2657 Quadra Street
Show Run Time: 60
Tickets:  Regular $11 / Student & Senior $9 through Ticket Rocket after August 1st
A mandatory $6 Fringe Button is required for admittance to all Victoria Fringe Festival shows. Fringe Buttons can be purchased at any Fringe venue box office.
SHOW TIMES+DATES:
Thursday Aug 23 – 9pm
Saturday Aug 25 – 4:15pm
Sunday Aug 26 – 5:30pm
Tuesday Aug 28 – 8:15pm
Friday Aug 31 – 7:45pm
Saturday Sep 1 – 2pm