Third time's the charm for local company Enigmatic Events and its founder Chris Rudram.  For an unbelievable third year in a row they've won the local lottery. Rudram is part of the small group of Fringe fanatics who migrate from viewing shows, to billeting artists, to writing reviews to producing their own work. During the year outside the Fringe, Enigmatic Events also runs interactive events and stages murder mysteries.
Chris turned to co-producer and actor Natasha Guerrera to answer my questions about #past #present #future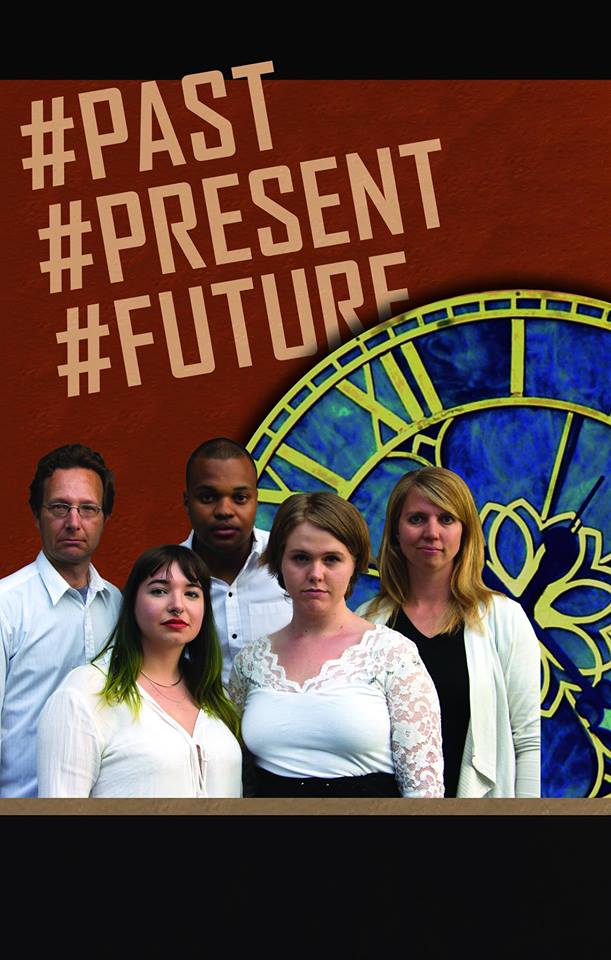 How long have you been producing work on the Fringe circuit? 
I've been going to Fringe ever since I can remember in Vancouver and Victoria. I've been working with Enigmatic Events through fringe for three years now; first in A Quiet Season, then in Jukebox Drive and now this!
Have you been (or will you be) taking the show to other Fringes? 
Last year we took Jukebox Drive to Nanaimo, however this year it's just Victoria for us.
Is your show a new work, or has it been performed elsewhere? 
Not only is our show a new work, it is new every single night! Part of the joy of our improv style is having a set structure, but seeing new things develop with every show.
Can you speak to the creation process of this work? 
The process with Enigmatic Events has always been in an ensemble-based process. We work together as a team to build trust and learn how to communicate with one another onstage through character and action. Most of our process comes by breaking down the structure of our show, (this time being the past, present and future), improvising small scenes, and then examining how to tell stories in a deconstructed way that still has a meaningful arc.
Who will your show appeal to? What would you say to entice a potential audience member to come? 
I think our show has appeal for everyone! It's always an interesting night when you get to see see artists create a story right in front of you. I will say however, that some of our content may not be for younger audiences, as we are dealing with realism and vulnerability which can lead to tough themes in our shows. So to anyone who is curious about our show I would say that #past#present#future is an emotional improvisation filled with surprises for both the audience and the actors a onstage.
We strive, in this show, to present the ways in which people evolve over time and by using improv techniques we will tell stories of these real people and their cathartic journeys.
What do you hope to inspire in your audience?
We at Enigmatic Events hope to begin new expectations for improvisation. Much like the mandate of Paper Street Theatre, we believe improv is a storytelling mechanism that is not at all limited to comedy. We hope our audiences will see this. We also hope to see our audiences really connect  to the stories we create onstage, and perhaps even get emotional through the characters' growth. Every show will be different, so different outcomes are expected every night!
Is there anything I've missed asking you, or that you would like to comment on?
I would like to say that, one: we are so lucky to have a spot in the Victoria Fringe for the third year in a row and we are so grateful!
Secondly, I would like to say thank you to you, Janis, and to all the other fantastic women who are involved in the theatre practice in, and out of, Victoria. It is truly inspiring to see so many of us thriving and doing what we love to do.
#past #present #future

"The past is a foreign country; they do things differently there." (LP Hartley).

From the company that brought you Jukebox Drive, comes an improvised drama that moves between the past, the present and the future. Will characters change? Will relationships survive? What leads them on? Only time will tell.

By selecting a #hashtag for each moment in time, the audience inspires the stories.

Instagram: @past_present_future_show
#past #present #future
Enigmatic Events
Venue 1, Victoria Event Centre, 1415 Broad Street
Show Run Time: 50 minutes
Tickets on sale August 1st through Ticket Rocket.
Facebook event:

SHOW TIMES+DATES:
Thursday Aug 23 – 8:30pm
Friday Aug 24 – 9:45pm
Saturday Aug 25 – 5:30pm
Wednesday Aug 29 – 5:45pm
Saturday Sep 1 – 4:45pm
Sunday Sep 2 – 5pm