The Birdmann and Egg: BIRDHOUSE. Victoria Fringe 2017. An interview.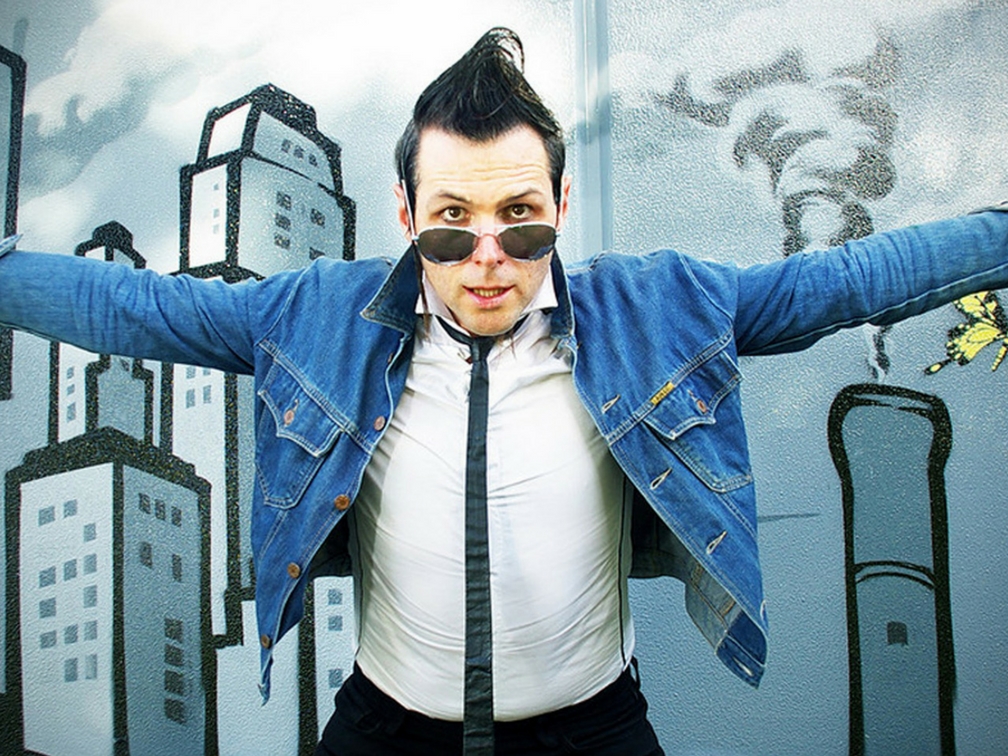 In the panoply of Fringe performers, there is only one Birdmann. His quirky shows have endeared him to local audiences since he first appeared here in 2011. The feeling is mutual for Egg says "Victoria is our favourite place to perform in the world".  The Birdmann and Egg have chosen the city for the world premiere of their new show The Birdmann and Egg: BIRDHOUSE.
NB: The Birdmann returns right after the Fringe with his Greatest Hits Thursday September 7th for ONE night only.
*Interview by Egg from Japan
How long have you been producing work on the Fringe circuit?  As an artist/company?
Hi. I'm Egg! I first met the Birdmann in a carpark in Winnipeg in 2012 and since then we have toured the world playing Australia, Japan, Canada, USA, Europe and we were nominated 'Most Original Comedy' at the humongous Edinburgh Fringe!
Is this your first visit to Victoria?
I debuted at the Victoria Fringe in 2015 playing my live original score for The Birdmann in Momentous Timing and we sold out every show!
Have you been (or will you be) taking the show to other Fringes?
Is your show a new work, or has it been performed elsewhere?
Birdhouse will have its world premiere in Victoria because it is our favourite place to perform in the world and we forgot to apply for anything else. We will then take it to Vancouver but this will be the best!
Significant awards or accolades? (not just on the Fringe circuit)
Oh lots. The Birdmann has won 'Favourite Fringe Comedy' at the Victoria Fringe at least three times and he was also 'Best Archer' at elementary school and I was 'Best Calligrapher' numerous times.
Can you speak to the creation process of this work? 
It's been pretty top secret. So secret that we don't even know what's in the show yet. We have arrived in Victoria two weeks before the Fringe just to prepare and have been kindly supported with a great billet and also a rehearsal space from the Kaleidoscope Theatre for Young People.  It will be our usual trademark variety acts with an eclectic soundtrack though this time with an amazing story like a live cartoon action comedy.
Who will your show appeal to?
It's a special family friendly show so it is on for young and old. The Birdmann is 105 and I haven't even been born yet.
What would you say to entice a potential audience member to come?
I am going to sit on you.
What do you hope to inspire in your audience?
Probably a cultural revolution but it would just be nice if they bought some merch after the show because I'm hungry.
Is there anything I've missed asking you, or that you would like to comment on?
Victoria is where our shows are the most popular in the world and we've performed on four continents and a bunch of random islands. It is the most generous community we know so we hope to always give you our latest and greatest work!
The Birdmann and Egg: Birdhouse by Downunderground
Venue 6: Fairfield Hall 1303 Fairfield Road
Tickets: $11/$9 through Ticket Rocket online or at the door
Duration: 40 minutes
Genre: Incredible Comedy Variety
Rating: All ages
Thursday August 24 7:45pm
Saturday August 26 4pm
Sunday August 27 2:30pm
Wednesday August 30 6:15pm
Saturday September 2 2:15pm
Sunday September 3 3:45pm
 
THE BIRDMANN & EGG: BIRDHOUSE

"?????"
-Times Colonist

"UTTERLY ENDEARING IDIOSYNCRATIC GENIUSES" – The Scotsman

British Columbia loves The Birdmann (Trent Baumann), and The Birdmann loves British Columbia. Since first visiting Victoria, B.C. in 2011, this infamous comedy legend has been honoured with sold out seasons, rave reviews, and won multiple best Fringe comedy awards. Now, The Birdmann of Australia, who has wowed audiences in nearly twenty countries across the globe, chooses to make the world premiere of his latest show right here at the 2017 Victoria Fringe Festival.

Joined by multi-instrumental genius Egg of Japan (Sachie Mikawa), the acclaimed 'King of the Fringe' debuts 'BIRDHOUSE,' an action-comedy that explores the notion of home in the 21st century. Once more it's guaranteed to be a fun and meaningful experience for young and old. Think Miyazaki meets the Muppets… and then think again, as everyone's favourite international act are the true definition of Fringe, delighting audiences from Edinburgh to Alice Springs.

"ONE OF A KIND AND WHAT EVERY FRINGE PERFORMER IN THIS PARTICULAR GENRE ASPIRES TO."  – Vancouver Courier

In a live comic book adventure, enjoy circus, music and magic, and get your tickets now as 'BIRDHOUSE' is always a full house of happy audiences.

"IF YOU WANT TO SEE THIS ONE, GO EARLY. SOLD OUT AUDIENCES LOVED IT!" – Times Colonist

This could be the finale tour for The Birdmann as he is now 105 years old, though Egg hasn't even been born yet.

"A LOVELY SENTIMENT ON MY FRINGE ADVENTURES" – The Guardian

To celebrate his fifth tour to Victoria, B.C., The Birdmann will also perform his 'GREATEST HITS' for one night only, post-fringe, on September 7th at the Metro Studio Theatre. For more information, visit intrepidtheatre.com