Tragedy Time Served Comedy by Mark Hughes. Victoria Fringe 2017. An interview.
From semi-professional bank robber to semi-professional stand-up comic, Mark Hughes' life has been a journey.  He's bringing his show Tragedy + Time Served = Comedy to the Victoria Fringe Festival 2017.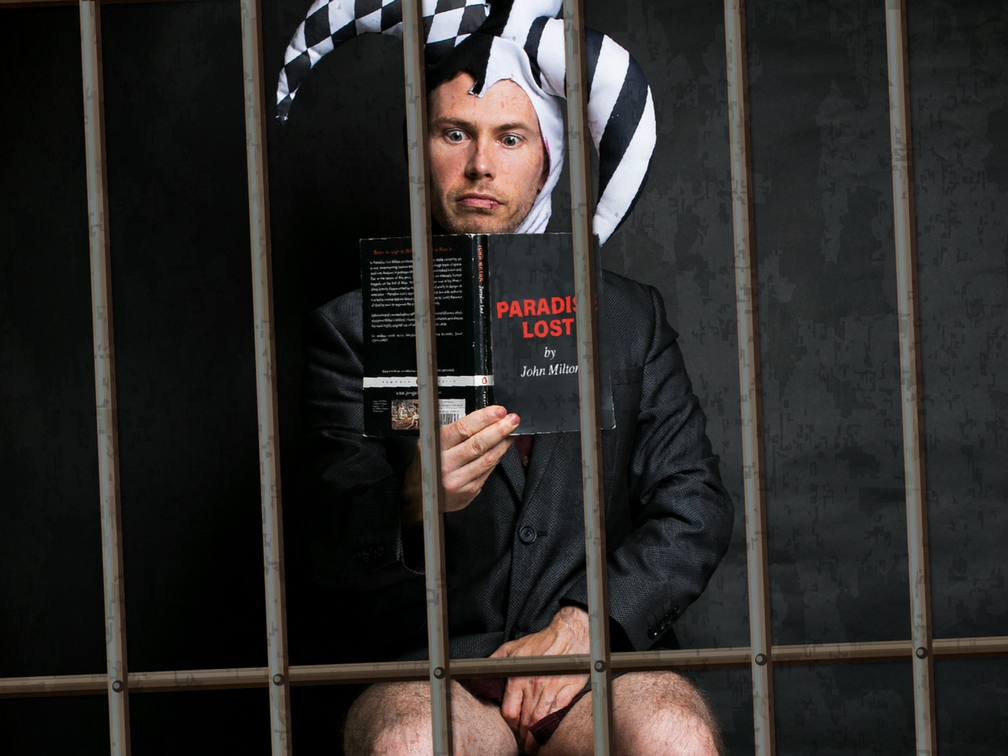 How long have you been producing work on the Fringe circuit? 
This is my second year performing at Fringe, and Victoria will be my third Festival. My first fringe was Vancouver 2016, and I just finished Winnipeg 2017.
Is this your first visit to Victoria?
I seem to end up in Victoria at least once a month to perform comedy or visit folks.
Have you been (or will you be) taking the show to other Fringes?
Just finished at Winnipeg Fringe, but Victoria is my last Fringe festival of the year
Is your show a new work, or has it been performed elsewhere?
It premiered at Vancouver Fringe 2016, but I have performed it dozens of times independently for one offs and special events.
Significant awards or accolades? (not just on the Fringe circuit)
None so far
Can you speak to the creation process of this work?
This show was the answer to why I am who I am, and where my sense of humor came from. I get in trouble for my jokes all the time and people always wanted to know why I find some of the things I do funny. I touch on my past a bit in my stand up, but  "Tragedy + Time Served = Comedy" is the comprehensive story of my life.

Who will your show appeal to?
Hopefully everyone, but specifically people who struggle, have struggled, or know some who has struggled with addictions, crime, incarceration, abuse. However, I did write it so any person walking in can at least understand where I'm coming from (hopefully).
What would you say to entice a potential audience member to come?
True story of how a heroin addict, bank robber turned into a stand-up comic!
What do you hope to inspire in your audience?
An experience they won't forget!
Tragedy + Time Served =Comedy by Mark Hughes
VENUE: V1 – Victoria Event Centre (1415 Broad St)
SHOW TIMES+DATES:
Thursday Aug 24 – 9:30pm
Friday Aug 25 – 5pm
Saturday Aug 26 – 7:30pm
Sunday Aug 27 – 1:45pm
Tuesday Aug 29 – 8pm
Sunday Sep 3 – 1:15pm
Tickets $11/$9 via Ticket Rocket
Semi-professional bank robber to semi-professional stand up comic. Through storytelling, Tragedy + Time Served = Comedy, shines a light on the path from Mark's dark and grim past of street life, addiction, and prison bringing the introspective and playful tools gleaned from doing stand-up comedy; never stopping along the way to observe taboos. After all, how can your life be taboo?

Fresh from the 2017 Winnipeg Fringe Festival, he also has a wealth of live performing experience as a stand-up comic based out of Vancouver. He has opened for comedian Doug Stanhope, and has been featured in Vice for his efforts to fundraise for the opioid crisis in Vancouver. https://video.vice.com/en_ca/video/laughter-takes-the-edge-off-how-comedy-is-helping-fight-vancouvers-opioid-crisis/5853fc0152cd509e77e42c02