Born Yesterday at Blue Bridge Repertory Theatre. Interview with costume designer Graham McMonagle.
Since 2014, costume designer Graham McMonagle has worked in close association with Blue Bridge Repertory Theatre, on Lagrimas Crueles (Cruel Tears) and Gaslight in 2014, Private Lives in 2015 and The Importance of Being Earnest in 2016.  During this period, he also obtained his MFA from the University of Victoria where his designs were featured in Wild Honey and Les Liaisons Dangereuses. 
I had the opportunity to chat with McMonagle about his process and philosophy in general, and then, as it relates to Born Yesterday by Garson Kanin (onstage May 30-June 11).
All sketches, Graham McMonagle.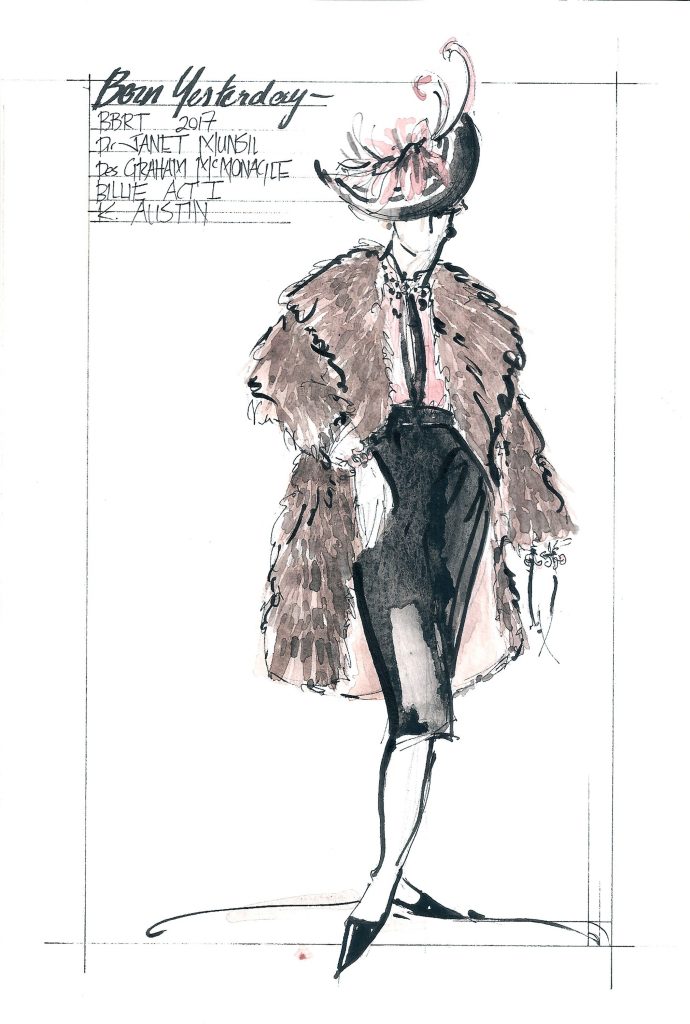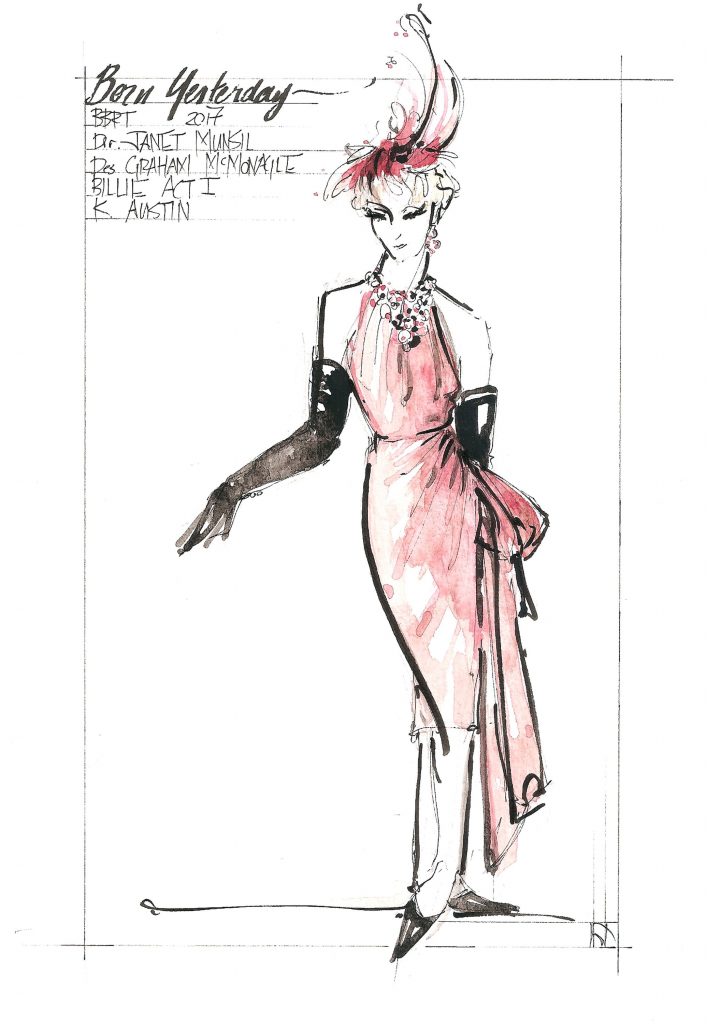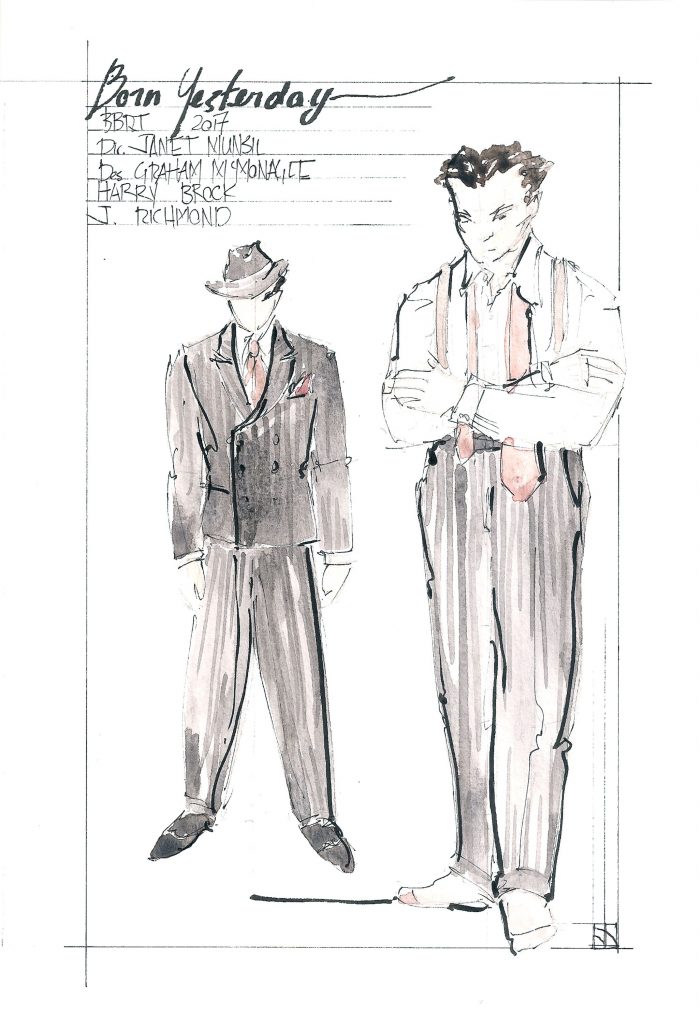 For McMonagle, design is analytical, as much as it is artistic.  He begins with a blind read of the text.  In this instance, he was struck with its obvious similarities to the rise of Donald Trump to the presidency of the United States.  Born Yesterday chronicles the Washington dealing of "an uncouth, remorseless junk dealer"—Harry Brock (played by Jacob Richmond) who arrives in Washington DC with his showgirl mistress—Billie Dawn (Kassianni Austin) by his side, determined to hire a senator to further his business dealings.
After reading the text, it's time to consider the people cast in the roles.  Austin, for example, has a long tall physique.  And of course, costumes must be anchored in the period—Dior premiered his "New Look" in 1947; it was also the era of Balenciaga.
Throughout the text, McMonagle is looking for signifiers. In the case of Born Yesterday, there are a number of archetypes—the senator, the gangster, the moll.  Working closely with the set designer Barbara Clerihue and the director Janet Munsil, preliminary design ideas are discussed—Born Yesterday is built on the elegant and chic colour palette of grey and pink. There is a gradual transformation of Billie Dawn from moll to intellectual, the costumes follow suit—moving from pink (red) signifying republican to blue (democrat).  There are also practical considerations—with eight looks and a dresser backstage, how easy will it be to make the costume changes in a tight space?
Garments communicate intent, even by their very sound (or absence thereof). "There's power in a room where footfall is not heard", says McMonagle.
The character of Brock is ominous and proud; there's a touch of gangster in his dark pinstripe suit and rose-coloured tie (anchoring the rose in Billie Dawn's attire).  He's not afraid to play with his power, and not above shaming people with his undress, receiving people in his housecoat, and, unshod, which would have been shocking for the time period.
Paul Verrall (Jonathan Manson), the journalist hired to educate Billie Dawn after her ignorance and audacity threaten Brock's business dealings, is a "Yale man", his light-coloured suits in contrast to Brock's darker attire, while Ed Deverey (Tim Machin), Brock's worn-out lawyer wears the rumpled and ill-fitting khaki mixed separates of a man who is "beyond care".  Mrs Hedges (Iris McGregor Bannerman) is the very model of decorum in contrast to Billie Dawn's inappropriate cocktail attire.
McMonagle brings over twenty years' experience in designing for dance (where every outfit needs to be made from scratch) to his work on Born Yesterday, and describes himself as a "maker" at heart—even fashioning the hats for the production. "What characters wear on their heads says a lot" he explains.
The work behind McMonagle's carefully articulated designs–over 500 pages of drawings and ideas, capturing everything from Billie Dawn's "rattily" jewellery to the bellhop's caps—is meant to be invisible, creating a narrative that provides context to the story.  "I'm a storyteller, I tell the audience a visual story" he says.
McMonagle will also be designing for Blue Bridge's production of Red Hot Cole (August 1-13) the musical revue based on Cole Porter's songs.
An uncouth, remorseless junk dealer arrives in Washington DC with his showgirl mistress by his side. His mission – to buy a congressman. When her ignorance and audacity threatens his business dealings, he hires a journalist to educate her. It turns out she has an incredible natural intelligence, which she uses to turn the tables on the under -the-table proceedings…
Born Yesterday by Garson Kanin, directed by Janet Munsil
Blue Bridge Repertory Theatre at the Roxy Theatre, 2657 Quadra Street (in Quadra Village)
May 30-June 11, 2017
Tickets $20-47 online, by phone 250 382 3370 or in person at the Roxy Theatre box office Tuesday-Saturday, 12pm-4pm

Creative Team
Directed by Janet Munsil
Set Design by Barb Clerihue
Lighting Design by Giles Hogya
Costume Design by Graham McMonagle
Sound Design by Carolyn Moon
Dialect Coach: Iris MacGregor Bannerman

Cast List:

Billie Dawn | Kassianni Austin
Harry Brock | Jacob Richmond
Paul Verrall | Jonathan Mason
Ed Deverey | Tim Machin
Norval Hedges | Malcolm Harvey
Mrs Hedges | Iris MacGregor Bannerman
Eddie Brock | Michael Armstrong
Asst Mgr | Chase Hiebert
Helen/Manicurist | Kelly Hudson
Hotel Staff | Nick Guerreiro
Hotel Staff | Danielle Janess
Hotel Staff | Caitlin Holm