The Importance Of Being Earnest at Blue Bridge Repertory Theatre July 2016. A review.
The Importance Of Being Earnest at Blue Bridge Repertory Theatre (July 5-17, 2016) is nothing less than theatrical heaven. A laugh fest from start to finish, it is filled with witty verbal repartee and cutting digs. If words were swords, clothing would be torn to shreds the way these thespians employ them.
What a treat to see veterans like Laurie Patton and Norman Browning (last onstage here in Jitters at the Belfry in the 2011-2012 season) with their extensive experience at the Shaw Festival, alongside Blue Bridge regulars Shauna Baird and Wes Tritter (who elicits chuckles with an eyebrow raised) join young actors Kholby Wardell, Kassiani Austin, James Kot and Grace Wolfe in this wild romp directed with assurance by Fran Gebhard. The first act flew by.
Written in 1895 by Oscar Wilde, The Importance of Being Earnest was staged to wild praise from London high society and continues to impress today.  It requires impeccable timing and the capacity to translate the mores of a bygone time to present-day audiences.  Gebhard emphasizes the fun in the text; the pace is brisk, the language perfectly enunciated (dialect coaching Iris McGregor Bannerman) and the comedy beautifully and clearly set up, complete with the most scathing inflections possible when warranted.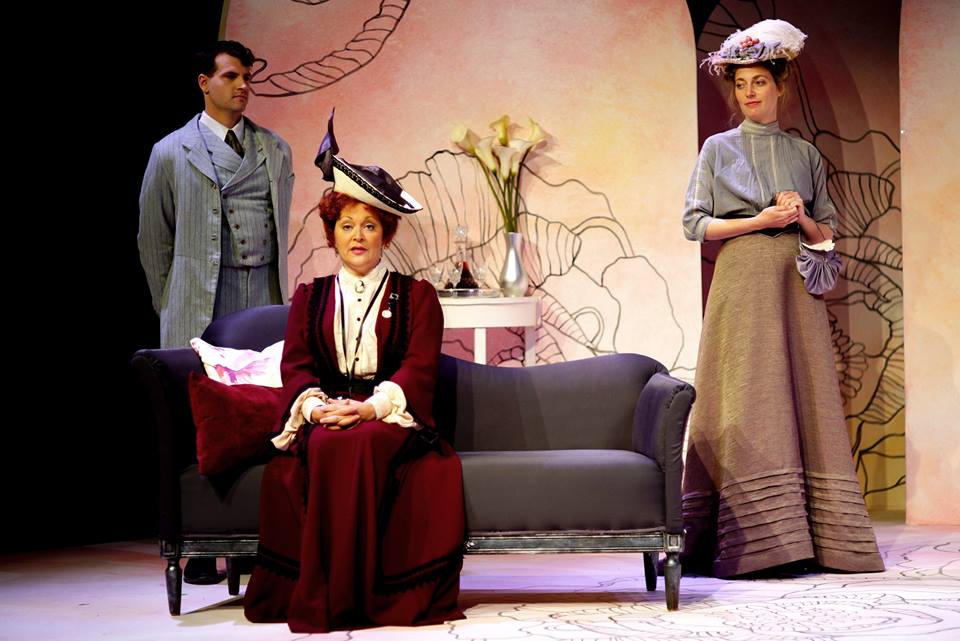 James Kot as Jack, Laurie Paton as Lady Bracknell and Kassianni Austin as Gwendolen. Photo: Jam Hamidi

Laurie Paton brings a human touch to the iconic Lady Bracknell—a role often played more to emphasis the "Gorgon"—as Wilde calls her—than the mother and defender of a certain way of life.  Able to quell mild rebellion with a single well-placed word, she reigns over her world, including daughter Gwendolen (Kassianni Austin), with an iron hand and a self-prescribed authority that brooks no argument.  Much of the comedy in the piece derives from the constant attempts at her undermining by the other characters.
Algernon (Kholby Whardell) and Jack (James Kot) may exhibit a certain breezy nonchalance—the hallmark of the upper classes—and behaviours frowned upon in modern relationship circles, but in Victorian England, their insistence on a secret double life (or friend) would rejoin a contemporary male experience. And, if truth be told, who—sitting in a modern audience—doesn't wish for the same double life or the ability to reduce an opponent with a single bon mot. Theatre-goers thus become complicit in the parody, while enjoying the undoing of their "betters"—by all standards, the main characters are the ultra-wealthy—in today's terms Jack's income is almost a million pounds a year and Cecily is worth many times more.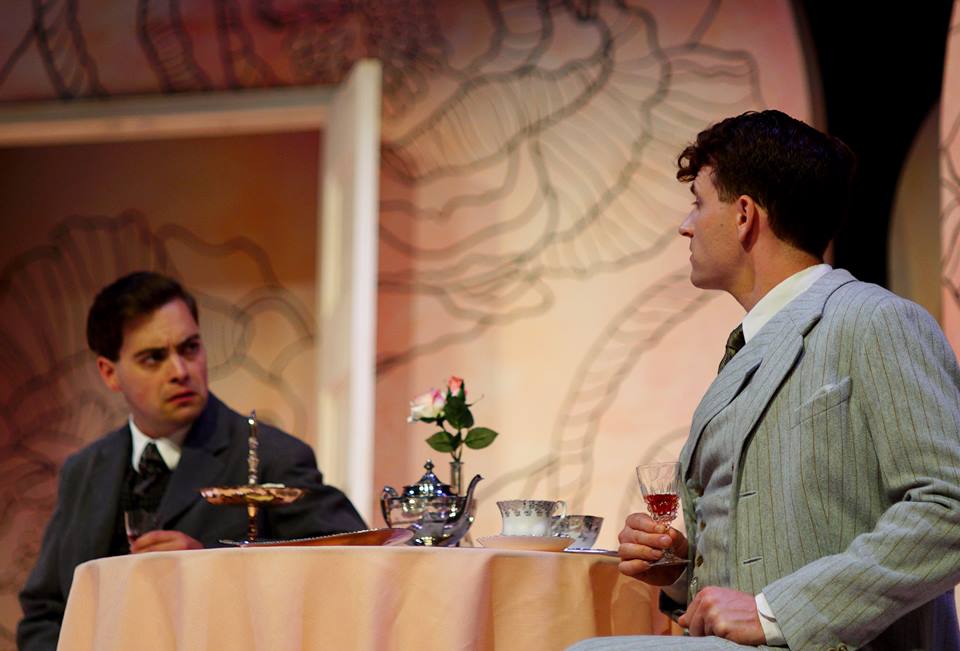 Kholby Whardell as Algernon and James Kot as Jack. Photo: Jam Hamidi
Yet, by a special magic, courtesy of Wilde's intelligent epigrams and this cast's thorough grasp of the complexities of the text, the characters onstage appear real, people with a story that resonates, however wildly improbable it may be.
Gwendolen and Jack's young ward Cecily (Grace Wolfe) at first circle warily and then become quickly aligned as they pursue matrimonial goals.  Wolfe (who is not even as old as Cecily) is a stand-out, holding her own in a cast of actors with decades more experience.  Her Cecily is flighty and calculating, silly as befits her youth and wise beyond her years.  Austin's Gwendolen has an imperious certainty when among her peers that subsides before her mother.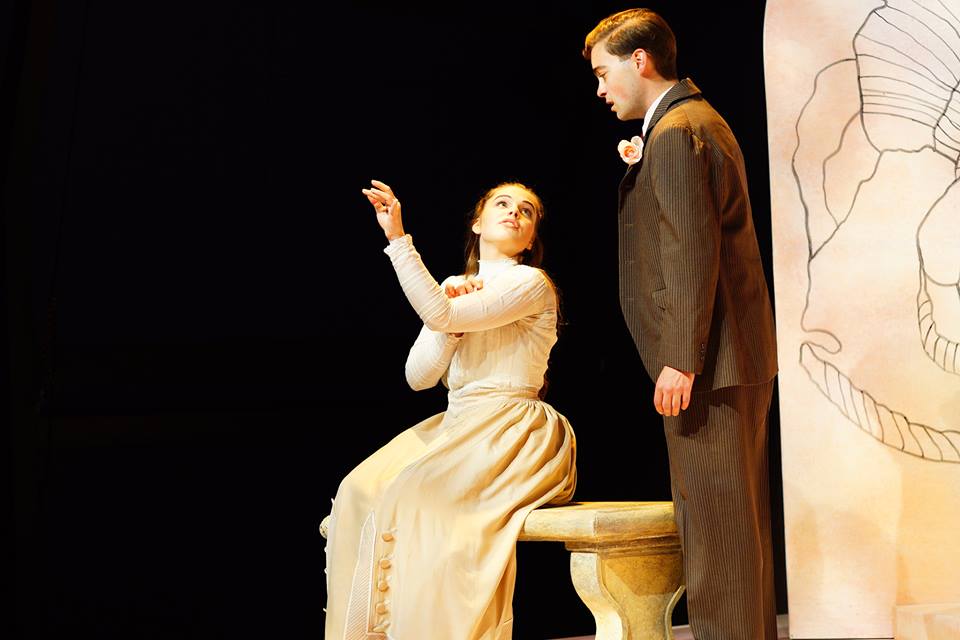 Grace Wolfe as Cecily and Kholby Whardell as Algernon. Photo: Jam Hamidi
Shauna Baird (Miss Prism) and Norman Browning (Reverend Chausable) hit the right tone of bumbling and righteous, as the scattered governess and the upright rector unconsciously trip over one pun after another.  Wes Tritter plays both butlers Lane and Merriman with a sly and careful air of scorn.
Set design by Laurin Kelsey evokes a bygone era with a modern twist—gigantic overblown flowers on the wallpaper appear at times shimmer under light (Giles Hogya) ; costumes by Graham McMonagle are the very height of elegance with a gorgeous drape and flow; sound design (Laura Jane Wallace), in keeping with the spirit of the language, is crisp and neat.
If you are looking for an intelligent diversion and a hearty chuckle–don't delay. The Importance of Being Earnest is on until July 17th.
The Importance of Being Earnest by Oscar Wilde, directed by Fran Gebhard
Blue Bridge Repertory Theatre, at the Roxy 2647 Quadra Street (in Quadra Village)
July 5-17, 2016
Tickets $24-$46 via the website or by phone (250) 382-3370. Tuesday – Saturday, 12pm – 4pm.
http://bluebridgetheatre.ca/the-importance-of-being-earnest/
Cast
Lady Bracknell Laurie Paton
Algernon Montcrieff Kholby Wardell
Jack Worthing, J.P. James Kot
Hon. Gwendolen Fairfax Kassianni Austin
Cecily Cardew Grace Wolfe
Reverend Canon Chasuble, D.D. Norman Browning
Miss Prism Shauna Baird
Lane/Merriman Wesley Tritter
Footman 1 and 2 Tim Matthews and Alex Judd
Creative Team
Directed by Fran Gebhard
Set Design Laurin Kelsey
Costume Design Graham McMonagle
Lighting Design Giles Hogya
Assistant Lighting Design Eryn Griffiths
Sound Laura Jane Wallace
Dialect Coach Iris McGregor Bannerman
Crew
Stage Management Rebecca Marchand
Assistant Stage Manager Delaney Tesch
Head Carpenter Nathan Garfat
Head Props Ron Nazer
Venue Technician Matthew Wilkerson
Scenic Painting Carole Klemm
Disclaimer: I was provided a complimentary ticket to attend opening night of The Importance of Being Earnest.