The Caretaker at Blue Bridge Repertory Theatre April 25-May 8, 2017. A review.
The Caretaker at Blue Bridge Repertory Theatre (until May 8, 2017) simmers with underlying menace and violence in an astonishingly contemporary interpretation directed by Jacob Richmond with deep respect for Pinter's signature dialogue.
It's been over half a century since Pinter penned the script, yet the precarity in The Caretaker is the reality for many living in the current urban experience—homeless individuals like Davies (Paul Fauteux) and people with mental illness—diagnosed or not—throng downtown streets, struggling to survive in conditions not that different from the drafty, unkempt surroundings of Ashton (R.J. Peters) and Mick's (Lindsay Robinson) dilapidated rooms. It's not outside the realm of the plausible to contemplate encountering a person down on their luck and inviting them home.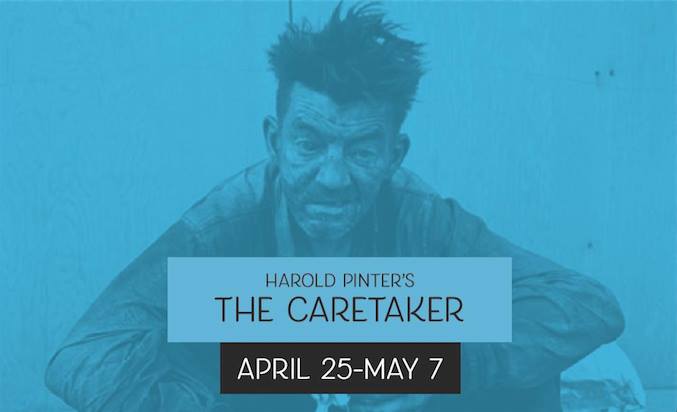 All the chaos and unpredictability of the situation is distilled in Patrick Du Wors marvellous and literal set with its exposed slats, dingy windows and grimy assemblage of treasures and piled junk. The hyper realism of the set, sound (Hank Pine) and lighting design (Eryn Griffith) serves to further accentuate the absurdity of the men's personal situations.  Rain pounds unceasingly and drips, slowly, into a bucket hanging on a peg, wind blows; lights fizzle, pop and isolate, with remarkable clarity, fleeting instances of revelation and are particularly memorable in Peters' long monologue about the consequences of his mental illness. Du Wors costume designs facilitate the distinctions between the three men—Ashton with his tidy, surprisingly old-fashioned pullover and overcoat, Davies all dishevelled, dirty and unkempt, and Mick in tight jeans, leather jacket and pointy boots.
R.J. Peters is uncanny as Ashton, his slow stare and long ruminations before replying to the conversation, the first indication of deep troubles. Paul Fauteux is a live wire—sparking with a violent and unpredictable energy, liable to be set off at any moment.  Lindsay Robinson towers over the others, and displays a remarkable physical fluidity and grace completely at odds with the ominous portent of his speech, making his every move unsettling.  The question at the back of mind, constantly, is "when will the other shoe drop?"
Animosity builds and builds and builds. The audience waits for a supreme dust-up that never happens as the protagonists circle one another warily—crying out, moving erratically, and groaning in their sleep.  Mick in particular revels in teasing and antagonizing.
All is not bleak despair; there is ample comedy in The Caretaker: the comedy of cathartic release, situation, movement—the bag scene—in which a duffle bag, purchased by Ashton to replace Davies', lost in his hasty retreat from his previous place of employment, enters the cannon of classic moments; its rapid "pig in the middle" tactics and subterfuges had the audience in stitches—and absurdity–when Mick begins to wax eloquent on his desire to spiff up the place, and launches into loving descriptions of Afromosia teak veneer, oatmeal tweed and charcoal grey countertops, it's the supreme parody of every HGTV episode ever seen, one completely at odds with the thuggish character of this mercurial individual.
Pinter hints constantly at the powerlessness of individuals; no matter how hard Davies tries, he can never get down to Sidcup to get his papers sorted, and prove who he really is, and despite his concerted effort, Ashton was unable to prevent incarceration in a mental institution.
The erratic nature of three-person relationships is illustrated, over and over again—bonds form and just as quickly disintegrate with the ephemeral mention of a triggering word.
The Caretaker lies at the intersection of Theatre of the Absurd and realism; almost sixty years on, it has lost none of its potency, particularly in the hands of these capable actors, guided with incredible insight by Richmond. In troubled times, as now, the struggles of Ashton, Davies and Mick remain relevant.
The Caretaker by Harold Pinter, directed by Jacob Richmond
Blue Bridge  2657 Quadra Street in Quadra Village
April 25-May 7, 2017
8 pm nightly from Tuesday to Saturday with matinees at 1 pm and 2 pm on Wednesdays and Saturdays
Tickets: Previews – $20 Matinees and Weekdays – $37/$42 *NEW* – First Friday and Saturday of each run – $30/35 Friday and Saturday Night – $42/$47 * No extra service charges *Taxes not included  Available online at bluebridgetheatre.ca; by phone at 250-382-3370; or in person from Tues. to Sat. from noon to 4 pm at Blue Bridge's home, The Roxy Theatre 2657 Quadra Street, Victoria.
Creative Team
Directed by Jacob Richmond
Set and Costume Designer Patrick Du Wors
Lighting Designer Eryn Griffith
Sound Designer Hank Pine
Dialect Coach Iris Macgregor Bannerman
Fight Coordinator Trevor Hinton
Stage Manager Sandy Cumberland
Assistant Stage Manager Leah Hiscock
Cast
Davies Paul Fauteux
Mick Lindsay Robinson
Aston R.J. Peters
Disclaimer: I received a complimentary ticket to attend The Caretaker