Burn This by workingclasstheatre April 26-May 1, 2016. A review.
Within the theatrical canon, there are extraordinary plays and seminal roles.  New to Victoria company workingclasstheatre ends their second season with Burn This by Lanford Wilson, featuring the memorable Pale (Jenson Kerr).
Wilson was a major figure in the American Off-Off-Broadway movement, a founder of the Circle Repertory Company, writer with La MaMa Experimental Theatre Club, and Pultizer Prize Drama winner in 1980 for Talley's Folley.  His career was prolific.  Burn This, written in 1986, is one of his city-based plays.
Anna (Joanne James), a modern dancer, struggles valiantly to re-shape the pieces of her shattered life after the inexplicable and accidental drowning death of her creative partner Robbie, and his partner Dom.  James is adept at conveying the puzzled bewilderment of this liminal state—hanging on to what was, in the realization it no longer exists, forestalling every attempt to move forward yet agreeing she must.  Her incipient anger simmers—particularly in light of how Robbie's family refused to acknowledge his creative gifts and cast her in the role of grieving widow, nullifying his very existence.
Her roommate Larry (Nicholas Yee), a gay ad man, commiserates.  As the stabilizing force in the many relationships explored in Burn This, Yee displays impeccable timing and a gift for the comic as the often bitchy and funny sidekick.
The other man in Anna's life is her long-time boyfriend Burton (Ross Crockett), the scion of a wealthy family who has made quite a name for himself as a screenwriter of science fiction films. Crockett is smooth and debonair in this role—as befits his station and place in the milieu—content to allow Anna's love to develop over time, while kvetching about his need to write something new.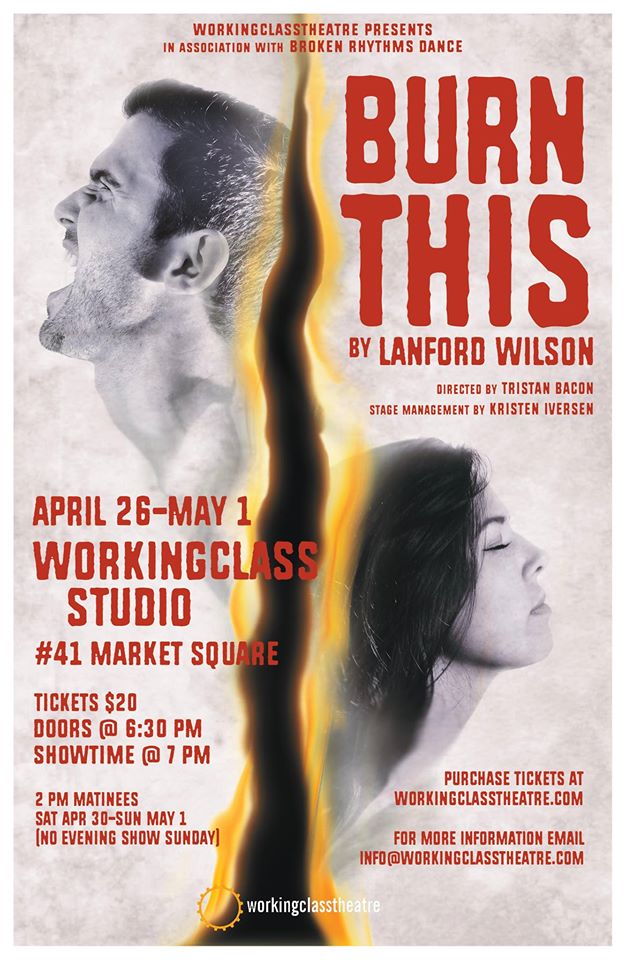 These young urbane and sophisticated city-dwellers are at a crossroads—facing, most likely for the first time in their lives, a terrible tragedy, all the while grappling with ages-old questions of place in society and a desire to make their lives matter.  There is a sense that, somehow, left to their own devices, they would muddle through, like so many have before them, regardless of social class.
Wilson's genius lies in disturbing this status quo by throwing the extremely volatile Pale, Robbie's brother, into the mix.  He arrives, a working class denizen of Jersey, unbidden, falling across the threshold of the apartment late one night—higher than a kite on coke and grief.  Kerr's ability to unleash anger and the unbearable pain of being is prodigious.  The new workingclasss studio is a compact space—emotions and action are conflated by proximity, making this version of Pale one very dangerous dude indeed.  For the audience, there's a definite sense of needing to escape his presence by any means, all the while realizing the impossibility—angst that definitely increases the tension in an already tense situation.
Director Tristan Bacon makes remarkable use of the space, a former dance studio which retains mirrors on one wall—the stage is set in the middle with the audience in rows, facing one another, on two sides.  Judicious blocking ensures everyone can see the actors, by shifting scenes from one corner of the stage to another (there are pillars in the middle as well).  Enlisting the assistance of choreographer Dyana Sonik-Henderson (Broken Rhythms Dance), Bacon has inserted three modern dance interludes that evoke Anna's turmoil and unease at going it alone as a solo creator.  John Bidner's original music is melancholic and emotional—perfectly suited to the characters' inner state.
Burn This follows many conventional romantic themes—Anna is conflicted in her choices between bad boy and steady almost-fiancé; Burton, completely unaware, sees a bright future with his lady love; Pale latches on, despite being rebuffed.
The dénouement is explosive and intense with some close and dangerous hand-to-hand combat.  As Burn This comes to an end, the audience will find itself on both sides of the question "Did Anna choose the right man?"
Wilson stated "theatre could be both dangerous and funny in that way at the same time"*—Burn This is definitely proof.
Burn This by Lanford Wilson
workingclasstheatre #41 Market Square
April 26-May 1 2016 (shows 7pm April  26, 27, 28, 29, 30 with 2pm matinée April 30 and May 1)
Tickets $20 online at http://www.workingclasstheatre.com/#!shop–cart/cu4h
*Discovery and Invention: The Urban Plays of Lanford Wilson by Anne Dean
Disclaimer: I was offered a complimentary ticket to attend Burn This.