Every Victoria Fringe Festival presents wonderful surprises and this year is no exception.  I hadn't been paying too much attention to the program (yet!) when a conversation with my son Elliott Loran in Toronto turned to "Do you know Carey Wass is doing a show at the Fringe?" What?  As fervent Ride the Cyclone fans know, both Elliott and Carey were in the inaugural production of the show at the Metro Studio in 2009.
I then ran into Carey at the opening of Blue Bridge's Sweeney Todd and extracted a promise to share more about this newest venture. Here's a chance to learn more about what he's been up to since.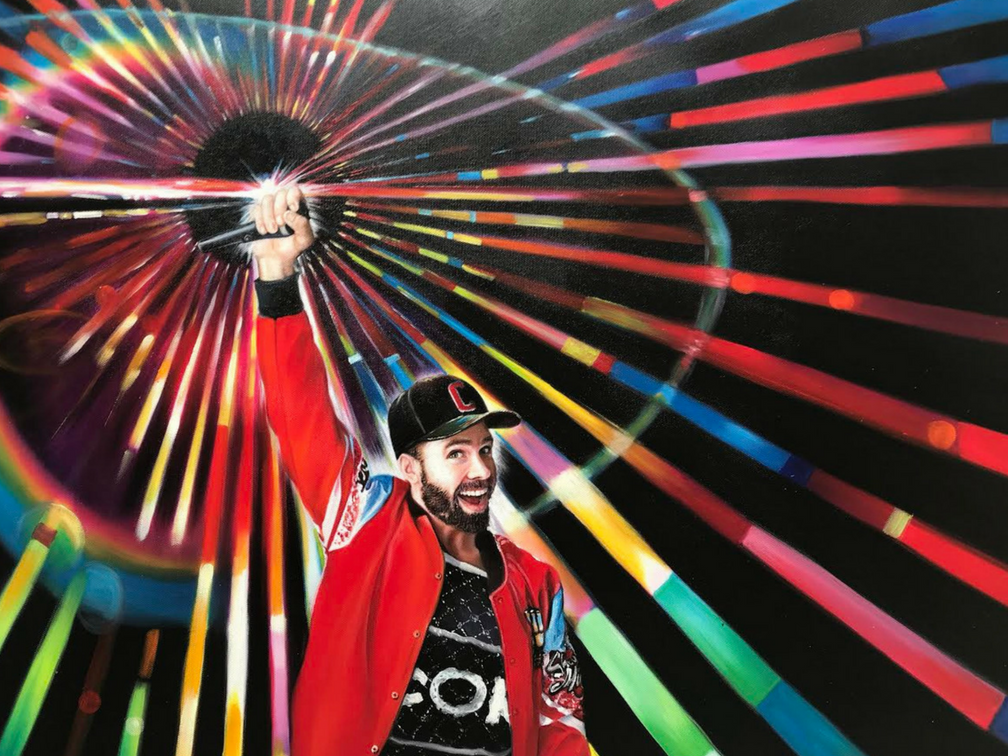 How long have you been producing work on the Fringe circuit?  As an artist/company?
I did my first and only fringe show 10 yrs ago. This is my fringe comeback. My self-proclaimed long awaited return.
Is this your first visit to Victoria?
No. I had the privilege of going to UVic and return here to work with both Blue Bridge Theatre and Atomic Vaudeville. I was an original cast member of smash hit show made popular by the fine people of Victoria, Ride the Cyclone. I love Victoria.
Have you been (or will you be) taking the show to other Fringes?
That's the hope. The goal is that this will be the beginning of many volumes of Carey, OK! shows. Whether or not the audience loves the show, well, that is still up in the air. If I had it my way, this would become a series of shows that could tour across Canada.
Is your show a new work, or has it been performed elsewhere?
This show came out of a series of open mics and variety show performances that took place in Ho Chi Minh City (Vietnam) but as a theatre show this is the first time it will be performed in its entirety.
Significant awards or accolades? (not just on the Fringe circuit)
Ride the Cyclone was lucky to win many awards across Canada and the US.  I have to give credit to Jacob Richmond, Brooke Maxwell, Britt Small, and the whole Atomic Vaudeville/Cyclone cast and team for those awards.  I was just lucky enough to know them and be in their show.
Can you speak to the creation process of this work?
When Ride the Cyclone was first staged I played a character named Corey Ross, who has since been changed to the character, Mischa, in the most recent version. My original number in the show was a rap battle, where the person I rapped against was myself. For the number, Jacob Richmond and Brooke Maxwell thought it would be cool if I used a looper pedal to beat box a repeated loop as the percussion for the song. The song went over very well with the crowd, but over time it was removed from the show and replaced with a different song.  The rap battle and looper were erased completely from the show. Since that time many people who have seen the original staging of Ride the Cyclone would tell me that they wish that rap battle number was still in the show and that they wanted to see a looper used because it was so different. So for the past 9 years, I've been hearing this and decided, a year ago, that I would buy a looper just to have as something I could toy around with during my free time.
You see for the past three years, I have lived and worked in Vietnam, and I thought that finding some new hobbies is a good thing to do in foreign land, so I took up looping.   At different gathering of friends, as a party trick, I would perform improvised rap songs about my colleagues and friends for their amusement using my looper. From there I started getting invited to different cafes and bars around Saigon/Ho Chi Minh City to perform these improvised songs with an audience and it got me thinking about my past Ride the Cyclone number and how many people enjoyed seeing a musical number created using this looper. I started thinking about creating an entire show using a looper. Many one person shows have a performer doing a series of monologues or using poetry as a means of expressing their message, and I thought "What about using a looper and rapping/singing as a means of doing something similar?"  Then I started to write songs using only my beatboxing and voice through a looper and it really started to come together nicely.
Who will your show appeal to?
This show will appeal to anyone who wants to see a whole heartedly unique theatrical experience. This type of performance has been done by people like Reggie Watts, but I have taken it in a more pop-like direction. I like to think of this show as a mix of Reggie Watts, Jack Black, Prince, and Eminem. So if if you like any of those people, this show is for you. If you don't like any of those references, I still say, this show is for you. If you like to have fun, this is your show. This show is also for those hard core ride the cyclone fans who have been there since day one. If you missed that number this is making up for all those OG ride the cyclone fans who missed that number. This is that moment on steroids. In total, this show has been 9 years in the making.
What would you say to entice a potential audience member to come?
If you like music, this is the show for you. If you like unique new and innovative performance, this show is for you. If you love theatre, this show is for you. If you don't like theatre and have never attended a fringe show before, this show is for you, especially for you. This show is a mix of a concert meets a one person show meets comedy meet a motivational speech.
I also need to say this.  This is the first time this show is being performed. I don't have the 5 star reviews like some of the other shows do.  I don't have the long history of being on the fringe like other performers, so the people who are going to come see my show are taking a chance and coming to my show without previous knowledge of who I am or what my show is about. Anyone who attends my show is essentially taking a chance on me and my show. What I would tell these potential audience members is take a chance on me and you won't regret it, we're going to have a good time.
What do you hope to inspire in your audience?
I feel like with this show that I want the audience to enjoy themselves as much as possible. The world can sometimes be a cynical place and if you read the news ticker on the TV, there is much to be bleak about. But when you come to my show, I want people to leave that at the door and to thoroughly enjoy the show with the other audience members around them. There is so much fun to be had in this world and I want to create an atmosphere of celebration. Let's have a good time. Let's high five. Let's hug it out. Let's enjoy being joyful!
Is there anything I've missed asking you, or that you would like to comment on?
The slides in my show were created by one of my grade 10 students named Tina Hoang. Her dream is to become a graphic designer, so I commissioned her to do some digital drawings for my show. This is her first time having her work seen professionally. My costume was created by a wonderful team of women at a shop called Nam Silk in Ho Chi Minh City. They work tirelessly trying to make suits and dresses for tourists in Vietnam. This was a chance for them to make something different and fun.  I want to acknowledge these people because they deserve to be recognized.
Created in Vietnam, Carey, OK! is a mash-up of monologues and music. Mixing beatboxing, rap-singing, and Ian McKellen, this is a must-see musical experience!  Starring Carey Wass, from the original cast of Ride the Cyclone, this is the first volume of timeless timely tunes that'll leave you singing. "Performance-wise, Carey Wass blew my mind a little bit."– Plank Magazine
Carey, OK! Volume 1 Timeless Timely Tunes (Ho Chi Minh City, Vietnam/Canada)
Chip Pop Productions Dates: Aug 23, 2018 – Sep 2, 2018
Downtown Community Centre (Venue 2) 755 Pandora Avenue
Tickets: Regular $11/ Students & Seniors $9 + s/c
Duration: 60 mins
Rating: PG 14+: Adult themes
Genre: Solo Musical Supershow
Country: Ho Chi Minh City, Vietnam/Canada
Showtimes:
Aug 23 Thursday 08:30 pm
Aug 24 Friday 10:00 pm
Aug 25 Saturday 06:30 pm
Aug 26 Sunday 06:30 pm
Aug 31 Friday 09:15 pm
Sep 01 Saturday 10:15 pm
NOTE: All ticket holders 13 + must have a Fringe Button to use their ticket. A $1 surcharge applies per ticket (this fee directly supports the Victoria Fringe). Advance sales cut off 3 hours prior to show time. At door tickets go on sale at venue 1 hour prior to show time, cash only (half of all tickets are reserved for at door sales). Fringe Buttons can be purchased in advance at Fringe HQ, Ticket Rocket and at every venue. No latecomers, exchanges or refunds.
About the artist/company
A Canadian who is returning from living in Vietnam, Carey, OK! mixes high energy beatboxing, rap-singing, and vocal effects to create a must-see musical experience! Created by Carey Wass, who is an OG cast member of Atomic Vaudeville's Ride the Cyclone, is thrilled to share his first volume of timeless timely tunes that'll leave you singing for days.
Credits
Cast: Carey Wass– Carey, OK!
Production Design: Tina Hoang
Costume Design: The Wonderful Women of Nam Silk, HCMC, Vietnam