Chelsea Hotel-the Songs of Leonard Cohen at the Belfry Theatre, October 20-November 15, 2015. A review.
For generations of fans, both of his poetry and his music, Leonard Cohen has epitomized the archetype of Writer as tortured, tormented soul.
In an audacious move, playwright Tracey Power has dared to tamper with the author's creation, rendering a startling re-interpretation of the master's oeuvre. Loosely imaging a solitary and dark night of the soul, haunted with a rag-tag and surreal band of performers, among them lost lovers, the Writer (a scruffy, angst-ridden Jonathan Gould) wrestles with his demons, and recalcitrant Muses (Rachel Aberle, Lauren Bowler, Marlene Ginader) while being taunted by a ringleader (the diabolical and slightly crazed Benjamin Elliott) and his sidekick (Steven Charles—the show's arranger and musical director).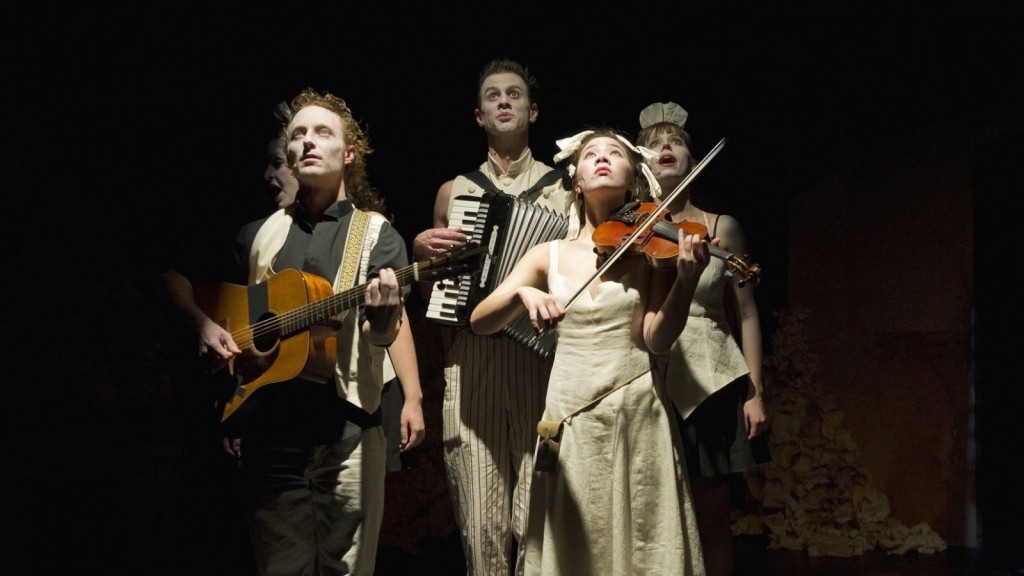 Chelsea Hotel-Firehall Arts Centre. Photo: David Cooper
Covering decades of his work, from early songs of the 1960s that defined Cohen to a generation (Susanne, Sisters of Mercy) to later work often covered by other artists (First We Take Manhattan, Hallelujah), Chelsea Hotel is transcendent and luminous; the multi-talented cast (who together play a combined 17 instruments) imbue every line and lyric with a profound sense of longing and regret—with the occasional burst of wanton energy and joy.
It's a demented vision made all the more tangible by the inventive set of Marshall McMahen—filled with crumbled paper that threatens to bury the writer as he sleeps and walls that echo the written word.
Thematically haunting elements echo throughout (Lover, Lover, Lover appears in both act one and in a beautiful solo by Charles near the end).
Traces of eastern European klezmer play out in Dance Me to the End of Love with a languorous Rachel Aberle; while elsewhere Bowler and Aberle shimmy to Don't Go Home with a Hard On. Choreography, as if drug-induced, accentuates the dream-like aspect of the writer's visions.
There's a sense of restraint and control in the dance numbers that renders them all the more intriguing.
Chelsea Hotel moves from tender ballad (Susanne) to raucous rock 'n roll anthem (Closing Time), sensual torch song (I'm Your Man with a sultry strip tease by Lauren Bowler) to Brechtian theatricality (Marlene Ginader as a perplexed Joan of Arc) and includes the most unusual and discordant interpretation of Hallelujah yet seen onstage.
Costumes by Barbara Clayden add to the overall impression of hallucination with elements of clown, circus and vaudeville. Aberle and Bowler appear in outfits as if chamber maids one moment, and cabaret performers the next, while Sisters of Mercy has them as brides or nuns.
Ted Roberts' murky and dark lighting palette further heightens the gloom roaming the writer's mind.
Arrangements by Charles are arresting, particularly in the high pitch of many of the songs—a decided contrast to Cohen's atypical growl. Surprises lurk in every number, an aspect that is sure to add new appreciation for long-term fans and win converts among the uninitiated.
There is no dialogue, although lines of Cohen's poetry are at times recited between songs—in A Person Who Eats Meat, Gould and Elliott menace and threaten as they strive to outdo one another.
Power had a vast treasure to plumb and refine. Chelsea Hotel is powerfully persuasive and tantalizingly—a mélange of aching melancholy and unholy raunch that will stay with an audience for days, and send patrons scurrying for long over-looked albums, song-lists and books.
The home-grown Canadian musical is in very good hands with this incredible team of creative artists; hopefully, soon, audiences world-wide will be able to appreciate its artistry.
A Firehall Arts Centre production (first produced in 2012, then toured in 2014/15) Chelsea Hotel – The Songs of Leonard Cohen is starting its latest tour here. Following its run at the Belfry, the show will tour to Vernon, Banff, Fort McMurray, Edmonton, New Westminster, Vancouver, and Toronto.
Chelsea Hotel—The Songs of Leonard Cohen
Conceived and Directed by Tracey Power
Musical Direction & Arrangements by Steven Charles
Belfry Theatre, 1291 Gladstone Avenue, Victoria BC
October 20-November 15, 2015
Ticket Information $23 to $48 (plus GST). By phone 250-385-6815 or online at tickets.belfry.bc.ca.
Rush tickets and discounts available.
Starring
Rachel Aberle
Lauren Bowler
Steven Charles
Benjamin Elliott
Marlene Ginader
Jonathan Gould
Creative Team
Tracey Power – Concept / Director / Choreographer
Steven Charles – Musical Director
Marshall McMahen – Set Designer
Barbara Clayden – Costume Designer
Ted Roberts – Lighting Designer
Xavier Berbudeau – Sound Designer
James MacDonald – Dramaturge
Donna Spencer – Artistic Direction, Firehall Arts Centre
Audience Events during Chelsea Hotel:

B4Play
Saturday, October 24 at 11 am
Join us in Studio A for a live talk show hosted by CBC Radio's Gregor Craigie, featuring Tracey Power (Creator / Director / Choreographer) and Benjamin Elliott (Actor) from Chelsea Hotel, and community guests Victoria's Poet Laureate Yvonne Blomer, and poet, critic, and scholar Stephen Scobie (author of Leonard Cohen and Intricate Preparations: Writing Leonard Cohen). Free Event
Tower Talks
Catch an in-depth conversation with an artist from each Mainstage production in our new video series, Tower Talks. We post these to our website and YouTube channel.
Free Childcare Performance
Sunday, November 1
Take advantage of free, professional childcare (ages 3–10) at the Springridge Early Childhood Centre at 1222 Gladstone Avenue.
We only have a limited number of spots available. To book your tickets and a spot for your kids, please call our box office at 250-385-6815.
Afterplay
Following every evening performance of Chelsea Hotel (except Opening Night and Talkback Thursday), we'll host Afterplay. This facilitated discussion series offers patrons the opportunity to share their thoughts with fellow audience members after the show.
Talkback Thursday
Thursday, October 29
On the second Thursday performance of each show, we bring the backstage experience onstage. After the curtain call, some of the actors return to the stage to answer your questions and offer insight into the play you have just experienced. These Q & A sessions last 15 – 20 minutes.
Show Sponsors
Chelsea Hotel – The Songs of Leonard Cohen is generously supported by Munro's Books, Villa Marco Polo Inn, Hillside Printing, The Ocean and KiSS 103.1.
40th Anniversary Season Sponsors
The Belfry is generously supported by The Times Colonist, Thrifty Foods, Cook's Day Off and Helijet.
Public Funders
The Belfry is funded by the Canada Council for the Arts, the Province of BC, BC Arts Council, CRD Arts Development and the City of Victoria.