HERE: A Captive Odyssey by William Head on Stage WHoS October 9-November 7, 2015. A review.
HERE: A Captive Odyssey created by William Head on Stage Prison Theatre (WHoS) and The Prison Arts Collective is an ambitious project and striking reminder of the fleeting nature of our brief human lives. Taking as inspiration the very land itself and working from source material from the Royal BC Museum archives , and William Head's library as well as the books Quarantined by Peter Johnson and HERE by Richard McGuire, the team has dedicated 6 months of work to devising and co-creating this production collaboratively. Every aspect has included feedback from the collective.
Follow the many incarnations of William Head—from its days as a First Nations gathering place and fishing grounds, to a pioneer's sheep farm, to quarantine station, rumrunners' waypoint and finally federal institution.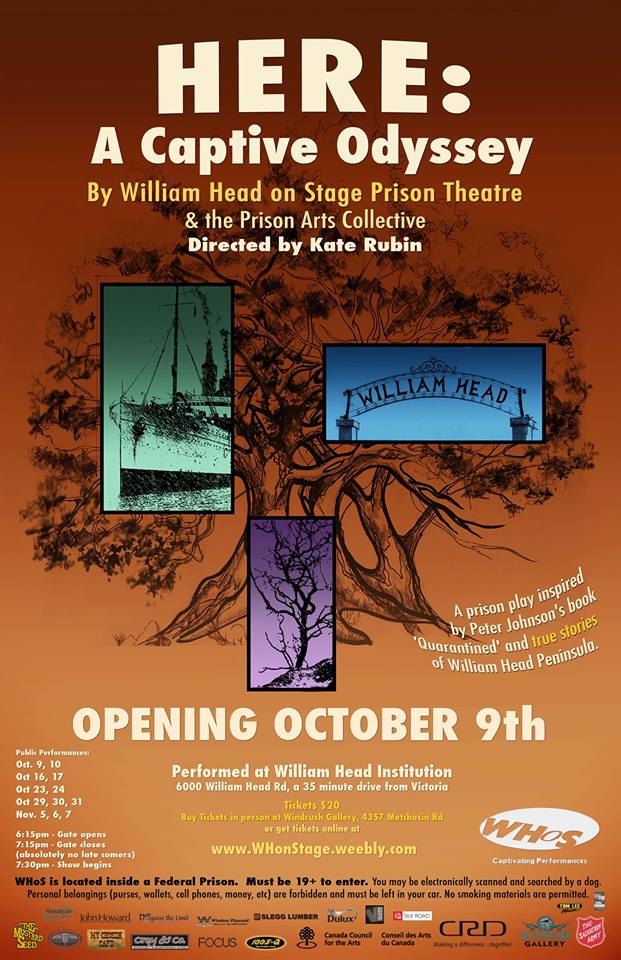 To create the narrative arc, and tie the stories together, HERE introduces the audience to two inmates—Ed (JB in his first theatrical role) the elder and mentor to Bill (VV)—who are close to their release dates.
Employing skills first learned under the guidance of Tim Gosley during the production of The Hobbit in 2012, and re-inforced while working with Peter Balkwill on Fractured Fables, the cast created a mythical sea serpent that dances around the gym and captures Bill while he's out fishing off the dock. Drawn into a time vortex, he flashes through periods.
Under an arbutus tree reputed to be over 500 years old, a First Nations elder (PH) and his grandson (JA) greet Spanish and British mariners.
Carole Klemm's set design—an elegant and sleek construction of landings, stairs and small thrust, bisected with large screens, works marvellously to create the many locations and times of this 250 year odyssey. Projections (Kathleen Greenfield) and shadow puppetry add an additional dimension of scenic design and are particularly effective when shadow interacts with an actor onstage—the dance scene with the Ghost of Will (ND) and Constance (Katrina Kadoski) being but one.
Stories—apocryphal, imagined, real and personal—spring to life under the inspired guidance of director (and dramaturge) Kate Rubin.
One particularly impactful sequence concerns the smallpox epidemics of the early 1860s when the aboriginal population of the coast was decimated in what many consider to be an act of deliberate cultural genocide. Under pinned by JA standing centre stage intoning a gathering song by Dan George, the many fine citizens of Victoria read newspaper reports outlining the deaths. A profound and persistent sense of sadness grips the modern day theatre-goer.
In episodes of "play within the play", time is spent in the inmates' lodgings or as a group crafting HERE, injecting a deeply personal and contemporary note to the odyssey.
Over the past 4 years, the Prison Arts Collective has tackled increasingly sophisticated productions, something that can be incredibly challenging given the fact most cast members this year were new to the process. It's allowed those with more experience to play a mentor role.
The ensemble comes together as chorus, with the vocal work on Sitting on the Dock at the Bay particularly evocative. Other highlights include two original rap sequences (D & P). Music (Katrina Kadoski, JL, MA, KW, KE) spans the eras during flash-back sequences.
HERE is deeply reverential, revealing stories forgotten or never known, paying respect to the land and its people, past and present. Change is constant—on the land, and in men's hearts.
William Head may be only a brief 35 minute drive from Victoria, but for much of its history, it has been a world away from life in British Columbia's capital city; a place where it continues to be easy to ignore history as it plays out on the promontory. Together the cast and crew of HERE: A Captive Odyssey ensure at least a few can no longer say "I did not know".
Plays at WHoS often contain a strong redemptive element; HERE introduces the question of atonement—the reconciliation of Ed and his sister but a metaphor. In the light of what is now considered historical wrong-doing, do we collectively bear witness and responsibility? If so, how? And, what is our responsibility to the current occupants of William Head?
Entertaining and provocative, HERE invites the willing to contemplate these questions.
An extensive historical display in the lobby is well worth examining before the show begins, since it sheds light on many of the episodes mentioned in the show.
"If the land could speak, what stories would it tell?"
HERE: A CAPTIVE ODYSSEY
Created By William Head on Stage Prison Theatre and The Prison Arts Collective
Directed by Kate Rubin
October 9, 10, 16, 17, 23, 24, 29, 30, 31 November 5, 6, 7
At William Head Institution, 6000 William Head Road, Metchosin, BC, a 35 minute drive from Victoria
6:15pm – Gate Opens
7:15pm – Gate Closes
(absolutely no latecomers)
7:30pm – Show Begins
Tickets: $20.00
Buy tickets in person at Windrush Gallery, 4357 Metchosin Road,
Or get tickets online
ALL TICKETS MUST BE PURCHASED IN ADVANCE,
None are for sale at the prison gates.
AUDIENCE REMINDERS: WHoS is located inside a Federal Prison. Must be 19+ to enter. You may be electronically scanned and searched by a dog. Personal belongings (purses, wallets, cell phones, money, etc) are forbidden and must be left in your car. No smoking materials are permitted. Free lockers are available.
Creative Ensemble – The men of William Head on Stage
Director/ Coordinator/ Dramaturg – Kate Rubin of Kate Rubin Theatre & Drama Studio
Writer/Assistant Coordinator – Kathleen Greenfield
Music Director/Co-composer – Katrina Kadoski
Set Designer /Archival Researcher – Carole Klemm
Lighting Designer – Poe Limkul
Stage Management Mentor – Erin Crowley
Actors/Co-Dramaturgs – Kathleen Greenfield, Katrina Kadoski, Jeni Luther, Monica Prendergast
Choreographer – Ingrid Hansen
PRISON THEATRE:
William Head Prison in Metchosin, BC, is the current home for inmate members of William Head on Stage (or WHoS), Canada's longest-running prison theatre program. Since 1981, the inmates have staged a play every fall and invited the general public to enter the prison and experience the show. This October, inmates at William Head Prison create and perform the new play Here: A Captive Odyssey, inspired by true stories of those who have lived at William Head, both past and present.
Disclaimer:  I attended HERE: A Captive Odyssey as a guest of WHoS and the Prison Arts Collective.