A Christmas Carol at the Belfry Theatre November 28-December 17, 2017. A review.
When Michael Shamata arrived as the Belfry Theatre Artistic Director in 2007, he wanted to bring a treasured theatrical tradition to Victoria—his adapted production of A Christmas Carol, first produced at Theatre New Brunswick in 1990, and then at Soulpepper Theatre in Toronto since 2001.
The original Belfry production was in 2012, followed by an encore performance in 2015.  The design elements (set, costumes, lighting, sound, choreography) are retained from season to season. Many of the cast from the 2012 production remain as well, and yet, there are enough changes (particularly among the young actors) to make each production a unique experience.  For the audience, many of whom are repeat attenders, there is also the added benefit of knowing a work well enough to be able to further appreciate nuances, adding depth.
A Christmas Carol is, undoubtedly, the quintessential holiday story, one most people are familiar with, whether as the classic Alistair Sims black and white movie or the animated cartoon with Jim Carey as Scrooge. Michael Shamata has gathered an incredible team of designers and artists to craft a version that retains the warmth of Christmases of yore, coupled with the dark and gritty reality known by many at the time.
John Ferguson's impressive, majestic and stately design elements tower over the proceedings, providing a sense of import while Geordie Hayley fills the space with classical music before the show begins, and then amplifies the action onstage with clip-clopping horses, distant bells, the muffled sounds of the street and the tick tocking of a clock.  Alan Brodie's lighting varies between dim flickering (and real) candles, muted shafts of light, crystal clear winter mornings, the rich glow of festive interiors and the crackle of lightning.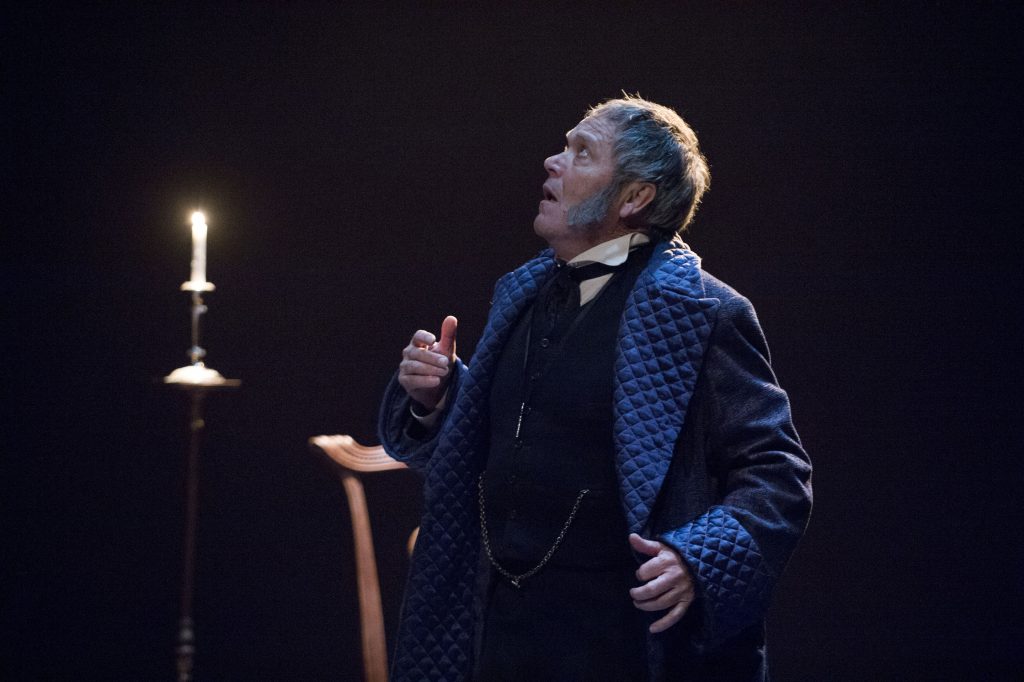 Tom Macbeath (Ebenezer Scrooge). Photo: Don Craig
Costume designer Nancy Bryant employs a vast range of technique to depict a wide array of society with cut-away coats, multi-layered cloaks, petti coated dresses, oriental garments, coats, capes, muffs, bonnets and top hats in a wide-range of fabric—brocade, silk, jacquard and simple cotton.  Costume changes are plentiful—actors portray multiple characters and, in the street scenes in particular, exit one side of the stage to appear minutes later on the other as someone completely different.
Kudos to stage management (Sara Robb-Stage Manager, Christopher Sibbald-Assistant Stage Manager, Becca Jorgensen–Apprentice Stage Manager) and back stage crews (dressers and child wranglers) who kept pace to produce a seamless visual feast.
Sprightly choreography by Jessica Hickman (also Spirit) forms a central part of the narrative in the scene in Fezziwig's warehouse with the ensemble cavorting onstage in a series of complicated dances, and enlivens the graceful movements of the Spirits (Hickman and John Han) throughout.
Tom McBeath glowers and growls as Scrooge, his mean spirit evident in the smallest of nasty actions—there is a decided undercurrent of deliberate cruelty that seeks to inflict the maximum amount of pain in word and deed—a cutting remark to his nephew Fred (Conor Wylie) or the charitable gentleman (Brian Linds) collecting for the poor, an impatient shove to his housekeeper (Jan Wood), the routine everyday injustices inflicted on his ever-suffering clerk Bob Cratchit (Evan Frayne). Frightened out of his wits by Marley's sudden apparition (Mackay thunders in a most threatening and fearsome manner), McBeath approaches Scrooge's transformation with subtlety—rendering it all the more believable and impactful.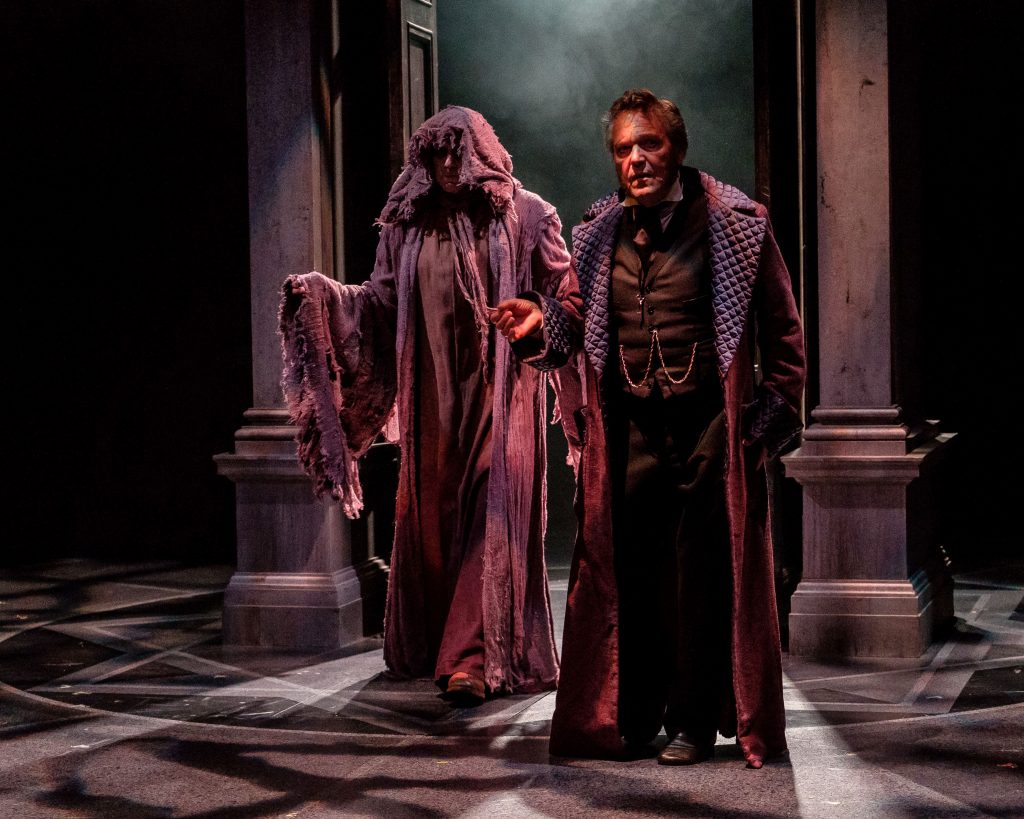 Gerry Mackay (The Ghost of Christmas Yet-To-Come) and Tom McBeath (Ebenezer Scrooge). Photos by Don Craig
Shamata's careful direction illuminates the incidents that have produced the man, particularly in the school scenes with young Ebenezer (a thoughtful and considered Jude Culham-Keays) and the young Scrooge (also Conor Wylie)—wounded mightily by Belle's refusal (Amanda Lisman's words resonate with kindness and moral virtue).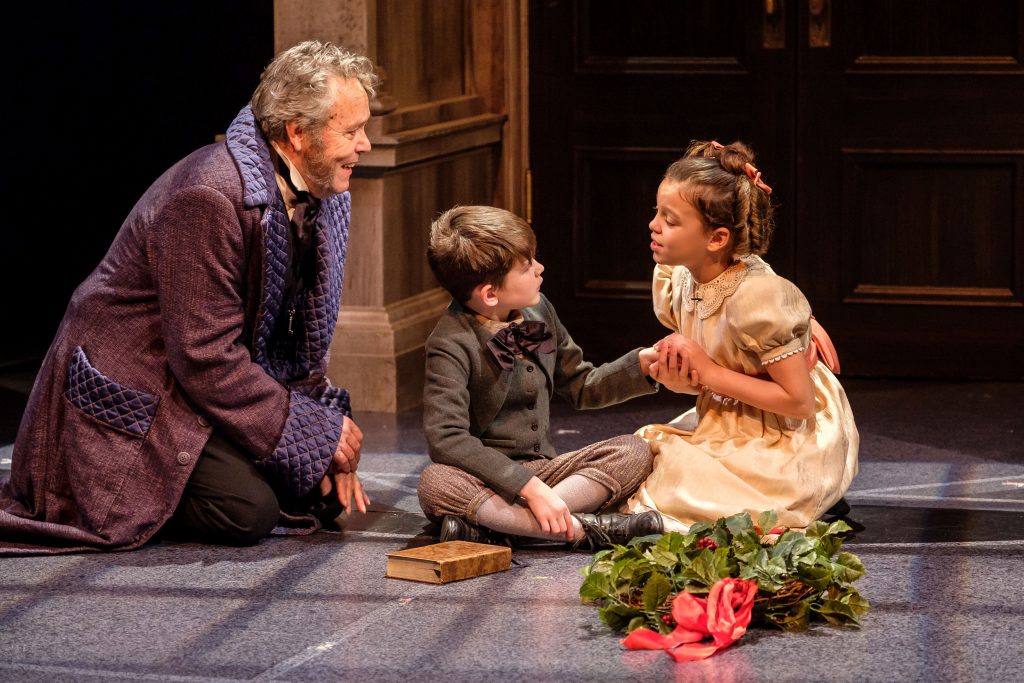 Tom McBeath (Ebenezer Scrooge), Jude Culham-Keays (Young Ebenezer) and Azura Lepard (Fan). Photo: Don Craig
Despite the gravitas of the story, there is also humour and wonder. The young cast—Azura Lepard-Belinda, Lauren Alberico-Martha, William Robertson-Peter, Jude Culham-Keays Tiny Tim—acquits itself commendably in playing numerous characters; the party at the Fezziwigs is a joyous celebration of the season (Brian Linds as a lusty Fezziwig and Jan Wood as Mrs. Fezziwig are marvellous as an old couple with obvious devotion for one another); Mackay is delightful as a sly and mischievous Christmas Past (his Christmas Present and Christmas Yet-To-Come more solemn).
Scenes with the Cratchit family are heart-breaking—Celine Stubel as Mrs. Cratchit covering her concern with fussy cantankerousness, Evan Frayne as Bob Cratchit on the verge of breaking down, yet managing a brave front—all the more so for the love displayed.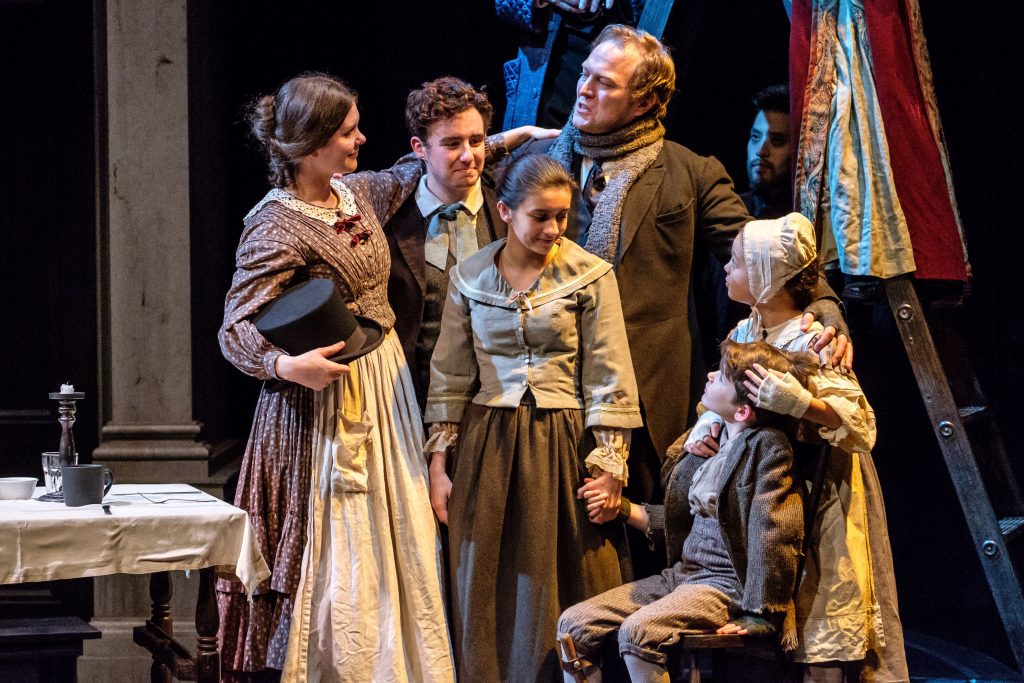 Celine Stubel (Mrs. Cratchit), William Robertson (Peter), Lauren Alberico (Martha), Evan Frayne (Bob Cratchit), Jude Culham-Keays (Tiny Tim) and Azura Lepard (Belinda). Photos by Don Craig
The gifted ensemble slips in and out of multiple roles with ease, making even the briefest of appearances distinct.
At a time when people need look no further than the comments section on any social media post or online article—"Are there no poor houses? Are there no prisons?"—to find the modern day Scrooges, there is great power in a story that reminds us that even the most miserable reprobate can be redeemed and transformed.
A Christmas Carol is an uplifting and heart-warming reminder that goodness resides in each one of us, sometimes simply waiting to be rekindled.  It's also the perfect opportunity to make a family tradition by attending a superior theatrical production together.
A Christmas Carol by Charles Dickens, adapted and directed by Michael Shamata
Belfry Theatre
November 28-December 17, 2017
Tickets for A Christmas Carol range from $20 to $53 (plus GST). Tickets are available at 250-385-6815 or online at tickets.belfry.bc.ca. Prices are subject to change.
The show is recommended for children age eight and up, and Elementary and High School students get 50% off tickets. University and College Students get 25% off their tickets.
Rush Tickets
For our weekday evening performances we offer a limited number of last minute rush tickets at a discount. Rush tickets are:
available at the Box Office 30 minutes before each evening performance (Tuesday to Friday),
in person only,
subject to availability, and
40% off our regular Zone 2 (Yellow Section) and Zone 3 (Red Section) ticket prices.
Creative
Michael Shamata Director
John Ferguson Set Designer
Nancy Bryant Costume Designer
Alan Brodie Lighting Designer
Geordie Haley Composer & Sound Designer
Adrienne Smook Dialect Coach
Sara Robb Stage Manager
Christopher Sibbald Assistant Stage Manager
Becca Jorgensen Apprentice Stage Manager
Cast
Tom McBeath Ebenezer Scrooge
Gerry Mackay Jacob Marley and the Ghosts of Christmas Past, Present & Yet-To-Come
Evan Frayne Bob Cratchit
Celine Stubel Mrs. Cratchit/Mrs. Fred
Conor Wylie Fred/Young Ebenezer
Brian Linds Mr. Fezziwig/Charitable Gentleman/Joe
Jan Wood Mrs. Fezziwig/Mrs. Dilber
Amanda Lisman Belle
John Han Spirit
Jessica Hickman Spirit
Azura Lepard Belinda
Lauren Alberico Martha
William Robertson Peter
Jude Culham-Keays Tiny Tim
Disclaimer: I was offered complimentary tickets to A Christmas Carol.