Dr Andrew Weaver, acclaimed climate scientist, Nobel Prize winner, Oak Bay Gordon Head Green Party candidate and – actor?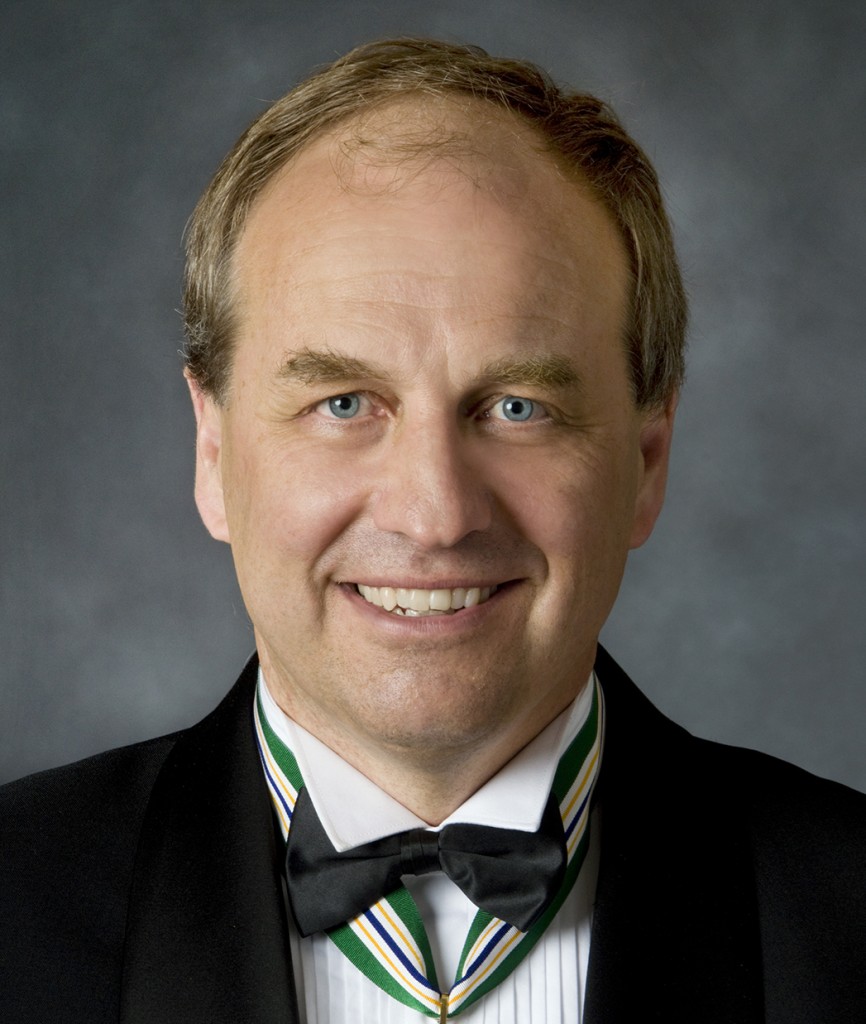 It was a chance comment by "Corky Blanshard" (in real life, actor Kathryn Popham) that lead me to the story of Dr Weaver's transformation.
I knew he had been a guest of Derwin Blanshard (Wes Borg) for Episode Two of Derwin Blanshard's Extremely Classy Sunday Evening Programme, but how had he come to have a recurring, if small, role in this monthly comedy talk show?
Dr Weaver agreed to an interview.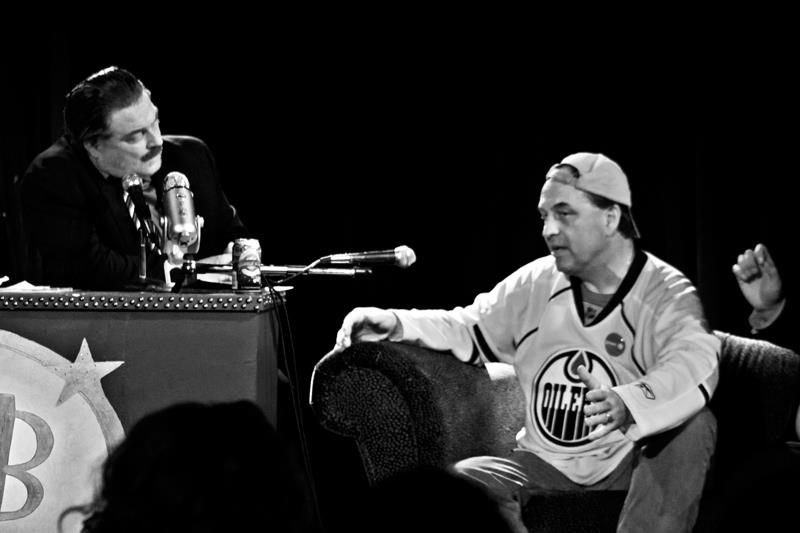 Photo by Keith Sonic
How did you get involved?
I was invited as a guest by Derwin (Wes Borg) and, in conversation with him before hand we talked about my hobbies.  I like to play paintball with my teenage son, and I've collected hockey cards since I was a kid.

During the episode, Derwin decided he was going to burn my hockey cards, and I started (pretend) firing my paint ball gun at his sidekick (Morgan Cranny).  The audience loved it!

Afterwards, I stuck around on the side of the set, just to get a feel for how the format (a variety/talk show with entertainment and comedians) worked.  And, the next thing you knew, I was asked if I could come back as a cast member.
What is your role?
I'm Derwin's bodyguard, originally "hired" to protect him from the Irish Ambassador. I'm a big guy and I've played rugby so it seemed like a good fit.
Did you ever imagine yourself as an actor?
I didn't have an inkling – I've never done anything like this before but if you only stay within your comfort zone, life is going to be a little dull.

Life is about having fun.  I work in a very serious field but I'm not the typical academic – most of my friends are in the community.

The format of the show is interesting; a bit Monty Python-esque, but there's a serious side with Victoria community engagement and interviews of the featured guests.  It's a continuing story, a soap opera saga, and a lot of the action is spontaneous and not staged.

Dr Andrew Weaver gets my nomination in this, the Year of Taking More Risks, Having More Fun and Expanding Cultural Horizons.  Don't miss him at the next Derwin Blanshard Show, Episode Five, Sunday January 27th at the Victoria Event Centre.
Come early (doors open at7:30pm) as the last shows have sold out.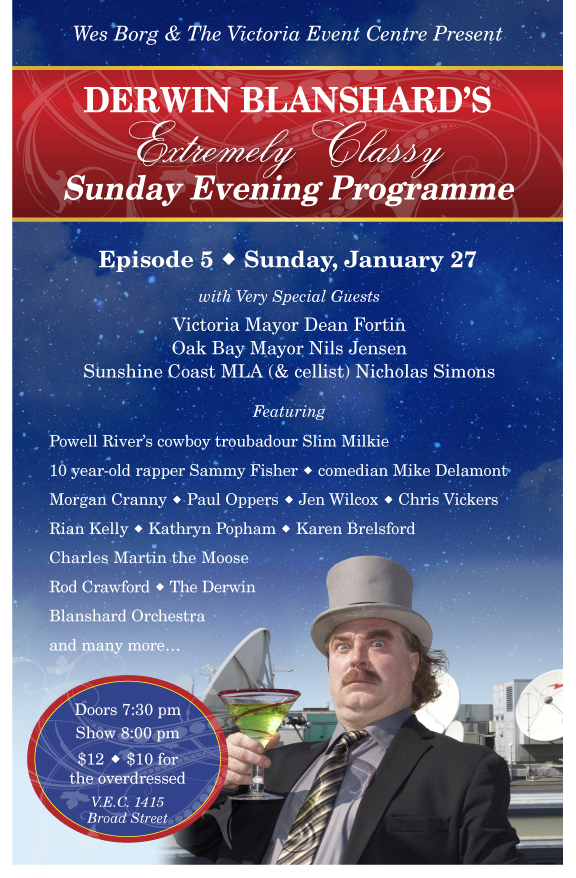 The Derwin Blanshard Show (for short) is a new take on a very old format:  the classic 1950's variety/talk show.  The show is hosted by Derwin Blanshard (played by Wes Borg), an eccentric millionaire who is "so classy you can smell the Queen on him".  The show walks a fine line between actual intellectual elegance and complete chaotic subversion, all filmed with imaginary cameras for a fictional global television network.  In fact, some of the funniest stuff happens when the "cameras" are off and the cast and crew are "being themselves" during a "commercial break".

This month the show features Victoria Mayor Dean Fortin & Oak Bay Mayor Nils Jensen as well as Sunshine Coast MLA (and cellist) Nicholas Simons.  Other guests include Powell River's very own cowboy troubadour Slim Milkie, 10 year-old rapper Sammy Fisher, comedian Mike Delamont as well as our regular cast including Derwin's Sidekick Morgan Cranny and his sidekick Paul Oppers as well as Jen Wilcox, Chris Vickers, Rian Kelly, Kathryn Popham, Karen Brelsford, Rod Crawford, announcer Charles Martin the Moose, The Derwin Blanshard Orchestra and many more surprise guests.

Future confirmed guests include Quirks & Quarks Host Bob McDonald (April) and Derwin's personal Romance Advisor Howie Siegel (February).

In the words of Mr. Blanshard himself, "The Derwin Blanshard Show is the classiest event this town has seen since Prince Charles punched a busker in 1979."

Tickets are $12 ($10 for the overdressed).  Doors at7:30, show at8 pm at the Victoria Event Centre –1415 Broad Street.