There's nothing quite like the theatre to whisk you away, and what better way to celebrate the holiday season than with tickets to an awesome show and time with family and friends.
The theatrical offerings this year from December 21st to year end are varied, ranging from the traditional (A Christmas Carol and St Luke's Christmas pantomine), to variety/vaudeville (Derwin Blanshard and Atomic Vaudeville) , dance (Pandora's Box), and even more geek-related (Hitchhiker's Guide to the Galaxy).   For theatre-goers looking to get their Lord of the Rings fix before watching the new Hobbit movie, Charles Ross brings his One Man Lord of the Rings to the Metro Studio as a fundraiser for Intrepid Theatre.
Goldilocks and the Three Bears, a traditional Christmas panto by St Luke's Players.  Unfortunately, the panto is now sold out,  but I wanted to note it for people who like to play for next year's holiday season.
December 20, 21, 23, 27, 28, 30 at 8 pm  with matinées: Dec 22, 23, 26, 29, 30, Jan 1 at 2 pm. Tickets $15/$13 and $5 for children under 5.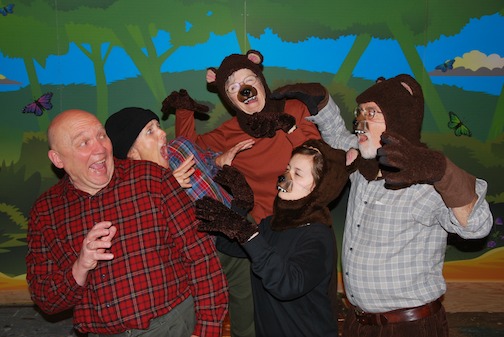 Charles Ross'  One Man Lord of the Rings. Friday December 21st, 8pm as a fundraiser for Intrepid Theatre.
Tickets $25/$20 through Ticket Rocket, or at the door.
Dust off your lightsabers and brush up on your Elvish: worldwide smash hit Charles Ross is back by popular demand with a 2-day run of his famous one-man shows, One-Man Lord of the Rings and One-Man Star Wars Trilogy at the Metro Studio. Inspired by the popular films, Ross' brilliant one-man shows have sold out theatres around the world, from Off-Broadway in New York to the Sydney Opera House. The perfect early Christmas gift for the star wars or lord of the rings fan in your family – or you could treat yourself and come see Charles' One Man Lord of the Rings before checking out the new Hobbit film.

Fresh from a tour of Ireland, Ross is generously performing these two shows as a fundraiser for Intrepid Theatre. TWO SHOWS ONLY! Get your tickets in advance – this will sell out!
A Christmas Carol by Charles Dickens, edited by Clayton Jevne, Dec 19-24 at Emily Carr House, with a Christmas Eve show at Little Fernwood Hall.

This delightful adaptation returns! With musical accompaniment by harpist Sandra Ritter.
Tickets $15/$12/$10 by phone to 250 383 5843
Derwin Blanshard's Extremely Classy Christmas Programme. December 23rd, 8pm at the Victoria Events Centre.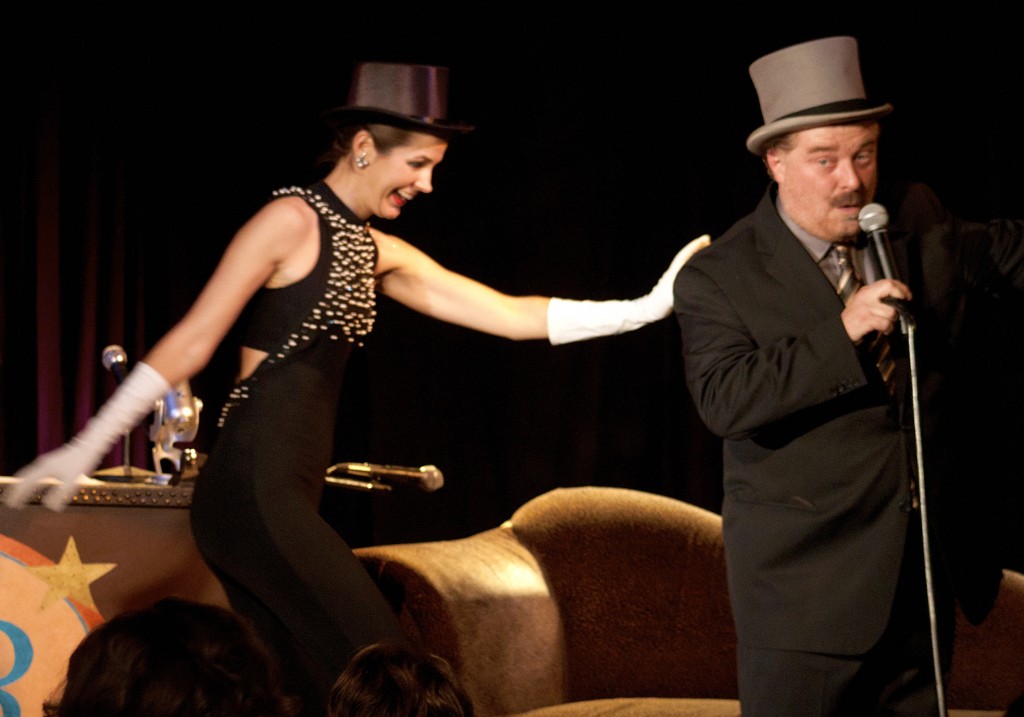 Tickets $12 and $10 for the over-dressed.
In a hilarious send-up of the 1950s variety/talk show, local comedian Wes Borg morphs into Derwin Blanshard, and much hilarity ensues.  Since its debut in September the show has consistently sold out, with audiences embracing the opportunity to get "classy" for the evening in glitter, fur wraps, top coats and long gowns.
This month the show features Her Royal Highness Catherine, Duchess of Cambridge (nee Kate Middleton), Cooking with Carolyn Mark, opera singer extraordinaire Sarah Jane Pelzer, musical guests The Bachand Family, Dave Lang, and Hearse.  Featuring comedian Katie Ellen Humphries as well as our regular cast including Amanda Lisman, Celine Richmond, Jen Wilcox, Chris Vickers,Kathryn Popham, Karen Brelsford, Rod Crawford, Paul Oppers, Kelly Hudson, Anna-Irwin Borg (daughter of Wes Borg), Chris Gabel, Charles Martin the Moose, The Derwin Blanshard Orchestra and many more.
In the words of Mr Blanshard himself "The Derwin Blanshard Show is the classiest event this town has seen since Prince Charles took a dump here in 1979."
A Christmas Carol by Jason Stevens at Craigdarroch Castle. December 21st and 28th.  Show at 7pm. Doors at 6:15pm.  The castle is decorated for Christmas; be sure to take a tour.
Tickets $20/$15.
This one-man adaptation has been called "perfect" by the Oak Bay News.
Start the evening touring the Museum rooms until you reach the dance hall on the fourth floor. Once there take a seat and enjoy Jason's one hour performance of "A Christmas Carol" then complete the evening by wending your way down the working side of the Castle.  Tickets are $20 each, or $15 for students.  Members receive $2.00 off.  Not recommended for children under 13.
The Gift of Pandora's Box by Ballet Victoria. Dec 27/28/29/30 at McPherson Playhouse.
Tickets $37-$80 at the McPherson Box Office.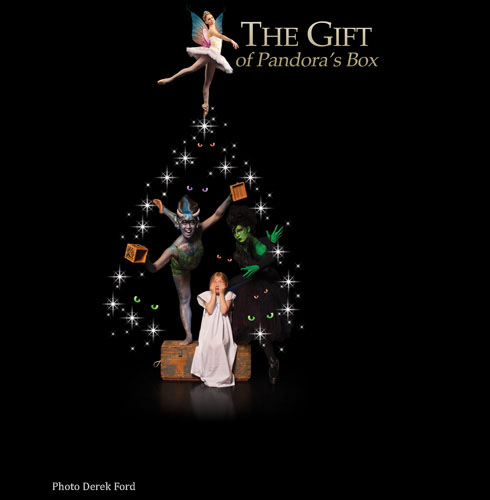 Christmas gifts come in many different packages.

This year Ballet Victoria gives new life to a classic tale to celebrate the Holiday season with humour, dance, and Tchaikovsky music.
A Hitchhiker's Guide to the Galaxy, a live radio play by This is Twisted Theatre. Dec 28/29 at the Maritime Museum of BC.  Episode 2 – February 1/2.
Tickets $20 or $35 for the  two  episodes. Call 250 385  4222.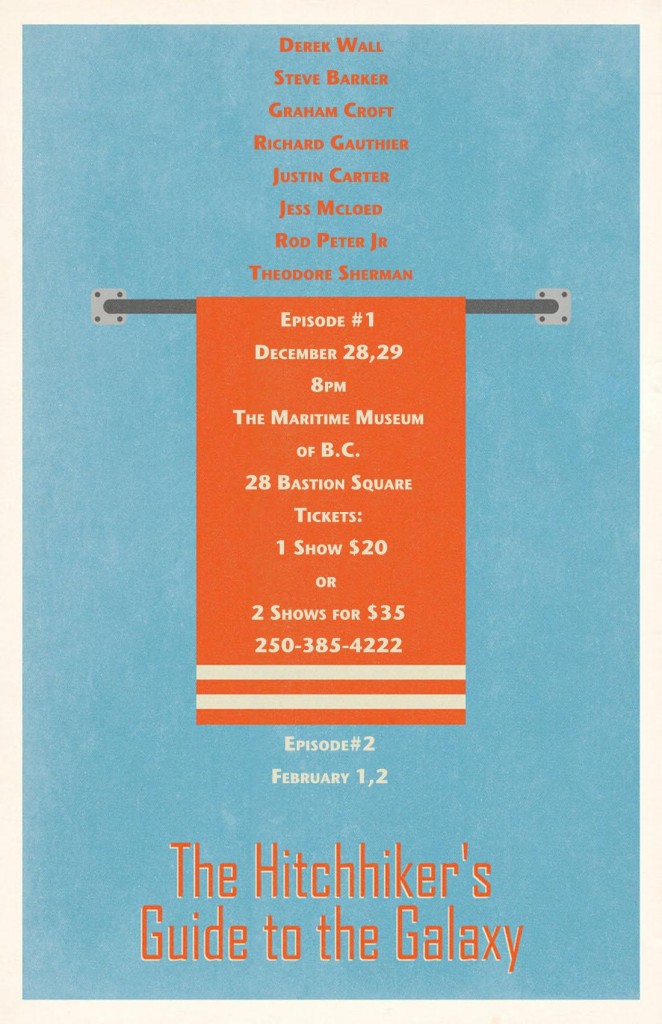 I've always  enjoyed live radio plays, and being part of the audience in the historic Maritime Museum is going to be an added bonus.  If you're a Hitchhiker's fan, you won't want to miss this opportunity.
Punkmas by Atomic Vaudeville. Dec 29/30/31. Victoria Event Centre (1415 Broad Street). Showtime 8pm with doors at 7:30pm.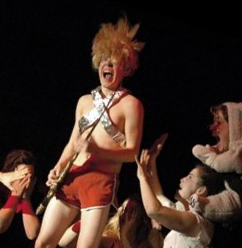 Tickets $18 (student/senior)  $22 (regular) $35 (Sid Vicious Pit)
*NYE (Dec 31) tickets are $45 (regular)  $58 (Sid Vicious Pit)
*NYE tickets include bubbly at midnight, snacks, and a rockin' dance party.
A cabaret that will inject the true meaning of Punkmas right into your jugular vein. Anarchy in the New Year!

The Sid Vicious Pit means getting in first and being seated in the pit (the guitar bar), getting your first drink free, drink service that will jump the bar line for you, and the right to sneer and feel superior to everyone else.
New Year's Eve wouldn't be complete without a visit to the Atomic Vaudeville cabaret!