Dream Another Day at UNO Fest 2018. Interview with Meagan O'Shea.
Meagan O'Shea of Stand Up Dance has a long history of creating solo shows. Victoria audiences may remember her from The Atomic Weight of Happiness at UNO 2012.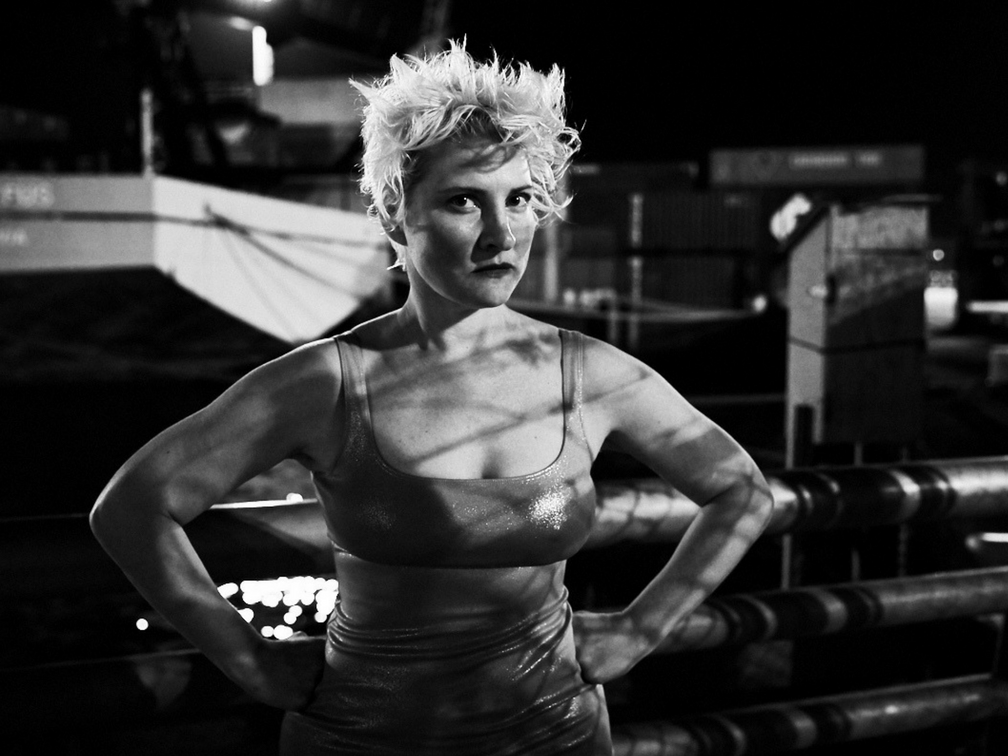 What sparked the creation of this show?
Rape culture
The inheritance of the imperative to keep secrets
The fact that now we're in a truth telling and believing moment there is still the training to not talk about it
Can you speak to the creation process?
I create on my feet
I improvise with the stuff that I'm thinking about
New discoveries emerge in this part of the process, things I couldn't imagine or dream up – it's a creative process of setting up conditions for unexpected and unknowns to emerge.
Then I wrangle it all into some sort of shape and try to make a relationship between the different parts.
I also try to create a puzzle for the audience to join me in solving.
Is this your first one person show?
No, it's my 7th
It became clear early on that I could combine my talents in creating to make dance-theatre work that employed many techniques – clown, comedy, storytelling, dance and improvisation.
So I've made:
Bare Naked in Lala Land 1997
This is the way 1999
Mully After Noon 2002
Night Stills 2003
something blue 2006
Coffee for One 2007
based on actual unrelated events 2009
The Atomic Weight of Happiness 2011
Where Truth Lies 2013
Dream Another Day 2018
The first 3 were short, but contained entire worlds. Actually there are some that I'd like to re-watch and some that I wouldn't. I think Bare Naked in Lala Land was probably terrible, but I'd be curious to see if I thought it showed some potential. I mean I guess it did, since it's sort of how I began.
I want to remount something blue actually but have a feeling it won't be for a few years yet. There are too many other projects on the go.
When did you debut the show (or is this its debut), and how has it changed since the debut?
This is actually a workshop version of the show. It is still in development. Which is to say that I think I've got it all in there but it will be refined and further explored still. Also, as with all of my solo work there is an element of audience interaction and this takes some experimenting with in this show so I am really excited to try it out here and see where it takes us.
This began as a feminist re-visioning of James Bond, but that was problematic. The word Feminist has negative connotations for some people. I am nothing if not stubborn or determined, so I was determined to keep using the word because there isn't actually a problem with it, but you can't win for trying and didn't set it up the way I wanted. Plus, as the world keeps turning and the #metoo movement arrived, the tone changed. And it seems that the more interesting conversation is where are we going?
So there is still some James Bond revisioning going on, but it's more many other things or ways of looking at the tropes of Bond, which of course, reflect our real world to varying degrees and that's really what I'm looking at.
Can you comment on the design aspect of your show, its esthetic?
I like the ever evolving object.
The prop or set piece that can be many things.
Other than that, because this is a workshop production, there isn't yet a design component to the show…I mean there are bits and beginnings. I can't wait till the next phase where the designers come in and do it up!
What's next?
I'm teaching some workshops out here.
Interdisciplinary Solo Creation on Salt Spring Island at the end of the month and Performing Spontaneous Choreography – an Improv workshop in Vancouver June 1 – 3. standupdance.com/blog for more info
Léxico, an international collaboration with 7 artists from different countries where we are creating dance together in languages we don't understand. This takes us through next year.
The Love Project, a 5-hander for youth audience will be touring BC high schools in the fall.
Dancefilms – I've gotten into making dancefilms. Or starting to. In June I'm back in Barcelona working with the collaborator, the one who actually films and edits, to complete some of the projects we've begun.
Certification in Ensemble Thinking, which is a system of composition for performing improvisation and for creating choreography, but also for non-verbal communication and collaboration. I head to Texas in July to do the certification. I've been working with this system for about 10 years and it is what informs a lot of my dance like no one is watching street dance project. Last summer I re-mixed dance like no one is watching for the World Dance Alliance global summit in St. John's NL with an international cast and I was so excited to dig back into the material and consider it again, so it seems like a good time.
And, of course, finishing and touring Dream Another Day!
Significant accolades or awards?
Km Hunter Award in dance
2 Dora Award nods for design in The Atomic Weight of Happiness
International stuff
International associate artist, Dance Ireland
Artistic collaborator, Barcelona International Dance Exchange
Nominated for Ontario Arts Foundation Artist Educator Award
35 grants for making, performing, touring from Canada Council, Ontario Arts Council, Toronto Arts Council.
Dream Another Day by Meaghan O'Shea
Metro Studio Theatre
May 11 at 7pm and May 12 at 8pm
Tickets $20 through Ticket Rocket. Pay What You Can performance is May 11th.
Genre: Dance
Duration: 60 minutes
What if James Bond was a woman, trying to save the world, through dance? A feminist re-visioning of Bond, James Bond that debates and examines rape culture, hero worship and the inheritance of secrecy in our society. Using her signature mash-up of dance, theatre, storytelling and visual spectacle, creator/performer Meagan O'Shea draws on personal experience while situating it within a global context. Her ridiculously hilarious and devastatingly heartbreaking outlook reaches into the future to figure out some of the mess we're in.

"Uplifting, energetic and totally out of the ordinary" – Mooney on Theatre