The Glass Menagerie, by Blue Bridge Repertory Theatre, at The Roxy in Quadra Village (February 11th -23rd, 2014) is a moody and lush theatrical feast, ambitious and true to the playwright's original vision.
Written in 1944, The Glass Menagerie catapulted American playwright Tennessee Williams to success (New York Drama Critics' Circle Award 1945). Staged as a "memory play" it stands alone among his works—mixing realistic moments with mimed movements and allusions.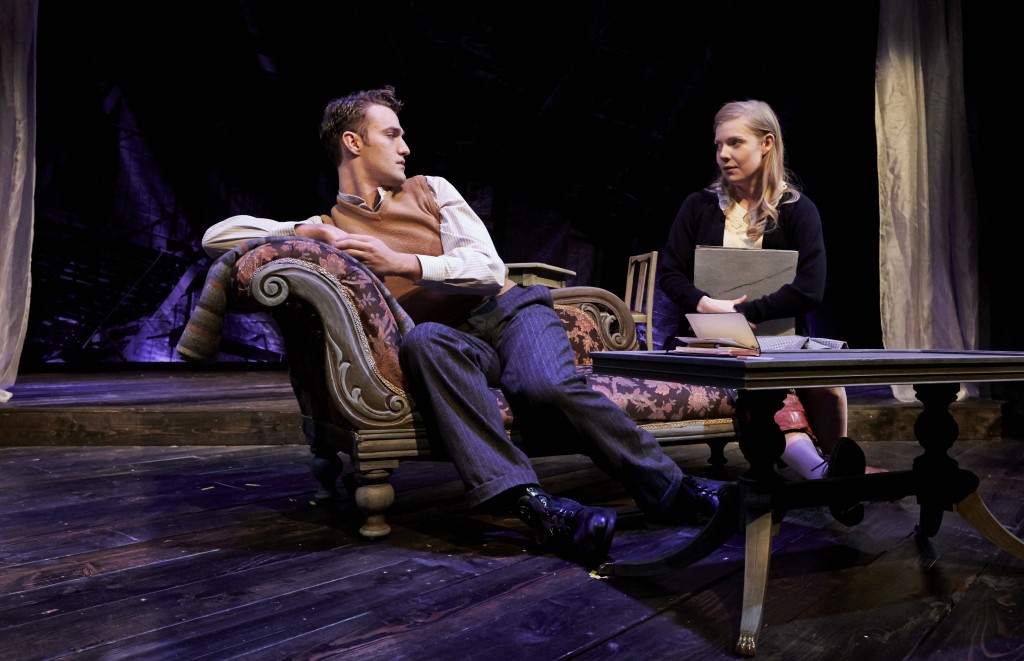 Victor Dolhai (Tom Wingfield) and Sarah Jane Pelzer (Laura Wingfield). Photo: Ilijc Albanese
Director Brian Richmond draws on the Roxy's very nature (as a former movie house) to introduce an element of meta-theatricality to this staging, and follows Williams' instructions by including sur-titles to introduce the scenes.
Projections by Bryan Kenney magnify the experience for audience members—scenes of bread lines from the "Dirty 30s" set the tone, while later episodes from gentleman-caller Jim Connor's (Matthew Coulson) high-school triumphs give us an appreciation for this character before we ever meet him in real-life. Photographic vignettes of The Mother, Amanda Wingfield (Joanne Wilson) and The Father (Ian Simms) appear, as living statues, set on columns high above the action below, and curtsey and bow with grace and ease, imposing their presence on the proceedings.
Original musical compositions and sound design by Brooke Maxwell range from light, airy, clear pieces—signatures for Laura Wingfield's (Sarah Jane Pelzer) fragile nature and state-of-mind—to more Romantic symphonic movements—reminiscent of films of a bygone-era.
Patricia Reilly's set is imbued with an evanescent and evocative quality, divided in two by a transparent curtain to signify the separation between current action and remembered snippets; she also designed the costumes. Gilles Hogya's lighting is sublime, running the gamut from flickering and ethereal as memory, to warm and inviting during the candle-lit conversation between Laura and Jim, and pulsating with energy during the storm. Our attention is forcibly captured from the opening moments when the narrator Tom Wingfield (Victor Dolhai) stands at the edge of the stage, smoking, to the final sequence as Laura blows out the candles and leaves everyone in the dark.
The design elements, taken together, create an incredible sense of anticipation—we lean forward in our seats, eager to watch the story unfold.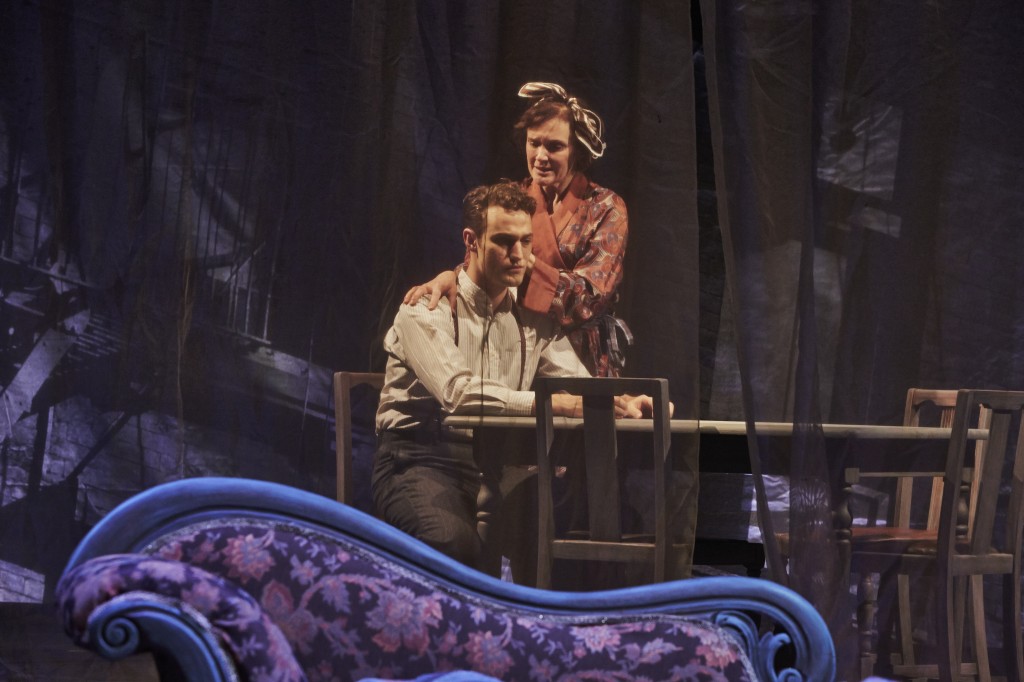 Victor Dolhai (Tom Wingfield) and Joanne Wilson (Amanda Wingfield). Photo: Ilijc Albanese
With The Glass Menagerie, Blue Bridge Repertory Theatre succeeds wonderfully in delivering on its mandate. What a pleasure to see young theatre professionals and artists, some of them involved since the very first season in 2009, now firmly established in their artistic careers, and to measure the distances they have travelled.
Victor Dolhai as Tom rages against the constraints imposed by his sense of love and devotion to his mother and sister—all bravado one moment, and concern the next.
Sarah Jane Pelzer summons her plucky nature during the visit from Jim O'Connor (Matthew Coulson) when her favourite glass animal is damaged.  Coulson brims with enthusiasm and pride in his accomplishments while mustering tenderness toward a clearly-damaged Laura.  Set purposefully amid warm light, this scene simply aches with hope shattered and dreams dashed.
Veteran actor Joanne Wilson (Amanda Wingfied) is the epitome of a southern belle fallen on hard times with her relentless positivity and drive to build a better future for the family. She is truly terrifying (and pitiful at the same time) as her carefully maintained exterior cracks and she reverts to her girlhood persona when the gentleman caller arrives.
The resonant southern accents (dialect coach, Iris MacGregor Bannerman) summon images of icy mint juleps and afternoons on wide verandas.
Victorians are fortunate to have a theatre dedicated to masterworks, particularly when the professionals involved are willing to carefully re-examine and re-interpret the classics for a modern audience.  Blue Bridge Theatre's The Glass Menagerie retains all the heart-breaking and hope-filled elements of the text while highlighting a considerable amount of humour and levity in the interactions among the characters.
The scene is 1930s St. Louis. Aspiring poet Tom Wingfield reluctantly works in a shoe warehouse to support his overbearing, faded -Southern-belle mother and desperately shy sister, Laura. Pushed by his mother, he finds Laura a gentleman caller to coax her from her private fragile world.
The Glass Menagerie by Tennessee Williams, directed by Brian Richmond
Blue Bridge Repertory Theatre at the Roxy, 2657 Quadra Street
Tickets $26.25-$42 through Ticket Rocket online, in person or by phone 250 590 6291
Ample free parking in QuadraVillage. Valet service available.
Cast and Creative Team
Tom Wingfield Victor Dolhai
Amanda Wingfield Joanne Wilson
Laura Wingfield Sarah Jane Pelzer
Jim O'Connor Matthew Coulson
The Father Ian Simms
Director Brian Richmond
Composer/Sound Designer Brooke Maxwell
Set and Costume Designer Patricia Reilly
Lighting Designer Giles Hogya
Dialect Iris MacGregor Bannerman
Projection Designer Bryan Kenney
Stage Manager Rebecca Marchand
Assistant Stage Manager Luanna Bowen
Disclaimer: I received a complimentary ticket to attend The Glass Menagerie, for the purpose of writing a review. As always, I retain full editorial control over the content published on my site.