Gracie by Joan McLeod at the Belfry Theatre January 20-February 19, 2017. A review.
On a set dominated by a monolithic mountain (Catherine Hahn), under the deep blue arc of heaven, Lili Beaudoin gives voice to the voiceless as Gracie, in the world premiere of Joan McLeod's latest work.  By turns humourous and transcendent, the script pulls the audience into the world of a child—and anchors firmly there—laughing along with observations about the kilometre signs on the road, rejoicing at the gift of a first doll—before taking them on a quiet journey filled with observation and growth.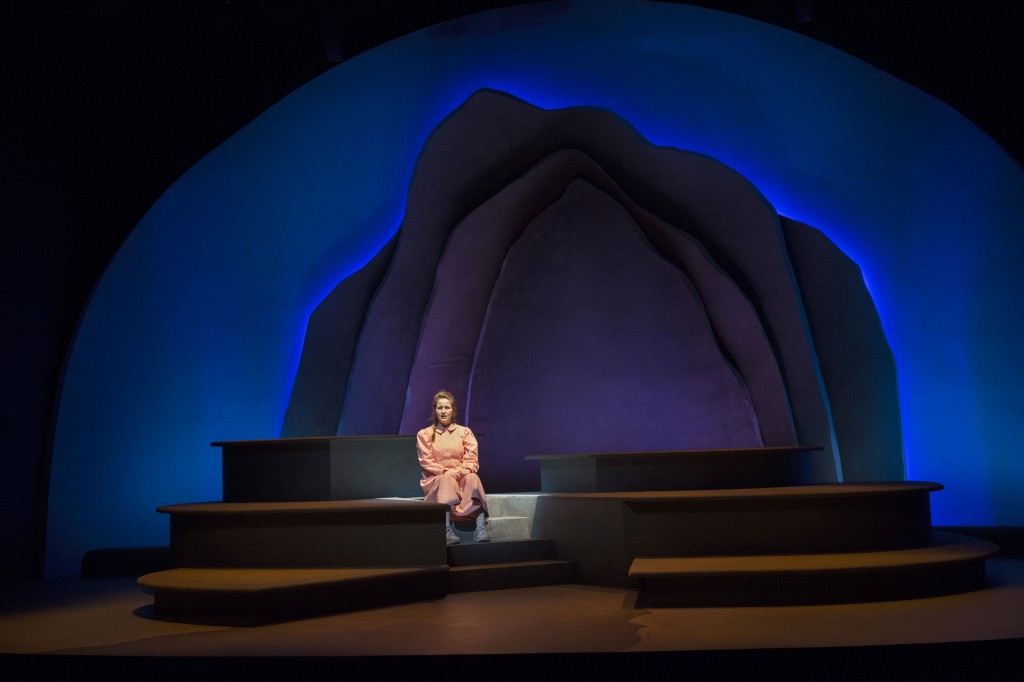 Lili Beaudoin as Gracie. Photo: David Cooper
Beaudoin conveys incredible spunk as a curious eight year old—her accent reflecting the broad rich tones of the Midwestern States—who, over the years, and despite a deep love for her mother and siblings, holds fast to her questioning ways.  It's a daunting enough task to perform a solo show, let alone on a stage the size of the Belfry's with all the accoutrements of a professional production—Beaudoin is assured and steadfast in her movements, easily capturing and holding attention.  Under the audience's unwavering gaze she expounds on the joys of life in her new home, the little discoveries that make it magical—every mention another brushstroke in the picture she paints of a life controlled by one man, her new father and leader of the colony.
Inspired by two colonies of the Fundamentalist Church of Jesus Christ of Letter-Day Saints (in Bountiful BC and Colorado City on the Utah-Arizona border), McLeod carefully examines questions of faith through the eyes of a child, thereby defusing the horrific nature of the swirling suspicions that surround the FLDS.  It's not up to Gracie to provide answers or resolve a situation that police, prosecutors and some of the highest courts in two nations have tried to tackle for decades.  Motivated by her deepest nature, she considers her options and bides her time as she ponders her future with her best friend Allie—imagining futures as horse racers or as wives and mothers.
Tobin Stokes' score conveys lightness and innocence while simultaneously carrying deep notes of unease and foreboding. Lighting designer Narda McCarroll sweeps the stage with the changes of the seasons and reflects Gracie's inner states.  Moments in the hide-away in the mountains are particularly evocative—despite the simplicity of the setting, the true beauty of the natural world shines.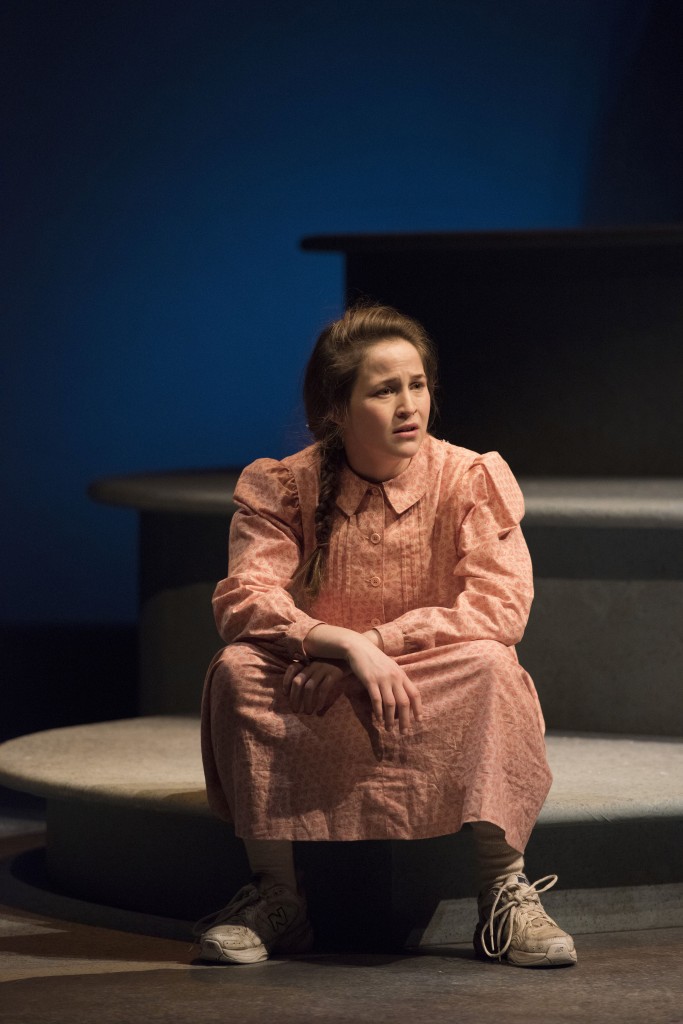 With great dexterity, Beaudoin shifts from child to young woman; from wide-eyed wonder at the natural world, to righteous indignation against a renegade member, her former crush, the "Lost Boy" Brandon, to joy in God's presence and finally, the slow awakening of doubt.  With acute focus, McLeod directs all the action to a culminating and luminous moment in a Walmart dressing room where Gracie collapses. Beaudoin, in all her bewildered grief, becomes a universal symbol for all who have lost everything, yet are forced to go on. Unhinged from every notion of daily order, she must now draw inspiration from her life before, count on the love she has experienced, and create a new reality on the shifting foundation of her past.
Gracie is the result of a fertile collaboration between director Vanessa Porteous, McLeod and Beaudoin who share a common spirit of questing—working hard to illuminate every nuance and meaning. As with any rich work of drama, McLeod's work, as always, asks as many questions as it answers, revealing trails to follow for those who want to know more.
Gracie by Joan McLeod
World Premiere
Belfry Theatre
January 20-February 19, 2017
Tickets: from $20 to $53 (plus GST). Available at 250-385-6815 or online at tickets.belfry.bc.ca. Prices are subject to change. (See below for more ticket information)
Starring Lili Beaudoin
Director Vanessa Porteous
Set and Costume Designer Catherine Hahn
Lighting Designer Narda McCarroll
Composer and Sound Designer Tobin Stokes
Stage Manager Jennifer Swan
Apprentice Stage Manager Sadie Fox
Gracie was originally commissioned by The Belfry Theatre, Victoria, BC and developed in partnership with Alberta Theatre Projects, Calgary, AB.
Rush Tickets
For our weekday evening performances we offer a limited number of last minute rush tickets at a discount. Rush tickets are: available at the Box Office 30 minutes before each evening performance (Tuesday to Friday), in person only, subject to availability, and 40% off our regular Zone 2 (Yellow Section) ticket prices.
Ticket Discounts
High School Students – 50%
University / College / Post Secondary Students – 25%
Seniors – 10%
Members of the Military – 25%
Groups (10 or more) – 10%
Performance Schedule (January 20 – February 19, 2017)
Tuesdays – Thursdays at 7:30 pm
Fridays and Saturdays at 8 pm
Wednesday Matinees at 1 pm (February 1, 8 & 15)
Saturday Matinees at 4 pm (January 28, February 4, 11, 18)
Sunday Matinees at 2 pm
Starting Friday, January 20 there will be five previews for this new play. Monday nights are dark and Opening Night is Thursday, January 26.
Live Events
Throughout Gracie we'll host a number of events that will deepen our audience's experience.
B4PLAY
Saturday, January 21 at 11 am
Belfry Theatre, Studio A, 1291 Gladstone Avenue
Free Event. Join us in Studio A for a live talk show hosted by CBC Radio's Gregor Craigie, featuring Joan MacLeod, Vanessa Porteous, and Marita Dachsel.
AFTERPLAY
Facilitated discussions – audience member to audience member – following every evening Mainstage performance of Gracie (except Opening Night and Talkback Thursday). These are a great opportunity to share your thoughts and hear how fellow patrons reacted to the show.
TALKBACK THURSDAY
Thursday, February 2
Meet actor Lili Beaudoin post-performance when she returns to the stage to answer questions and provide insight into the play.
BOOKSMACK
Monday, February 6 at 7:30 pm
Librarians go head-to-head as they race against the clock to speed review their favourite books in these fun and competitive events, co-presented with the Greater Victoria Public Library.
VOCALEYE
Sunday, February 12 at 2 pm
For our patrons with low or no vision, we'll offer a VocalEye performance during Gracie. Trained Audio Describers provide descriptions of the visual elements of the show, allowing people with low vision to enjoy the theatrical experience without missing any of the details.
Further reading:
http://www.theglobeandmail.com/news/british-columbia/school-in-bountiful-bc-abruptly-closed-in-september/article4903354/
https://thetyee.ca/News/2004/11/18/LeavingBountiful/
http://www.theglobeandmail.com/news/british-columbia/bc-gets-go-ahead-to-pursue-polygamy-charge-against-bountiful-bc-leader/article25113882/
The Witness Wore Red: The 19th Wife Who Brought Polygamous Cult Leaders to Justice by Rebecca Musser
Church of Lies by Flora Jessop
Disclaimer: I was provided with a complimentary ticket to attend the premiere of Gracie.