Bowser by Joyce Kline at the Victoria Fringe Festival 2016. Interview.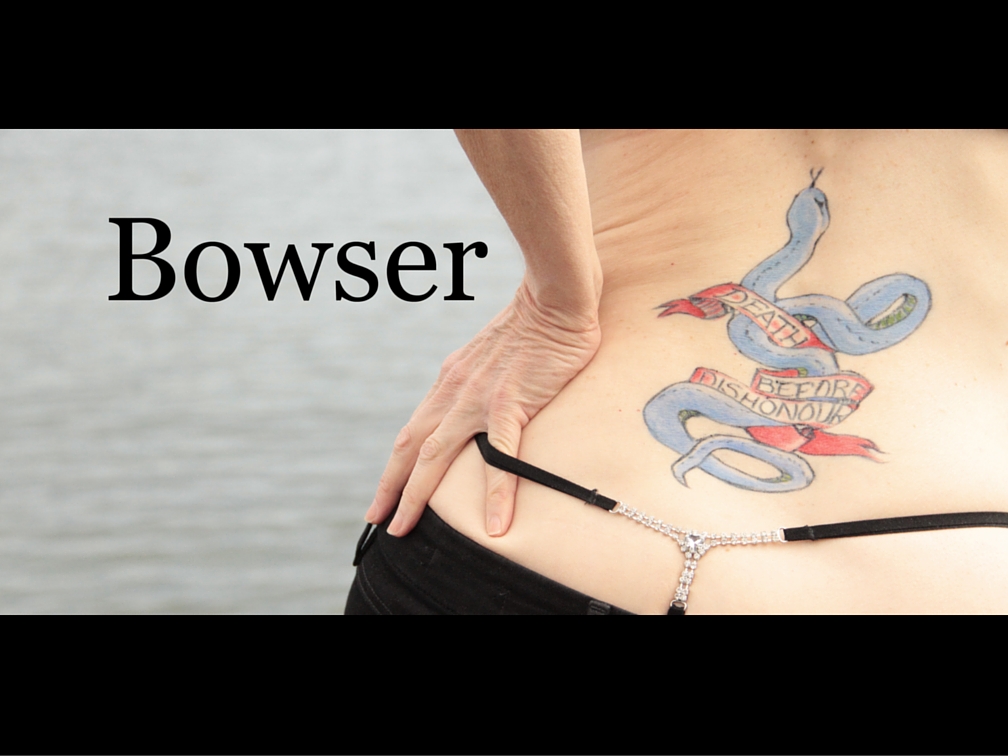 How long have you been producing work on the Fringe circuit?  As an artist/company?
Okay, shameful confession time: I did a weird experimental performance art thing in the very first Vancouver Fringe Festival. I cringe just remembering it because, one, it means I'm older than god and, two, it definitely wasn't a play. Still, it was a useful experiment; one day I'll use it in a comedy.
As for my company Tribal Writes, this is our first production anywhere. My formal training and career have been in visual art and dance so, like most people starting out in theatre, I decided to produce my own work to see it realized.  I'm thrilled the script attracted such a sensitive director and such brilliant actors.
Is your show a new work, or has it been performed elsewhere?
It's based on an earlier work that was shown in an evening of short plays at TheatreSpace, a small company in Gastown in the '80s. When director Angela Henry read the script she suggested my protagonist interact with a seagull puppet rather than the audience, and the whole play just lifted off.  We tested it with an audience at Langham Court Theatre's Readers' Theatre Festival in May.  That helped me further develop and tighten the script for the Fringe.
Significant awards or accolades? (not just on the Fringe circuit)
I'm what they call a "wide achiever" and work in multiple disciplines: primarily visual art, dance, and writing.  I was a finalist in The Writers' Union of Canada's Writing for Children Competition and on the cover of Toronto's NOW Magazine for my visual art installation The Abortion Wars.  My week of cover story fame came between Madonna's and Queen Latifa's.  Even my kids were impressed—briefly.
Can you speak to the creation process of this work?
My protagonist Elaine sucked me in by dictating directly to me in a beautifully poetic stream of consciousness. Then she stuck me with all the grunt work of making that initial inspiration comprehensible outside my own head.
Luckily, Angela, who's a sensitive and insightful director, and Christine Upright, who was always my dream choice to play Elaine, both loved her complex, contradictory nature and signed on to "Team Bowser," as did puppeteer Ian Chaprin. As we all worked with the script, a clearer through-line emerged and the side characters were fleshed out.
We also had to work out the role of the puppet.  What was it physically capable of doing? How would it communicate with Elaine?  Would was their relationship like?  The puppet Tim Gosley made us turned out to be capable of a wide variety of movement that Ian exploits brilliantly.  Once we realized the seagull could convey more subtlety of expression than we'd initially thought possible, we were able to explore that to add additional layers of depth to the show.
Who will your show appeal to? 
Bowser is about an ex-exotic dancer so it deals with adult themes.  It would appeal to you if you've ever been disappointed in love, or you've met any odd up-Island local "characters," or you're up for clever puppetry and sexual references.  Basically, anyone over 14.
What would you say to entice a potential audience member to come? 
Imagine Edith Piaf stuck in Schitt's Creek.  With a very "vocal" puppet.
What do you hope to inspire in your audience?
Tear stained cheeks and lots of laughter.
Is there anything I've missed asking you, or that you would like to comment on?

Kudos to Fringe producer Katt Campbell and the Intrepid Theatre staff who work so hard organizing the three-ring circus that is the Victoria Fringe Festival.  They never seem to lose their cool, their patience, or their attention to even the smallest details.
In the backwater of Bowser, BC, a cheeky seagull becomes an ex-stripper's unlikely confidant as she recalls the loves and losses in her life. "Christine Upright is terrific in this  funny and touching one-person (with seagull) show." – Ian Ferguson
Bowser by Tribal Writes, Victoria BC
Location: Fairfield Hall (Fringe Venue 6), 1303 Fairfield Rd, Victoria BC
Created: Joyce Kline
Advance price: Regular $11/ St & Sr $9 + s/c*
Door price: Regular $11/ St & Sr $9
Duration: 45 mins
Rating: PG14+: Adult Themes
Genre: Monologue with Puppetry
Fri Aug 26 – 9:30pm
Sat Aug 27 – 1:00pm
Sun Aug 28 – 8:45pm
Mon Aug 29 – 5:30pm
Thu Sep 1 – 10:00pm
Sun Sep 4 – 5:30pm