Hedwig has fans, and so too does Griffin Leonard Lea, as attested by the long line snaking from the top of the stairs at the Upstairs Cabaret on opening night of Atomic Vaudeville's Hedwig and the Angry Inch.  Those waiting spoke of seeing productions in London, New Year, San Francisco, Toronto and then went on to compare Lea's performances in not only Hedwig (this show is a reprise of the last year's inaugural run at the Metro Studio) but also The Rocky Horror Show (nb: this year's dates are October 17-28).
It was interesting to note the 50/50 split in ages as well—with half of those present under 35, and the other half over 60.  The glam rock musical is definitely not dead—even one written in 1998 rather than in the 70s. There's a universal appeal that is even timelier today as discussions of gender identity become more normalized. Hedwig was a trailblazer.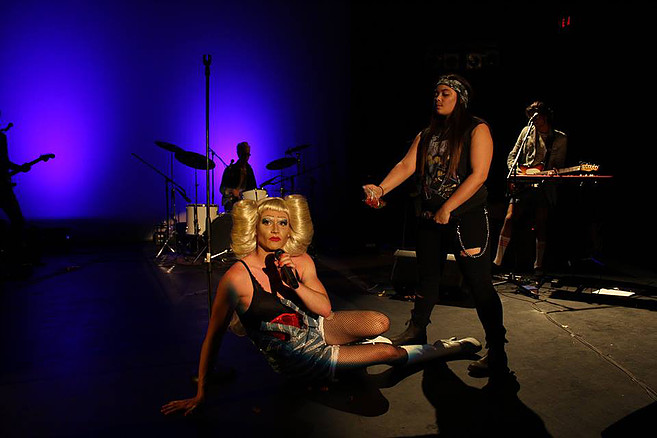 Hedwig (Griffin Leonard Lea) and Yitzhak (Jana Morrison). Photo: Caitlin Croteau
Director Britt Small has collaborated with a small team of regulars (Jimbo Insell—design, Rebekah Johnson—lighting, John Han—musical direction, Sarah Murphy—choreography, Alex Wlasenko & Jarod Crockett—projection design, Brady Taylor—wigs) on this production (as well as many others over the past few years) and the artistic synergies to be gained by working with people of like mind are evident throughout in the seamless esthetic.
The move from a more theatrical (and for the audience—static) setting to the raucous nightclub milieu, with people free to come and go throughout, results in a absolutely rocking, full-on recreation of the premise of the musical, while at the same time, giving it a more intimate and confessional feeling.
Lea owns the role of Hedwig; furiously alive he strides about the stage in teetering high heels, accosting patrons, striking poses balanced on box tops and railings, while howling rage, despair and love. He has a knack for carefully navigating this larger-than-life persona that allows people to identify with the character, even when she turns cruel and vindictive.
Jimbo's costumes, particularly the articulated cape, are works of art. Brady Taylor's spectacular wigs, visible from the onset on shelves situated on either side of the stage, take pride of place in the jaunty Wig in a Box as audience members are encouraged to sing along with the chorus.
Alex Wlasenko and Jarod Crockett's delightful animated video designs for The Origin of Love add another level of comprehension to the song which is, itself, key to an understanding of Hedwig's personhood.
The Angry Inch (Sebastian Brineff as Yacek on bass, Colin Webster as Schlatko on drums and Charles James Appleton as Kryzhtof on electric guitar), with music director John Han on keyboard, are accomplished musicians, capable of moving from rock (Tear Me Down) to jazz (Wicked Little Town) to plaintive refrain (The Long Grift) with ease.
Jana Morrison as Hedwig's hapless husband Yitzhak is filled with resentment and hurt feelings, wailing away in the background for much of the show, before revealing the true depth of her love and dismay in The Long Grift.  The often acrimonious interplay between the two creates wonderful tension that is finally resolved when Yitzhak appears in fabulous drag for Midnight Radio. Morrison's range, from deep gravelly lows to crystal clear high notes, is impressive.
Atomic Vaudeville already has a hardy following. By expanding their offerings to include The Rocky Horror Show, and now—Hedwig, they are able to reach out to new, previously untapped audiences.  Adding another venue to the mix is a brilliant move that not only meets the particular requirements of this show, but also exposes the company to potential patrons who might otherwise never partake of live theatre.
Moving and entertaining, rich in innuendo and story, Hedwig and the Angry Inch is an exceptional theatrical and musical experience that befits its cult status. With the show now, hopefully, ensconced in the regular schedule in Victoria, fans can wait in anticipation for 2019. Or—as many in line on opening night planned on doing—purchase tickets to see it twice!
Hedwig and the Angry Inch is a rock musical about a fictional rock and roll band fronted by a transgender East German singer, Hedwig Robinson. The book is by John Cameron Mitchell, and the music and lyrics are by Stephen Trask. The story draws on Mitchell's life as the son of a U.S. Army Major General who once commanded the U.S. sector of occupied West Berlin. The character of Hedwig was inspired by a German divorced U.S. Army wife who was a Mitchell family babysitter and moonlighted as a prostitute at her Junction City, Kansas, trailer park home. The music is steeped in the androgynous 1970s glam rock style of David Bowie (who co-produced the Los Angeles production of the show), as well as the work of John Lennon and early punk performers Lou Reed and Iggy Pop.
Hedwig and the Angry Inch by John Cameron Mitchell and Stephen Trask, directed by Britt Small
presented by Atomic Vaudeville
Upstairs Cabaret (Bastion Square)
July 20/21 and 27/28/29
Tickets: $32 through Ticket Rocket
Disclaimer: I received a complimentary ticket to attend Hedwig and the Angry Inch.