Hedwig and the Angry Inch by Atomic Vaudeville June 7-18, 2017.  A review.
Exploding onto the stage in riotous glory, then proceeding to regale the audience in low confessional tones, before rocking hard, Griffin Lea, in complete control of the room from the opening number, teases and tantalizes as Hedwig in Atomic Vaudeville's production of Hedwig and the Angry Inch, currently playing at the Metro Studio Theatre until June 18th.
What's not to love about the most outré aspects of glam rock musicals—glorious costumes (Jimbo) including an articulated (and fringed) winged cape, spangles and sparkles, corsets and tight-fitting slip dresses and shorts; fanciful wigs (Brady Taylor)—each an incredible work of art unto itself; Rebekah Johnson's lighting with both emotional intimacy—Hedwig recounting late nights as a child in Berlin, lying in the kitchen; Yitzhak in a small pool of light singing The Long Grift—and the full-blown effects of a rock concert (Tear Me Down, Angry Inch)—combine to produce an evening guaranteed to ignite a fire within and make forever fans of "misfits and losers" who identify with Hedwig's journey to find love and self-acceptance.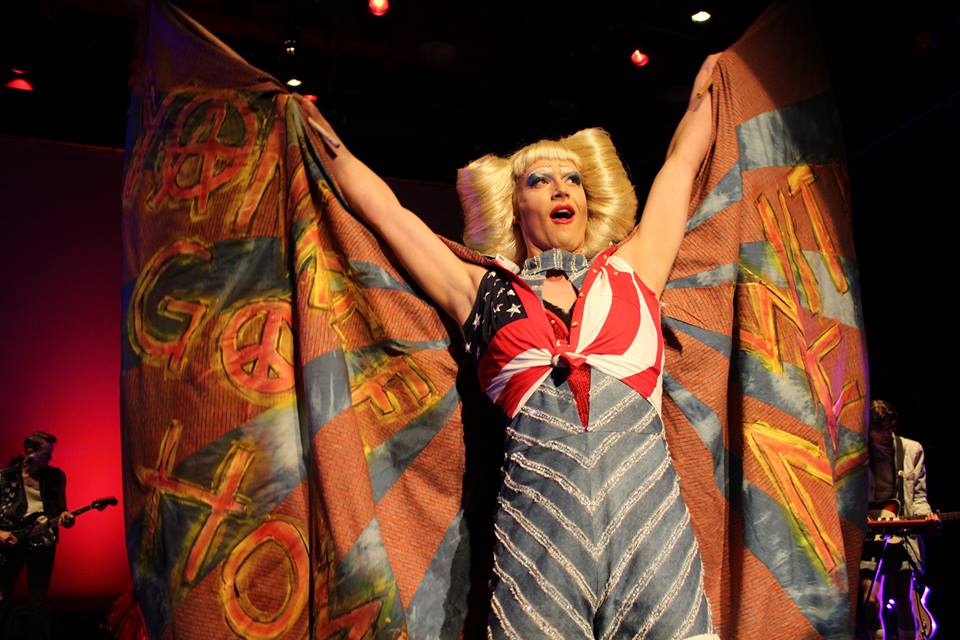 Griffin Lea as Hedwig. Photo: Caitlin Croteau
The skills of the band The Angry Inch—Andrew Taylor, drums (Skszp), and multi-instrumentalists Michael Huerta (Yacek), Blair Hansen (Krzyzhtof), Charles Appleton—are evident even before the show begins, as they jam on a jazzy version of Autumn Leaves and then unleash their full power with slow ballad interludes (Wig in a Box), fantastic riffs and rambunctious rock numbers (Hedwig's Lament) and the country twang of Sugar Daddy.
Jana Morrison as Yitzhak creates marvellous synergy with Lea whether singing backup with heartfelt wails, growls and vocalizations or attending to Hedwig's needs; her own unique musical style is showcased in melancholic rendition of The Long Grift and When Love Explodes.

Director Britt Small has a finely honed sense of spectacle and years of experience building audiences into community as the co-founder of Atomic Vaudeville; the Metro Studio Theatre is the perfect size to create an atmosphere of allure, of being in on the secret, of belonging to something indefinable, of having found one's tribe.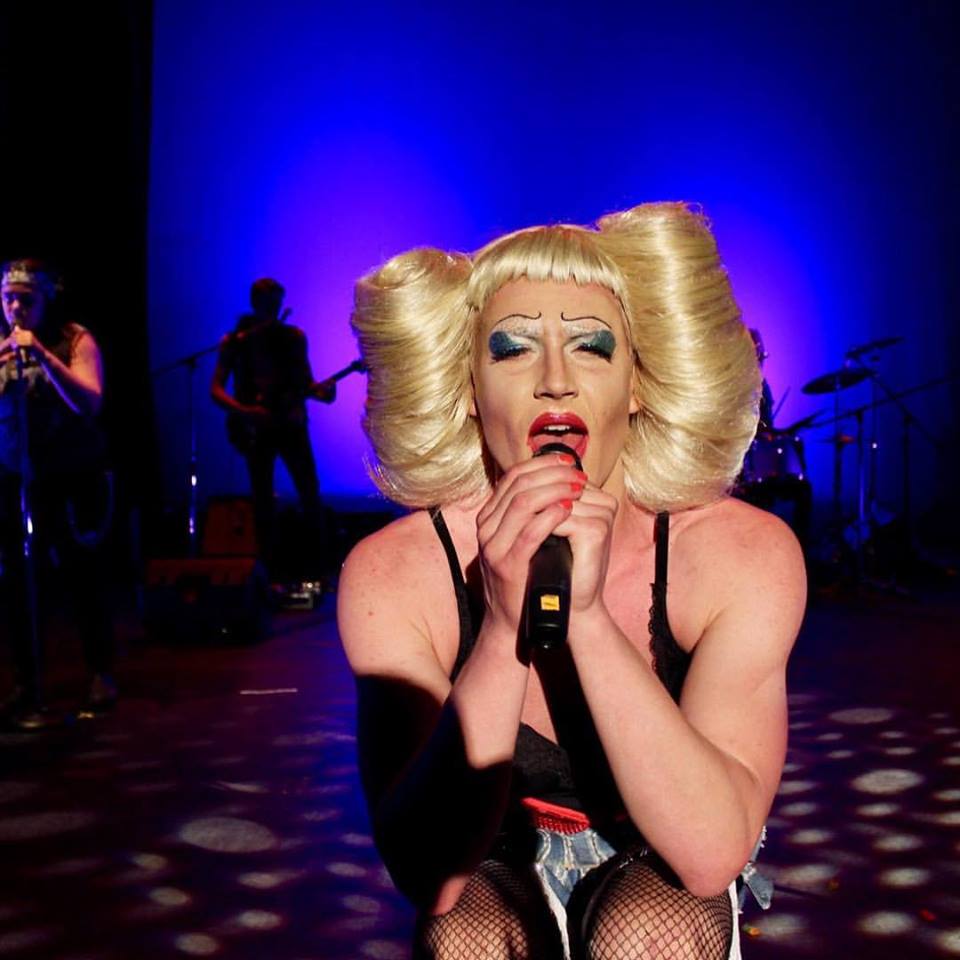 Griffin Lea (Hedwig), background Jana Morrison (Yitzhak)
With Hedwig and the Angry Inch, written decades after classics like Tommy, The Rise of Ziggy Stardust and Starmania, creators John Cameron Mitchell (book) and Stephen Trask (music and lyrics), tap into new generations, as eager as ever for relevant heroes. Mitchell imagines Hedwig not as a trans woman, but as a genderqueer character. "She's more than a woman or a man," he has said. "She's a gender of one and that is accidentally so beautiful."[3] (Wikipedia)
In times where nothing is black and white, and fluidity remains the norm, Hedwig has been showing the way for years.
Atomic Vaudeville's production of Hedwig and the Angry Inch, with its boisterous energy and cabaret vibe, is well on its way to cult-hit status. I'm already asking when they plan next year's version.
Hedwig Robinson is not content to let her rock star ex-boyfriend Tommy Gnosis have all the success. She shares the stories of her life – ranging from escaping communist Eastern Germany, to her botched sex-change operation that gave birth to the Angry Inch, to just who really wrote all those Tommy Gnosis songs that have been so popular. At times touching, this is a Bowie-esque glam-rock extravaganza of a musical comedy that audiences are sure to remember.
Hedwig and the Angry Inch, by John Cameron Mitchell & Stephen Trask
Presented by Atomic Vaudeville
June 7-18 at the Metro Studio Theatre (1411 Quadra Street)
Tickets: $32 via Ticket Rocket online, by phone at 1-855-842-7575, or in person at 101-804 Broughton Street.
Hedwig Griffin Leonard Lea
Yitzhak Jana Morrison
Skszp Andrew Taylor
Yacek Michael Huerta
Krzyzhtof Blair Hansen
Schlatko Charles Appleton
Director Britt Small
Music Director John Han
Band Leader Andrew Taylor
Lighting Designer Rebekah Johnson
Projections Alex Wlasenko
Projection Design Alex Wlasenko & Jarod Crockett
Costume and Set Design Jimbo
Wigs Brady Taylor

Disclaimer: I received a complimentary ticket to attend Hedwig and the Angry Inch.