The Inspector at the University of Victoria Phoenix Theatre March 9-18, 2017. A review.
Politics is politics, whether Russia in 1836 or Victoria in 2017, as Professor Linda Hardy's mordant rewriting of Nikolay Gogol's play, The Government Inspector (now called The Inspector) proves.  Anyone even vaguely connected to current issues will chuckle, and those with more of a bent for community activism are sure to guffaw from beginning to end.
Hardy admits to freely plundering the local "letters to the editor" section of the newspaper for material and has intercut Gogol's already satirical dialogue and premise with relevant and recognizable observations.  The foibles and follies of Paradise are laid out for all to see.  Bike lanes, parking, sewage treatment, marijuana dispensaries, tent city and bylaw enforcement figure prominently.
Self-important politicians and community stalwarts fall over themselves attempting to curry favour with a young man—Sidney Riley Best (Nicholas Guerreiro)—they mistake for a government inspector sent incognito from the capital. In reality he's the twenty-something slacker son of a well-to-do family, dispatched to the provinces to teach him a lesson, beleaguered minder (Jack Hayes as William Kidd) in tow.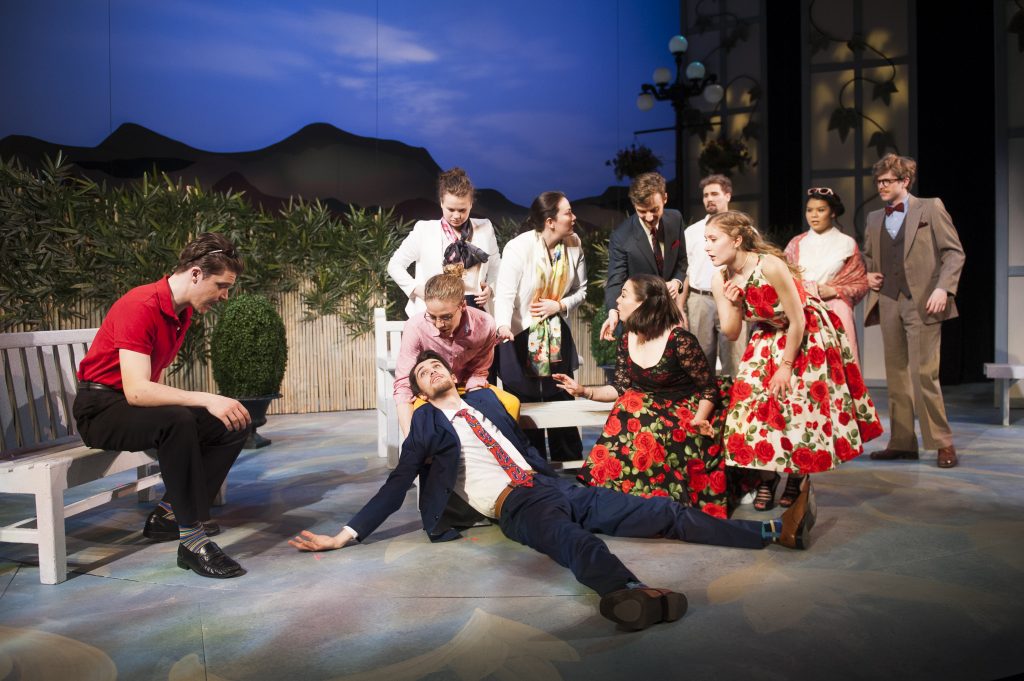 The Mayor (Aidan Dunsmuir) & other officials of the town of Paradise are wrapped in concern for "the inspector" Sidney Riley Best (Nicholas Guerreiro) who has toppled over after being plied with a bit too much Madeira wine with lunch. Photo: David Lowes
Set designer Delaney Tesch utilizes the Roger Bishop Theatre to maximum effect—featuring large interspersed panels bedecked in ivy on each side of the arch; bamboo greenery flies down from above to create the lush gardens at Mayor Gladhand's (Aidan Dunsmuir) residence; the panels reverse to reveal a luxurious suite at the Impress Hotel where the out-of-town duo have been sponging.  And what would a play about "paradise" be without lamp standards—a modern lightweight aluminium version on-loan from the very city being lampooned.
Costumes by Barbara Clerihue and Hana Ruzesky-Bashford point to the idiosyncrasies of Westcoast fashion where comfort reigns, particularly when compared to the more fashion-forward suits of Messieurs Best and Kidd.  When a swanky party is proposed for the visitors and everyone dresses up, the gowns of the mayor's wife (SJ Valiquette as Anna) and daughter (Renée Killough as Mary) are particularly notable, featuring (of course) a floral motif.  Famous mascot Mr Floatie (Jack Hayes) and his Mrs (Alexa D'Archangelo) have been fantastically garbed, complete down to toilet paper hats, rubber gloves and rubber boots.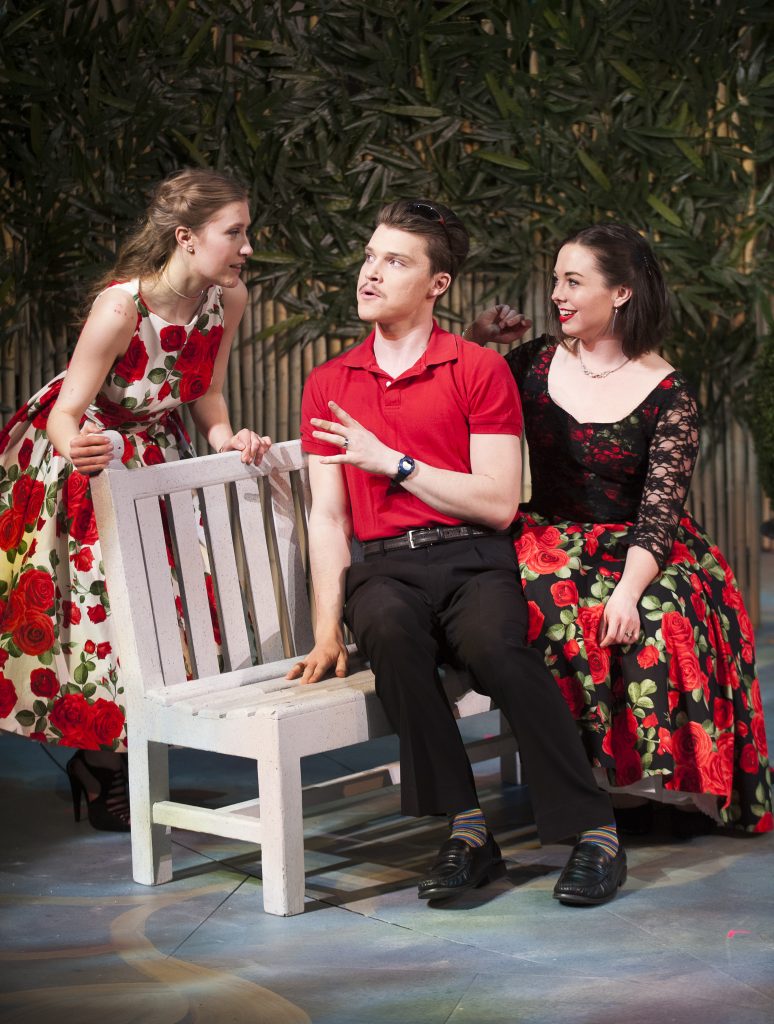 Mayor Gladhand and his family (Renée Killough, Aidan Dunsmuir, SJ Valiquette) swap stories about the sophisticated influential man they believe to be the inspector. Photo: David Lowes
Lighting designer Eryn Griffith has deployed a wide range of techniques to transform the painted backdrop and stage floor as the day advances—from aqua and turquoise to the deep blue of the night, with stars twinkling softly.  Marites Frazer's projections of newspaper articles and topical headlines bleed from the stage onto the walls of the theatre.
Sound designer Christopher Green injects a cheeky sense of fun with his leitmotiv Baby Elephant Walk by Henry Mancini, used also between scenes as students change sets and décor, in carefully choreographed tempo. Later, he summons music from the silent film era as the Floaties are pursued by the cops, in a Keystone Cops moment.
Hardy's assured direction manifests itself in both the speech and movement of the ensemble—Dunsmuir has a particularly pointed and fussy way with words, underlining every thought to highlight its (and his) importance.  This effect is mimicked by his trusted advisors—School Superintendent Lucky Lucas (the fuss budget Kieran Dunch), guidance counsellor Daisy Strong (Grace Le), Judge Amiel Goodenough (Sheldon Graham), Dr. Christine Stichbody (Jessie Johnston) and her partner Dr Tina Makeshift (Emma Leck).  In contrast, the Acting Chief of Police Stella Brightstone (Lucy Sharples) speaks forcefully with authority, and her police officers (David Cosbey as Sergeant Topman, Nikola Neral as Constable Steel and Lucas Simpson as Constable Peel) are gruff and imposing.  Douglas Peerless has a delightful French accent—exhibiting Gallic flair as Jacques, son to Françoise, the Gladhand's cook—and Robby Flippit (Chase Hiebert) a lisp, resulting in many comic moments of interchange with his pal, Bobby Dippit (Stephen Dopp). Evan Coates is earnest and straightforward as the Postmaster, Freddy Fixit, fiancé to Mary.
Guerreiro and Hayes, in comparison, come across as suave and competent—all the better to bamboozle the star-struck citizens of Paradise.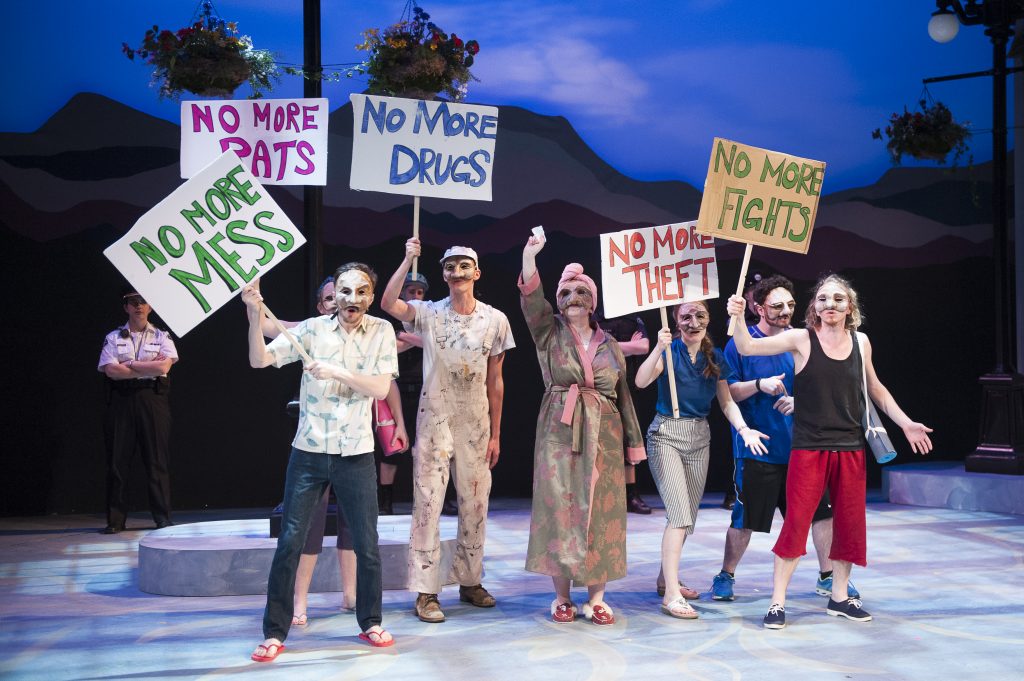 Using Commedia dell'Arte masks to portray the masses, actors playing the various townsfolk of Paradise take to the streets to protest.Photo: David Lowes
Rather than rely solely on costumes, voice and posture to signal character changes, masks are employed extensively—a decision that definitely changes the mood of certain scenes.  It's particularly interesting to note when observing the homeless boys, rousted, by bylaw enforcement and cops, from the square in the early morning hours, or the protestors, feed up with all the "shit" happening in their community.  Garbed in masks they are at once faceless and universal across both time and place.
Throughout, the choreography of Jacques Lemay is evident.  Dashing hither and thither, on foot or bikes and scooters, falling over themselves (both literally and figuratively) in an effort to please and placate "the inspector", the ensemble creates a wonderful sense of zaniness, including the Floaties in an amusing song and dance number.  As the realization and horror of their error sinks in, the resultant slow-motion finale reaction was particularly adept.
When viewed from afar and set onstage, are the causes and issues so dear to one's heart as ridiculous as they appear?  By exposing them for all the world to see and laugh at, can we then truly reflect on what needs to change?  The Inspector needles and pokes at sore spots—provoking many "aha" moments.
The ensemble deftly navigates the demands of farce that must, by its very nature, provoke and entertain. Hardy' has a gift for comedy; re-worked for modern times, The Inspector is as relevant today as it was 180 years ago.
Word arrives in Paradise (a "fictional" West Coast town) that a government inspector is coming incognito. Will the little improprieties of town's mayor and officials be exposed? When they mistake a cunning ex-civil servant for the inspector, their schemes are turned against them. As the greed, corruption, and hypocrisy escalate, this satirical farce spins hilariously out of control. Inspired by local news stories, this adaptation of Gogol's 19th-century comedy of errors is no less relevant – and possibly even more humorous! – when reimagined into our own political landscape.
The Inspector, adapted by Linda Hardy
inspired by Nikolay Gogol's The Government Inspector edited by Nicholas Guerreiro
University of Victoria Phoenix Theatre
Tickets:  $15-25
Director Linda Hardy
Set Designer Delaney Tesch
Costume Designers Hana Ruzesky-Bashford & Barbara Clerihue
Lighting Designer Eryn Griffith
Sound Designer Christopher Green
Projections Marites Frazer
Choreographer Jacques Lemay
Stage Manager Rebecca Marchand
CAST:
Evan Coates
David Cosbey
Alexa D'Archangelo
Stephen Dopp
Kieran Dunch
Aidan Dunsmuir
Sheldon Graham
Nicholas Guerreiro
Jack Hayes
Chase Hiebert
Jessie Johnston
Renee Killough
Grace Le
Emma Leck
Nik Neral
Douglas Peerless
Lucy Sharples
Lucas Simpson
SJ Valiquette
* The participation of this Artist is arranged by permission of Canadian Actors' Equity Association under the provisions of the Dance-Opera-Theatre Policy
Appropriate for ages 13+
Disclaimer: I was offered a complimentary ticket to attend The Inspector.