Summer and Smoke at the UVic Phoenix Theatre March 8-19, 2016. A review.
Summer and Smoke at the UVic Phoenix Theatre (March 8-19, 2016) is an elegant and rigourous examination of the heart's deepest desires and perfidies.
Set in small town, turn-of-the-century South, with its precise ways of life—where small nuances and inflections in language and manner are carefully scrutinized and everyone knows their place in a rigid hierarchy—Summer and Smoke traces the paths of next door neighbours Alma (Gillian McConnell), daughter of the town's reverend, and John (Aidan Correia), son of the town's doctor, from youth to adulthood.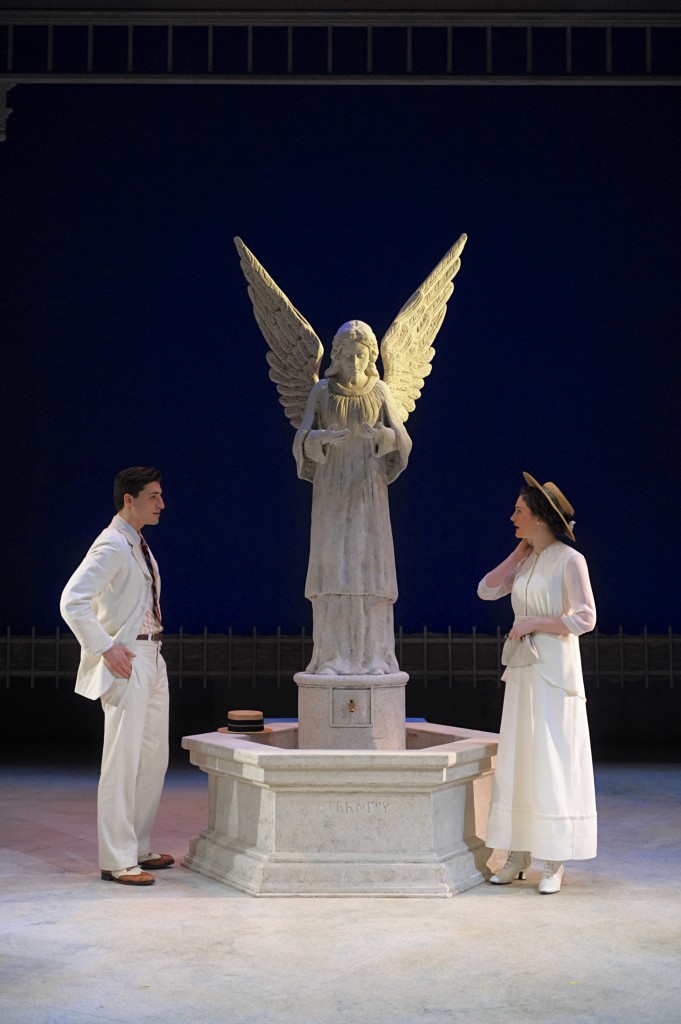 John (Aidan Correia) and Alma (Gillian McConnell) remember their childhood playing around the angel in the park. Photo: David Lowes
McConnell possesses a remarkable stage presence—moving from infatuated to reasoned, subjugated to feisty, calm to abandoned, heart-broken to resolute—that is firmly matched by Correia as her societal equal. Williams' sympathies appear to lie more clearly on Alma's side in opposition to John Jr who turns to a life of dissolution after a successful end to his studies. Correia makes a fine cad, with subtle excuses for his lack of personal responsibility for harmful behaviours and actions, until a final fatal day.
Zoë Wessler as Mrs Winemiller is perfectly unhinged and deeply damaged, revelling in pettiness and nasty digs at her daughter; Nick Postle as Alma's father, Reverend Winemiller, is authoritative and commanding; Lindsay Robinson (Dr Buchanan Sr) is the height of kind gravitas.
Playing roles  years older (or younger) is always challenging; here the actors rely on the use of posture and movement (Jacques Lemay) rather than elaborate makeup to convey not only the age, but the aspects of their characters. Alannah Bloch is fussy and over-bearing as the gossip Mrs. Bassett; Estee Klue a placid Rosemary; Duncan Alexander is the stooped and old-before-his time
Roger Doremus, Alma's beau; Nicholas Yee a delightful drunk (Papa Gonzales) turned suddenly vicious. Renée Killough moves from rambunctious childhood to self-possessed young woman as Nellie Ewell, Alma's pupil and John Jr's lover.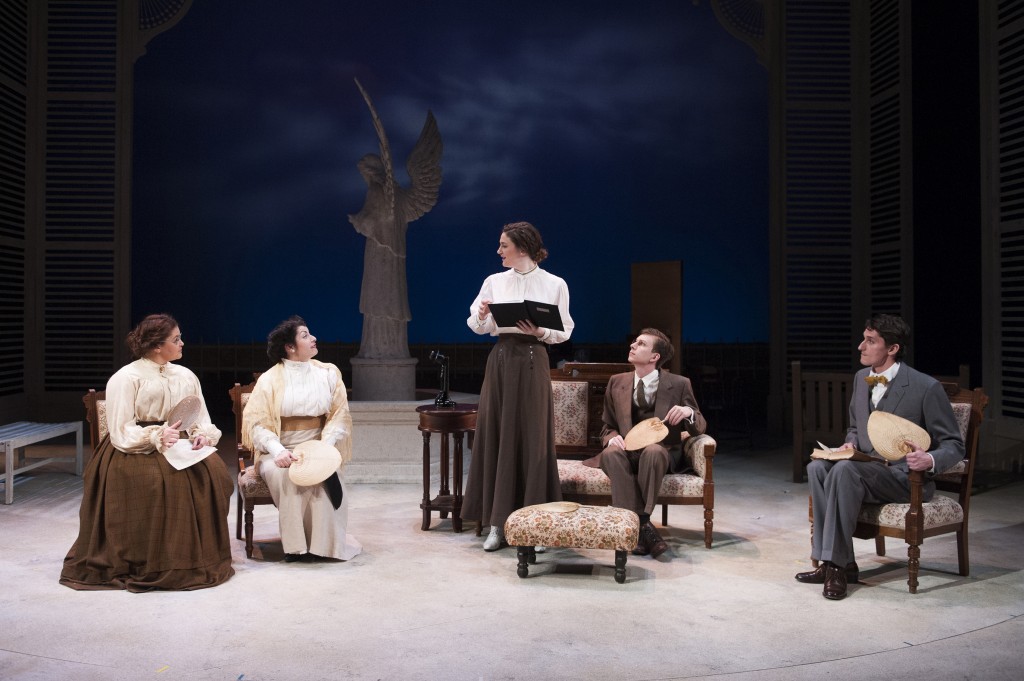 Alma (Gillian McConnell) reads the minutes of the meeting of young intellectuals with (left to right) Rosemary (Estee Klue), Mrs. Bassett (Alannah Bloch), Roger Doremus (Duncan Alexander), and Vernon (Stephen Dopp). Photo: David Lowes
Summer and Smoke is a play that the audience must allow to come to it–as delicate as the nerves of the main character Alma, as eloquent as long form poetry, with a style that hints at the mythical and epic. Throughout, director Alan Brodie has focused on Williams' language (dialect coaching—Iris MacGregor Bannerman). The pace, as befits the period, is slow, even languorous—redolent of summer heat and a time before air conditioning, where fans were prevalent at every social function, and the air is cloyed and stuffy. Settle in, slow down, and allow yourself to be a fly on the wall as the characters develop and secrets are revealed.
As with a precious jewel, or fine painting, designer Alan Stichbury, in his final production before retirement, has utilized every inch of the proscenium arch of the Roger Bishop theatre to magnify the import of the script. His antebellum columns and fretwork take on mythic proportions and hint at forgotten past glories. Presiding over all, in a central position in the town square, the statue of the allegorical angel "Eternity" waits, patiently, marking the passage of time with a faded inscription.
(This angel sets a new bar in design excellence, produced in collaboration with Richard Burman, Dana Lajeunesse and Matthew Zeleny of Camosun College's Technology Access Department—beginning with a small sculpted concept, and fully rendered through multi-axis CNC, machining and high resolution 3D printing.)
The angel remains in place throughout the play, as the set revolves from outdoor scenes, the Winemiller residence, Dr Buchanan's office and study, and Gonzales' casino. A wide backdrop hints at the ever-changing sky from bright blue summer days through fireworks displays and twinkling stars (lighting design Eryn Griffith).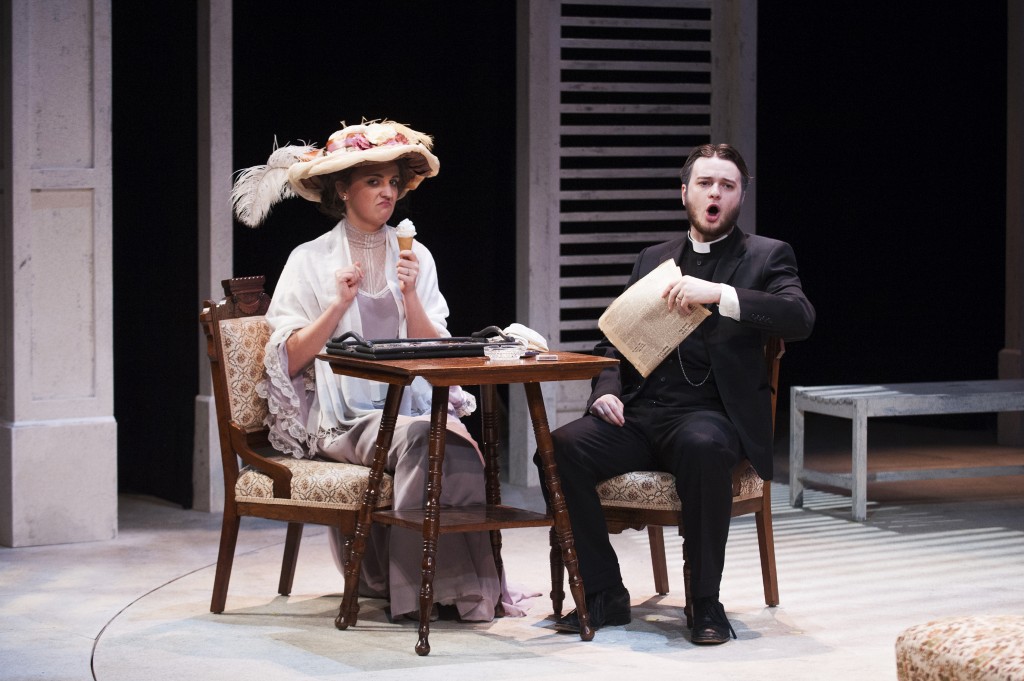 Mrs Winemiller (Zoë Wessler) and Reverend Winemiller (Nick Postle) at home. Photo: David Lowes
Composer Michael Chambers' lush romantic overtures and crisp clear piano themes highlight the scenes. Tick-tocking clocks mark the slow passage of time, fireworks burst in the night sky, and crickets chirp (sound design—Laura-Jane Wallace).
The period is one of transition—from staid and conventional to a looser esthetic and freedom from bustles and corsets—as referenced in Tim Matthews' costumes where the neurasthenic Mrs. Winemiller (Zoë Wessler) remains firmly rooted in a glorious past, and Rosa Gonzales (Sophie Underwood) epitomizes sultry seduction with gypsy-like shawls and skirts. John Buchanan Jr's coats drape beautifully in keeping with his reputation as a dandy ("I have 12 white suits").
The full sweep and expanse of life, a struggle between highest aspirations and base human nature, is wonderfully played out in Summer and Smoke—the final production of the Phoenix Theatre season does remarkable justice to Tennessee Williams work.
"I can't expose a human weakness on the stage unless I know it through having it myself." – Tennessee Williams

Summer and Smoke is Tennessee Williams at his most passionate. Welcome to Mississippi at the turn of the 20th century and the small town of Glorious Hill. Alma, the daughter of a small-town minister and eccentric mother, harbours a life-long infatuation with her restless and self-indulgent neighbour, John. Alma and John's struggle between body and soul, anarchy and order, love and lust leads to profound changes in both their lives. A true American masterpiece, Summer and Smoke is a bittersweet exploration of love and longing with unforgettable characters that break our hearts even as they touch our souls.
Summer and Smoke by Tennessee Williams, directed by Alan Brodie (MFA Candidate)
University of Victoria Phoenix Theatre
March 8-19, 2016
Tickets: by phone 250-721-8000 or in person at the Phoenix Theatre Box Office
Adult: $25 Senior: $20 Student/Child: $15 Weekend Evenings: $25
(All seats on Friday and Saturday evenings)
UVic Alumni: Pay student prices when you attend on Saturday matinee
Preview Nights: All seats $7.50?
Production Team:
Director Alan Brodie (MFA Candidate)
Set Designer Allan Stichbury
Costume Designer Tim Matthews
Lighting Designer Eryn Griffith
Sound Designer Laura-Jane Wallace
Composer Michael Chambers
Dialect Coach Iris MacGregor-Bannerman
Stage Manager Barbara Clerihue
Cast: (in alphabetical order)
Duncan Alexander Roger Doremus
Alannah Bloch Mrs. Bassett
Julien Bruce Archie
Aidan Correia John Buchanan Jr.
Stephen Dopp Vernon
Brett Hay Dusty
Renee Killough Nellie Ewell
Estee Klue Rosemary
Gillian McConnell Alma Winemiller
Nick Postle Rev. Winemiller
Lindsay Robinson Dr. John Buchanan Sr.
Sophie Underwood Rosa Gonzales
Zoe Wessler Mrs. Winemiller
Nicholas Yee Papa Gonzales
Disclaimer: I attended Summer and Smoke as a guest of the UVic Phoenix Theatre.