Kim's Convenience at Chemainus Theatre Festival. A review.  April 24-May 26, 2018.

It's a dream come true for any Fringe performer or playwright—navigating the tricky waters from alternative theatre to mainstage production. And, although it makes a compelling story, the reality of Ins Choi's seemingly "instant" hit is much more complex. Kim's Convenience is now a CBC series and has even had a run in New York but in 2011 when Mr Choi staged it at the Toronto Fringe, where it subsequently picked up the New Play Prize and became the subject of a bidding war (Soulpepper Theatre won!), he'd been trying for seven years to have it produced by any number of Toronto theatre companies, with no luck.
In this, Mr Choi's story mirrors that of his protagonist, Mr Kim—hard work and dogged determination being essential elements to making a life.
Onstage at the Chemainus Theatre Festival, thanks to the incredible talent of set designer Craig Alfredson, is a mini-version of the classical neighbourhood convenience store—a fast-disappearing cornerstone of life in the city.  Overlaying the exterior with a map of the subway clearly marks the location as Toronto.
The audience meets an irascible Mr Kim (James 'Jimmy' Yi) as he prepares to start the day—humming a Korean song under his breath he makes coffee and with a few comical gestures (gargling water, sweeping the stoop) has already set the tone.  Through a series of interactions with customers Rich and Mr. Lee (all played by the wonderfully versatile Michael Clarke who is also Mike and Alex) Mr Kim exposes his prejudices and worries—gentrification has arrived and he could cash out in advance of Walmart's entry on the scene, but he's stubborn and proud—not to mention racist, with a deep-seated hatred for the Japanese.  Humour is broad and shocking—reminiscent of Archie Bunker in All in the Family—'do people still say things like this?' might be the reaction, if it were not for the adept transition into more nuanced territory.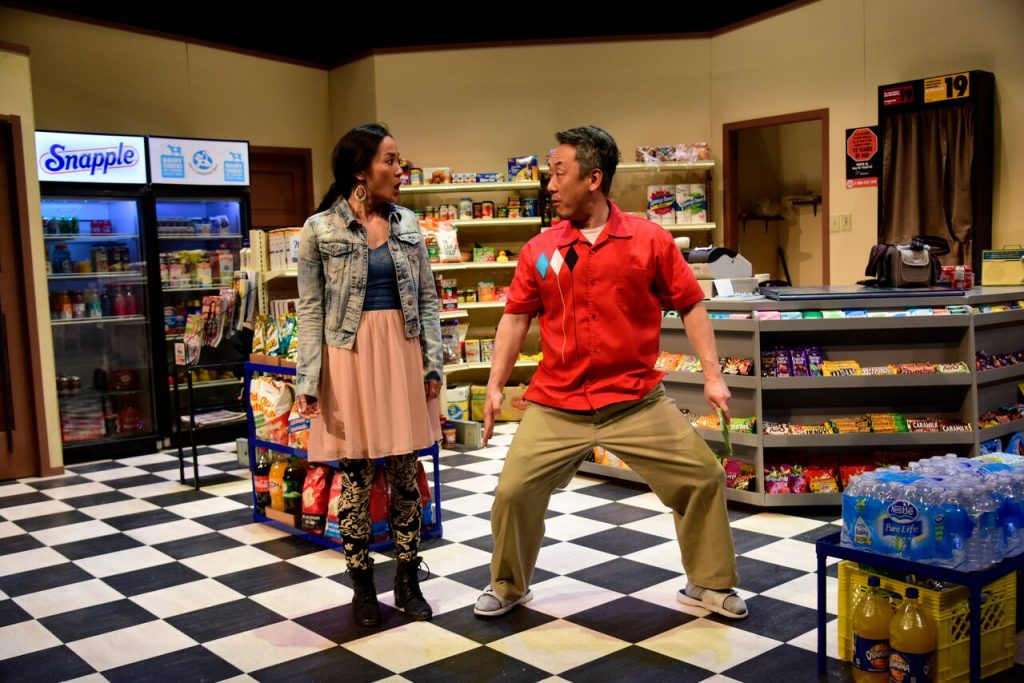 Agnes Tong and James 'Jimmy' Yi. Photo: Cim MacDonald
The script is compact, as befits a Fringe play where brevity is necessary, which is not to say that the themes explored are not varied or challenging. Using humour as a foundation, Mr Choi deals with the sacrifice of first generation immigrants, familial conflict, racism, gentrification and nothing less than the meaning of an individual's life.
Scenes between Mr Kim and his 30 year-old daughter Janet (Agnes Tong) are filled with laughter and frustration—each one talking past the other until bickering reaches a fever pitch and a cop (come in response to an earlier 911 call) walks in. It turns out he's a friend of Janet's long-absent brother Jung (John Han) on whom she had a crush as a kid.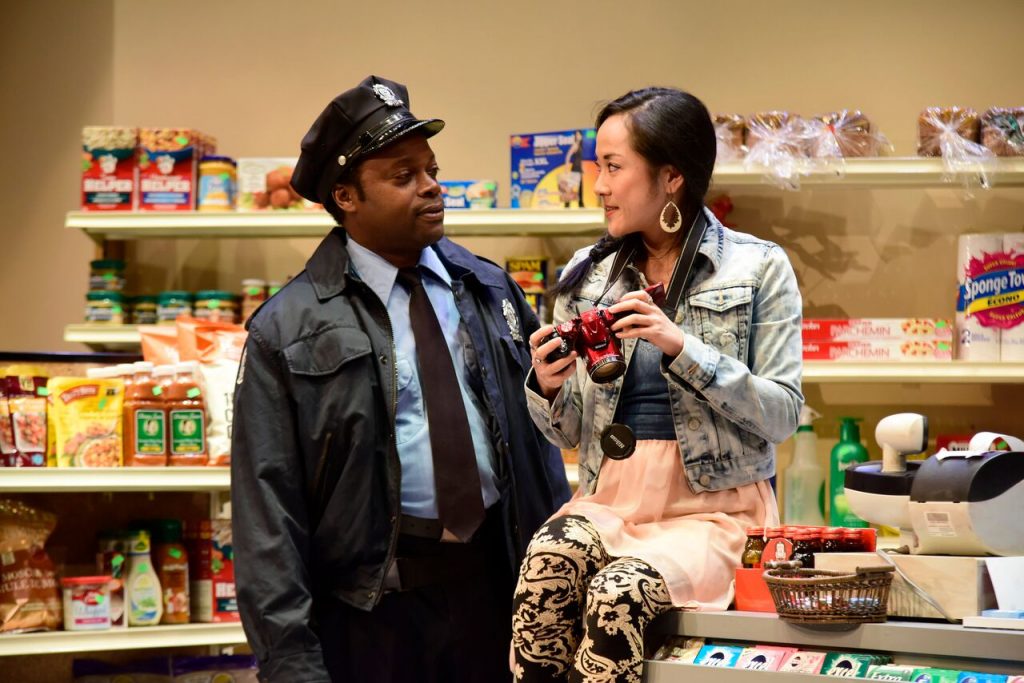 Michael Clarke and Agnes Tong. Photo: Cim MacDonald
Kim's Convenience switches gears quickly, introducing the much quieter Mrs Kim (Susan Hanson is elegant and understated), traditional in her deference to and defence of her husband while subtly marking her dissent by withdrawing money from the cash drawer, and meeting with her son at church.
Director Mark DuMez takes material that could easily become hackneyed and through careful direction, and the actors' obvious gifts for comedic timing, produces a play that quietly tugs at heartstrings without being manipulative.  As Janet and her father calculate what they've invested in the family business—Janet was not paid for years of work behind the counter, but then, she's been living at home for free—tears well up, not only in the eyes of the actors, but for the audience too (Yi and Tong are marvellous in this pivotal scene which clearly underscores the script's resonance).  This isn't simply a story about a family of Korean-Canadians—this struggle from one generation to the next is universal.  Misunderstandings aren't only because of language.
As Jung, the prodigal son, John Han displays profound and restrained unhappiness in a very realistic performance that balances perfectly with the comedy.  Interactions with his mother are filled with love and respect. When he shows up at the store, he's carrying the weight of years of regret on his shoulders, ready to lay it down.  And—surprisingly, his father is willing to meet him there. As Yi and Han tentatively dance around the issue of past hurts, trying to find common ground, hope swells.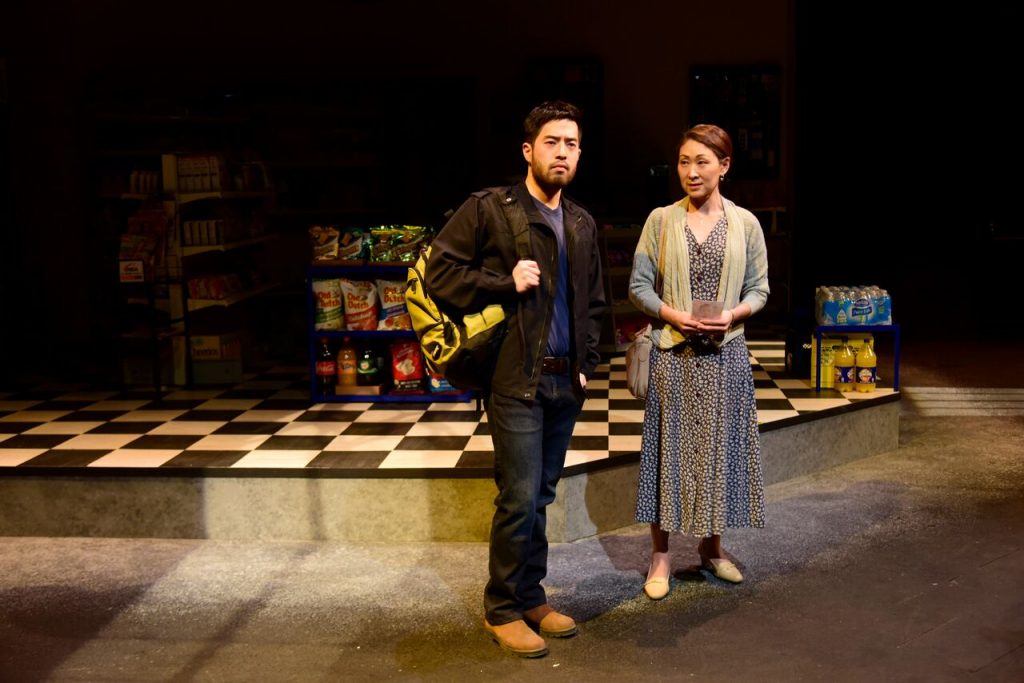 John Han and Susan Hanson. Photo: Cim MacDonald
Costumes by Michelle Lieffertz contrast Janet's artsy, free-spirit nature with her mother's more traditional look and are essential to allowing Michael Clarke to portray four very different characters (Rich a typical customer, Mr. Lee the sharp real estate developer in a bespoke suit, Mike the Rastafarian and Alex the cop) without resorting to caricature.
Nicole Lamb's lighting design highlights the transitions from morning to night and is particularly effective in the flashback sequence. John Han's sound design replicates an urban environment and helps build the authenticity of the store down to the ding-dong of the door-bell and the radio background music.
Kim's Convenience at the Chemainus Theatre Festival mines universal nuggets of wisdom and leavens truth with humour, incorporating beautiful performances attuned to both the comedy and the heartache of life—the desire to leave a legacy transcends time; the Kim family has learned lessons many others do not.
You'll get more than you bargained for at Mr. Kim's downtown Toronto convenience store. Along with his enormous variety of groceries and knick-knacks, he dispenses amusing folk wisdom, quizzical Korean trivia, and a peculiar type of pride. The hilarity and the business may be short lived if a big box store invades the neighbourhood, his daughter rejects the family shop, and his prodigal son returns. Is there a future for Kim's Convenience?
Kim's Convenience by Ins Choi, directed by Mark DuMez
Chemainus Theatre Festival
April 27-Mary 26, 2018
Tickets: $26-$80. Buffet $24-38. Both depending on day and time. 250-246-9820 / Toll Free: 1-800-565-7738
Creative Team
Director Mark DuMez
Set Designer Craig Alfredson
Associate Set Designer Coralee Draginda
Sound Designer John Han
Costume Designer Michelle Lieffertz
Lighting Designer Nicole Lamb
Stage Manager Lois Dawson
Apprentice Stage Manager Becca Jorgensen
Cast
Appa James (Jimmy) Yi
Umma Susan Hanson
Janet Agnes Tong
Jung John Han
Rich/Mr Lee/Mike/Alex Michael Clarke
Disclaimer:  We attended Kim's Convenience as guests of the Playbill Restaurant and the Chemainus Theatre Festival.