Harvey, at the Chemainus Theatre Festival. A review.
Harvey by Mary Chase, currently at the Chemainus Theatre Festival May 6-28, 2016, is an endearing and enduring classic of the American theatre cannon, winning the Pulitzer Prize in 1946, and showing remarkable longevity in its 70 year history (including a 2012 Broadway revival).  This winsome and whimsical tale of a gentleman, Elwood Dowd (Mark DuMez), living outside society's norms, with his invisible six and a half foot furry friend Harvey as a constant companion, captured people's imaginations then, as it still does today.
Du Mez, in a command performance, presents an appealing, modest, charming and courtly Elwood—little troubled by the realities and hardships of daily life, happy in his world where everyone is a friend who deserves to be attended to.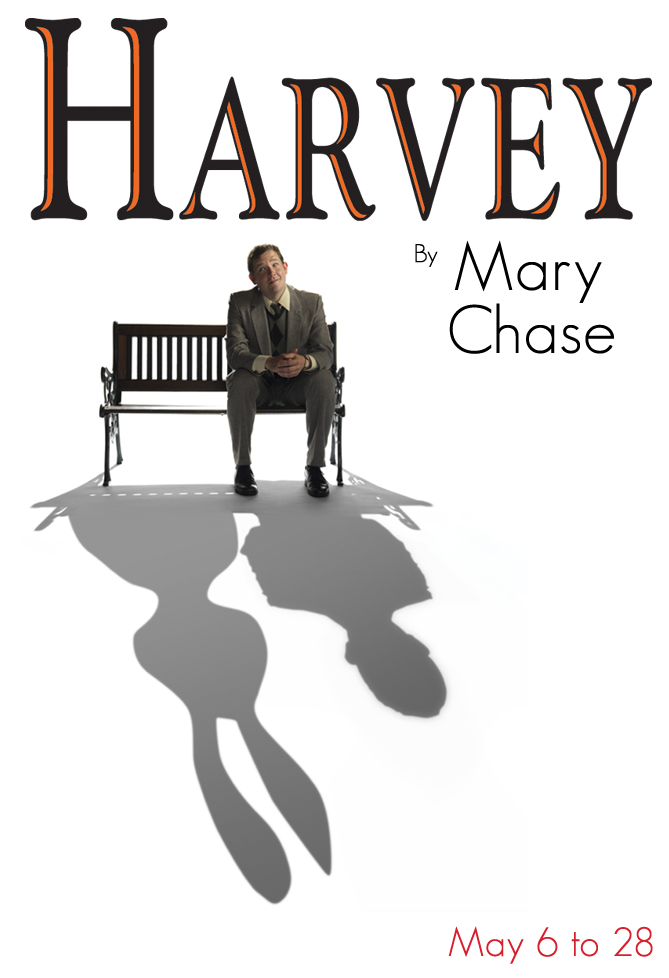 Director Julie McIsaac situates Elwood in sharp contrast to the other characters in Harvey—Du Mez is natural in his demeanour and comportment while they are outrageous and exaggerated in theirs.  Erin Ormond as his sister Veta is stressed and harried as she plots a way to have Elwood committed; Ella Simon is delightfully awkward  as his niece Myrtle Mae and coquettish as the sexy nurse Kelly; Kathryn Kerbes, aided by wonderful wigs, excels in crafting three completely different women—prim and proper Mrs Ethel Chauvenet, flirtatious Betty Chumley and stern no-nonsense Judge Kelly; Jay Clift portrays the hulking, menacing and loutish orderly Duane Wilson and the down-to-earth cabby who saves the day; Mack Gordon is pragmatic and eager-to-please as the young doctor Sanderson, acolyte to the authoritarian Dr Chumley (Bernard Cuffling in a turn that brooks no argument).  Pacing is tantamount in a comedic farce—the ensemble work in Harvey is brisk and cohesive, leading to many moments of pure laughter.
The main theatre experience at Chemainus is always cozy, largely due to the rake of the auditorium which allows audiences to feel close to the action on the stage.  Designer Brian Ball magnifies this with a set that creates a capacious and comfortable interior for the Dowd family mansion—panelled wood, elegant pediments and moulding, graceful knickknacks, William Morris-inspired wallpaper and drapery—and then opposes it (thanks to the revolving stage) to the sterile confines of Chumley's Rest sanatorium.
Costumes by Michelle Lieffertz hark back to an era of carefully constructed and tailored outfits, complete with hats and gloves for the ladies, and pocket squares and waistcoats for the gentlemen.  The genius and intricacy of the design is revealed slowly.  At the outset, in a world of monochromatic grey, white and black, only Elwood sports coloured accents—a particularly vibrant hue of turquoise in hatband, socks and sweater.  Rather than garish, these accents serve as a reminder of his singular nature when compared to that of the other citizens of his small town, pre-occupied as they are with maintaining the social order and climbing the ladder.
Lighting (Nicole Lamb) is particularly effective in a brief and garish fantasy chase scene. Sound design Mathew MacDonald-Bain fills the interludes, particularly during the Myrtle Mae's coming-out tea, with classical music.
Astute and visually appealing design choices provide an excellent illustration of the power of design to convey the central thesis of the play, and will definitely capture the attention of viewers—beginning as they do rather subtly before entering the realm of full-blown.
The magic of Harvey, even after 70 years, lies in creating a world where invisible rabbits and a gadabout barfly make perfect sense when compared to the conniving necessary for social and business success. When the seven o'clock alarm sounds a daily return to work for the majority, who wouldn't want to indulge in Elwood's optimistic, favoured and good-natured take on life?  This gentle fantay allows a rare respite from adult exigencies and a return to a simpler time.
Elwood P. Dowd is unlike anyone you've ever met. He insists on introducing his friend Harvey to everyone around town – trouble is, Harvey is an invisible six-foot-tall rabbit. Such eccentric behaviour embarrasses his social-climbing sister, who arranges a trip to the sanitarium where an injection will "cure" Elwood. But things get even stranger when the real patient is mistaken and the doctors begin to behave oddly. This comedy of errors will make you laugh, and wonder: does the world need another normal chap, or more Harveys?

Harvey by Mary Chase, directed by Julie McIsaac
Chemainus Theatre Festival
May 6-28, 2016
Tickets: $25-$67 (Chemainus Theatre Festival practices dynamic ticket pricing)
By Phone: Box Office at 1-800-565-7738 and online at chemainustheatre.ca.
Set Design Brian Ball
Costume Design Michelle Lieffertz
Lighting Design Nicole Lamb
Sound Design Matthew MacDonald-Bain
Stage Manager Jessica McLeod
Apprentice Stage Manager Tessa Gunn
Duane Wilson/Cab Driver Jay Clift
William Chumley, MD Bernard Cuffling
Elwood P Dowd Mark DuMez
Lyman Sanderson, MD Mack Gordon
Betty Chumely/Mrs Ethel Chauvenet/Judge Gaffney Kathryn Kerbes
Veta Louise Simmons Erin Ormond
Myrtle Mae Simmons/Nurse Kelly Ella Simon
Disclaimer:  We were graciously hosted by the Chemainus Theatre Festival for brunch in the Playbill Restaurant and at the production of Harvey.