The Mousetrap at Chemainus Theatre Festival April 24-May 30, 2015. A review.
There is something irresistibly delicious about being wrapped in a comfortable sweater, sipping a mug of hot Ovaltine, ensconced in a pair of well-worn slippers. Certain literary and theatrical forms recall this sense of familiarity. Agatha Christie's play The Mousetrap, currently at the Chemainus Theatre Festival April 24-May 30, 2015 is one of the finest examples, being the longest running play in history (playing continuously on London's West End since opening in 1952).
Remember Colonel Mustard in the library with a wrench—from the board game "Clue"? If you enjoyed playing as a child, you will love puzzling out the story in The Mousetrap. Part of the play's charm lies in the straight delivery of the actors—this is no spoof. Christie, who based The Mousetrap on a real life case of deadly child neglect, revels in social commentary, ensuring the audience is kept guessing to the very end. And, in typical mystery fashion, a few very germane details are always left out.
Newlyweds Mollie (a bubbly and vivacious Leala Selina) and Giles Ralston (Victor Dolhai as the young husband bound to please), proprietors of Monkswell Manor, have decided to open their historic home as an inn. The very first guests are about to arrive, and a snowstorm threatens. Faintly, over the radio, are overhead the details (repeated several times for effect) of a horrific murder. Titters from the audience signal the first suspicions. Perhaps I'd better pay attention. Who was wearing what article of clothing?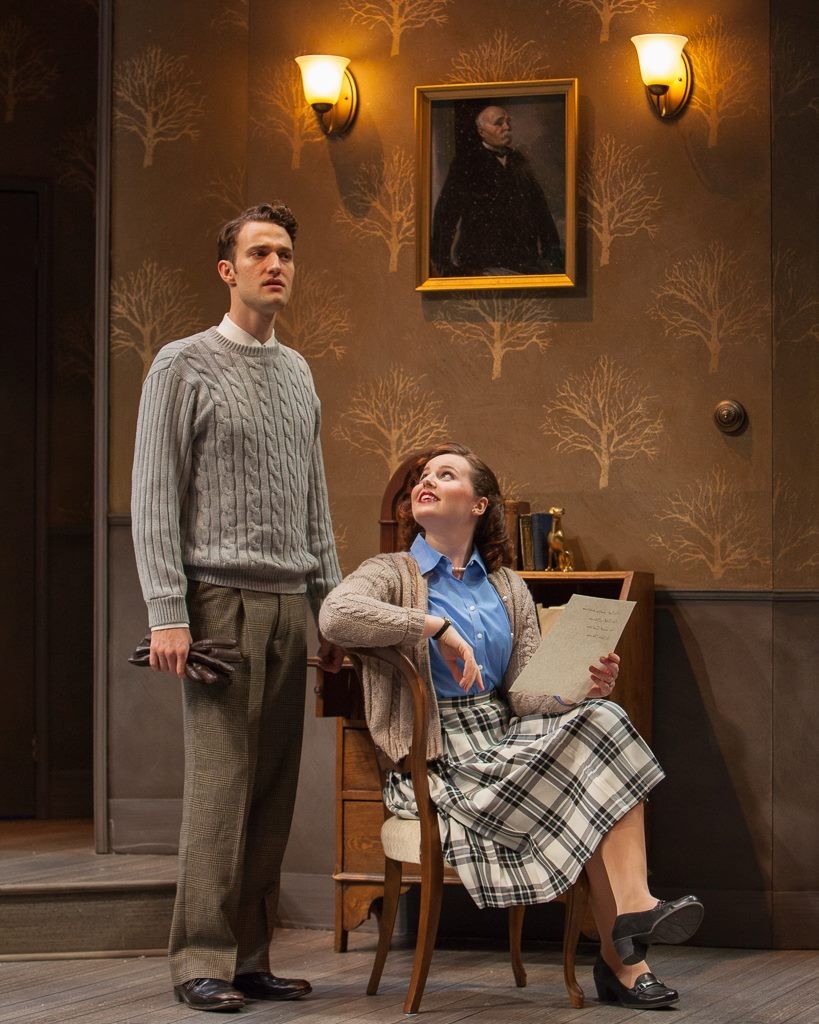 Victor Dolhai as Giles Ralston and Leala Selina as Mollie Ralston. Photo provided.
From the beautiful and high bay window (complete with panes that open) snow can be seen tumbling gently down. The proportions of the room are grand (set design Laurin Kelsey) with multiple entrances, doorways, and staircases. Although The Mousetrap is not per se a "closed room" mystery, all the action does take place in the great hall. Such is the power of suggestion, when the crusty and unpleasant spinster Mrs. Boyle (Patti Allan) rubs her hands by the radiator one can feel the cold creeping in. The sense of atmosphere lies heavy over the action, as melodramatic music underscores particularly portentous moments.
Joining Mrs. Boyle are fey young architect Christopher Wren (Chris Cope in a particularly kinetic and graceful performance), Major Metcalf (Bernard Cuffling) all pukka sahib and "hail fellow well met", Miss Casewell (Ruby Joy) with her working class accent and hard manner, the rather mysterious Mr. Paravicini (Matthew Hendrickson) the only guest without a reservation, and finally, the suave and reassuring Detective Sergeant Trotter (Jay Cliff) who comes to rescue them from the murderer in their midst.
Christie's script, with references to tins of corned beef and ration cards, reminds us that England in 1952 was still feeling the effects of World War II. The old social order has been disrupted; the new one is not yet in place. Strangers are inherently suspicious since their antecedents and connections are unknown. Perhaps audiences in 2015 live in a more open society, but our natural curiosity inevitably leads us to want more details about people's lives.
Bit by bit, deliberately, consciously, or by slip-up, details of the case and character's back stories are revealed. One victim succumbs early on. Tension mounts. Tempers flare. Suspicions increase.
Pacing is everything and director Mark DuMez ensures the action alternates between moments of terror when the lights go out, and more peaceful conversation. The cast maintains a steady sense of unease right to the very end for the big reveal.
Christie reminds us frequently that not all is as it seems. People are cruel, and can't always be trusted. What we do and do not do reveals a great deal of our character. Do we sin by commission, or by omission, and which is worse? With subtle and sure touch, The Mousetrap draws us towards a startling finale This genteel and gentle murder mystery carefully plumbs the darker depths of human experience without overly shocking, yet leaves lasting questions about the tangled results of our actions and inactions.
The Mousetrap at the Chemainus Theatre Festival is a "well-made play", beautifully produced with the necessary sense of nuance to draw the many story lines to their intended surprise conclusion. It's the ultimate game of cat and mouse. Well played! Well played indeed. And no—I didn't guess.
(Audience members take a pledge not to reveal the murderer).
Further reading:
http://www.theguardian.com/stage/2012/nov/20/mousetrap-60-years-agatha-christie
http://www.walesonline.co.uk/news/wales-news/agatha-christie-inspired-horrific-child-2019994
Terence O'Neil: Someone To Love Us
The Mousetrap by Agatha Christie
Directed by Mark DuMez
Chemainus Theatre Festival
April 24-May 30, 2015
Tickets: $28-$71 depending on show availability and demand.
Chemainus Theatre practices dynamic ticket pricing.
Directed by Mark DuMez
Set Design Laurin Kelsey
Costume Design Jessica Bayntun
Lighting Design Conor Moore
Stage Manager David Baughan
App. Stage Manager Claire Friedrich
Players:
Mrs. Boyle Patti Allan
Detective Sergeant Trotter Jay Clift
Christopher Wren Chris Cope
Major Metcalf Bernard Cuffling
Giles Ralston Victor Dolhai
Mr. Paravicini Matthew Hendrickson
Miss Casewell Ruby Joy
Mollie Ralson Leala Selina
Disclaimer: We attended The Mousetrap as guests of the Chemainus Theatre Festival. As always, I retain complete editorial control of all content published on this website.