Macbeth at the Greater Victoria Shakespeare Festival July 4-29, 2017. A review.

What a treat to be ensconced in a comfortable seat, on the beautiful grounds of Camosun College Landsdowne Campus on a soft summer evening, imagining the rocky outcroppings as the Scottish Highlands, waiting for Macbeth to begin.
Perhaps one of Shakespeare's most recognized tragedies, many will have studied this work in high school or university English.  Macbeth was last produced at the Greater Victoria Shakespeare Festival (GVSF) in 2006.
Since 2014, when the GVSF made the decision to move to a repertory model for their summer productions, the company continues to deepen the audience's understanding of Shakespeare's work through nuanced interpretations. Each year two professional mentor actors work alongside community members–many with years of attachment to the festival like Cam Culham (Porter) and Emily De Korte (King Duncan)—graduates and students from the University of Victoria and the Canadian College of Performing Arts and, this year once again, teen performers (Kai Merriman and Juliana Monk).  This year's mentor actors are Trevor Hinton (returning for a third time) with his skills in physical movement and fight choreography, as Macbeth, and Adrienne Smook, a voice and speech coach and drama teacher, as Lady Macbeth.
The addition of the semi-permanent Camas Stage in 2013, situated in a natural hollow, surrounded by rocks and a Garry oak meadow, results in a production that is naturally framed, allowing for wide-ranging movement through forests and fields.  Little else is needed in the way of props or set to create the many locations.
Audience members who feel so inclined can always do some prior research (I favour Sparks Notes personally for their readability), or come early to peruse the program or attend one of the talks from Shakespeare experts during the pre-show—some evenings music is featured.
Artistic director Karen Lee Pickett has collaborated with Kate Rubin to direct a Macbeth that is dark, elemental and brutal in its ferocity.  In the year of Wonder Woman and with Mad Max Fury Road still in recent memory, it's a treat to see women cast here in traditionally male roles—Candace Woodland is stout-hearted and true as Malcolm, heir to the Scottish throne after her father's untimely murder, Sarah Jean Valiquette's Macduff –loyal, virtuous and filled with rage at the slaughter of her family, while Katrina Koenigshofer as young prince Donalbain and Charlotte Thompson as Lennox acquit themselves with honour and nobility in troublesome times; all wear their masculinity with strong stances and powerful postures.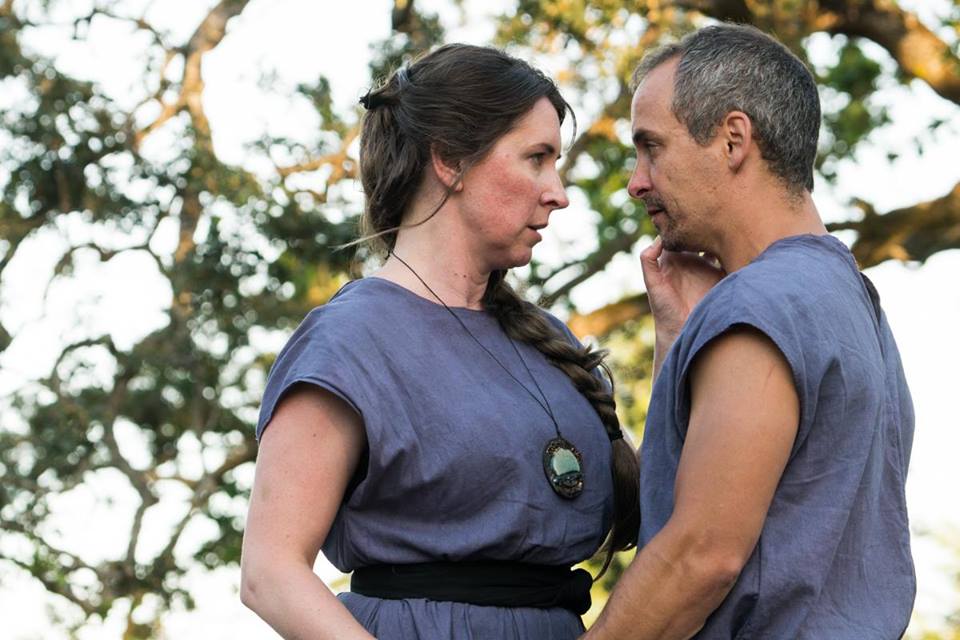 Adrienne Smook as Lady Macbeth and Trevor Hinton as Macbeth. Photo: David Bukach
Production designer Carole Klemm assisted by costume co-ordinator Hannah Ockenden imagines the three weird sisters (Madeleine Humeny, Joanie Papillon and Hilary Wheeler) as wraiths, attired in layers of tattered garments, their visages hidden by veiled cage-like contraptions from their interpellants Macbeth and Banquo.
Hinton's Macbeth is a sinewy, slippery fellow—at first incredulous to be singled out by the witches, needing much convincing from a conniving and ambitious Lady Macbeth to embark on a course of action, but ultimately, explicit and treacherous as murder begets murder.  The interplay between him and Smook is filled with cunning and justification—how easy to believe oneself pre-destined and ordained by forces beyond human ken–"the gods made me do it".  Is it so different today? Where often Macbeth is portrayed as weak, a victim of circumstances, Hinton grows from power to power, fully embracing his wicked, evil side after initial misgivings.  The juxtaposition of his arc with that of Smook's is heart-breaking and wrenching, as she, so firm and convinced at the outset, slips into strange dreams and unsettledness.
Cam Culham provides much-needed and singular comic relief in the Porter's oft-quoted rant at Macduff and Lennox pounding on the castle's door. Young cast members Kai Merriam (young Macduff) and Juliana Monk (Fleance/Gentlewoman/Messenger) bring authenticity to the proceedings, and horror to the realization of the extent of Macbeth's rage and determination to exterminate all traces of his rivals. Merriman's interchange with his mother Lady Macduff (Madeleine Humeny) being particularly poignant and Monk's role of the gentlewoman to Lady Macbeth filled with a gravitas beyond her tender years.
GVSF newcomers Brian Quackenbush (Banquo/Old Siward) and Evan Coates (Ross/Seyton/young Siward) fill multiple roles with gusto, particularly in the swordplay (choreographed by Paul Abrahams).  Combat scenes are fraught and vicious—and, on the slippery grass of the playing field, not without their own dangers—what a sense of terror surrounds the fight between Macbeth and Macduff as Hinton and Valiquette wale away with their broadswords.
Ockenden has assembled a muted palette of blue, green, brown and grey for the jerkins, robes, tunics and capes of the Scottish lords and ladies, complete with garters, leather cuffs and belts.  Carolyn Moon's sound design plays tricks on Macbeth with amplified voices as the action hurls towards its inevitable conclusion. Throughout, fierce and hidden drumming (percussion composition/coach Hilary Wheeler) announces key moments, sounds the alarm and calls to battle, providing an ever-increasing feeling of dread.
Bold and assured, delving deep into the heart of lust for power and ambition, this season's Macbeth proves how easy the frightening turn from trusted friend to outlaw.
Macbeth, directed by Kate Rubin & Karen Lee Pickett
Greater Victoria Shakespeare Festival
July 4-29 2017 Tuesday, Thursday and Saturday at 7:30pm
Camosun College Landsdowne Campus (Richmond Road)
Special performances August 3-5 in Saxe Point Park, Esquimalt (in association with the Township Community Arts Council)
Tickets: adults $24, seniors and students $19. Children under 12 are FREE.  Available online or at the onsite box office (open at 12:30 for matinées and 6:30 for evening performances).
Festival Passes: adult: $42, seniors (65+) and students (With Valid ID): $33
Order your picnic in the park with Dine in Victoria:
http://www.vicshakespeare.com/food/
Come early for pre-show entertainment:
http://www.vicshakespeare.com/music/
NOTE: Parking at Camosun College is $3.25
Production Team
Producing Artistic Director Karen Lee Pickett
Associate Producer Stephanie Meine
Production Assistant Cierrah Gibbs
Front of House Manager, Volunteer Coordinator Ariel Slack
Co-Director of Macbeth Kate Rubin
Production Stage Manager, Lighting Design, Sound Editing Carolyn Moon
Production Stage Manager Sylvia Lindstrom
Production ASM Nolan McConnell-Fidyk
Production Designer Carole Klemm
Costume Coordinator Hannah Ockenden
Technical Intern Deniz LeSurf
Additional Production Credits
Percussion Composition/Coach: Hilary Wheeler
Vocal Coaching: Adrienne Smook
Combat Choreography: Trevor Hinton
Sword Choreography: Paul Abrahams
Lady Macbeth's Hairpiece: Lal O'Connor
Sound Editing and Design Carolyn Moon
Deck Design Paddy Crawford
Deck Construction Paddy Crawford, Erin Spence, Eva Hocking, Carolyn Moon, Brian Quakenbush, Juliana Monk, Blake Handley, Nolan McConnell-Fidyk, Sylvia Lindstrom
Production Photography David Bukach
Cast
Ross/Seyton/Young Siward Evan Coates
Porter Cam Cuham
Sargeant/Lord Nolan McConnell-Fidyk
Duncan/Old Woman/Doctor Emily de Korte
Macbeth Trevor Hinton*
Witch 3/Murderer 1/Lady Macduff Madeleine Humeny
Donalbain Katrina Koenigshofer
Young Macduff/Servant Kai Merriam
Fleance/Gentlewoman/Messenger Juliana Monk
Witch 1/Murderer Joanie Papillon
Banquo/Old Siward/Messenger Brian Quakenbush
Lady Macbeth Adrienne Smook*
Lennox Charlotte Thompson
Macduff Sarah Jean Valiquette
Witch 2/Murderer 2/Caithness Hilary Wheeler
Malcolm Candace Woodland
Disclaimer: I was offered a complimentary ticket to Macbeth and attended a preview.