Murder on the Agenda by Enigmatic Events January 27-February 11, 2017. Interview with Chris Rudram.
After last year's successful Murder by Midnight, the team at Enigmatic Events are back again with Murder on the Agenda. Organizer Chris Rudram was happy to answer a few questions.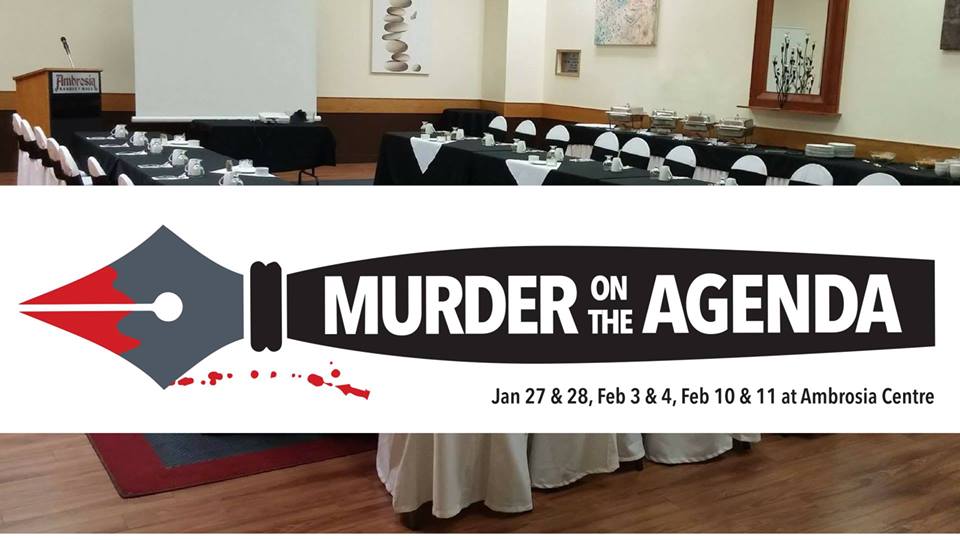 Why did you take the leap into producing interactive, dinner theatre events?  How do they differ from traditional dinner theatre?
My passion is all about getting people to collaborate and interact in new ways. I've always been uncomfortable at generic social events. And the normal mixer/social environment when people are put in a room to network and given no tools to do so just doesn't work for me.  I've seen so many social events built with the assumption that food and drink is all you need to get things going.  And for some it is, but not for everyone.
But people do love playing games, and people love hearing and telling stories.  I've produced and run murder mysteries for a a few years now, and after connecting with Vanessa B Baylen in 2015, saw that there was another way to create interesting, personalised stories with hands on, interactive events.
The dinner theatre aspects are a -how- rather than a -why-.  To create the immersive experience, there's certain elements needed (actors, venue, plot), and that leads to using some aspects of traditional dinner theatre to create it.  And other parts that need to be changed up so everyone can get involved. With a interactive event, everyone gets to see a different part of the story, they get to experience their own perspective on what has been laid out.  What happens is they 'write' their own narrative based on the parts they see, and what they fill in.  I love to hear how guests see some aspects of the truth we've created, how they interpret that, and their response to it.  I've learned a lot about human nature in the last couple of years just by observing how people work through a murder mystery.
So I value how this type of event allows people to take part in their own way.  They have a reason to start to talk to strangers at their dinner table, or have new conversations with old friends.  I see how their assumptions can be challenged and changed, and how people can play with a variety of ideas in a fictional environment, and see how they play out.
In Murder by Midnight the murder had not yet taken place.  Can you give a brief run-down of the set-up for Murder on the Agenda? 
In Murder on the Agenda, the headquarters team at Happy Candy Ltd have come to Victoria for their annual sales conference.  It's going to be kicked off with a mixer dinner and introductions of the key speakers.  People has other motives than just selling candy, though, and the guests will need to try and work out whose hiding secrets… and how important those secrets are.
Who the victim is, and how that is revealed, I'll leave as a surprise for the guests, but I will say that there is a murder in this mystery, and this is not a case of prevention this time.
You are collaborating with Vanessa B Baylen and Guy Lemonnier (Ambrosia). What are your different roles?
Vanessa wrote and created the mystery, just like she did with 'Murder By Midnight'.  She's just welcomed a new addition to her family, so did not have time to direct, so I've taken on my second directing role.  Guy Lemonnier and his team is providing the food and the venue.  He's got a great three course menu lined up, and of course there'll be a bar as well.
I'm also producing the event, and collaborating with Vanessa to write some of the puzzles and other materials that are needed to crack the case.  I've also teamed up with Adam Bayshaw of Caskstrength Designs for a lot of the materials.
What is the one thing you would like audiences/participants to know before they come?
Murder by Midnight used a lot of technology to provide clues and information.  There's less online clues this time, but having a phone to vote on who you think did it would be helpful.
Otherwise, audiences should pay attention from when they arrive.  There may be clues and information that will be useful as the evening progresses.  Don't expect everything to be handed to you….
Who gets the most out of an event like this?  What did you learn from your inaugural production, Murder by Midnight?
Guests who do a little work.  Whether that's into the puzzles or by talking to the suspects… or by listening to other people talking to the suspects.  There's a lot of information, and working with other people at your table is an effective way to find out more about the mystery.  Ultra-competitive people who don't like to share will probably be disappointed.  Much of the fun is hearing other people's take on the evidence laid out, and trying to piece together all the information.
The biggest lesson from Murder By Midnight was that people -really- want a murder at a murder mystery.  So we are providing one.  We also learned that we can rely a little too much on those little screens in your pockets, but really interesting stuff happens when people put them away and talk to strangers at their dinner tables.
Personally, I learned a lot from Vanessa as well.  I got a solid grounding in production of a theatre-style show, I started to understand the job of the director, where the cross-over between the two roles is.  I learned more about working with actors, and what they need to do their best work.  I've still got a lot to learn, and improve on, but as a first outing into a field I had barely touched on before, it was phenomenally educational.  And also made got me excited to do it again, and create other 'things'.  (See Victoria Fringe 2016 and 2017).
Other projects for the year?
The next theatre one I have planned is a Victoria Fringe Show, currently titled Juke-box Drive.  It's an improvised road trip set to music.  And based on a game, just like A Quiet Season was.  I'm excited to work with the same team again as last year's fringe, and also apply many of the lessons I learned from that show.
I also have another event project underway, including a story telling, live action game under development with Astra Crompton.  Using typical fairy tale characters, players get to experience their own fairy tale trials and tribulations.
I'm also continuing to write and update treasure hunts with The Pedaler, write other murder mysteries events for production around Vancouver Island, develop an interesting take on the pub quiz and provide game-based training programs with both tech and non-tech companies here in Victoria.
Plenty enough to keep me busy.
Murder on the Agenda, presented by Enigmatic Events
January 28, 2016 – First night special, tickets $60.
January 29, February 3+4, February 10+11, 2017 – Regular event nights.
All shows start at 6:30pm, with a 3-hour duration.
Hosted at the Ambrosia Event Centre (638 Fisgard St, Victoria)
Tickets: $68 includes detective kit and 3-course dinner. via www.SelectYourTickets.com.
Seating is in groups of eight
Further information: www.MurderOnTheAgenda.com
Murder on the Agenda can YOU unwrap an enigma? 

The Experience: An interactive mystery with a 3-course dinner.   

Murder on the Agenda is an all-new work debuting in Victoria, created by the same team that put on Murder By Midnight in February 2016. This is an event that gets you trying to find a murderer at Happy Candy's 2017 Sales Conference. This is a challenge that you get up and solve. We use theatre, puzzles, technology, and food to let participants investigate the mystery.  Guests will work with their table to uncover the truth, and reveal the lies. And in the end, the audience decides who gets arrested for the crime, and finds out if they've caught the culprit. Or have they let a criminal get away? This is not a traditional dinner theatre. This is Murder on the Agenda.

"(Murder By Midnight was)….the most fun I've had with a group of strangers in a long time. What an absolute blast!"

"Loved all the different layers of interaction" ~ Guests at Murder by Midnight

The Team – Writer/Creator V.B. Baylen is an international multi-award winning interactive event creator; Producer/Director Chris Rudram is the owner of a local production company, Enigmatic Events. Murder on the Agenda is Rudram's second collaboration with Baylen.