A Winter of Theatre in Victoria BC 2016. January and February.
Over the past few years, the normally staid months of January and February have been a hive of activity as local theatre groups launch new projects and regular seasons and series. This year is no exception with 23 productions in January and February (and I'm sure more will be added as I  become aware of them).  I most apologize for the late posting of this article. The beginning of the year got away with  me.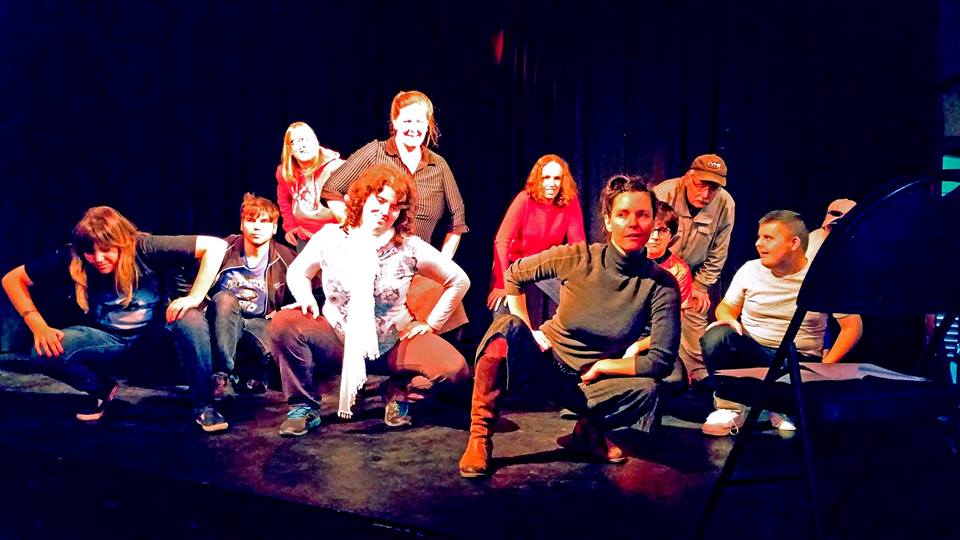 The Greatest Most Awesome Show Ever
Lifetime Networks presents The Greatest Most Awesome Show Ever
students of Wes Borg and Celine Richmond
January 7 2016
Victoria Event Centre
Join Wes Borg and Celine Richmond's debut comedy/variety show written and performed by a cast of 17 persons with disabilities, backed up by The Derwin Blanshard Orchestra and other surprise special guests. You will laugh! You will cry! You will believe a dolphin can survive the vacuum of space!
Look for another show in March.  The January show was a stand-out (and sell-out) for the incredible show of community and support in the room.  Get tickets quickly when a date is announced.  Marvellous moments of puppetry, video, an appearance by "The Queen", poetry, skits, dance numbers.
SKAM Remixed: The Ami Project by Theatre SKAM
January 12-15 2016
Theatre SKAM has commissioned a new short play by Amiel Gladstone, the company's founding Artistic Producer. The new short will be shown alongside the first play Ami ever wrote for the company: Plane Jane. The venue is the site of SKAM's first show ever – Bean Around The World (formerly the Grace Bistro). SKAM Remixed is a yearlong program of four projects that revisits and reinvents past productions by Victoria's top alternative theatre company. Season Pass holders admitted free.
STEPPING OUT by Richard Harris. Directed by Heather Day
Langham Court Theatre
January 13 to January 30, 2016
sold-out before the run even began but there may be at-the-door last-minute cancellations. Try your luck. My review HERE.
Set in a dingy church hall in early 1980s North London, Stepping Out is a warm and funny comedy about the lives, laughs and loves of a group of women (and one man) attending a weekly tap dance class. Despite treating the classes as social occasions and showing little co-ordination, the students slowly develop a level of skill and cohesion, and by the end transform into triumphant tappers.

"The show is hilarious, touching and incredibly camp. What's not to love about that?"-Express Mag.
Won the 1984 Evening Standard Award for Best Comedy
Describe My Lonely by Robbie Huebner
presented by Catador Theatre
January 19-22, 2016 at the Intrepid Theatre Club.
My review HERE
Describe My Lonely is a "fresh, snappy comedy about how we communicate these days".
Actors will alternate roles each night to provide different gender perspectives along the same storyline.
Into the Woods By James Lapine & Stephen Sondheim,
Directed by Sarah-Jeanne Hosie
Music Director Heather Burns
Company C (Canadian College of Performing Arts)
January 28 – February 6, 2016
My preview is HERE.  Company C celebrates the end of their 10th season with a return to one of their inaugural productions.
This Tony Award winning musical intertwines the plots of several Brothers Grimm fairy tales, exploring the consequences of the characters' wishes and quests, as told through a story involving a childless baker and his wife and their quest to begin a family.
Murder by Midnight by Vanessa Baylen produced by Enigmatic Events
Murder mystery/dinner theatre
January 30-February 13, 2016 at Ambrosia Event Centre (638 Fisgard St, Victoria)
My interview with director/creator Vanessa Baylen is HERE.
A live and interactive puzzle, a 3-course dinner, and as many collaborators as you want to work with. Through theatre, technology, puzzles and food, YOU investigate this mystery. Justine Thyme, plagued by death threats, has gathered her top 3 suspects into one room for you to question. But time is running out… Can you stop a Murder By Midnight?
The Valley by Joan MacLeod
Belfry Theatre
February 2 – 28, 2016
The strength and fragility of everyday people is the cornerstone of Joan MacLeod's work and The Valley is her latest gem. In this timely and moving story, a dramatic police encounter binds four people together – a mother and her teenage son, a policeman and his wife. How they – and all of us – are connected is the stuff of great drama.
THE HUNT presented by Andrew Barrett/Impulse Theatre
Intrepid Theatre YOU Show at the Intrepid Theatre Club
February 6, 2016 (two shows—5 and 8pm)
A collision of primal instincts and animalistic influence. It's subversive, it's survival, it's more than just a game.

THE HUNT is a multidisciplinary investigation into masculinity. Featuring and conceived by Artistic Director Andrew Barrett with John Han (A Christmas Carol, Rocky Horror Picture Show, Spring Awakening), and directed by SNAFU Dance Theatre's Kathleen Greenfield (Lieutenant Nun, Kitt & Jane, Little Orange Man), this collaborative creation will use Impulse's blend of text, dance, and song to inspect the lines between hunting for desire, self-destruction, or basic instinct and their intersection with competition and glory.

This presentation is the first stage of its development. A facilitated talkback will be held after each performance.
Wild Honey
UVic Phoenix Theatre
February 11 – 20, 2016
By Michael Frayn
Adapted from an original play by Anton Chekhov
Directed by Peter McGuire
An intoxicating cocktail of melodrama and farce, Wild Honey takes us to a provincial country estate where friends, neighbours and family gather for a party. As the hot summer day progresses, everyone is playing elaborate games of romantic cat and mouse in one hilarious love triangle.
Million Dollar Quartet
Chemainus Theatre Festival
February 12-Mar 26, 2016
A jukebox musical. They came together to make music – Elvis, Jerry Lee Lewis, Carl Perkins, Johnny Cash – and they made history. Welcome inside the recording studio where four young and talented musicians have met for the first (and only) time. Their red-hot jam session created a score of rock 'n' roll hits, including "Blue Suede Shoes," "Fever," "Great Balls of Fire," "Walk the Line," "Whole Lotta Shakin' Goin' On," "Hound Dog" and more! See the show and listen to the legendary music created during one of the greatest jam sessions of all time.
WorldPlay by Puente Theatre
February 13/14 and 19/20
February 13th @ 8pm:
Body Indian by Hanay Geiogamah
(Kiowa & Delaware Native American)
Directed by Naomi Simpson
February 14th @ 8pm:
Between Life and Death by Gao Xingjian (China)
Translated by Gilbert C. F. Fong
Directed by Julian Cervello
Bad Jews by Joshua Harmon
Theatre Inconnu
February 16 – March 5, 2016

Three young Jewish adults – Daphna and her two cousins: brothers Jona and Liam; along with Melody – Liam's non-Jewish girlfriend – find themselves together in the aftermath of the grandfather's funeral. A vicious and hilarious brawl over family, faith and legacy ensues. This is a play that probes deeply – yet humourously – into our need to be both embraced by, and acknowledged as distinct within, the community with which we choose to align ourselves: be it based in faith, kinship, or friendship. The dialogue is blistering and rivetting as each character strives to attain this balance."A zesty play… The best comedy of the season." New York Times
SIN CITY THE LIVE IMPROVISED SERIAL Season Six 
Preview 8pm Tuesday February 16
Opening week 8pm February 17, 18, 19, 20. 2pm matinee Sunday February 21
continues weekly 8pm Tuesdays to April 26
Sin City Season Six is set … where else? In SIN CITY. For this first time in its creators' 15 season history, Sin City does Las Vegas – circa 1961: casinos, showgirls, entertainers, glitz, glamour and games of chance, all set in the era of The Rat Pack and mob management.

Every season is the equivalent of a new unscripted, serialized play in a different genre. The witty cast debut their new characters in the Preview Feb. 16, then every episode the story continues, completely unrehearsed, as Ian Ferguson directs live in front of the audience. Each show promises laughter and stands alone as a great night out. The tale wraps in the Finale on April 26.

Starring Wes Borg, Kirsten Van Ritzen, Morgan Cranny, Robert Conway, Christine Upright, Bill Nance, Amy Culliford, Alan Penty, Charlie de Pape, Justin Carter.

Special guests include Mike Delamont, Karen Brelsford, Amanda Lisman… and more to be announced!

"sexy, sultry, smart, suggestive, scintillating, scandalous, silly…" "These improvisers and theatre artists are among Canada's best…" "pure improvisation, pure genius" ~ Janis LaCouvée
ACTION REVIEW by Atomic Vaudeville
February 18/19/20 2016 at the Metro Studio
Started in 2014, this ongoing piece was first presented as a one night showcase in 2014 at the Metro Studio Theatre. Presenting again at the Metro Studio Theatre this presentation will delve deeper into the difference and similarities between feminine and masculine.
Handmade Tale, an Improvised Margaret Atwood
Paper Street Theatre
February 17-20, 2016
In a dystopian future Paper Street's improvisers struggle with gender politics and identity – and to stay alive. Inspired by the works of renowned Canadian author Margaret Atwood, this show captures her stark prose and the dark undercurrent that runs through her work. If you've ever loved a book by Atwood, this is one show you cannot miss.
WHERE THERE'S A WILL, directed by Geoffrey Davidson
Preview February 17th, 8pm
Performances February 18th-21st and 24th-27th, 8pm

2016 marks the 400th anniversary of Shakespeare's legacy, and we are having a party! Join the GVSF at Craigdarroch Castle for this special event, celebrating the greatest English dramatist in song, verse and cake!
WorldPlay 2016 by Puente Theatre
Terrorism by The Presnyakov Brothers (Russia)
February 19th @ 8 pm:
Translated by Sasha Dugdale
Directed by Wendy Merk
WorldPlay 2016 by Puente Theatre
603 by Imad Farajin (Palestine)
February 20th @ 8 pm:
Translated by Hassan Abdulrazzak
Directed by Mercedes Bátiz-Benét
Theatre SKAM's 21st Birthday Bash
February 20th
Fort Tectoria at 777 Fort Street. Where the cool kids hang.
A fundraiser for Theatre SKAM.
The BASH is back! Celebrating our 21st Birthday. Awww…we're growing up! (sort of) We still like to have fun and we know you do too. So kick off the new year with us…the first party of 2016!
Don't miss Mike Demers and Friends who will entertain us with their fab band.
And because we're 21, we are going to do the things we couldnt as young's. Like Gambling! Drinking! Voting! Peep Shows! Always entertaining and a night to remember. Join Us!
Vikes Improv, Improv Festival
February 25-27, 2016
David Lam Auditorium (Maclaurin A144 at UVic)
By donation
With teams including the Dead Parrots ( Western Washington University) , UBCimprov, Notorius UIG ( University of Alberta)
Robinson & Crusoe, By Nino D'Introna & Giacomo Ravicchio
Kaleidoscope Theatre Directed by Roderick Glanville
February 26 – March 6, 2016
Metro Studio Theatre
Two unlucky soldiers from opposing sides find themselves stranded on a roof of a house adrift on the sea. Together they must overcome their heightened suspicions if they are to make it out of this ordeal alive. Separated by cultures, language and beliefs, can they find a deeper means of understanding and work together to survive?

Robinson and Crusoe is a fascinating story of hostility, friendship and discovering similarities among people. Robinson and Crusoe addresses international conflict, race, conflict resolution, culture, and the struggle to survive and overcome adversity in a time of struggle.
A Very workingclass Opera! A fundraiser for workinglcasstheatre
February 27th at 8pm
The Atrium (Yates and Blanshard)
Baritone vocalist Sam Marcaccini performs selections from his repertoire in support of the 2016 season.