Murder on the Agenda presented by Enigmatic Events January 27-February 12, 2017. A review.
The bar was set high last year with the inaugural Enigmatic Events live interactive murder mystery dinner theatre—Murder by Midnight—an event I described as being "the most fun I've had with a group of strangers in a long time".  In a year that saw me partaking of over 100 performances outside the Victoria Fringe, it remains one of my highlights—for many reasons: the participatory nature of the evening, the serendipity of finding like-minded people who want to work together to solve puzzles, the good food and surroundings, the world created by the actors and the relaxed atmosphere orchestrated by producer Chris Rudram and team, including Guy Lemonnier (owner/chef at the Ambrosia Centre) and staff.
How would Murder of the Agenda (running Fridays and Saturdays, January 27 to February 12, 2017) compare? I'm happy to report that it's just as much fun a second time around.
Registration was busy for the Happy Candy convention. As a delegate from Québec (what do you think was their clue that I'm Francophone?) I quickly found myself among fellow delegates, comparing notes on sales figures for the year (yes, there were others who spoke French) and cracking open the puzzle handbook, furiously searching for clues.  Based on feedback from last year's participants, Rudram and writer Vanessa B Baylen have focused less on technology and more on pen-and-paper puzzles.  To fit the convention theme, "Candy Land" and other tunes comprise the background music, and candy-related facts scroll on the screen.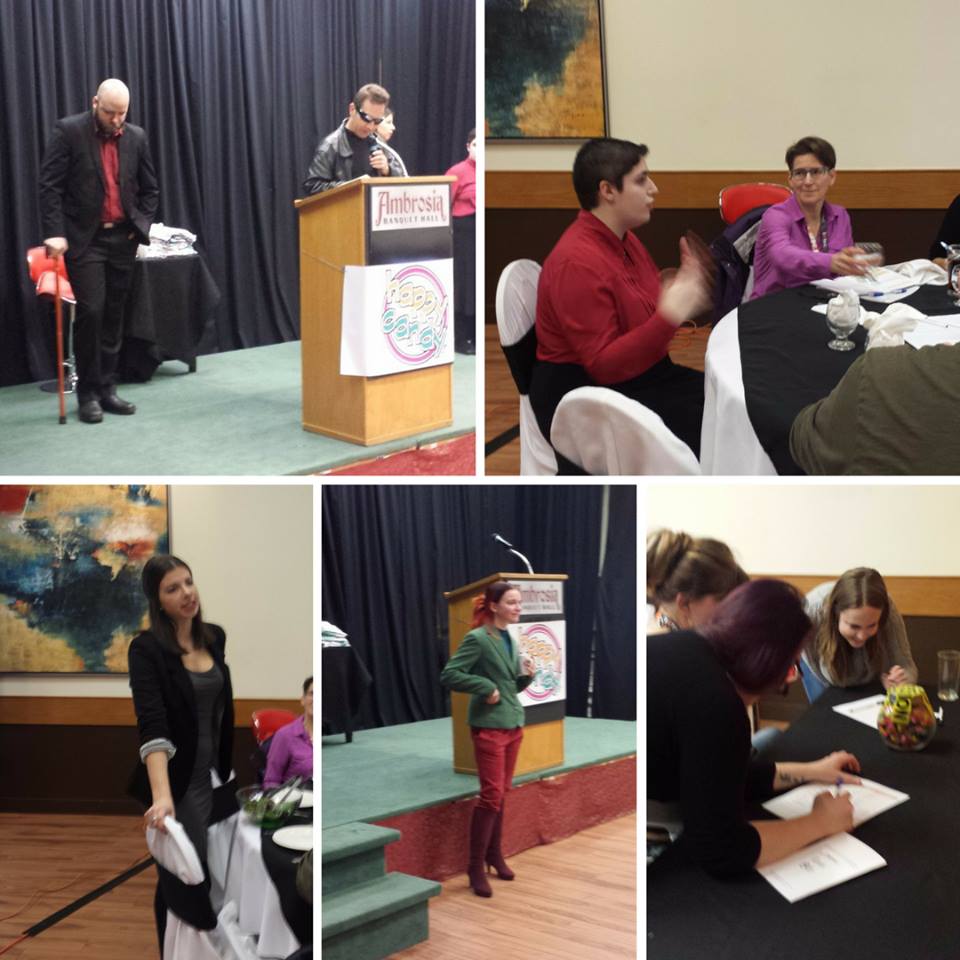 Photos: Chris Rudram
Vic Chum (Bill Nance) Head of Sales, introduces the head office team—Bub Ulghum (Bret Newton), Kara Mell (Sophie Chappell) and Julie Beene (Danny McFarlane).  Head scientist Dr Candy (Sonja Millar) is also present.  Before the salad course was even finished a suspicious death (don't look to me for spilling the beans) had occurred and it was up to those assembled to figure out who the culprit was.
Once again I found myself among an incredibly focussed and driven group of people who very quickly and naturally figured out where their strengths lay—some solved puzzles while others took to interrogating the actors, not hesitating to listen in on conversations to pick up clues.  Whether introvert or extrovert, puzzle enthusiast or neophyte, there was a role for everyone.
The time flew, and we did have to remind one another to eat—the three-course dinner includes a selection of family-style entrées and sides, including vegetarian options, and a luscious dessert.  Chef Lemonnier is happy to accommodate guests with specific dietary restrictions (with advance notice).
With the clock ticking we raced to complete puzzles before the culprit was identified—honing in on a vital clue minutes before the end.  All of us at our table correctly identified the murderer—even if we remained hazy on the motivation right up to their final speech.
Murder on the Agenda is a convivial and challenging way to spend an evening—whether throwing yourself fully into the action, or sitting back and observing—it's guaranteed to leave attendees with a feeling of satisfaction.  Murder, puzzles and food—who could ask for more?
Read my interview with Chris Rudram:
http://janislacouvee.com/murder-on-the-agenda-by-enigmatic-events-january-27-february-11-2017-interview-with-chris-rudram/
Murder on the Agenda, written by Vanessa B Baylen and presented by Enigmatic Events
January 28, 2016 – First night special, tickets $60.
January 29, February 3+4, February 10+11, 2017 – Regular event nights.
All shows start at 6:30pm, with a 3-hour duration.
Hosted at the Ambrosia Event Centre (638 Fisgard St, Victoria)
Tickets: $68 includes detective kit and 3-course dinner. via www.SelectYourTickets.com.
Seating is in groups of eight
Further information: www.MurderOnTheAgenda.com
Disclaimer: I attended Murder on the Agenda as a guest of Enigmatic Events.